My cat loves her indoor home, but sometimes, this is not enough. She also loves the outdoors and enjoys the direct heat from the sun. I love watching her play outdoors, but I also couldn't help getting worried. I can't take my eyes off her for just a few seconds because a lot of things can happen. To finally get rid of all my worries, I decided to surf the internet to find the best solution. That's where I found the Pawhut Wooden Outdoor Catio Cage, and this might also be the solution you're looking for.
Things to Consider Before Buying an Outdoor Cat Enclosure
Outdoor cat enclosures are designed to keep your cat safe while they're playing outdoors. It creates a boundary between where your cat should be and where they shouldn't go. This way, they don't stray far and prevent risks of any harm or danger.
However, there's not one outdoor cat enclosure made for all types of cats. What works for mine may not work for yours, which is why you need to take a look at these few things you'd have to consider:
Your Space
We always want the best for our cat, which is why a larger cat enclosure is something we want them to have. However, your enclosure size would also depend on the space you have.
Go out to your backyard and try to see how much space you have for an outdoor cat enclosure. If you're living in an apartment and have a common yard, then you might need to have something more portable and would not occupy a lot of space so other homeowners can enjoy the space, too.
And if you want to use the cat enclosure indoors and outdoors, you might also want to consider the space you have inside your home.
Portability
If you love going to lots of different places with your cat, portability would be something you'd want to consider. There are lots of outdoor cat enclosures that come with a portable-design. This means they're foldable, lightweight, and fits in a carry bag so you can carry it easily wherever you go.
The Design
For those looking for aesthetically pleasing outdoor cat enclosures, the design is also something to consider. You can go from multi-tiered platforms and cages to playpens and tents. However, you should put in mind that the design should not only be pretty but must be comfortable as well.
Materials
When buying things, the first thing I look at is the materials used. This helps me identify if the product is really great. For me, the better the materials, the better the product as it tends to last longer than others of the same kind.
So, when you're buying cat enclosures, always look at the quality of materials. You would want something breathable that won't make your cat feel confined and durable to last long for years. This will also make your purchase more worth it.
Set-Up Process
You also need to ask yourself if you can dedicate time to set the outdoor enclosure up. If it's only a few minutes, then something foldable might be the best choice for you. If you want to go for the multi-tiered ones, then you must expect that you would need to dedicate a couple more minutes of your time.
The Number of Cats You Have
The size of your outdoor cat enclosure would also depend on the number of cats you have. Naturally, the more they are, the bigger size you would need. You need to make sure that the enclosure has a lot of space for all your cats to roam around because if it's not, it will make your cat feel imprisoned, and it's not very comfortable.
Accessories
Some outdoor enclosures provide accessories. These are cat toys, cat beds, cat hammocks, and more. This can be your deciding factor when comparing the same brands as it somehow allows you to save money from buying extra stuff for your cat's enclosure.
Budget
Lastly, you should definitely know how much money you're willing to spend. By knowing this beforehand, you're already making things easier for you as you're already narrowing down your choices. It means you will only see brands that are within your price range.
If you don't want to set a budget, that's completely okay, too. What I would recommend, though, is to check out the things above and know what you want for an outdoor cat enclosure. Then, find the top brands that will offer you this and weigh the pros and cons. You can also compare the prices and go for, which will give you your money's worth.
PawHut Wooden Outdoor Catio Cage Review
The PawHut Wooden Outdoor Catio Cage is an excellent outdoor cat enclosure for those looking for something stylish and elegant. It also costs more compared to others as it features a multi-tier main house and a ramp. It's perfect for those who have multiple cats and looking for a permanent outdoor space for them in your backyard.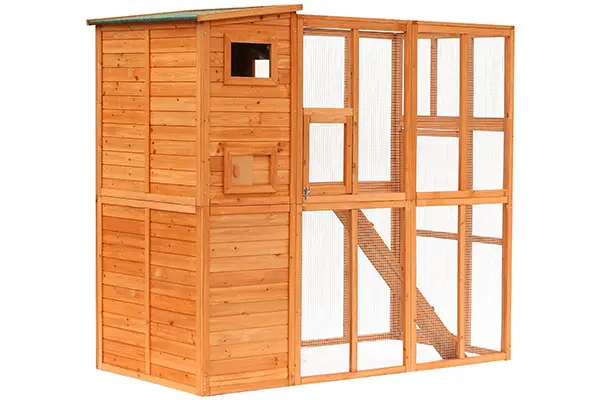 This cat patio is made of wood and non-toxic wires, which promises durability. The roof is also designed to withstand any weather conditions. If you want this, you should bear in mind that you would need to assemble it, so you definitely need lots of patience.
Quick Glance
What's Good
Large playpen with a multi-tiered main house
Made of natural wood, non-toxic wire mesh, and asphalt, flat roof
It comes with an oversized door for easy access
What's Bad
Assembly required
Not portable
The ramp might be too steep for some cats
Features and Benefits Of The PawHut Catio
Design and Materials
The PawHut Wooden Outdoor Catio Cage is a fully-enclosed playpen that you can build permanently in your backyard. It is made of wood and non-toxic wires to ensure its durability and safety to your cat.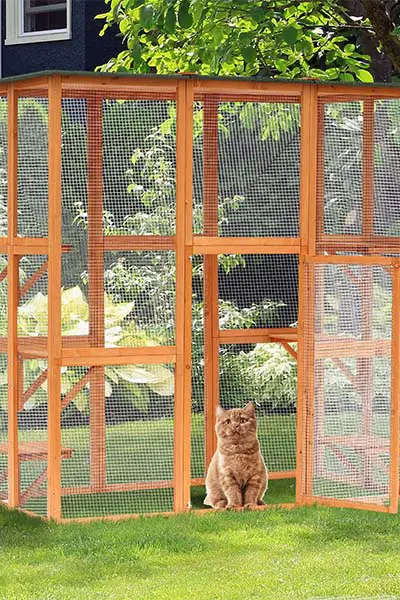 The whole enclosure comes with a multi-tiered main house that has about four floors. It comes with a panel window, a sliding door, a small hinged door, and a ramp, all of which are designed to give your cats plenty of room to climb up and down.
The roof is flat and covered in asphalt to ensure that it can withstand any weather conditions. Hence, you can expect it to last longer.
This whole catio weighs 100 pounds, so it's not very portable. You may be able to transfer it from one place to another, but you would need some assistance.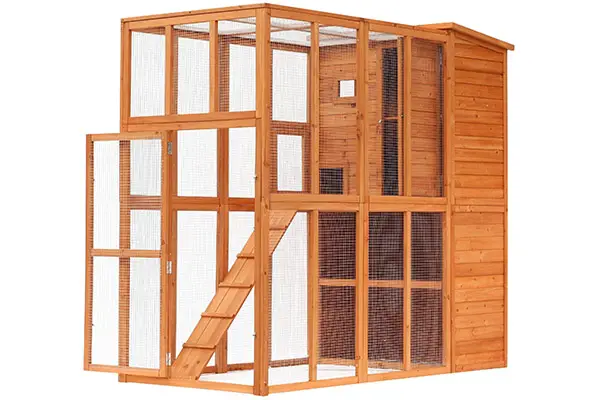 Activity Space
The PawHut Wooden Outdoor Catio Cage comes with a 77 x 38 inches product dimension, which is a really big space for multiple cats to play in and enjoy. It's also large enough for you to place extra toys and accessories inside. You can add some beds, wings, scratch posts, litter boxes, cat treats, and more stuff your cat would need.
Ease of Assembly
The PawHut Wooden Outdoor Catio Cage is a big enclosure with many parts, so you need to expect that you would have to spend time assembling it. However, many users say that the instructions are pretty clear, making things easier for you. You would need tools assembling it and probably some help.
Ease of Cleaning
Even if the PawHut Wooden Outdoor Catio Cage didn't make it easy for you to do the assembling, you can rest assured that cleaning would be easy.
One great feature this catio has is the oversized door of about 68 inches. This will allow you to easily access the cage if you need to pull out your cat or put them in. It will also make it easier for you to refill treats, put in the litter box, clean up any dirt, and arrange the space.
Social Proof
For me, the PawHut Wooden Outdoor Catio Cage is a really great product. But, let us also take a look at what other customers can say about it.
This cat owner bought this catio for her three cats, who definitely loved it. She also emphasized that even if the product needs assembling, it's very easy.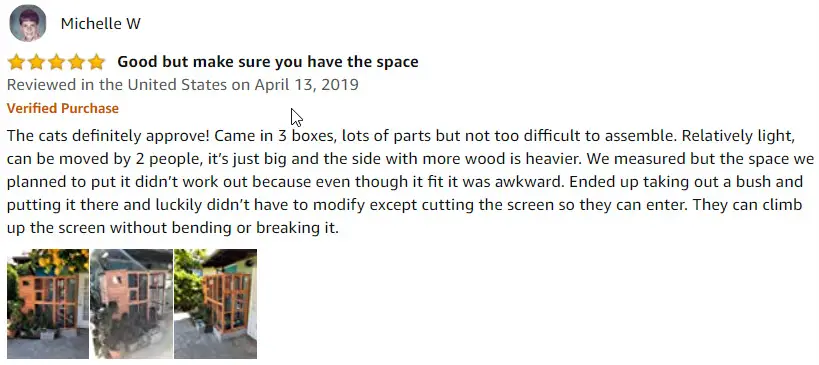 This cat owner is also impressed with the fact that her husband could assemble it alone without any problem. She also loves the weather-proof design that even if it rains, her cat won't get wet.

This cat owner decided to put some twist on the product and added a few more things to make it more high-quality. He even thought of adding a tunnel so his cats can go in and out without any problem. Sweet!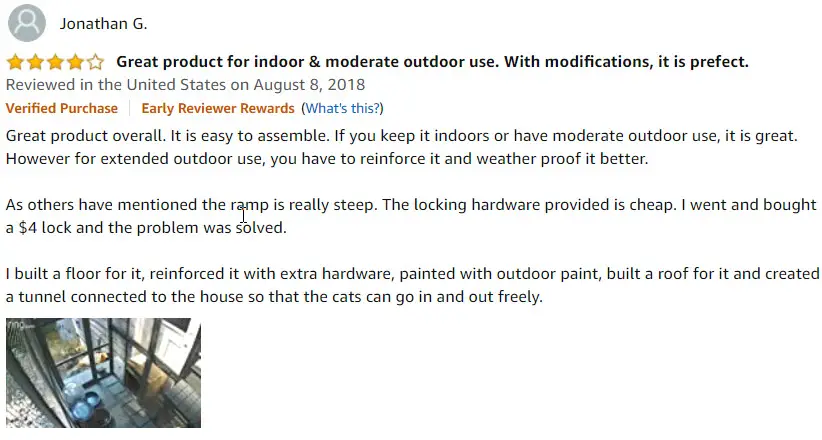 Alternatives To The PawHut Wooden Cat Enclosure
The PawHut Wooden Outdoor Catio Cage is a really great product. However, considering the materials and quality, this may be a little pricey. It may also not be a good buy for those living in apartments. So, if you think this is not the one for your cat, here are some alternatives you can check out:
Best Pet Outdoor Cat Cage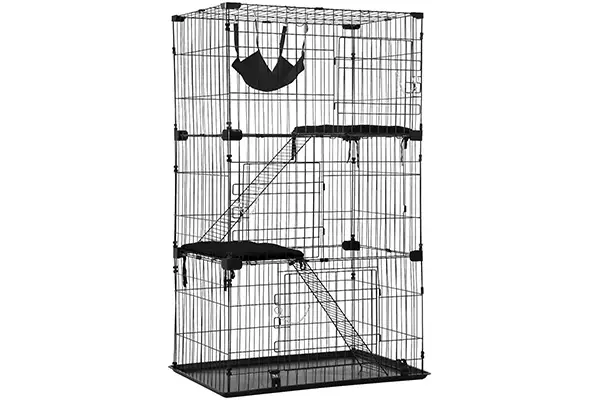 First on our list is the outdoor cat cage from Best Pet, one of the best value products on the market. It's a metal cage with three platforms so your cat can enjoy climbing up and down. What also makes it better than other alternatives is the many accessories that come with the product.
However, this one also has assembly required, so if you don't want that, then you can still check out a few products below.
EliteField 2-Door Soft Pet Playpen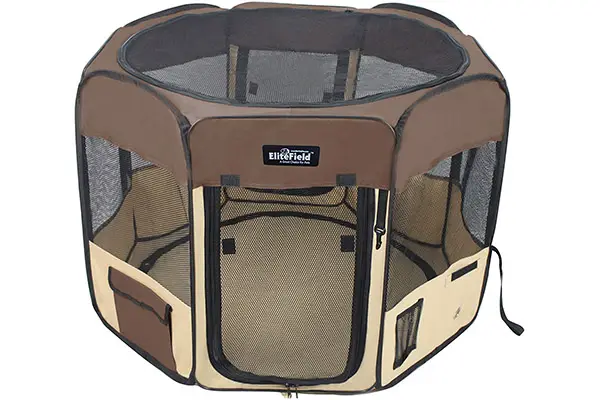 Next is the EliteField 2-Door Soft Playpen. This is one of the best-selling playpens on the market because of the 2-door feature that other playpens don't have. It also comes in eight different sizes and colors, which are many options compared to what other brands can give. Hence, you can choose the most appropriate size your cats would be most comfortable with.
This playpen comes with a portable-design – foldable, easy to set-up, and lightweight. It's perfect if you love traveling with your cats. It even comes with four ground stakes, so it doesn't get toppled over by strong winds.
Outback Jack Outdoor Cat Enclosure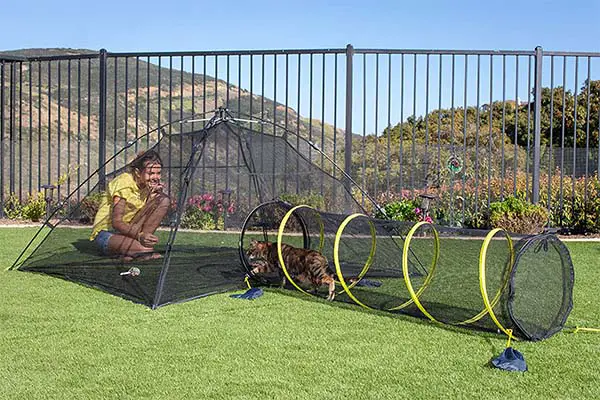 Last is the Outback Jack Outdoor Cat Enclosure. This one comes with a unique design – a combination of a cat tent and a tunnel. It provides a large activity space of over 30 square feet inside. This is spacious enough for multiple cats to roam around in and with extra room for toys and other accessories.
Both the cat tent and cat tunnel comes with a portable design and easy set-up process. It's perfect for those who enjoy outdoor adventure or just simply going to an animal-friendly park.
PawHut Wooden Outdoor Catio Cage Final Thoughts
The PawHut Wooden Outdoor Catio Cage offers beauty, safety, comfortability, and durability to everyone who buys it. It's the perfect choice for those who are looking for something stylish and elegant outdoor cat enclosure for your backyard. It may let you spend more, but it's undeniable that you're getting what you've paid for.
Click here to get current pricing on Amazon for The PawHut Wooden Outdoor Catio Cage.>>