Cat litter boxes are one of the drawbacks of having a cat at home. They're not fun to do and they stink up the place too. Don't we all wish that there is a better way to clean our cat's litter boxes? The AmazonBasics Hooded Cat Litter Box is here to help with that.
Items To Consider With An Oder Controlling Litter Box
Nowadays, there are a lot of different types of cat litter boxes, you have plain boxes, hooded boxes, etc. But what really is the best that can control the odor? And what should you look for when choosing to buy one? We're here to help with that. Let me tell you what elements you need to look for to find the best and perfect cat litter box for your home.
Design – What is the best design or shape for my cat?
Functionality – Will it be easy to clean? Will it help contain the odor inside the box?
Added Features – What other things can this cat litter box do for me and my cat?
No matter what cat litter box you choose, these factors come into play. There may be some other elements but it all boils down to personal preference. I'm just here to present to you our featured product and provide you the proper information so you can make the best choice.
AmazonBasics Hooded Cat Litter Box Review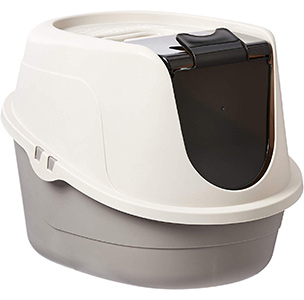 The AmazonBasics Hooded Cat Litter Box is a place for your cat to relieve himself with privacy with its fully enclosed, hooded top layer. They take pride in the no-mess feature making for easier cleanup. It is also equipped with a replaceable carbon filter to keep the odor from going around the house.
Quick Glance
What's Good
Equipped with a hood to make for easy cleanup
Replaceable Carbon fiber for odor control
Swinging door for in and out of your cat
Made of stain and odor-resistant material
What's Bad
Indentation at the back of the box makes it difficult to clean
Grooves and crevices around the box
Too small for larger cats
Hooded Litter Box Features
Choosing a litter box is not easy. That's why we're here. Let's take a closer look at what makes this box a contender in the best cat litter boxes for odor control.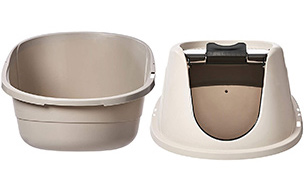 Design
This cat litter box is made in a sleek oval shape that looks inconspicuous to non-cat owners. It is fitted with a hood that makes for a great litter box for a very private cat. It even has a door that he can go in and out of. Made of rugged polypropylene, this box is sure to stand the test of time. It is also made with stain and odor resistant material that makes cleaning up after your cat easy-breezy. Although a design flaw makes some users frustrated. The way it is designed, there is an indent on the back of the box that makes it hard to scoop and clean. Users don't even know what the indentation is for.
Functionality
For me, this is one of the better cat litter boxes. Aside from the sleek design, it also is a very good box for odor control. It is fitted with carbon filters that you can replace and order the replacements from Amazon. A lot of users say that since they switched to this box, Their cat's litter area did not smell as bad as before. It also because of the odor-resistant material that they used to create this box. If you're looking for an odor-resistant box, here is the one for you.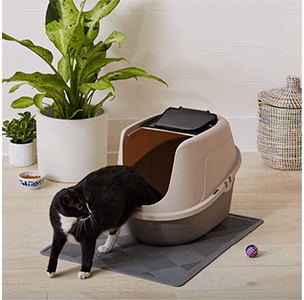 Added Features
The only added feature that I found on this product is the swinging door. It provides an easy in and out that your cat can easily push through. It also helps a little with odor control. Aside from that, there really isn't anything that makes this product unique, but it works! AmazonBasics recommends everyday scooping and regular cleaning to help the carbon filter to do its job. Keeping those practices, you are sure to have a better smelling environment for you and your cat.
At the end of the day, for me, as long as the product works and does its job, I would consider it a good buy. It would be great to have more features, but seeing as it fixes my main problem, I'll be a happy camper with a happy pooper.
What Other Customers Say About The AmazonBasics Hooded Litter Box
If you are not satisfied with the features that I provided, Here are some user comments that may assist you on your journey in finding the right cat litter box for your cat.
Malanie finds this cat litter box easy to clean and roomy for her cat. She can fit it in any hidden or smaller places in her house. She loves the carbon filter and the hooded top just snaps back on into place.

Sterling finds this an overall functional product. The major problem for him is the carbon filter not snapping on properly and eventually, the cats play around with it when it falls in the box.

Debbie coins it as a great find! She uses it for her traumatized kitty at home and it works very well for this high-peeing cat.
Alternative Order Controlling Litter Boxes
Of course, a full review will not be complete without comparing it to other similar products. Let's take a look at what the other cat litter boxes have on the featured product.
Catit Jumbo Hooded Cat Litter Pan
This jumbo-sized cat litter box seems to be perfect for larger cats and multi-cat households. It also carbon filters that help reduce the odor of a dirty litter box. You won't have to worry about the smell spreading throughout the house. A transparent door lets your cat go in and out seamlessly.
Van Ness Sifting Enclosed Cat Litter Pan
The Van Ness company is family owned and operated for over 70 years. They are leaders in providing quality and pet caring products. This sifting cat litter box is made from FDA approved material that you can trust. It keeps mess to a minimum with the enclosed feature. A 3 part litter box makes it easy to remove your kitty's droppings. One of the easiest litter boxes to use at an affordable price.
Petmate Booda Dome Clean Step Cat Litter Box
The Booda Dome Litter Box is made by a company that's been making pet products for 50 years. This dome is a cat litter box the keeps the odor contained with an odor filter so you can place it in any part of your house and not be worried about the smell. The dome encloses your cat inside and gives it privacy as it he does his business. It also keeps the mess inside the dome and not your floors.
Final Thoughts On The AmazonBasics Hooded Cat Litter Box
For whatever reason that you need a new litter box, this box from AmazonBasics is one that really works. It keeps the odor from spreading throughout the house and also is an easier litter box to clean up, aside from the little bumps and indents at the back of the box. With its sleek and minimal design, this will surely fit in anywhere in your house.
Click here to see more cat litter boxes that are best for controlling odor.
Check out current pricing and availability on Amazon here >>