You think that the prospect of bringing your dog wherever you want to go seems feasible, especially when you own a small breed like a Chihuahua, Pomeranian, or Yorkshire Terrier. After all, it's not that difficult to carry them in one hand. But what if you're traveling?
I used to leave my dog behind when I visited my parents out of state because I felt it was too inconvenient to bring him while I was driving. But it took only a couple of weekends before I felt terrible. I needed something to make the trip a bit more comfortable for my dog and convenient for me. I knew about pet carriers because I see them all the time, but I got the motivation to get one when I came across the AmazonBasics Soft-Sided Pet Travel Carrier.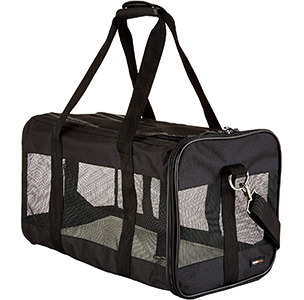 How Do You Buy a Pet Travel Carrier?
You see, not all pet carriers are created equal. Some are designed for small dogs and cats, while others are ideal for large canines and felines. So, how do you know if the pet carrier is the perfect match for your small dog?
You need a pet carrier if you love taking your four-legged buddy to outdoor adventures and travels. You also need one as added safety when you take him to the vet. A dog carrier is versatile enough to help you carry your pet without causing stress.
Size Considerations
Before you look at the other factors, the foremost consideration is your dog's size. So, be sure you measure and weigh the pet first. Find a product that is tall enough for your small dog to be able to stand up. Measure your pooch from the tip of the nose to the base of the tail. It is best to add some allowance, maybe two or three inches. Likewise, measure him from the ground up to the top of his head and add another two to three inches.
Specific Use
There are a lot of practical uses for a small dog carrier. You need it for the most mundane of situations, like when taking him to the vet for regular checkups. The carrier is a must-have for air travel as well as road trips. The idea is to keep the dog as comfortable and secure as possible during an extended journey by land, sea, or air.
You choose your dog carrier based on how you intend to use it. If you plan to take him in for a flight, then be sure you select a brand or model with airline-approved specifications. If you expect to do a lot of car travel, then buy a pet carrier with additional security features like seat belt attachments.
Design and Style
The good news about buying a small dog carrier for the first time is that you have a bevy of options when it comes to design and style. You may select a hard-sided or soft-sided variant. The former offers the best protection for long travels, while the latter offers added comfort. Avoid buying a soft-sided carrier if your dog tends to stress out or panic when traveling because he most likely will bite off the soft materials inside the carrier.
AmazonBasics Pet Travel Carrier for Small Dogs
This soft-sided pet carrier is your best bet if you are looking for a convenient and safe way to transport your pet. It comes with a bunch of security features like an adjustable shoulder strap and carrying handles. The product qualifies for air travel because it conforms to under-seat dimensions required by most airlines. If you are learning towards giving your small dog a comfortable experience, then the soft sides and mesh panels intended for ventilation will help.
Quick Glance
What's Good
It is compact and light
It has soft materials inside
It is reasonably priced
There's a washable fleece
What's Bad
The space is cramped
It might not be able to carry a dog that weighs 20lbs, although it says it can handle up to 22lbs
The top opening is narrow
VIP-Level Comfort
This product stands out because of the mesh ventilation situated on all four sides. The carrier provides sufficient airflow and prevents the likelihood of your pet getting claustrophobic. The mesh design allows the dog to see you, while you can also check on him without removing the cover.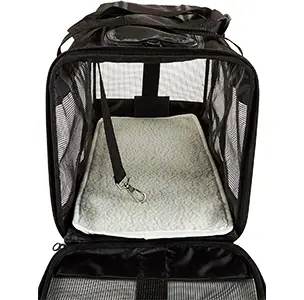 Removable Base Insert
The removable base insert adds a solid surface so that the pet is secured when it stands inside the carrier. It is paired with a removable fleece pet bed that serves as a comfortable surface so that your pooch can relax and rest like it is just like home. Fortunately, the fleece bed is removable and machine-washable, too. You will love it if your dog is not used to traveling since the carrier will give him the comfort and security it needs to relax.
Rugged Design
I decided to go for this AmazonBasics pet carrier because of its rugged design. I realized that most carriers are dressed in the same way. So, I found this one to be unique. Know that the rugged design isn't just about aesthetics. The carrier is built for the rough ride. It has two connecting loop handles intended for balanced carrying. The same attachments can also work as a luggage or seatbelt strap.
Furthermore, the adjustable shoulder strap can work in a way that you can do a hands-free carrying of your pet. Even if the carrier has soft sides, there is spring wire reinforcement for added protection and stability.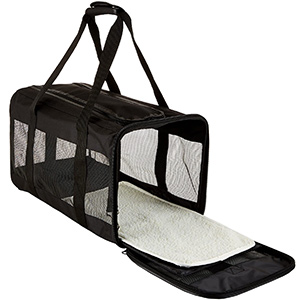 Stress-Free Access
This pet carrier comes with a front and top opening, specially designed for convenient and stress-free entry and loading. There is a zipper located on the front and another one on the top. The zippers are there to ensure that the openings are closed and secured while traveling.
Maximum Load of 22Lbs
The carrier's recommended maximum load is listed at 22lbs or about 10 kilos. This product is more than enough for a small or even a medium-sized dog. Do not forget to measure and weigh your pooch before you buy any pet carrier because you cannot ask for a return based solely on the fact that your dog cannot fit in it.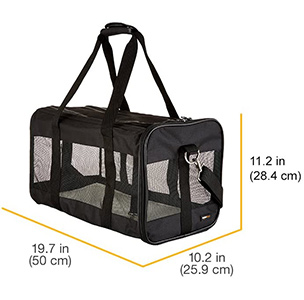 Online Reviews: What Others Say About It
I did some research on how people felt when they purchased the AmazonBasics Pet Carrier, and here are some of the information I got:
Chuck Donnels gave it 5/5 stars even if he thinks it isn't that spacious.

The compact size amazes Peder. It even fits when attached to a bike.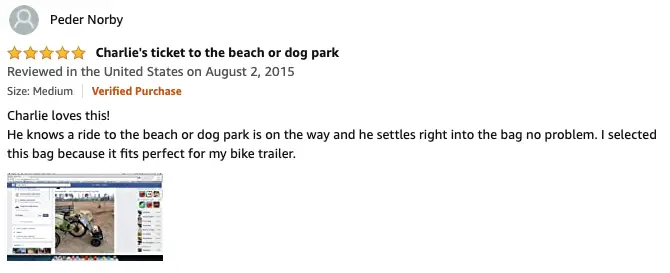 Louie has some reservations, but the rating he gave says otherwise.

Small Dog Carrier Alternatives
The AmazonBasics soft-sided small dog carrier comes with most of the bells and whistles. But if for some reason you are still unsure it, then you can do some comparison shopping with these alternatives:
Mr. Peanut's Soft Sided Pet Carrier
This pet carrier is lightweight, and just like AmazonBasics, it is intended for small and medium-sized pets. Other similarities include breathable mesh and removable fleece bed. However, the solid base of this product is made of plywood. You can check out Mr. Peanut's pet carrier here.
Paws and Pals Airline Approved Pet Carrier
This product is advertised as a "cab" or "taxi" for your pet, and the bright yellow color is a smart marketing idea. It is ideal for small dogs and cats and is specially designed for road trips. But like the AmazonBasics dog carrier, it is also intended to pass airline regulations on air travel. See more of the Paws and Pals pet carrier through this link.
Henkelion Dog Carrier
The airline-approved design of this pet carrier means your dog is safe and secured for air travel. Like the AmazonBasics pet travel carrier, its connecting loop handles can work as a luggage strap and dual seatbelt. Another similar feature is the adjustable shoulder strap for hands-free carrying. Find out more about the Henkelion Dog Carrier here.
What's Our Final Say?
Small dogs are easy to carry when you are traveling short distances. But if it requires air travel or interstate road trips, you need a comfortable and reliable carrier. I tried a couple of pet carriers before, but they didn't address my needs for something that helps my dog calm down and relax during travel.
Check current pricing and availability on Amazon here >>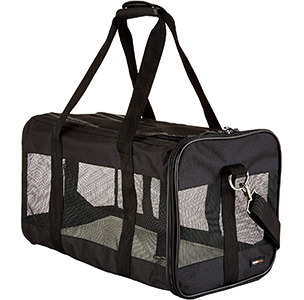 Check Amazon's Price