I don't know about you but my dog loves riding in the car with me. It's like everywhere I go, he just wants to come with. I like taking him on adventures. Driving to the hiking trail or going camping with him are some of the ways we get to bond. He's always ready to go on an adventure! You may ask how do I travel with a dog? Whenever I travel with my furry friend, I always use my car hammock to keep him safe in the backseat of my car. One of the most common questions that I get asked when they see the hammock set up in my car is "Is it safe for dogs?" That's what we are going to answer in this article.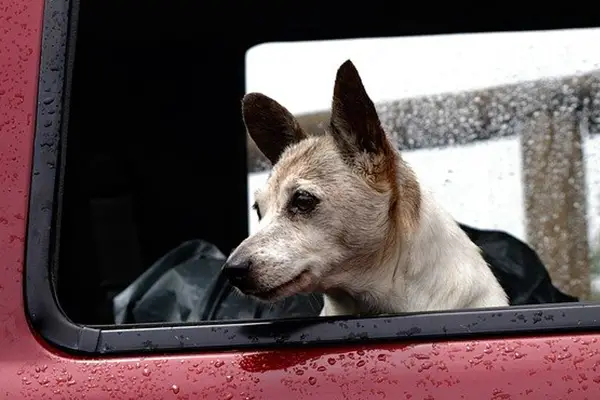 What Is A Dog Hammock?
If you don't already know, a dog hammock is a large piece of fabric that goes over your back seat to create a hammock type area for your furry friend. The hammocks connect to the headrest and the handles above your car's windows so your dog has a place for him to rest in the car on road trips. Not to mention that it also protects your car's interiors from any spillage and the endless dog fur.
What Makes A Dog Car Hammock Special?
Funny you should ask! A car hammock has a lot of different features that you may find useful while traveling with your furry friend. Let's go through them one-by-one and see if the car hammock is something that you would need in your life.
Waterproof or water-resistant
Mesh Windows
Anti-slip bottoms
Seatbelt openings
Car door flaps
Washing machine safe
Now, some hammocks may have all these features, and some might not. In any case, you can choose what hammock fits your lifestyle best.
Here is a helpful video that discusses taking your dog on a trip in your car:
Advantages and Disadvantages of Car Hammocks
With all these features, the question still remains, is it really safe? Let's discuss some pros and cons of the car hammock for you to fully understand what they can do for you. Then it is up to you to decide if they are safe or not.
Pros
They feel safe – Dogs feel safe in the car with the car hammock because it turns your back seat into a crate like space. It has plenty of room for them to stretch or lie down. It keeps them comfortable.
Easy to install – These car hammocks can be easily installed and removed. No mess, no fuss removal when you don't need them. It snaps on to the headrests and sometimes there are door flaps you hook to the handgrips on top of the window of your car.
Protects upholstery – Your car's interiors are safe from any dirt, spillage, or dog hairs because it covers the whole back seat.
Familiarity – IF you have multiple cars, your dogs won't hesitate to ride a different car because of the hammock. It's something they are familiar with. If you have an anxious dog that's reluctant to ride a new car, the hammock can definitely assist you with that.
Cons
The whole seat! – The car hammocks cover the whole back seat not giving any space for other people or your kids to sit in. The whole back seat will be taken up by your furry friend.
Lacks safety features – It is a great product to have. Unfortunately, in the event that an accident occurs, there's nothing stopping your dog from flying to the windshield. No safety locks or seatbelts that protect him from that.
Scent build-up – as it is still made of a certain kind of fabric, every now and then the hammock can have a certain smell that you will not be able to bear. Good thing, some of these hammocks are machine washable.
Our Final Thoughts
Dog hammocks are amazing products and they are awesome travel gear, especially for dogs. This gives them security being able to see you without the presence of the crate. They are free to move around and stretch their legs when they need to. They just occupy the whole back seat so you can only use this when you are traveling with two people. Just make sure that you drive safely so your furry friend won't be so anxious. Dog hammocks are one of the best dog gear in the market today!