The latest cat accessory must-have for your feline friend is a cat backpack. They look good and they are very stylish, but who is it really for? If you are in the market for one of these, take some time to consider if this accessory is best for your little kitty. There is a tendency to come up with a lot of new and trendy cat accessories without really thinking if they are truly good for our cats. We'll be taking a look at the pros and cons of the most sought after cat backpacks in this article. Buckle up! It's going to be a bumpy ride.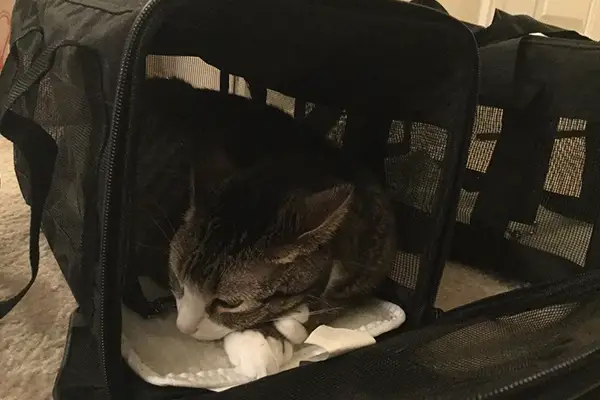 Why Consider A Cat Backpack For Your Pet?
So why do cats love backpacks? Are cat backpacks safe? Cat backpacks are for those people who need to take their feline friends on a trip or just everyday care if they can't leave them alone at home. These backpacks come in a variety of designs. Some are made of plastic and some or made of mesh and fabric. They also have a lot of different purposes. There are some that are said to be made for outdoor activities such as hiking, and camping. Then there are the others that are there just to actually carry your cat. For whatever use they have, there are always advantages and disadvantages to using a cat backpack. Let's Take a look.
Advantages Of A Cat Carrier Backpack
There are a lot of different advantages to owning a cat backpack. I have read that some cats really enjoy staying in the backpacks and having the time of their lives traveling with their owner. Here are some of the advantages of cat packs:
Call the Fireman!
Have you ever heard that story about this cat that got stuck on the tree? Yes, we've all heard of it, but don't you wonder why cats are always up there? Cats prefer to be high up in the trees because up there, they feel safe. They have no fear that they are going to encounter a predator. Inside the cat backpacks, they feel very safe perched up on their human's back in a cat window backpack, knowing that nothing will happen. Unlike the cat carriers or some cat carrier bags that hover 6 inches above the ground potentially meeting the eyes of their mortal enemies, the dogs.
Snuggle up
Cats love being cozy in tight spaces. They just stay there and relax. They do it all the time – under the couch, in the corner, and even inside empty boxes. Cat backpacks help give that feeling of being cozy making the cat feel comfortable while traveling. When you first get a backpack, you might be surprised how well your kitty might take a liking to it. He just might just jump right in and snuggle up. For those with larger than normal cats, they even have large cat backpack carriers and fat cat backpacks!
Handsfree
As opposed to the handheld cat carriers cat backpacks gives you the opportunity to do more while knowing that your cat is safe in his own little oasis. This gives you the chance to multi-task on your trips. Some cat backpacks also have additional pockets for most of your essential or personal items that you may need for your trip. Do more, stress out less.
Feline Backpack Drawbacks
As much as there are advantages, there are also disadvantages that we should consider before purchasing one for our feline friend. Let's take a look:
Feeling Heated
Cat backpacks come in many different designs. One of the most popular is the bubble style backpack. These backpacks have either a full clear front cover or a clear window type bubble. These types of backpacks are made with acrylic. Acrylic is a type of plastic, and as we all learned in school, plastic insulates heat. Meaning it traps the heat inside. Although there are air holes on these backpacks, I believe that it could still cause overheating for some of our feline friends. We definitely do not want that. So if you decide to buy a backpack with a plastic window, be sure to keep an eye on the temperature level.
Too Small
As I have learned, cat backpacks are made for small and medium-sized cats. Bigger cats will feel very uncomfortable inside one of these carriers or not fit in them completely. Cats need some room to feel comfortable while traveling. As much as they like being cozy, sometimes they just need to move around to stretch their legs. These backpacks offer very little legroom for our cats. As you travel and move around, you cannot avoid the backpack from rocking in all different directions. Being cooped up in such a small space this might just make your cat feel on edge.
Spill The Beans
Establishing that it is hard for them to move around, trying to feed them or give them water inside the backpacks offers more stress on you and your cat. Attempting to even put a bowl inside will just not work. It is likely that the water will spill inside the backpack and will add on to your stress levels.
Are Cat Backpacks Worth It?
If you find the need for a cat backpack, take some time to consider all your options. Weigh the good and the bad of each type of backpack and choose what best suits you and your kitty. Make sure that you check the dimensions of the backpack that you want to buy and ensure that your cat will fit into the backpack of your liking. Make sure you are patient when your cat needs to get used to their backpack. Give your feline friend some space to move around.
Avoid long trips and warm places. Keep your travel in a cat carrier as short as they can be. You do not want your cat to be in the backpack longer than they should be. Always check up on your cat if they are comfortable and not overheating inside the backpack. When you take a rest, remove your cat from the backpack and allow him to take a break as well. Keep him and yourself hydrated while on your trip.
So, are cat backpacks really just a cute accessory or are they a necessity for every cat owner? I'll leave it up to you to decide that. If you decide to buy one, check out our article titled, "Best Cat Backpacks".
Related Cat Carrier Backpack Articles: