Since they became available in the market, cat backpacks have been criticized for their safety, and people have asked, are cat backpacks safe? Are cat backpacks enjoyable for cats? Animal rights groups have been questioning the safety of cats inside these backpacks. Even actress Nicole Kidman was critiqued for hiking with her cats in one of these backpacks.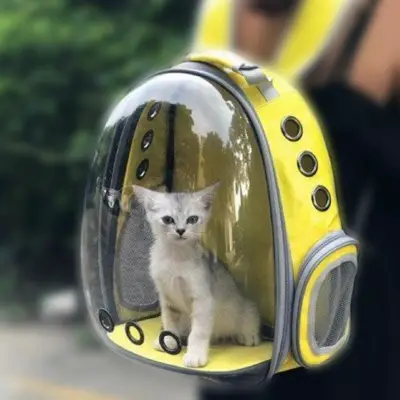 I don't think that these backpacks were made to be unsafe for cats. As pet owners and animal lovers, we are always thinking about the safety of our cats. We are responsible for their well-being and ensure their safety in any and all circumstances. In this article, we will discuss the safety of these backpacks and what we should do if we decide to use them.
What Are Cat Carrier Backpacks?
Cat Backpacks are cat carriers that are designed to be carried on our shoulders much like a regular backpack. There are a lot of different designs, shapes, sizes, and brands of cat backpacks. One of the most famous designs right now is the bubble style backpack. It has a clear front cover that is made with acrylic so your cat can see the outside world through his own little bubble. People say that they are really cute, but a lot question their safety.
Who Needs A Cat Wearing Backpack?
Cat backpacks are for those cat owners who live a very active lifestyle. People go hiking with their cats, people go camping with their cats. So it's not a surprise that they would need a carrier for their feline friend. There are also people who need them because they cannot leave their cat at home alone while they work. So they bring them along in these backpacks to where they need to go and not worry about their cat. But do cats really like these backpacks?
Are Cats Comfortable In Backpacks?
In addition to "Are cat backpacks safe?", another question that always comes up when talking about cat backpacks, is if the cats like them and are they comfortable inside these carriers. A quick answer would be, Yes! We all know how cats love their tight spaces, including a cat backpack carrier. They like to be cozy in a spot in your house. Cats have a natural need for warmth and protection. So, being inside one of these backpacks will make them feel that they have their own personal haven. Combine that with the comfortable lining and fabrics that these backpacks have, your cat is sure to love it in there. However, it is important for your cat to get accustomed to their backpack before you take them out on a long journey.
Cats love tights spaces…
Of course, all cats are different. There are some that will absolutely love being inside a backpack or a cat holder. Some may not. It's up to you to decide for your cat because you know him best. Although most of the cat backpacks being sold are only for small to medium-sized cats. Make sure to measure your cat first then compare that with the dimensions of the bag you want to get. By doing this, you are giving your cat the chance to have space inside the backpack. When you finally get your backpack, what do you do?
Getting Used To A Cat Carrier
As soon as your backpack arrives, you have to make your cats used to it as soon as possible. One trick you can use it to set the backpack where they like to cozy up the most. Keep the carrier open and see if they would go inside without any help. If they go in and lay down inside, they must feel comfortable with it and you might not have any problems. There are some lucky cat owners that once they opened the backpack, their cat immediately jumped in. Every cat is different and there are a lot of different ways of making them feel good inside the backpack. For more information on how to make your cat feel comfortable inside cat backpacks, click here.
What now?
Now that your cat is comfortable with his backpack, you can now try going out and have an adventure with your new travel buddy. While you are out and about with your cat companion, there a few things that you need to be mindful of.
Awesome video of hiking with your cat:
Backpacks For Cats – Make it fun!
Seeing as this is your first trip with your cat in this new carrier, make sure that your cat has an enjoyable time. Go on a trip to the park, or go hiking with your cat to somewhere you know he'll have the best time. Do not take him to the vet the first time you use your backpack if you don't want to feel like you've wasted your money on this. Make it the best cat trip for him as possible. However, be mindful of how long you are out when using your cat backpack for the first time. You may want to make your first trip short and build up.
Breathe
During your trip, see to it that you take breaks every few minutes just to check on your cat. Make sure that he is breathing comfortably and having a good time. Also, give him some water while on this break to keep him hydrated. The important thing to remember is that you always have to be in tune with your cat's health on your adventure.
Keep it Short
Another thing to bear in mind while on your little trip is that you don't want your cat to be staying inside the backpack for too long. Taking breaks is a great idea but also cats can get restless and they might be fussy after a while. One tip is to keep your trip as short as possible. Only keep your cat inside the backpack for the amount of time he needs to be in there. Click here to read more about this topic.
Accountability
One thing to take from this is that you are responsible for your cat's safety and health. These backpacks are made with the safety of cats in mind. It is up to you to make sure that your cat is doing well when they are inside the carriers. These backpacks are a great product to use when traveling with your cat. They give you the freedom to multitask while still carrying your feline friend.
To answer the question, are cat backpacks safe? I think that cat backpacks are safe and are best paired with responsible cat ownership. Also, you need to find a cat backpack that meets your specific needs. For example, if you plan on bringing your cat on a hike, then make sure you find the best cat backpack for hiking. Read more about choosing the best cat backpack for you and your cat.
Related Cat Backpack Articles: