A cat bed is everything. It gives your furry friend a place to lie down and relax in your home. If you don't want them going up on your bed or on your sofa, a pet bed like the Petmate Aspen Pet Self Warming Bed is possibly what you need.
Buying a Cat Bed – What To Consider
Buying anything may it be online or in the shops can be difficult and scary sometimes. Especially when buying for our furry loved ones. We don't know if they will be using the item that we would get them.
No matter the case we still do get them those items because we want them to use it. Much like cat beds, we want them to use it inside the house for them to be comfortable when they lounge and sleep. To ease your mind, here are some things that you might want to consider before buying a cat bed:
One of the things that you should know is there are heated cat beds. Whether it be self-heating, electric, or even the ones you heat up in the microwave, there are heated cat beds to provide warmth and comfort to your cats.
This will likely be the best bet to get your cats to use them as they will instinctively look for heat when they sleep. The best ones that I found were the self-heating ones as they use your cat's natural body heat to create more heat. No mess, no fuss, and your cats will love it.
Another thing to consider is the material used as a cover. Most use faux material but some are covered in cotton, velvet, and other materials that keep your cat cozy in the bed. It is up to you what you want them to sleep on. There are many different choices and all of them are awesome for lounging.
Take these small considerations and make the decision based on what you think your cat would like. You may be trying out different beds in the long run and that's normal.
Petmate Aspen Pet Self Warming Bed Overview
The Petmate Aspen Pet Self Warming Bed has a corduroy lining that features reflecting heat technology to keep your furry friends warm as they sleep. The bed reflects your cat's own body heat upon themselves to keep them cozy. No electricity is needed.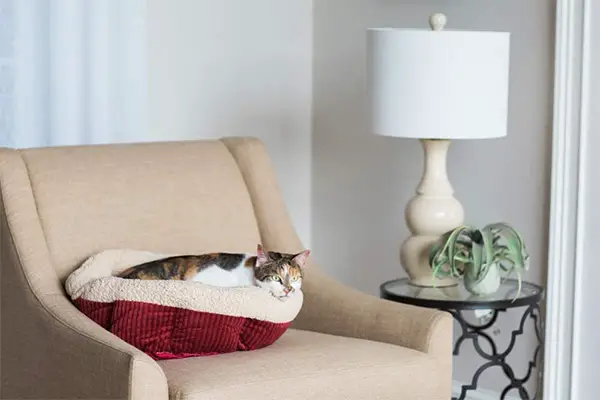 The bed is made of plush corduroy and the sleep surface is covered in faux lambswool that is so soft, your furry friend will not want to get up. It also features a non-slip underbelly to prevent the bed from slipping every time they get into the bed.
It comes in various sizes that can cater to your cat's size.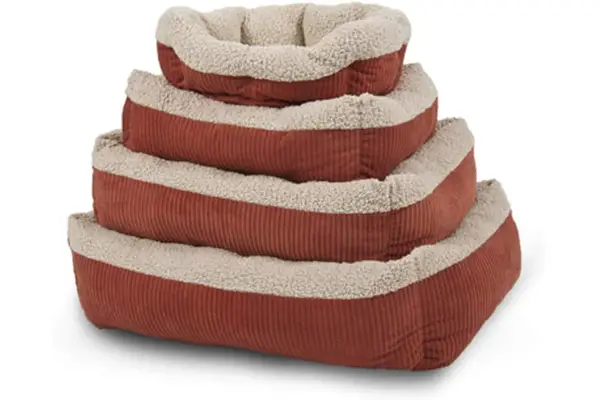 Quick Glance
What's Good
Mylar self-heating technology
Easy to wash
Faux lambswool cover
Large diameter
Non-skid bottom
What's Bad
Flimsy walls
Crinkling sound when cats get into them
Key Features of Petmate Aspen Pet Self Warming Bed
Self- Heating Technology
The Petmate Aspen Pet Self Warming Bed features a Mylar interior that reflects your cat's body heat back to them making for a warm and cozy lounging bed. It is the same material as the Mylar space blankets that are used in first aid or emergencies when trying to warm humans up.
No electricity is needed to keep your cats safe and warm.
Large Size
With a diameter of 19.5", this self-warming bed from Petmate can fit the largest of kitties. It comes in different round sizes that can fit most cats and other furry friends.
It also features plush sides that add to the feeling of security and coziness. Your cats will love staying in this bed with all the comfort.
Comfy Covers
The covers of this Aspen bed are made from corduroy plush on the exterior and faux lambswool in the bed itself. This combined with the self-heating technology, creates the perfect environment for your kitty to lounge in and sleep at night.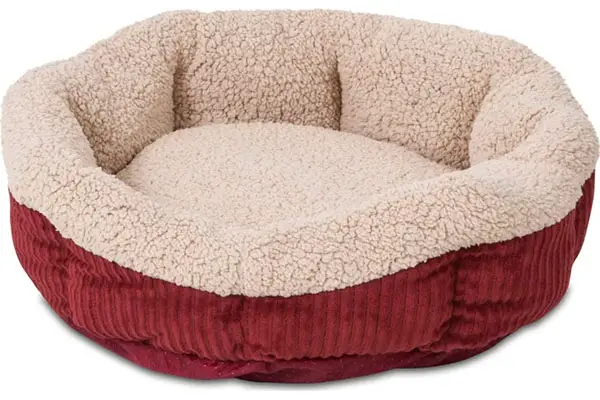 Non-Skid Bottom
The Petmate Aspen Pet Self Warming Bed features a non-skid bottom so you can place the bed anywhere around the house without the worry of it sliding across the room when your cats play around the bed.
What others say about the Aspen Bed
As I was making this list for the best cat beds, I came across some reviews of the Petmate Aspen Pet Self Warming Bed that I thought you should see.
Cat has a 17-year-old cat that has hyperthyroidism. She loves the bed because it gives her skinny and easily cold cat some warmth at night.

Lindsey had to put blankets on the bed for her cats to keep using them because for a time, they didn't like the original cover of the bed.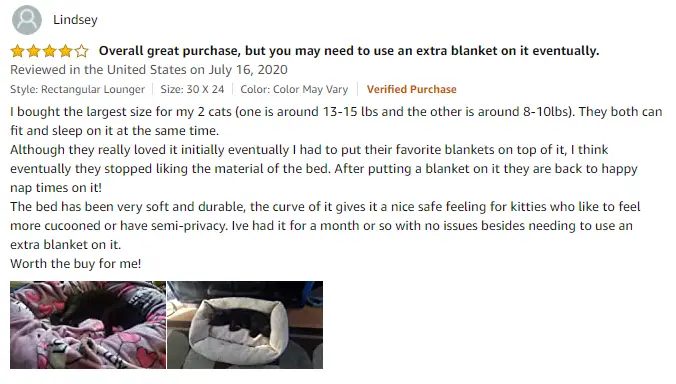 Sarah Welch thinks that this is the best cat bed for her cat. Her 16-year-old cat is a grumpy one and yet you couldn't get him out of this bed when he's in it.
Alternatives to the Cuddler
AmazonBasics Collapsible Cat House with Bed
The AmazonBasics Collapsible Cat House with Bed gives your feline friend a place to lounge, play, and escape when he wants to. It is accommodating to any cat's natural instincts, combines a bed to sleep in up top and a hiding spot for when they want to be cozy and escape from everyone as most cats do.
It is also collapsible that you can bring it anywhere. You can pick from 3 neutral colors that go well in any house.
Pet Magasin Thermal Self-Heated Cat Bed
The Pet Magasin Thermal Self-Heated Cat Bed gives your cat a place for them to sleep where they feel cozy and warm. It is stylish and comfortable. Very minimalist. If you are looking for mats that can provide all the comfort and coziness of other beds without the fuss.
It is also equipped with a non-slip underbelly that keeps that mat safely in its place. It is made with three thermal insulation layers that keep the bed comfortable, thick, and warm for your furry friend.
K&H Pet Products 3191 Thermo-Kitty Heated Pet Bed
The K&H Thermo-Kitty Heated Pet Bed are cat beds for all seasons. It envelops your furry friend in a heated bed for the colder seasons. When summer comes along, remove the heater to make it more comfortable for them.
This bed comes with a one-piece pillow and an inside fleece cover to make it the most comfortable bed for your cats. The entire cover is removable to easily wash it in the washer. Just unzip to remove the ortho-foam. A 4-watt heater is inside the bed that heats its surface up to 15 degrees higher than room temperature.