If you have a dog, chances are you have dog hair just about everywhere in your home, wanting you to have the best broom for dog hair!
It can end up in places you wouldn't even think to look (how did it get inside a clean Tupperware container WITH the lid on??) But of course, most of it ends up on your floor. Sometimes you can be sweeping and sweeping, and as soon as you think you're done, you see more strands of dog hair or even a whole ball of fur. How could you have missed it?
Well, when you're trying to sweep up dog hair with your traditional bristled broom, you may find that it will often fly up and travel to another part of the room instead of being contained in a neat pile on the floor. And sometimes you can't even reach where it flies off to! This can make sweeping a frustrating and time-consuming process.
If you're looking to get rid of dog hair more quickly and efficiently, then it may be time to invest in a broom that helps trap dog hair and keeps it in one place. But which to choose? And do they actually work?
To help you find the best broom for dog hair, we have looked into a lot of the most popular options out there and have compiled a list of some of our favorites. Keep reading for our reviews and an instructive buyer's guide on how to find the best broom for dog hair.
Best Broom For Dog Hair: 5 Great Options
Best Rubber Broom for Dog Hair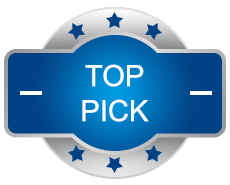 FURemover Broom
Editor's Comments:
This broom does it all! The FURemover Broom attracts and traps dog hair on tile, hardwood floors, carpets, and rugs. And then, with its squeegee edge, it can even clean your windows, showers, and car windows.
Broom Material: Rubber
Handle Material: Plastic
Dimensions: 36.9 x 1.65 x 7.9 inches
Weight: 0.92 pounds
Manufacturer: Evriholder
The Bottom Line:
You will likely not find a better broom for dog hair removal at this price! The FURemover Broom can be used on multiple surfaces, is easy to clean, and has a telescopic handle, allowing you to reach places you normally wouldn't be able to get to with a regular broom. The handle may be flimsy, but the broom head does an excellent cleaning job.
What's Good
Can be used on multiple surfaces, including hardwood floor, carpet, tile, rugs, windows, etc.
Rubber squeegee on back can be used to clean up liquid spills or dog accidents, also helps keep hair in pile while cleaning
Rubber bristles electrostatically attract dog hair, dirt, debris, and other fine particles
Will not scratch floors
Telescopic handle extends from 36 to 60 inches
Easy to clean
What's Bad
Handle material isn't durable
Summary
At the time of this writing, the FURemover Broom has over 78,000 global ratings on Amazon, the grand majority of which are 5 stars. People LOVE this broom, and it's easy to see why.
One of the biggest reasons is probably its versatility. The rubber head on this broom has two sides: one side with soft rubber bristles and the other with a 12-inch-wide rubber squeegee. The rubber bristles attract dog hair on all types of surfaces, even helping you get at dog hair that may be embedded in your carpets and rugs. To use it most effectively, simply pull the broom in sharp, short strokes to loosen embedded dog hair and bring it to the surface for easy cleanup.
The squeegee, on the other hand, can help clean up liquid spills, whether your dog has knocked over one of your drinks or has had a little accident on your floors (hey, it happens!). The squeegee is also useful for picking up fine particles, dirt, and dust on hardwood floors, making it perfect for cleaning up whatever your dog brings in from outside.
While a lot of people report no problems with the broom head, some have had issues with the handle. It is not made of the most durable material, it seems, but it's hard to expect absolute perfection at this price point.
Best Silicone Broom for Dog Hair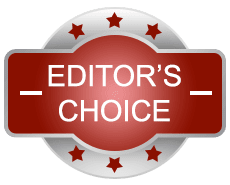 ElectroSilk Silicone Push Broom
Editor's Comments:
If you're not a fan of rubber bristles, then why not try silicone? Some people find that silicone bristles on the ElectroSilk Silicone Push Broom are actually more reliable and elastic than their rubber counterparts while still be able to effectively sweep away dog hair from carpets and hardwood floors.
Broom Material: Silicone
Handle Material: Stainless steel
Dimensions: 15.6 x 4.9 x 3.6 inches
Weight: 1.76 pounds
Manufacturer: Vivian Italy
The Bottom Line:
With the electrostatic action of its silicone bristles, excellent maneuverability, and adjustable handle, the ElectroSilk Silicone Push Broom is an effective dog hair remover for just about every surface in your house and outside. Its only major downfall is that the hair doesn't collect in the bristles, requiring you to bend down and pick it up or vacuum after sweeping.
What's Good
Sturdy and durable
Can be used indoors and outdoors
Silicone bristles electrostatically attract dog hair, dirt, lint, and more
Squeegee allows it to wipe up liquids and other spills
Appropriate for all kinds of floors
Contour bumper belt helps keep it from damaging furniture
Extendable handle allows for different heights
Is dishwasher safe
What's Bad
The hair may not actually stick to the broom head
Summary
The ElectroSilk Silicone Push Broom is a great option for those looking to help remove dog hair from multiple surfaces inside and outside their homes. Its handle extends to 4 different heights of 17, 32, 52, and 64 inches to help you reach just about any nook and cranny.
This broom is really similar to the FURemover broom pictured above in many ways, with the main difference is that it uses silicone bristles instead of rubber. These silicone bristles do offer some advantages, though, like they have heat durability up to 520 degrees Fahrenheit. This means that you can effectively sterilize it, which is especially important when cleaning up any kind of dog-related accidents with the squeegee feature.
The only minor drawback to this broom is that some people found it doesn't necessarily trap the dog hair and dirt in its bristles, meaning you will have to stoop down to pick it up off the floor. Of course, this isn't the end of the world for some, but it is important to be aware of it if you happen to have mobility issues.
Best Broom for Dog Hair with Dustpan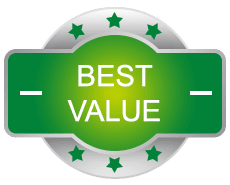 TreeLen Dustpan and Broom
Editor's Comments:
If you have issues bending over to pick up dog hair, then the TreeLen Dustpan and Broom may be right for you! You can use the extendable broom handle and dustpan while standing to help clear away any swept-up dog hair from your hardwood floors or carpets.
Broom Material: Plastic
Handle Material: Steel
Dimensions: 10.4 x 11.6 x 52 inches
Weight: 3 pounds
Manufacturer: TreeLen
The Bottom Line:
If you have mobility issues but still need to clean up after your dog, the TreeLen Broom and Dustpan set is the perfect choice. It is easy to use, adjustable, easy to store, and has a built-in scraper and comb to maximize cleaning effectiveness with each pull of the broom.
What's Good
Dustpan comes with a handle, allowing you to stay upright while cleaning
Built-in scraper
Bristles will not scratch hardwood floors
4 layers of bristles allow you to sweep more effectively
Dustpan comes with a rubber lip, ensuring nothing goes underneath while sweeping hair into it
Compact, upright storage
Extendable pole allows you to extend your reach up to 52 inches
What's Bad
Broom head size is a little small
Bristles may be a little too soft for outside sweeping
Pricy compared to similar products
Not particularly effective for carpet
Summary
The best thing about the TreeLen Broom and Dustpan set is definitely the fact that you can stay upright while you are sweeping your floors. This makes it great for those dog owners with mobility issues.
But even if you don't have mobility issues, this is still a great broom. It can be used on multiple surfaces, has an adjustable handle, and features a built-in scraper, which helps scrape off debris and hair that may get caught in the broom's bristles.
The main but minor drawback to this broom is that the head is a little small, at only about 10 inches. This means you may have to spend more time sweeping to effectively clean all of your floors. That being said, this smaller head makes it easier to get into tight spaces and corners, so if you have a small place, this may work out in your favor.
Best Broom for Dog Hair on Low-Pile Carpet
Quality Line Universal Carpet Rake
Editor's Comments:
If you are looking for a broom or carpet rake that would be more appropriate for the low-pile carpets in your home, then try the Quality Line Universal Carpet Rake. Its shorter metal tines and ergonomic design make cleaning low carpets a breeze.
Broom Material: Metal
Handle Material: Plastic
Dimensions: 29.2 x 6 x 6 inches
Weight: 1.4 pounds
Manufacturer: Quality Line Pet Products
The Bottom Line:
The small metal bristles on the Quality Line Universal Carpet Rake make it easy to pick up both small and large pieces of dog hair as well as any other fine particles that may be hiding in your carpets. The washable microfiber cloth attachment is also a nice addition that you won't find with many other similar products. The handle may not be durable, but the broom head does a great job.
What's Good
Collapsible handle makes it easy to store
Metal tines grab onto both small and large pieces of dog hair
4-foot-long extension pole allows you to extend your reach while sweeping
Microfiber mop pad can be used damp or dry for an even deeper clean and is washable and reusable
Won't damage low carpets
Hair sticks in brush head for easy removal
What's Bad
Not recommended for use on high-pile carpets or any kind of hard floors
The handle is flimsy and may unscrew itself from the broom head while in use
Summary
The Quality Line Universal Carpet Rake is just what you need if you are specifically looking to get dog hair out of your low-pile carpets. The short metal tines trap and lock the hair and other debris into the broom head, making it easy to collect and dispose of everything. 
Then, if you want to also be able to collect dust and other fine particles, you can slip on the lint-free microfiber pad and run it over your carpets for an even deeper clean. This pad is reusable and machine washable, so you can use it every time you clean your carpets (though you can purchase additional pads if necessary).
The adjustable pole extends out to about 4 feet, which is nice, but customers seem to agree that the pole is quite flimsy and of low quality. It also may unscrew itself from the head while sweeping the carpets, which is clearly not ideal. However, despite this, some certainly still recommend this product due to the cleaning effectiveness of the broom head. Customers have simply replaced the pole with something sturdier and are otherwise still happy with their purchase!
Best Broom for Dog Hair on High-Pile Carpet
Grandi Groom Carpet Rake
Editor's Comments:
If you have a lot of high-pile carpet in your home, sometimes a regular broom just won't do the trick. This Grandi Groom Carpet Rake uses long nylon tines to reach deep into your carpets to pull out pet fur, lint, dirt, and anything else that may have been missed by your vacuum.
Broom Material: Plastic
Handle Material: Wood
Dimensions: 60 x 18 x 4 inches
Weight: 2 pounds
Manufacturer: Groom Industries
The Bottom Line:
While you may not be able to adjust it, and it's not exactly versatile, if you are looking for a cleaning tool that will allow you to get deeper into your high-pile carpet than a vacuum or more traditional broom, then you should consider investing in a Grandi Groom Carpet Rake. It may be on the expensive side, but it will certainly get the job done.
What's Good
Large 18-inch-wide head
Removes embedded pet hair in shaggy carpets
Fluffs up carpet while cleaning, making it look like new again
Strong and durable – can even be used to bloom artificial grass
Reduces work for vacuum
What's Bad
Not as effective for medium and low carpets and can't be used on hardwood, tile, etc.
Doesn't collect the hair – still need to vacuum after using it
Pricy
Plastic bristles may break off the head sometimes
Summary
If you have dogs and tall carpets in your home, you need to have something like the Grandi Groom Carpet Rake. While it can't really be used on its own to clean up dog hair, as it doesn't actually collect it, it is the perfect thing to use before vacuuming your floors.
Before vacuuming, simply use a "push-pull" method to lift and loosen any kind of hair and other debris from your high-pile carpets. With the 18-inch-wide head, it at least shouldn't take very long to go over your floors. You can then use your vacuum to clean up whatever has come to the surface.
Unfortunately, this carpet rake isn't as effective for low or medium carpets as it is for high ones, and of course, it cannot be used on hardwood, so it is a really specialized product. But for those with tall carpets, this carpet rake can certainly be a game-changer when it comes to removing dog hair from your floors.
Best Broom for Dog Hair: Buyer's Guide
With so many different types of brooms out there, it can be hard to decide which would be the best fit for your household. To help you narrow it down, keep the following things in mind when looking for the best broom for dog hair.
Dog(s)
Do you have a lot of dogs or just one? Are they long-haired or short-haired? Are you looking for a broom to accomplish a lot of sweeping nearly every day, or is it more for light sweeping jobs a few times a week?
If it is for big sweeping jobs, you will probably want to look for something durable and effective that can cover a fairly large area at a time. On the flip side, if your dog doesn't shed much, you may be able to get by with a smaller broom that doesn't necessarily need to be made of especially sturdy material, as long as it's still effective.
Floor Type
Does your house have mostly hardwood floors, carpet, or a combination of both? If it's mostly hardwood or tile, you will want a broom that will not scratch your floors, meaning carpet rakes are out of the question. On the other hand, if your house is covered in carpeting, it may be worth it to pick up a carpet rake to help remove embedded fur that you just can't get to with your vacuum.
However, if you have a good mix of carpet and hard floors, then a rubber or silicone broom may be your best bet. These versatile brooms typically won't scratch floors, can be used inside and outside and will work on both wet and dry floors.
Bristle Material
Now that you have determined what kind of brooms you can use on your floors for pet hair, you still need to choose from the different types of bristles. For example, both silicone and rubber can be used on all types of floors, so which one is best?
While they are certainly comparable, silicone may have a few benefits over a rubber bristle, like it may be more reliable and elastic, plus it can withstand more heat. This is significant if you like the idea of sterilizing your dog hair broom, as who knows what kind of dirt and bacteria your dogs have been bringing into your house!
When it comes to carpet rakes, you may be looking more at materials such as metal and plastic. The metal ones may be more durable and effective than plastic, but they may also cause more damage to certain types of carpet.
Broom Handle
The next thing you should consider is what you are looking for in a broom handle. Are you looking for something durable that will be able to hold up over time and/or with aggressive sweeping? Would you benefit from an extendable and adjustable handle? 
Unfortunately, durability and telescopic handles don't necessarily seem to go hand-in-hand, so if you don't really need the extra length, you may want to go with a broom with a fixed handle (unless you don't mind replacing the handle with your own creation as some people have done).
Maneuverability
If you are on the shorter side or otherwise need to extend your reach, an extendable handle will certainly help maneuverability. The ease with which you can move around with a broom is perhaps an especially important element to consider if you have mobility issues. Some brooms require a certain amount of effort and movement to maximize cleaning effectiveness. 
If you don't have the strength or flexibility necessary to use the broom properly, then it may not be worth the buy, even if it is supposed to be the very best. You may be able to sweep better with something that requires minimal effort and flexibility, so it's important to keep your limitations in mind.
Maneuverability is also important to consider if you will be sweeping a smaller space with tight nooks and crannies. Some of the bigger brooms may not be able to fit in narrow spaces, so unless you want to have another broom on hand for those spots, you may want to get something smaller for your wood floor.
Best Broom for Dog Hair FAQs
Why Should I Get a Broom Specifically for Dog Hair?
In short, you should get one because it can get your floors cleaner faster. Not many people can say that they really enjoy sweeping regularly, and then if you have dogs, you probably have to do it even more often than those without. 
These brooms are designed to get the dog hair off of your floors and into your garbage without it being a time-consuming, frustrating process, something that would be appreciated by a lot of dog owners.
If I Already Have a Vacuum, Do I Really Need a Broom to Get Dog Hair Out of My Carpets?
Well, you don't necessarily need one, of course, but if you are just vacuuming and have dogs, you are likely missing out on the dog hair that has become deeply embedded in your carpets over time. Some of these brooms are actually designed to be used alongside your vacuum, providing an extra boost of cleaning power. This is especially helpful if you have anyone with dog hair allergies in your house, as these brooms will allow you to remove more hair at a time, which may help relieve allergy symptoms.
What Kinds of Floors Can Benefit from Dog Hair Brooms?
There are brooms for dog hair that are appropriate for any type of floor. However, if you are looking for an especially versatile option, try a rubber or silicone broom. These can be effectively used on all kinds of floors, from carpet to hardwood to even outside surfaces.
How Often Should I Use a Broom for Dog Hair?
If you have the time, as often as possible. Even just a few minutes of light sweeping each day will likely save you some time and effort overdoing it just once a week or month. As dog hair begins to accumulate, it can become more difficult to effectively remove all of it from your floors.
Do Brooms for Dog Hair Also Remove Other Types of Hair?
They certainly do! These brooms work so well with dog hair because they help attract and eliminate any kind of fine hair and other small particles. Therefore, if you have other pets or have a thick head of hair yourself, these brooms should be able to successfully remove all types of hair from your floors.
Amazon Best Rated Products - Last Updated on 2023-01-30. DISCLAIMER: Some or all of the product links on this page are affiliate links. The operator of this website received a small commission if you purchase products through these links, HOWEVER, there is no added cost to you. These commissions help to fund the operation of this FurryFriendsGear.com