Traveling with your pet has become more and more popular. If you have an especially adventurous feline, then your pet will enjoy going to places with you through a cat backpack. It also makes it a lot easier for you because a backpack helps distribute your cat's weight more evenly, unlike regular carriers. Finding the best cat backpack also leaves your hands open to hold or do other things.
Pecute Cat Carrier Backpack
LEMONDA Portable Cat Backpack
Click here to view the individual

cat

backpack reviews.
A cat backpack also poses many advantages for your cat. Hand-held cat carriers tend to swing around when you walk, making the ride a bit dizzying for your cat. Look for a backpack that doesn't swing back and forth so your cat isn't jostled around and has a smoother ride. When it comes to a cat backpack, you have to make sure that all the features are a perfect fit for you and your pet.
What To Look For In A Cat Backpack
There are a few things you need to think about when selecting a kitty backpack. Here are some of the things you need to take note of before purchasing a backpack:
Storage
Do you need additional pockets or storage for your stuff? If you often bring too much stuff, then you might want to have a pack that has extra space to put your keys, phone, water bottle, and other things in. Otherwise, you'd end up bringing more bags to put your stuff in.
Durability
How big and heavy is your cat? The frame should be able to support your kitty, so check the maximum weight every bag can hold. Most backpacks are only able to support smaller cats that weigh a maximum of 12 lbs. But there are a few larger ones that can take on a heavier cat. The fabric that the pack is made of should also be able to withstand your cat's claws. If not, then your cat will just rip right through it after a few uses.
Comfort
How comfortable is the bag? Since you will wear the backpack, it should be comfortable for both you and your kitty. The shoulder and chest straps should be wide enough that the weight is distributed evenly. The backpack should also be roomy enough for your cat. If possible, the backpack should have a pad for added comfort.
Ventilation
Does your cat get overheated easily? Some kitties can get seriously overheated when put in a confined space. The backpack should have proper airflow to keep your pet cool at all times. The fabric should be breathable and flexible. Mesh windows are also helpful in cooling down your cats and letting them enjoy the view outside.
Visibility
Do you want your cat to be able to see the view? Some pet backpacks feature bubble windows that let your cat have maximum visibility. Mesh also works well in providing visibility, and if you want additional air vents for your pet.
Security
Does your cat move around a lot? If the answer is yes, then you have to make sure that the backpack comes with extra protection. Make sure the pack has lockable zippers and reinforced seams. Some packs also have internal leashes so that your kitty can be clipped and secured. Just make sure the strap is long enough so your cat can still move and lie down comfortably.
Check Out Some Of The Best Cat Backpacks We Found
Now that you know what to look for when Here are our top five picks for the best cat backpack you can purchase:
Pecute Cat Carrier Backpack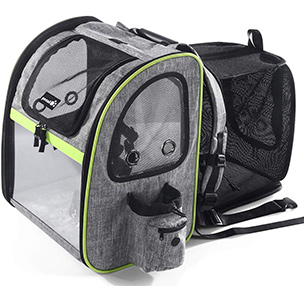 Check Amazon's Price
The Pecute Cat Carrier Backpack has an expandable back design so that your pet has more space to move in. It also increases air circulation and helps reduce anxiety. Its top part can be opened so your pet can stick their head out. You can also snap the mesh cover shut and still maintain breathability and visibility. It also comes in with a shade cover to protect your kitty from the sun.
There are also ventilation holes on the side, along with a net design to make sure that your cat has proper air circulation. It has a removable double-sided bottom, which can be interchanged depending on the weather. One side is made of short plush that is perfect for winter while the other is made of oxford-cloth suitable for the summer.
It also has shoulder pads to increase comfort. The shoulder straps are also adjustable to ensure stability and prevent the pack from swinging around. The backpack also comes with side pockets where you can store small items like a water bottle and mobile phones. The Pecute backpack also has a built-in retractable safety hook and an anti-escape zip to keep your cat from running away.
Quick Glance
What's Good
Made of waterproof, anti-scratch, non-toxic, and non-irritating cloth
Has a collapsible back that expands to give your

pet

more room for movement
Lightweight and portable to carry and store
Great ventilation and visibility for your

cat

Has additional storage
Suitable for

pets

up to 18 lbs.
What's Bad
Only comes in the color gray
Flexible framing might give way to other objects running into the carrier
Lollimeow Cat Backpack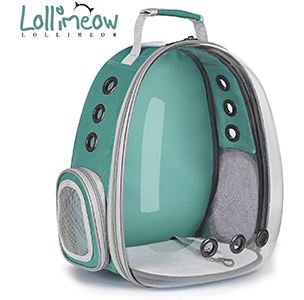 Check Amazon's Price
Lollimeow Cat Backpack is made of lightweight, waterproof, and high-quality materials. It is designed with safety and comfort for both you and your cat. The backpack has thick, buckled shoulder straps and a padded mat to help lighten the burden on your shoulders and waist. It also has a soft mat inside so your cat is comfortable while inside.
It has a transparent window design that lets your cat see everything. It is a useful feature for those pets who are afraid but curious about the outside world. It also comes with double zippers and a built-in leash so you won't have to worry about your pet suddenly jumping out.
The backpack also comes with nine ventilation holes on the sides and front, so your pet receives fresh air at all times. You can also carry the backpack in the front and use the little openings to reach in and pet your cat to ease your cat's anxiety. The pack is also equipped with mesh pockets on either side for added ventilation and storage.
Quick Glance
What's Good
Most airline-approved under the seat carrier (check with airline requirements before

traveling

)
Clear window design
Comes in three stylish colors: green, red, and yellow
Has a latch hook and double zippers
Great ventilation for your

cat

– with large holes and ventilation nets
Can transport other small

pets

like rabbits and

puppies
What's Bad
Not ideal for large

pets

The transparent front panel tends to make it too hot in the bag when under the sun
Reports of strong chemical odor in some units
LEMONDA Portable Cat Backpack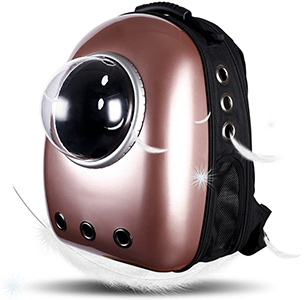 Check Amazon's Price
Lemonda's cat backpack has a futuristic design that is made of canvas and high-density acrylic material. It has a space capsule-style that comes complete with a bubble window. This way, your cat can enjoy the scenery and interact with the outside world. This breathable, transparent cover can also be replaced with a mesh window, depending on your cat's preference.
This lightweight backpack also features ventilation holes on the side and front so that your pet remains cool and comfortable inside. It has a built-in lock to keep your cat from running away. It also comes with a velvet pad to keep your pet comfortable.
Quick Glance
What's Good
Available in several colors like pink, black, green, and more
Unique and lightweight design that looks like a spaceship
Large ventilation holes on the front and side
Can be used as a front carrier bag, backpack or single-hand carrier
What's Bad
No extra storage room
Does not have built-in mesh for added security
Not recommended for large cats
Blitzwolf Cat Portable Carrier Space Capsule Backpack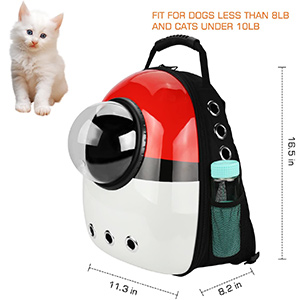 Check Amazon's Price
Blitzwolf Cat Portable Carrier comes in two designs. The first one is a space capsule with a transparent window design. It is available in small and large sizes. This pack is made of eco-friendly polycarbonate and oxford cloth so that your pet stays in a breathable and comfortable environment. The waterproof outer shell also has holes for added ventilation. You can also replace the clear window with a mesh cover. This design also has a built-in stretchable fixed hook to keep your pet from getting out.
The other design has a fully transparent outer shell design made of acrylic. This lets your pet see the scenery even if they are lying down inside the pack. It comes with a panoramic sunroof to help protect your pet from the element. It also has mesh screens and a couple of ventilation holes to help circulate air inside the backpack. This design also has self-locking zippers and built-in elastic buckles to keep your cat from running away.
Quick Glance
What's Good
Available in multiple designs and colors
Waterproof outer shell and sunroof helps protect your cat from the elements
Contains a velvet pad to keep your cat comfortable
Has a shoulder strap buckle and a padded back to ensure comfort on the wearer
What's Bad
Not ideal for larger pets
It is heavier compared to other carriers
The clear window scratches easily and is not screwed on, so it pops out if not latched properly
The straps are not as durable
PetAmi Premium Cat Carrier Backpack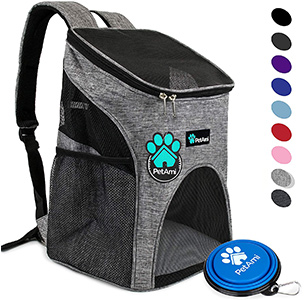 Check Amazon's Price
PetAmi's Cat Carrier Backpack has a well-ventilated design and is made of 600D high-grade polyester. It has mesh openings on the sides, front, and top, so your pet receives optimal airflow at all times. This product also has a Sherpa lining bedding so your pet can rest in a soft and cozy place. It also has a built-in safety strap to secure your pet and keep from running away. The backpack also has a chest and waist buckles for extra support and security.
Quick Glance
What's Good
Comes with a collapsible bowl to keep your pet hydrated
Available in seven different colors
Top access point for convenient entry and exit
Has a breathable padded shoulder strap
What's Bad
The back has no cushioning and causes discomfort on wearer's lower back
Minimal room for your pet to lie down
The sides and top do not have structural support and tend to fold in
Mesh material is not likely to protect your pet from the elements
Our Final Thoughts On The Best Cat Backpack
Our top recommendation for the best cat backpack is the Pecute Cat Carrier Backpack. This nearly faultless carrier features an expandable back design and can support pets that weigh up to 18 lbs. It has great ventilation and visibility, with mesh windows and holes. This backpack is made of non-toxic, chemical-free, lightweight, and durable material so your furry friend is safe and secured while inside. Added safety features include two zippers that buckle each other and a safety strap. It also has adjustable shoulder straps and buckles, and a double-sided pad for you and your pet's comfort.
The runner-up on this list is the Lollimeow Pet Carrier Backpack. This carrier is sure to make your pet a hit wherever you go as it has a fully transparent front. It not only lets your cat get a full view of the scenery. It also lets you and other passersby get a glimpse of your adorable pet. You don't have to worry about proper air circulation as it has ventilation nets and holes around. It is also functional and stylish, with a space capsule design that comes in different colors. Unfortunately, unlike the Pecute, this carrier is not recommended if you own large pets.
The cat backpack that offers the best value is the Lemonda Portable Cat Backpack. It has a space capsule design with a clear window bubble. It has several ventilation holes so your cat won't overheat while inside. The bubble window can also be replaced with a mesh for added ventilation. It is priced at $37.99 and will make your small cat one of the hippest travelers around without sacrificing the comfort and security of both you and your pet.