One of the questions we get all the time is, do cats need a cat bed?
The answer to that is really up to the cat owner. Some cat owners like the idea of providing their cat a comfy bed to sleep in, while others are OK with their furry friend sharing a bed.
This article is our complete buying guide to help you find the best cat beds for your pet.
We are going to cover:
The most comfortable cat bed
The value buy
Beds that offers your cat a place to hide
Heated cat beds
A buying resource to help you decide on the best
So if you are looking for a great bed for your feline friend this cat bed buying guide is for you!
Let's jump right into it.
Best Friends by Sheri OrthoComfort Deep Dish Cuddler

Aspen Pet Self-Warming Corduroy Pet Bed

Pet Magasin Thermal Self-Heated Cat Bed

Our Best Cat Beds Top Picks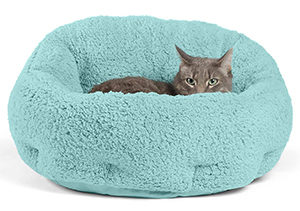 Best Friends by Sheri has outdone themselves with this cat bed. Some of the design features are:
High Walls: The walls surround the bed providing a feeling of safety and security. The high walls at the back also provide ease on the joints for those cats that are in their senior years.
Lower Wall in Front: This is a great headrest that your furry felines can sleep on after a long tiring day.
Sherpa Fabric: This deep dish bed is covered in ultra-soft cozy sherpa fabric that provides ultimate softness and cuddly feeling for cats.
Nylon Backing: The bottom of the bed is made of a tough nylon backing that resists water and dirt.
It also comes in a variety of colors and sizes that you can choose from. Also, the walls are stitched down to prevent stuffing from being unevenly distributed. And, the bed is completely machine washable.
Recommended Weight – Suitable for pets up to 35 lbs.
Dimensions – 24″ x 24″ x 13.5″
Care – Safe to machine wash and dry
Sizes – Standard, Jumbo
Colors – Tide Pool, Pink, Dark Brown, Beige, Grey, Fuchsia
Quick Glance
What's Good
Cats love this bed
Very poofy walls
Soft sherpa fabric
Non-slip water and dirt resistant bottom
Easy to clean and maintain
What's Bad
Walls fall down for some users and says that the walls are not as fluffy as they seemed in the photo
Nipping cats can tear through the skin of the bed
This cat bed is designed with a wide variety of colors, comes in two sizes (Standard & Jumbo) and also has the add-on option of packaging a blanket and toy. The design promotes better sleeping by giving your cat a sense of security and comfort.
And, it is made from pet-safe, non-toxic materials. The stuffing used in this cat bed is AirLOFT fibers which keeps its loft up to 3x longer than other cat beds. It is machine washable and dryer safe.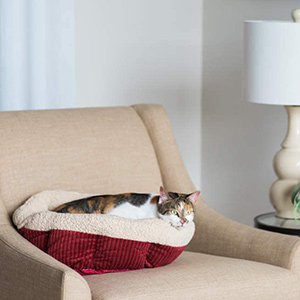 Petmate makes great cat beds and the Aspen Pet Self Warming Corduroy Cat Bed is no exception! This pet bed features a lining with reflecting heat technology to keep your furry friends warm as they sleep. The bed reflects your cat's own body heat upon themselves to keep them cozy. No electricity is needed.
This pet bed is made of plush corduroy and the sleep surface is covered in faux lambswool that is so soft, I find that a cat likes to sleep here all the time! It also features a non-slip underbelly to prevent the bed from slipping every time they get into the bed.
It comes in various sizes that can cater to your cat's size.
Dimensions – Avialable in a variety of sizes
Care – Safe to machine wash and dry
Sizes – One Size
Colors – Brown, Navy, Red
Quick Glance
What's Good
Mylar self-heating technology
Easy to wash
Faux lambswool cover
Large diameter
Non-skid bottom
What's Bad
Flimsy walls
Crinkling sound when cats get into them
The design of this bed has a full, plush bottom panel and sides that are like bolsters. The sides are not too firm, giving your kitty a full, cushiony, and extremely soft side to snuggle up on.
This self-warming pet bed uses heat reflecting technology to keep your cat cozy comfortable! This tech is made from the same materials found in Mylar space blankets, allowing for a great heated option without the need for electricity.
The inside of this pet bed is made from soft faux lambswool while the outside is styled with courdory. It is available in several shapes (round bed, rectangular bed and pillow bed) as well as a variety of sizes ranging from 24″x20″ to 35″x27″ or 19.5″ for the round bed.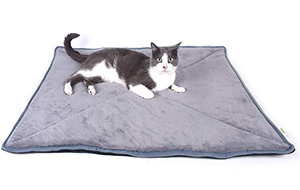 The Thermal Self-Heated Cat Bed, made by Pet Magasin, gives your cat a place for them to sleep where they feel cozy and warm. It is stylish and comfortable. Very minimalist. This is the best choice for those looking to buy mats that can provide all the comfort and coziness of other beds without the fuss.
It is also equipped with a non-skid underbelly that keeps that mat safely in its place. It is made with three thermal insulation layers that keep the bed comfortable, thick, and warm for your furry friend.
Pet Magasin took extra care and thought when designing these cat beds. They are the most ergonomic and comfortable to use as possible.
Package of Small includes two mats – 1 large (22″ x 18.5″) and 1 small (17″ x 11″)
Package of Large includes two mats – 1 large (28.5″ x 34.5″) and 1 small (17″ x 11″)
Colors – Grey
Quick Glance
What's Good
Self-heating technology using Mylar film
Velvet microfiber cover
You get two (2) mats when you order; 1 large and 1 Small
Non-slip underside
Three thermal insulation layers
What's Bad
Crinkly sound due to the mylar lining takes some time getting used to
Not machine washable – Some user found the non-slip side peels off when washed in the washer
This cat bed is a great option for cats that don't like a cat cave feel or an enclosed pet bed. It is easy to clean as it is machine washable. And, it is easy to store away when not in use.
While the manufacturer claims the underside is rubberized to prevent slipping if stepped on, some customers have noted that it is not 100% slip-proof.
Another thing to be aware of is the "crinkling" sound that is made from the mylar layer. While most cats are OK with the noise, some are turned off by it.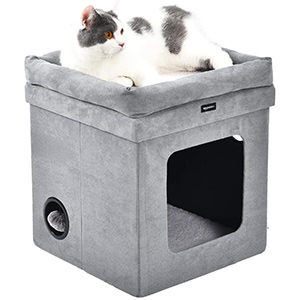 The AmazonBasics Collapsible Cat House with Bed gives your feline friend a place to lounge, play, and escape when he wants to. This is a great option for cats that love a cat cave as an escape! It is accommodating to any cat's natural instincts. It combines a bed to sleep in up top and a cat cave hiding spot for when they want to be cozy and escape from everyone as most cats do.
It is also collapsible that you can bring this cave bed anywhere. You can pick from 3 neutral colors that go well in any house.
Dimensions – 15″ L X 15″ W X 17″ H
Weight – 7.2 lbs.
Sizes – One Size
Colors – Blue, Brown or Grey
Quick Glance
What's Good
A cat house for extra shelter
Collapsible to bring anywhere
Comes in neutral colors to go with any furniture
What's Bad
A bit difficult to clean
Thin lining inside the house
This is cats best option for a kitty that wants a cave bed for hidding or an open bed on a higher perch. The lower level is great hiding den that measures 15″x15″x17″.
The easy to remove upper level is a pet bed with smaller sizes bolster walls.
The material on the sides and bottom is suede and the top is sherpa with suede raised bolsters.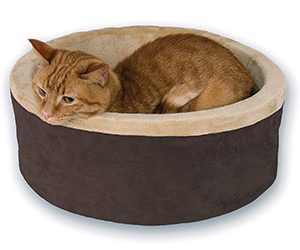 The K & H Pet Products' Thermo-Kitty Heated Pet Bed are cat beds for all seasons. It envelops your furry friend in a heated cat bed for the colder seasons. When summer comes along, remove the heater to make it more comfortable for them, converting this from a heated cat bed to a regular cat bed.
This bed comes with a one-piece pillow and an inside fleece cover to make it the most comfortable pet bed for your cats. The entire cover is removable, making it easy to machine wash. Just unzip to remove the ortho-foam. A 4-watt heater is inside the bed that heats its surface up to 15 degrees higher than room temperature.
Dimensions – comes in two sizes, small (16″) & large (20″)
Material – Fleece
Sizes – 2 sizes
Colors – Moch/Tan
Quick Glance
What's Good
Heated bed for the colder seasons
Soft pillow included
Foam walls to keep them secured while sleeping
Machine washable, easy to remove cover
What's Bad
No power switch, just plug to turn on and off
The pillow/Pad included is slightly smaller than the bed
No temperature control, some users report that the temp is fairly low
This thermo kitty heated bed has a machine washable cover, provides some of the best comfort options for a kitty that wants a the best heated sleeping bed. These pet beds are snug and comfortable for cats that like a tighter, more cozy feel.
In addition to the heated feature, this pet bed also has a soft, fluffy poly-filled pillow with ortho-foam walls.
The cover is machine washable but be careful to NOT use a heated dryer cycle. The manufacturer recommends line drying or put in the dryer on a non-heated drying cycle. One important note: DO NOT wash the heater and DO NOT wash the foam walls.
Our Advice on Buying a Cat Bed
Selecting the best cat bed (one that cats love immensely) shouldn't be a long, drawn out process. Your new bed should be the best sleeping and lounging heaven for your cat.
Below are some of the features and characteristics that you might want to consider when narrowing down your top picks.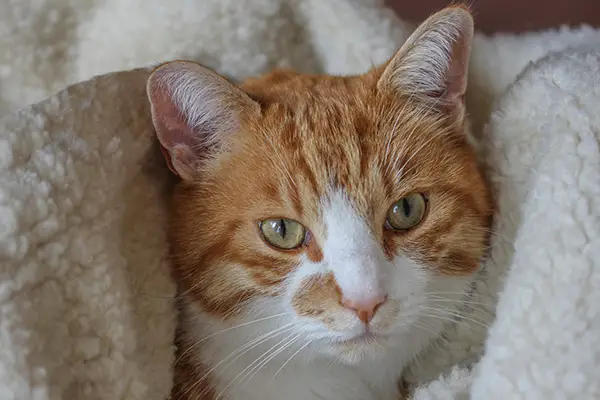 Size
Keep in mind that finding the right cat bed includes considering the size:
Is this cat bed going to be used in a multi cat household?
Will your cat feel secure in the bed?
Will they feel safe?
Will the size of this bed be one that your cat will like?
Choose the right size bed for your cat based on their size (large cats will require a bigger space). However, don't get something too big as some cats prefer their pet bed to be cozy, providing them a feeling of security and safety.
Too small of a cat bed and…
your cat may find it too cramped for their style.
Too large of a cat bed and…
you cat may not like it as much as a bed that gives more of a cat cave feel.
Do you have a large cat like a Maine Coon Cat or more of a petite cat? Also, do you have multiple cats?
Style
You have to not only think about what your cat prefers, but also what style bed fits your home and lifestyle. There are many styles to consider: pad-style, cot style-bed, cave cat beds, beds with faux fur, a round bed, etc.
Watch your kitty and observe how they like to sleep and lounge. Is she the typ eof cat that prefers to sleep in hidden spaces? If so, then a cat cave styled bed might be the best cat bed option.
If your kitty prefers to sleep in open spaces, then you might consider a pet bed that is more like a pad style, or cot style.
Do you notice your kitty likes to sleep snuggled into a soft, warm blanket on YOUR bed? Then the bed best suited for her might be a round bed with soft walls, perhaps even the best heated option.
If you have multiple cats, you might need to consider multiple cat beds, a cave bed large enough for several cats or an option that can accommodate many cats while still making it a comfort retreat.
Material
Coupled with style is the material that the cat bed is made with. Is it constructed with natural materials like merino wool, is it made from 100 percent all-natural materials? Does the cat bed have a non-natural material on the bottom to prevent it from moving, slipping, and skidding?
Does the style of the cat bed permit for easy machine washing or does it require hand wash care?
I like to buy pet beds that couples my needs as the pet owner with what my cat prefers for their sleeping and lounging.
Heated vs Non-Heated
You have a choice between whether you want their bed to be heated or not. There are many types of heated cat beds such as self-heating beds (self warming), heat reflecting, electrically heated beds, or thermal foam beds.
The beds that don't use electricity use the body heat of your cat and warm it with the use of heat reflecting, thermal space blankets or other similar materials. They also use materials like merino wool for soft, optimal comfort.
Do you NEED a heated bed?
A heated cat bed is very beneficial to cats living in colder regions. It provides warmth on the coldest of days during the winter season. It gives your kitty a place they like to get cozy inside the house.
Can you make do with a self warming cat bed instead of a heating pad that requires a power source? Take into consider where you will place the cat bed. Proximity to en electrical source may need to be considered based on your decision.
A non-heated cat bed is best for those cats who live in areas where it doesn't get too cold. It still provides a cozy, soft, comfort heaven minus the heat. Typically, non-heated cat beds are more affordable than heated beds and are easy to clean and maintain.
Memory Foam
add content here… reference comfort, older cats, sleeping,
A memory foam cat bed feature can make the bed perfect for your kitty that is looking for the best comfort in their new bed. This type of cat bed features the comfort of a great fit, making it the best cat bed option for a kitty that demands comfort!
Benefits of Cat Beds
There are countless benefits that these cat beds can provide for you and your cat. Here are some of them:
Instant Comfort: This gives them a softer place to sleep rather than just sleeping on the floor.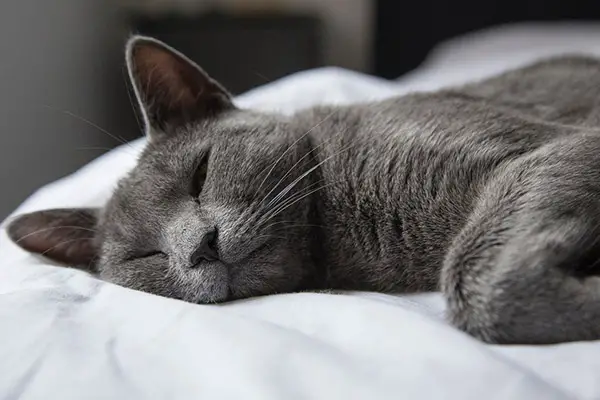 Temperature Regulation: Having a bed can greatly affect how your cat will feel in terms of temperature. Heated beds in the summer though, are not advisable as they can get too hot.
Manages Arthritis: Cat beds, especially orthopedic beds, are best for senior cats that have a few problems with their joints and their bones. This can make them feel comfortable while sleeping or lounging.
Designation: Cat beds tell your cats that they have a designated place in the house. This will keep your cat from going on your bed, couch, or other furniture that you don't want them on. They will always come back on the bed every time.
Always remember that cats are pick creatures. You will never know what they like until you get it for them. This is a trial and error process and you're going to have to be ready to spend quite a bit. But considering all the benefits of cat beds, why wouldn't you spend on your furry friend?
Essential Questions About Cat Beds
What is the best type of cat bed?
There are a number of cat beds available on the market and there is not one that is going to be perfect for every single cat. However, it is important to choose a bed that is not going to be too big or too small for your cat. In fact, the bed that you choose should be just right.
You want a bed that your cat is going to feel safe and secure, meaning their body should cradle the edges of the bed. With that in mind, it is often best to find a round bad with a soft comfortable bedding in it or a bed that gives your kitty the comfy, secure feeling of being snug.
Do cats actually use cat beds?
If you know anything about cats, it is the fact that will fall asleep anywhere and on anything. You will find cats in shoes, boxes, cabinets, sock drawers, etc. With the ability to fall asleep so easy, you may be wondering if your cat will actually use a bed.
Honestly, your cat will use the bed when it chooses to. Again, this is an answer that will be solely dependent upon the cat, and they all have their likes and dislikes. However, if you place the bed in a secluded area and the cat feels safe and secure, they will use it on a regular basis.
Do cats like dog beds?
There seems to be an age-old rivalry between cats and dogs. However, it is quite possible to have a cat and dog live in the same house and become the best of friends. In fact, they may become inseparable and share everything including their beds.
In the end, there is not much difference between a cat bed and a dog bed. In fact, your cat may end up stealing your dogs bed, even if it is a larger size bed. Typically, cats enjoy smaller beds that they can cuddle in and feel secure.
Where is the best place to put a cat bed?
There are a number of places that are ideal to place your cat's new bed. Generally, it is best to place it somewhere that will always be warm. During the winter months, try and place the bed near a heat source, such as a fireplace or heater.
Additionally, if you can place the bed where it will get sunshine, your cat will love you! Additionally, there are a number of cats that enjoy sleeping higher up. If you can find a spot in your home where the bed can be secured, the cat may enjoy that as well.
However, there is always the possibility of the cat bed and cat falling from such a height. With this scenario, it is important to find a way to secure the bed in a safe manner.
How do I train my cat to sleep in a cat bed?
We are all too aware of trying to train a cat to do anything! Many of us know that a cat is going to do what a cat wants to do, regardless of our thoughts or opinions.
So…
how do you get a cat to use a cat bed?
If you want to try for the best scenario with your cat and a new bed, the best option is to use food.
Start by getting out your cats favorite treats and placing a couple in the bed. This will give your cat a reason to check out the bed if they have not already done so. Once the cat has found the treats and is sitting in the bed, hold a treat above their head. Keep giving them treats, so they remain in the bed for as long as possible. Slowly back away and your cat should remain in the bed and get comfortable.
Are cat beds worth it?
This is going to be solely dependent upon the cat. Many cats are going to love their beds and use them on a daily basis. However, there will be that one cat that will sit in the bed once and never look at it again. In that case, your best bed is to resell the bed to donate it to the humane society.
Many people have found that having a cat bed helps to keep the cat off the bed, couch and other areas where it may not be wanted. Considering cat beds are not that expensive, they are a good investment and generally worth the money.
Are heated cat beds safe?
Cats love heat and a heated bed is always a popular option with cats, however one must wonder how safe they are. Electric pads are fully insulated and comply with all safety regulations. There is no need for concern when purchasing a heated cat bed.
However, if you are still concerned about electricity and your cat, there is the option of a self-heating bed. These beds will use the energy of your cat to warm the bed. These are a cost effective and safe option to ensure your cat is always warm.