Diabetes affects the body's ability to control blood sugar levels. A hormone called insulin moves sugar from the blood and into the cells. From there, it can either be used for energy or stored. Having diabetes means that the body cannot make enough insulin or it cannot use it effectively. It is crucial to make sure that you find the best cat food for diabetic cats to manage your pet's diabetes.
This metabolic disease results in high blood sugar. It can lead to many problems like nerve damage, inflammation, increased risk of infections, and early death. You would think that diabetes only affects humans. But in reality, our feline pets are affected by it as well.
Quick Glance At The Best Diabetic Cat Foods
Solid Gold Indigo Moon Dry Cat Food
Dr. Elsey's Cleanprotein Formula Cat Food
Crave Grain Free High Protein Dry Cat Food
Click here to read all of our reviews for the best cat food for

diabetic

cats

.
Feline Diabetes
It is unclear why certain cats get diabetes, while others don't. But just like with us, being overweight is a large contributing factor as fat increases inflammation and affects insulin sensitivity.
A few signs suggest that your cat might be suffering from diabetes. These include excessive hunger, thirst, and urination. More extreme symptoms are dehydration, vomiting, diarrhea, poor skin and coat quality, motor dysfunction and weakness, and depression. If your kitty is suffering the advanced stages of the disease, then you might notice your pet losing weight even though he or she is eating enough.
If you suspect that your cat is showing signs of diabetes, it is extremely vital to visit the vet. Feline diabetes is a serious disease and can have fatal consequences if left untreated.
Diet For Diabetic Cats
Cats usually have Type II diabetes. Whereas, dogs typically have Type I diabetes. Type II diabetes means that glucose levels are high because your cat's body does not respond as it should with insulin. So, diabetic felines need special diets.
Healthy nutrition is one of the best ways to manage diabetes in humans. This also works with your feline friends. The right diet will help manage diabetes and control blood sugar levels. Exercise, medication, and weight management also come hand-in-hand with improving your cat's diabetes.
Nutritional Needs
Your cat's ancestors evolved to be meat-eaters. It is a carnivore that should get the bulk of its calories from protein. A protein-rich diet is especially needed for a diabetic cat. Carbohydrates, fat, and protein are one of the three main macronutrients in your pet's diet. Carbohydrates are broken down by the body into sugar, which is called glucose when it is in the blood. It is this sugar that a diabetic feline cannot handle. In fact, if you have your kitty on a carb-rich diet, then it might have been what had gotten your cat's diabetes to develop in the first place.
The ideal nutritional plan for a diabetic kitty is a low-carb, high-protein one. Of course, it has to be rich in vitamins and minerals too. If you buy wet canned food for your pet, the crude protein content should at least be 10 percent or more. But if you end up getting dry food, make sure that the protein content is at 40 percent or more. You should also see to it that the total carb content is at 7 to 15 percent only.
It is also a good idea that your diabetic kitty eats low allergen foods. The disease tends to weaken your cat's immune system, making your pet more susceptible to allergies. Check the label to see if the food uses natural ingredients. Make sure that it is free from artificial fillers, preservatives, chemicals, and other additives.
Some pet owners also found that a fish-free diet does wonder for their cats with diabetes. Many types of fish have an amino acid that turns into histamine when exposed to air. Histamine promotes inflammation as it is a compound released by cells in response to any injury or allergic reaction. So, stick with you buying products with real meat from animals such as chicken, turkey, quail, duck, rabbit, venison, and lamb.
Check Out These Cat Foods For Your Diabetic Cat
Here are some of the best cat food to help your diabetic kitty in controlling blood glucose levels:
Solid Gold Indigo Moon Dry Cat Food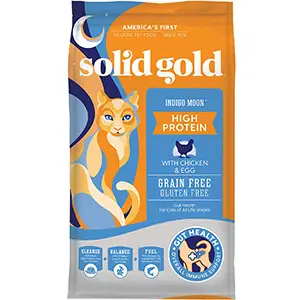 Check Amazon's Price
Solid Gold has over 40 years of experience in creating recipes made with natural ingredients for your pet's specific health needs. It has been in operation since 1974 and is a pioneer when it comes to holistic pet food.
Solid Gold Indigo Moon has a high-protein and low-carb recipe. Its first ingredient is USA-raised chicken, which is a highly palatable source of protein. It also contains eggs, which is a good source of amino acids to help with metabolism. This product also has fiber-rich peas so that your cat has a highly digestible energy source.
Your cat's gut health and immune support are also taken care of as Solid Gold contains selected superfoods, living probiotics, and omega fatty acids. It also has monosaturated fats like canola oil and olive oil to ensure skin and coat health.
Quick Glance
What's Good
Contains 42 percent crude protein
Comes in two flavors: chicken and Alaskan pollock
Holistic nutrition that includes live probiotics, high-quality real meat, and nutrient-dense superfoods
Free from grain, gluten, meat by-product, and artificial colorings or preservatives
Produced in USA facilities
What's Bad
May not work well for picky eaters
Some

pet

owners found their

cats

to have upset stomachs after eating it
Dr. Elsey's Cleanprotein Formula Dry Cat Food
Check Amazon's Price
Dr. Elsey's Cleanprotein Formula Dry Cat Food has higher animal protein levels compared to other brands. Its first ingredient is high-quality animal-based proteins or fish. This way, your pets eat less but stay full longer. It also helps maintain lean mass and promotes a healthy immune system. This high-protein kibble also has Omega-3 fatty acids to encourage overall health in your cat's fur and skin.
Quick Glance
What's Good
Has 59 percent of crude protein content
Comes in chicken and salmon flavors
Non-GMO, grain-free, and gluten-free
Does not contain fillers or artificial preservatives
Can be fed to adult

cats

and

kittens
What's Bad
The dried egg product ingredient seems to make sensitive

cats

vomit
May not do well with picky eaters
CRAVE Grain Free High Protein Dry Cat Food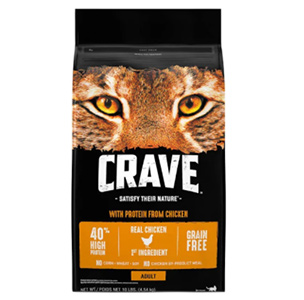 Check Amazon's Price
Crave Adult Cat Food features a variety of protein-rich recipes with real fish or poultry as the first ingredient. It contains all the needed nutrients to aid with digestion as well as help your cat develop muscle and have a healthy immune system. This product is also grain-free, meaning that it has no corn, wheat, or soy protein. It also does not contain any animal by-product, and artificial preservatives, flavors, or colors.
Quick Glance
What's Good
Comes in different flavors such as chicken, salmon and ocean fish, and chicken and salmon
Free from animal by-products, corn, wheat, and soy
Does not contain any artificial flavors, colors, and preservatives
Made in the USA
Doesn't make

cat

's feces smell bad
What's Bad
New formula seems to make

cats

vomit after eating
May not work well for picky eaters
Kibbles are bigger than the standard
Purina Pro Plan Veterinary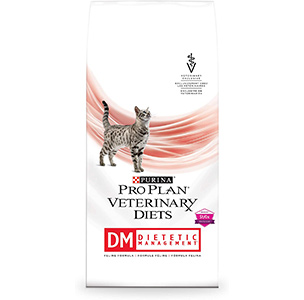 Check Amazon's Price
This dry food from Purina is formulated to help nutritionally manage cats with diabetes. It is a high-protein, low-carb diet that promises great taste while supporting the nutritional needs of your diabetic kitty.
Purina Pro Plan Veterinary Diets DM Dietetic Management Formula Dry Cat Food is a prescription formula, meaning you need a prescription from your veterinarian to buy it. It is rich in antioxidants and a good source of Omega-3 and Omega-6 fatty acids. Purina Pro also promotes a urinary environment as a defense against the development of struvite and calcium oxalate crystals.
Quick Glance
What's Good
High protein content of 51 percent
Low in carbohydrates with only 13 percent
Low in fat to encourage a healthy weight
Taste appeals to

cats

Made in the US
What's Bad
Made with poultry by-product
Contains soy, which isn't ideal for

weight management

in some

cats

On the expensive side of the spectrum
Blue Buffalo Wilderness High Protein Cat Food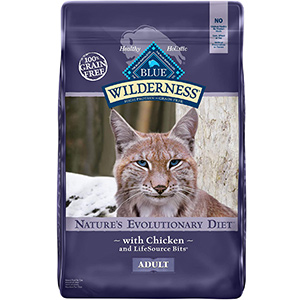 Check Amazon's Price
Blue Buffalo Wilderness High Protein Cat Food is packed with real chicken to ensure healthy muscle maintenance. It is also loaded with healthy carbohydrates such as peas and sweet potatoes to make sure that your cat gets the fuel he or she needs for an active lifestyle. The product also contains Omega 3 and 6 fatty acids to promote good coat and skin health. It also has what the brand calls LifeSource Bits, which is full of essential minerals, vitamins, and antioxidants to boost your cat's immune system.
Quick Glance
What's Good
Cold-formed to preserve potency
No corn, wheat, soy, and any artificial flavors or preservatives
Contains 40 percent crude protein
Made in the US by a well-respected brand
What's Bad
New recipe seems to make some

cats

sick after eating
Recipe might cause urinary tract congestion in male

cats
And The Best Cat Food For Diabetic Cats Is…
The best cat food for diabetic cats is a low-carb diet that keeps the blood sugar levels under control. At the same time, it should be able to provide the protein, fat, and other nutrients your feline friend needs to lead an active and healthy lifestyle. But just like with humans, every cat is different, and each has unique needs. This should be taken into account whenever you are on the lookout for new cat food for your feline pet.
But of course, there is still a clear winner when it comes to the best cat food on this list. And that is Solid Gold Indigo Moon Dry Cat Food. It is made by Sissy McGill Solid Gold, which has been in business for over 40 years – a clear indication that both pet owners and cats alike trust this brand.
This holistic food product is a low-carb, dry cat food with over 40 percent crude protein content. It is loaded with nutrient-dense superfoods, live, protected probiotics, and omega-3 and -6 fatty acids that support your cat's overall health and immunity. Not only that, but it is free from grains, gluten, meat by-product, and artificial colorings or preservatives. It helps you ensure that your cat is getting all the care he or she deserves.
A close runner-up is Dr. Elsey's Cleanprotein Formula Dry Cat Food. It helps in weight management as its high protein crude content makes your cat full longer while eating less. It also contains Omega-3 so that your cat's coat and skin are shiny and healthy. The kibble also comes in two flavors to help picky eaters when it comes to feeding time. It also does not contain any grain, gluten, GMO, and artificial preservatives and fillers.
On the other hand, the best value cat food is Crave Grain Free High Protein Dry Cat Food. It is a high-protein, low-carb kibble at an affordable price per serving. You can choose from a variety of flavors depending on your cat's preference. Retailing at $32 per 10-lbs. Pack, it is not an insignificant amount to spend. However, you get 40 servings for this price and this brings down the cost to a reasonable $.0.80 per serving. So, your cat gets all the nutrients without burning a hole through your pocket.