Are you looking for the best dog food for Dachshunds? Well, in this article we dive into 5 top products and provide our ratings, pros & cons, product specifications, and ingredients list.
Dachshunds are a popular dog breed known for their long and lean physique, bold personality, and alertness. In miniature and standard sizes, you'll notice Dachshunds in various coat colors, patterns, and fur types. The main feature of this breed's coat is the variety in textures, including wirehaired, longhaired, or smooth.
While Dachshunds are more miniature, they require more than minimal space to exercise and stay physically fit. Regular exercise, such as two walks daily and socializing with your dog, is ideal for their overall well-being and health. They typically don't spend as much time outdoors as other breeds, though Dachshunds enjoy companionship and will enjoy anywhere they can socialize and play with humans.
The standard Dachshund is sensitive, intelligent, and stubborn, which means they enjoy affection, though they are challenging to train. They are independent and don't respond well to commands, and adopting a Dachshund requires a lot of patience and time, though they are excellent trackers and not easily distracted.
Due to the physical build of this dog breed, most notably the long back and petite frame, it's essential to provide a nutritionally balanced diet that prevents excessive weight gain. A strict, healthy diet should include high protein, low to moderate healthy fats, and low calories. And, that is possible with our listing of the best dog food for Dachshunds!
Table scraps and treats should be minimized and only occasionally offered to encourage performance during training.
5 Best Dog Food for Dachshunds
Best Small Breed Dog Food for Dachshunds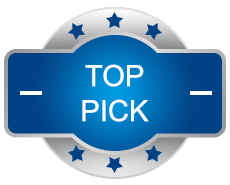 Quality of ingredients
98%
Manufacturer: Hills Pet Nutrition Sales Inc.
Size:13 x 8.38 x 10 inches, and four lbs.
Ingredients: Chicken, corn gluten meal, pea bran meal, brown rice, coconut oil, pork liver flavor, potassium, dried carrots, cracked pearled barley, vitamins C, E, B12, A, D3, zinc, iron, apples, cranberries, green peas, broccoli, beta carotene, and copper
The Bottom Line:
Hills Science Diet Perfect Weight for adults offers an excellent formula that supports your Dachshund's diet and health, with a focus on weight control and maintenance. It's a particular product designed to meet the dietary needs of small dog breeds.
What's Good
This dry dog food is available in a small, pellet form, which makes it easy for small dogs to chew and digest
It's an effective formula that helps dogs lose weight quickly and safely
It's a great formula ideal for dogs that struggle with weight gain and can be implemented into your pet's diet for the long term.
Hills Science Diet is a highly reputable brand that offers quality dog food products
All the ingredients are sourced from top-notch farms and suppliers and processed in a quality US-based facility
Recommended by veterinarians
This formula is tested and clinically proved as an effective way to support your dog's health while maintaining a stable weight
It's affordable
Available in four and fifteen-pound packs
What's Bad
This product is available in two sizes only, with the larger size (fifteen pounds) often temporary out of stock
Not an ideal product for puppies
Summary
Hills Science Diet Perfect Weight for adults is an excellent dry dog food option for Dachshunds. It's ideal for supporting a diet that's focused on helping your small breed dog maintain a healthy weight and safely reduces weight in dogs who are overweight or approaching obesity. This science-led formula is well trusted and often recommended by vets for dog owners.
You'll find this dog food product is reasonably priced, which makes it easy and affordable to provide a nutrient-rich diet for your pet.
Hills Science Diet Perfect Weight formula is also a perfect option for aging Dachshunds, who may not be as active or struggle with mobility issues. This product offers a quick solution for obese dogs, who may not quickly shed pounds due to less activity, as it provides significant results within one to two months.
Best Grain-Free Dog Food for Dachshunds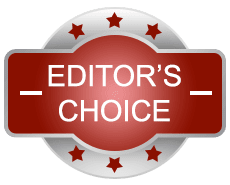 Quality of ingredients
96%
Manufacturer: WellPet LLC
Size: 22 x 14 x 3 inches, and 12 lbs.
Ingredients: Turkey, dried ground potatoes, zinc, chicken meal, ground flaxseed, tomato pomace, salmon oil, spinach, broccoli, parsley, apples, vitamins E, B12, D3, C, A, carrots, manganese, green tea extract, calcium, blueberries, kale, zinc, iron.
The Bottom Line:
Wellness Core Grain-Free Dry Food offers an excellent source of protein and nutrients without unnecessary fillers or grains. This product is ideal for dogs who experience food allergies or food sensitivities.
What's Good
Ideal for all breed sizes and specially formulated for small breeds
Prepared and packaged in a high-quality, grain-free, US-run facility that uses only the finest ingredients sourced from reputable suppliers and farms
Grain-free formula, which reduces carbohydrates and prevents food allergy reactions
It contains a significant level of protein, which supports your dog's bone and muscle development
GMO-free ingredients, and no meat by-products, artificial flavors, preservatives, or fillers
It's a great formula to support your adult dog into advanced age
It contains omega fatty acids, which supports healthy skin and fur
Easy to digest and ideal dry dog food for picky eaters
Reasonably priced
What's Bad
Limited flavor options (turkey only)
Summary
Wellness Core Grain-Free Dry Food for small breed dogs is perfect for Dachshunds due to the moderate caloric level and high protein. This grain-free formula is ideal for dogs who experience food sensitivities or food allergies to gluten, wheat, and other grains.
Wellness Core is a well-established brand that designs high-quality food for dogs without artificial colors, flavors, or preservatives. You'll find the pricing reasonable, and this formula fits nicely into a regular diet, either as a primary serving or topped with a portion of wet food, and meets your dog's nutritional needs.
Best Wet Dog Food Formula for Dachshunds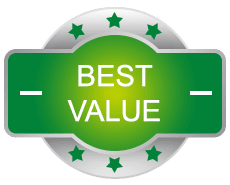 Quality of ingredients
94%
Manufacturer: Nestle Purina Pet
Size:7 x 3.15 x 1.15 inches, and a size of 3.52 oz.
Ingredients: Chicken, liver, beef, pork lungs, calcium, potassium, chloride, copper, zinc, manganese, vitamins E, B1, B3, B6, B5, B2, A, B7, and D3.
The Bottom Line:
Purina Pro Plan Grain-Free offers an excellent source of protein that boosts your dog's energy level while providing essential nutrients without artificial ingredients.
What's Good
Prepared with real meat and nutrient-rich
It contains natural beef as the main ingredient, an essential source of iron and protein
Available in several package sizes in single-serving packs
Specially formulated for small breed dogs
Purina Pet products are considered high-quality and reputable
Recommended by veterinarians
Convenient to serve, without any preparation needed
What's Bad
Limited flavor options
This product tends to be more expensive than other dog food options.
Summary
Purina Pro Plan Grain-Free is an excellent option as a topper or single meal for your Dachshund. It's great for picky eaters, and each serving offers the ideal portion size for your dog. It's an excellent topping for dry food if your pet prefers kibble as their regular meal.
Purina offers an excellent selection of dog food formulas specifically designed for smaller breeds and dogs needing a low-calorie, high-protein diet.
Best Health-Focused Dog Food for Dachshunds
Quality of ingredients
98%
Manufacturer: Royal Canin
Size: 23 x 13 x 3 inches, and a size of 10 lbs.
Ingredients: Chicken, corn gluten meal, brown rice, dried beet pulp, rice, potassium, calcium, vitamins E, B12, B1, B6, C, D3, B2, choline, folic acid, anchovy oil, wheat gluten meal, marigold extract.
The Bottom Line:
Royal Canin Breed Health is a nutrient-rich dog food that provides all the essential nutrients for Dachshunds and small breed dogs.
What's Good
Royal Canin Dachshund kibble size is small and uniquely shaped to make it easy for your Dachshund to pick up and chew food
This formula supports good digestible with quality protein and fiber sources for regularity
It contains L-carnitine, which supports muscle and joint growth and development
Specially formulated for purebred Dachshunds, ten months or older
It's highly recommended by dog owners and veterinarian
Easy to store and shelf-stable
What's Bad
It's a bit more expensive, though a worthwhile investment for your dog.
Not ideal for puppies
Summary
Royal Canin Breed Health is excellent dog food for Dachshunds, offering a specialized formula for this breed. Since Dachshunds require additional support for their unique build, muscle, and bone development, this dog food is a great option that will serve your pet throughout their adulthood. It's also ideal for dogs of advanced age.
Best Senior Plan Dog Food for Dachshunds
Quality of ingredients –
96%
Manufacturer: Nestle Purina Pet
Size:5 x 14.75 x 22 inches, and a size of 16 lbs.
Ingredients: Chicken, omega-six fatty acid, vitamins A, E, D3, B12, K, EPA, fiber, wheat bran, linoleic acid, dried egg product, whole grain corn, corn gluten meal, corn germ meal, zinc, copper, folic acid, garlic oil.
The Bottom Line:
Purina Pro Plan Senior Dog Food is a basic formula for older dogs, at least seven years, to support their brain and body health.
What's Good
Available in a variety of flavors, including chicken, chicken with rice, turkey with brown rice, turkey (without soy, corn, rice), beef with brown rice
This blend for senior dogs is available in dry food and wet food form
Dry kibble is crunchy and easy to chew and digest
This product is available in various sizes, including four, five, twelve, sixteen, twenty-four, thirty-pound bags
Chicken is the main ingredient, which is a lean, quality source of protein and ideal for Dachshunds
Supports brain health and function as your adult Dachshund ages with botanical oils
What's Bad
Not recommended for a Dachshund puppy or young adult dog
Summary
Purina Pro Plan Senior Dog Food is an excellent choice for your senior Dachshund. Since this product is available in dry and wet form, you can easily switch between the two options or serve the wet food topper on the dry kibble.
It's an easy food to digest, and it's a vet-recommended option for picky eaters and an older, small breed dog. The unique formula ensures that your dog receives all the essential nutritional needs they require without excessive fat or carbohydrates, which may contribute to weight gain.
Best Dog Food for Dachshunds: Buyer's Guide
Dachshunds enjoy eating, and while it's essential to provide them with a quality formula and the best food, it's also essential to choose a product that supports their smaller size and unique bone and body structure. Dachshunds are typically not as physically active as other breeds, which means they are best suited for high protein and fiber diets. The essential nutrients to include in your Dachshund's diet are healthy oils for their skin and coat, minerals, vitamins, and low salt, grains, and filler ingredients.
Your Dog
Dachshunds enjoy table scraps, and while human food is acceptable on occasion, it's important to avoid allowing this regularly. This breed is exceptionally fragile due to its long, angular shape and bone structure, and any excess weight gain can cause serious health problems and strain on their body.
When you choose a healthy food product for your Dachshund, it's essential to consider the following factors to ensure you're getting the right formula for this unique breed:
Choose a specialized formula for purebred Dachshunds, if available, as this will ensure your dog gets all the proper nutrients for its body type and size
If your dog weighs more than average or becomes more sedentary, it's crucial to reduce caloric intake with a weight-control formula
Select high-quality products either recommended by your veterinarian or a vet nutritionist
If you're looking to reduce unnecessary fillers and ingredients that may contribute to weight gain, you'll want to avoid formulas with grains, corn, soy, wheat, gluten, and other fillers.
Vet Recommended
Dachshunds are a fragile and special breed that benefit best from a diet suited to their specific activity levels and weight. A younger Dachshund can typically handle more calories if active than a senior dog with a slower pace, which is more sedentary.
Your vet can recommend the best dog food for Dachshunds and options that fit your dog's specific needs while considering any health conditions or medical issues to ensure your Dachshund receives the best care and essential nutrient-rich food.
Best Dog Food for Dachshunds FAQs
Can Dachshunds eat human food?
Yes, some human foods are safe for Dachshunds. On occasion, they can enjoy healthy, natural foods such as fresh fruits, vegetables, meats, and low-calorie dairy. While treating your dog to some low-calorie table scraps is not harmful, it's also vital to limit their snacks and stick to a special formula for this unique dog breed. However, it is better to feed your pup food from our list of the best dog food for Dachshunds.
Which foods can Dachshunds eat?
Dachshunds can safely consume blueberries, watermelon, eggs, peanut butter, bananas, tomatoes, and potatoes. You can also treat your Dachshund to low-calorie dairy products, including cottage cheese, mozzarella, yogurt, and milk. If you treat your dog to the occasional piece of cooked meat, it's important to avoid providing salted pork or processed meats. Instead, choose cooked chicken, turkey, or salmon.
Which foods should be avoided?
Generally, any foods high in fat or processed ingredients should be avoided. Chocolate, xylitol (a sugar alternative), and avocados are not suitable for dogs and can be harmful or dangerous to their health. Certain fruits with pits, such as cherries, peaches, and mangoes, should be avoided altogether, as the stones contain ingredients that may become poisonous to dogs.
How much should I feed my Dachshund each day?
The daily servings depend on your dog's size and weight. Dachshunds are relatively small, either miniature or standard in size, which means just a few extra pounds can make a significant difference in how much they can eat. A miniature Dachshund, up to one cup per day, is ideal for between ten and fifteen pounds. You can serve this portion in two half-cup servings. Standard-size Dachshunds can enjoy up to one and a half cups per day between twenty and thirty pounds.
How much protein should my Dachshund consume?
Protein is one of the essential nutrients for dogs, including Dachshunds. The ideal amount of protein for your dog's diet is one-fifth or twenty percent of your pet's diet. If your Dachshund is pregnant or lactating, you can increase the protein content with a vet-approved supplement or wet food topper on your dog's regular dry kibble.
Should Dachshunds eat a low-fat diet?
While it's crucial to reduce the fat content in your dog's diet, to keep their weight at a healthy and manageable level, it's vital to ensure your Dachshund has between five to eight percent. In addition to limiting the fat in your dog's food, it's important to choose low to moderate-calorie formulas with all the essential vitamins and minerals.
Best Dog Food for Dachshunds Final Thoughts
We hope that you were able to find the best dog food for Dachshunds in this article. If you'd like us to review another product, please feel free to contact us!
Amazon Best Rated Products - Last Updated on 2022-09-24. DISCLAIMER: Some or all of the product links on this page are affiliate links. The operator of this website received a small commission if you purchase products through these links, HOWEVER, there is no added cost to you. These commissions help to fund the operation of this FurryFriendsGear.com