Have you ever seen anything cuter than a dog wearing dog booties? Me neither! Not only are they super fun to put on your dog, they also protect your pooch's feet from any harmful elements outside. We evaluate multiple dog boots in our quest to find the best dog paw protection booties!
Click here to view the individual booty reviews.
Dog Paw Protection
All of us pet owners love to take advantage of taking our pups with us when we go out. Whether it be on a morning run or just to the mall, taking your dog with you on your daily adventures is a great way to get them to exercise and move around. Yet, there are many things out in the environment that can harm your pup's paws. For example, walking around a mall, or even just walking from the parking lot to the mall entrance, can be dangerous as your dog can step on a broken piece of glass or another sharp object. Going on a run can also be dangerous to your dog's feet. There are sharp pieces of mulch or sharp rocks that can cut up their paws and cause infections.
Dog Shoes For Hot Pavement
We all know how hot pavement can get on a hot summer day. Obviously, none of us would want to walk barefoot on steaming hot pavement, so we shouldn't make our dogs walk barefoot on it either. Booties can protect your dog's feet from burning on walks, especially if your dog is prone to having sensitive skin on their paws.
Dog Paw Protection For Winter
In the same sense, the cold weather can take a toll on your pup's feet, too. Snow can get caught in between the hairs in your dog's feet and accumulate. As time passes and if your dog is still out in the cold, the snow can turn to ice and cut the webbing between your dog's toes. Booties will keep your dog's feet warm and prevent snow or ice from forming within the hairs of your dog's feet. This allows you and your pooch to enjoy more time outside and worry less about your dog's health!
Keeping Your House Clean
Another benefit of getting your dog a pair of booties is that you'll never have to worry about your dog tracking prints all-around your house. Mud and dirt can easily get trapped in the hair between your pup's toes, and it would be a pain to have to clean up their tracks after a hike or a walk during a rainy day.
Also, if you live in a big city like NYC or Philadelphia, you know how dirty the sidewalks can get, and there is no telling what kinds of things your dog can stepping in and then tracking into your house. Personally, I would never let my dog's little feet touch the gross NYC sidewalks, especially with all of the litter and random puddles of who knows what on the ground. Putting booties on your dog will eliminate the chore of cleanup after taking your dog out.
What to Look For in Dog Booties
Finding a good pair of dog booties can be hard when you don't know exactly what to look for. The best dog booties will have good traction and be water-resistant. These are good attributes to look for in booties for when you plan to take your dog out and it starts to rain or if your dog will be playing in water. Having good traction and being rugged also ensures that the booties will last a long time. You don't want to have to keep purchasing new booties too frequently.
If you are purchasing a dog booty due to weather considerations, it is important to find a product that will perform well in the hot and cold. This is especially true if you take your dog on hikes in the snow or on long walks in the summertime on pavement and sidewalks. Look for booties that can protect your dog's paws in extreme temperature conditions.
Finding the proper size should also be important. Making sure that the booties fit your pet's paws well will ensure that they are comfortable and that they don't slip off. It is also important that the booties are made from a flexible, breathable material. Assuming that your pup is going to be active while outside, getting a pair of flexible booties for them will make sure they're comfortable running around. In addition, dogs' only sweat glands are in their feet, so make sure to get booties that are breathable so your dog doesn't overheat.
Recommended Products
Below is a list of dog booty products that we reviewed in our quest for finding the best dog paw protection booties! Check them out and see if you find any you like:
Best Dog Booties For Traction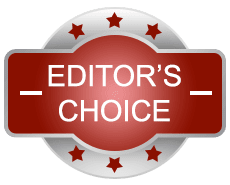 Ruffwear – Grip Trex™ Dog Boots
What's Good
Reflective trim
Breathable
Rugged
What's Bad
Not suitable for dogs with dewclaws
Ruffwear – Grip Trex™ Dog Boots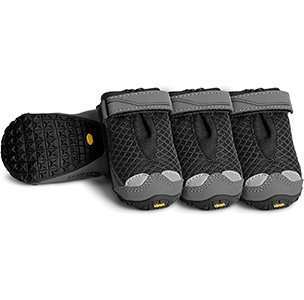 These Dog shoes were made to be used out on hikes or walking on trails. They are durable and made from a tightly woven air mesh that allows for ventilation, keeping your pup's temperature at bay. Because these booties were made for being in a woodsy area, they have great traction on the soles. They come with a hook-and-loop cinch closure system to ensure a tight fit, and they have a reflective trim for safe night time adventures.
The one problem with these booties is that the closure system is right where a dog's dewclaw would be. If your dog has dewclaws, you may run into the problem of bloody dew claws and sores that take a while to heal.
Quick Glance
What's Good
Reflective trim
Breathable
Rugged
What's Bad
Not suitable for

dogs

with dewclaws
QUMY Dog Boots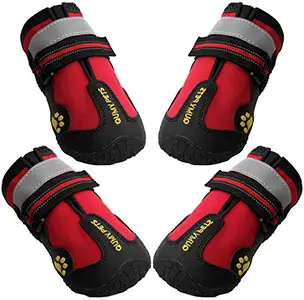 The QUMY Dog Boots are equipped with two reflective velcro straps. These straps allow for a tight but comfortable fit around your dog's paws, with the added bonus of being reflective so they're safe to wear at night! The booties are easy to slip on as they have a wide split seam opening allowing you to stretch out the opening and slip them onto your dog, and it also allows for easy removal.
These booties are also rugged and waterproof so your dog is safe when running around in the rain or around water.
One problem you can run into with these booties is that, if you have a very active dog, the velcro straps may come loose. Or, if you decide to put these booties on to protect your dog's feet from the snow, the snow can get caught within the straps and the straps seem to adhere less to the boot.
Quick Glance
What's Good
Reflective Straps
Rugged
Comfortable tight fit
What's Bad
Straps are not very reliable
Petilleur Breathable Dog Hiking Shoes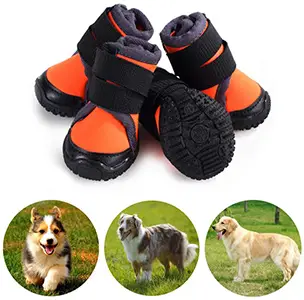 These dog boots for hiking are a perfect fit for this purpose. These booties are made from a soft fabric and are very flexible. The soft fabric also allows the booties to be breathable, so your dog won't be overheated when doing activities. The shoes come equipped with two straps to snuggly fit your dog's paws and they are easily adjustable. The booties also have good traction on the soles so you won't have to worry about your dog slipping on pavement or wet rocks.
A problem you can find with these booties, however, is that if your pooch has skinny legs, the booties may slip off more easily. This is because the booties were meant to fit the paws snugly, not the legs, and the straps only go so tight. Also, you may find that these boots can turn on your dog's paws quite easily if your dog is very active.
Quick Glance
What's Good
Breathable
Rugged
Flexible
What's Bad
Doesn't fit tight around legs
May turn on dog's paws
LONSUNEER Paw Protector Dog Boots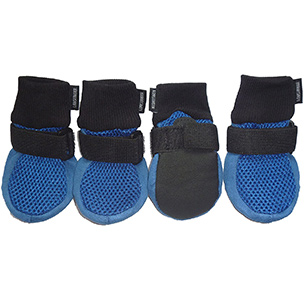 These dog paw protection booties are breathable and very flexible. They are made from a very soft material, so you know that your dog will be extremely comfortable in them. Although they aren't waterproof, they are suitable for swimming and walking in the rain, you'll just have to let them air dry afterwards. These booties are also made to fit tight onto a dog's paws. This is accomplished by an elastic opening and a strap that makes sure the booties are snug on your dog's paws.
Being that these are made to fit snugly onto your dog's feet, they may be a little hard to slip off, especially if your dog has paws that are on the bigger side. Additionally, the traction is not the best in these booties. You may run into problems such as easy wear and tear, and if you have a very active dog these booties might not last as long as others. Another problem you can encounter is that, since the booties are made from a soft material, they are easily torn up by a feisty dog.
Quick Glance
What's Bad
Not very durable
No good traction
Canine Equipment Ultimate Trail Dog Boots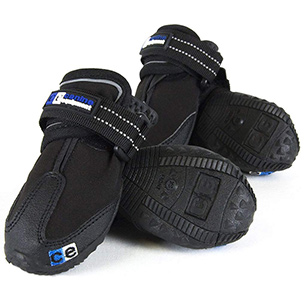 The Ultimate Trail Dog Boots are all-terrain dog booties for hiking that are rugged and will last for a long time. The soles are made from recycled rubber and have good traction to keep your dog from slipping. Also, they are made from a waterproof and breathable material, making these booties very convenient. They tighten with a cinch instead of straps for optimal fit. The best part about these booties, however, is that they are machine washable. Easily stick them in the wash to get them clean, no need for laborious hand washing!
Although there are many benefits to these booties, you may find that doing big activities daily will cut the lifespan of these booties short. The rubber soles can wear out if they are used very frequently. Also, these booties are made so that the two front booties are bigger than the ones for the back legs, but this could turn into a problem if your dog's paws are relatively all the same size.
Quick Glance
What's Good
Waterproof
Breathable
Machine Washable
What's Bad
Not suitable for daily use
Booties may not fit every dog's paws
Our Top Pick
Our top choice of bootie for your dog is the Ruffwear – Grip Trex™ Dog Boots! These booties have many benefits like breathability, a reflective trim, and they provide lots of traction for your pup! Although they aren't the best when it comes to maneuvering around the dewclaws, these booties are the best overall!
Amazon Best Rated Products - Last Updated on 2023-09-22. DISCLAIMER: Some or all of the product links on this page are affiliate links. The operator of this website received a small commission if you purchase products through these links, HOWEVER, there is no added cost to you. These commissions help to fund the operation of this FurryFriendsGear.com