Separation anxiety can be tough, the dread that follows having to leave someone behind for a certain amount of time is never fun. As humans, at least we know that this person will come back, and we take joy in this fact. Our dogs, however, do not understand the idea of temporary absence and so separation anxiety is much more common. This article reviews the best dog toys for separation anxiety.
SmartPetLove Snuggle Puppy Behavioral Aid Toy
Moropaky Puppy Toy with Heartbeat Dog Training Toy
Click here to read all the individual product reviews.
What to Know When Shopping for a Toy
Having a way to relieve some severe stress that your best friends might experience every time you leave could make a world of difference for both of you. As a pet owner, the last thing I want is for my pets to be anxious and upset all day long. Having toys for anxious dogs that keep them calm and lets them know everything is alright has made my life so much easier – the less they stress, the less I worry.
Finding the best dog toys for separation anxiety for your dog can be difficult, though as there are plenty of different features and factors you should first consider. Keep in mind, that dog separation anxiety toys are not a replacement of you and will not completely solve their anxiety. If their anxiety becomes too much that the comfort toys for dogs is having an adverse or no effect, seek out medical attention.
Advantages of Having a Separation Anxiety Toy
A proper separation anxiety toy will let your pet know everything is okay – even though you're gone, they're not alone. Think of this toy as a comfort blanket for your dogs. Whenever you have to leave the house – for however long – they can confide in the toy you've bought them. These toys will not only comfort them through anxiety but will also foster and support good behavior for the future.
Some dogs suffer from separation anxiety even when you're still in the house. When you crate your dog for the night and head up to bed, the whimpering and crying can be tough to hear – not to mention the sleepless nights. Separation anxiety toys will help promote good crate behavior and will act as a companion to help get your pup through the night.
Transitioning between houses can be another source of anxiety for your dog. They've adapted to one environment only to be thrown into a new one, and they don't understand why. Having a toy for them to greet them in their new space will plant the idea that everything is okay. Moving can be stressful on everyone, especially your pets.
Choose the Right Toy for Your Pet
You can't simply select the first puppy comfort toy you see online – well, you can – but having a special toy purchased with your dog in mind will make a world of difference. Your pet will know when something is chosen specifically for them and will cherish it when you're not there. That's why it's important to shop for the best dog toys for separation anxiety so your dog can play with great soothing dog toys.
Some cases of anxiety might be more intense than others, so you'll need to purchase anxiety toys for dogs with more features and aspects designed to calm your pet down. If your pet is prone to anxiety attacks, you don't want to overwhelm them and draw an attack on, but you do want them to feel comforted. Calming toys for dogs are designed with your dogs in mind and somewhere out there is a toy that's perfect for your dog's situation.
Knowing the level of anxiety your toy needs to combat can also help you find comfort for your dog. If anxiety seems to be plaguing your pet throughout the day, even with the most advanced and highest quality toy, perhaps outside help should be sought. Some cases of anxiety in pets can be so severe that a separation anxiety toy becomes ineffective.
How to Help Your Anxious Dog
Anxiety can be difficult to deal with as it adds stress to you and your pet. If your pet's case of anxiety is so severe that it begins to show itself physically, perhaps it's time to see out a medical expert. The first step than many experts suggest is to rule out other medical issues. If a case begins to reach a certain severity, there's a chance your dog is dealing with something else medically. Check with your vet to make sure separation anxiety is the issue.
If it's determined to be a severe case of separation anxiety, it might be time to start implementing counter conditioning methods. Your dog has become conditioned to notice the small tendencies you enact before leaving – putting shoes on, picking up keys, etc. Try doing these activities, but then don't leave. As your dog starts to feel less anxious, slowly play the "leave game."
This is where you exit the home for a few seconds, then return. Then you exit again for slightly longer, and return. Do this over and over, increasing the time gone each time. This will slowly counter condition your dog into realizing that when you leave, you will return eventually – no matter how long you're gone.
If none of these tricks work, your dog might need further medical attention – speak with your vet for more information and plans moving forward.
Five Best Dog Toys for Separation Anxiety Reviewed
Here we present to you our top five picks for separation anxiety dog toys. Each toy on this list offers a wide range of features and a comfort to your pet while you're away.
SmartPetLove Snuggle Puppy Behavioral Aid Toy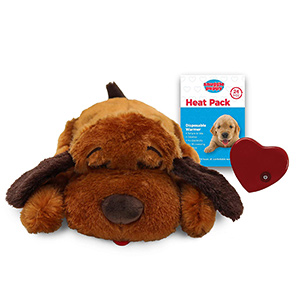 This toy is a stuffed animal puppy that will accompany your dog everywhere they go keeping them calm and relaxed while you're away. It is a great option when searching for puppy separation anxiety toys. It comes in a variety of different color options and is great for any dog who wants a companion. This stuffed animal has been around for over 22 years, keeping dogs and pets calm and happy while their owners are away. If the toy ever starts to stink or look a little too loved, it's machine washable for a quick fresh coat.
The real feature of this toy is the "Real-feel" pulsing heart pack that you place inside the toy. This heart emits a heartbeat pulse that keeps your dog calm and relaxed as they feel the beat they'd normally feel with you. The heart also includes a heat pack which mimics the body heat that humans expend. All of this combines to make a toy that gives your dog the experience of our presence even when we're away.
Consumers who have purchased this device claim that it works wonders on their dogs, stating that this is an awesome calming toys for puppies. Pets who have suffered greatly from separation anxiety are left calm and happy with their new companion who keeps them company. Many reviews lean towards positive about the added features of this device.
Quick Glance
What's Good
Realistic heart pulse
Body heat device
Machine washable
What's Bad
The heartbeat device dies quickly
Not great for chewers
KISSIN Dog Snuffle Mat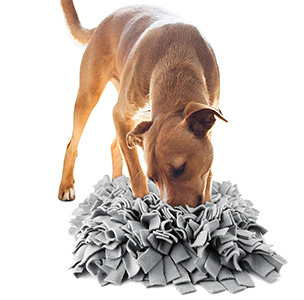 Dogs, at their base, are natural foragers. They come from wolves and were used historically as hunting companions before eventually becoming household pets. It's in their blood to forage for food, and many of them still hold their natural instincts to forage. This snuffle mat appeals to those instincts and offers your pets a way back to their roots. It's a ruffled wool mat that allows you to place treats in for your dog to forage for an dit works wonders as far as dog pacifying toys are concerned.
They'll spend hours looking through the mat to find the food. This mat distracts your pets from the idea of being alone – simply place some treats in the mat before you leave and know that they'll be distracted and occupied for the remainder of the day, acting as a dog comfort toy. The wool material of this mat keeps your dog's nose comfortable and happy as they continue to forage through. It's machine washable making for an easy clean whenever.
Reviews of this product claim success on calming their pet's separation anxiety issues. The mat also helps with over eaters as it makes them work more for their food rather than simply having it out throughout the day. Some consumers have claimed that the ruffles fall off during machine washing.
Quick Glance
What's Good
Distracts your

dog

while you're away
Appeals to their foraging instinct
Helps with overeating
Machine washable
What's Bad
Ruffles can come off in machine wash
Daily cleaning is sometimes necessary
Moropaky Puppy Toy with Heartbeat Dog Training Toy
This product is an adorable stuffed puppy designed to keep your pet safe and comfortable when you're away. The soft friend will help foster positive behavior both in the crate at night, and anytime when you're not home. This product keeps your dog's anxiety at a minimum, even during the night – you'll find that they will whimper and cry less with a companion by their side. The fuzzy stuffed animal is also machine and hand washable, you and your pup will love these comfort dog toys.
This anxiety toy comes equipped with a heartbeat pulse maker to keep your dog calm as it mimics the beat of a human heart. Often times you'll find that dogs are comforted by the beat of the human heart and having a toy by their side that accurately recreates this pulse will keep them calm while they're alone. The material of this toy is soft and keeps your dog's skin safe – it employs skin-safe fabrics.
Reviews of this product attest to the ability of this product to keep your dog's anxiety low. Many customers have claimed the soft fabric makes this toy a great cuddle buddy for their dogs and often find their dogs resting with the heartbeat simulator active. One issue that tends to arise is the fact that this does not make a great chew toy for your pet.
Quick Glance
What's Good
Heartbeat simulator
Machine washable
Skin-safe fabric
What's Bad
Can be damaged from chewing
Batteries not included
StarMark Bob-A-Lot Interactive Dog Toy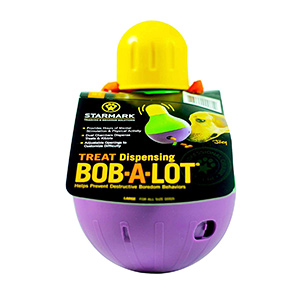 This product is focused more on the idea of keeping your pet active and distracted while you're away. It's a treat dispensing ball that acts as a chew toy offering exercise and fun to your dogs. The more your dog plays with the device, the more they are rewarded as treats will fall out for them to enjoy. The larger option can fit up to three cups of food for your dog.
It comes with an anti-slip coating that makes it wobble enticingly so that your dog won't become bored. The constant excitement that this toy will provide your dog will help to reduce their separation anxiety levels, keeping them calms no matter how long you're away.
Customers who have purchased this product claim it stands above its competitors as a treat dispensing exercise ball. Their pets remain active and continue to have a health experience with reduced anxiety. It's a great meal dispenser and perfect for smaller dogs. Owners of larger dogs have stated that the ball can easily be compromised by their size and strength.
Quick Glance
What's Good
Constant fun exercise for your

dogs

Treat dispensing capabilities
Different sizes for different

dogs
What's Bad
Not great for larger

dogs
ZippyPaws – Woodland Friends Burrow Dog Toy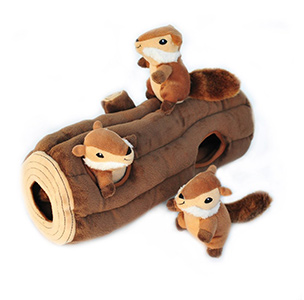 ZippyPaws is a great and interactive puzzle for your dogs offering constant entertainment and distraction. There are multiple different designs available for this product which offer different puzzles to continuously keep your pets busy while you're away. One of the designs is of three squeaky chipmunks in a log. As your dog bites down, they receive a squeak from the chipmunks.
Consumers who have purchased this product claim that this toy is better suited for larger dogs and helps reduce separation anxiety for them. The interactive puzzles offered by each design are great and continuously keep your dog distracted while you're not home.
Quick Glance
What's Good
Interactive and fun puzzle toy
Squeaky and entertaining chipmunks
Distracts and challenges your

dog
What's Bad
Stuffing comes undone
Chipmunks can be ripped out
And The Best Dog Toys for Separation Anxiety Is…
Each of the toys on this list can be considered as the best toys for dogs with anxiety, keeping your dog's separation anxiety low while you're not home. These calming dog toys will promote better behavior when in their crate and allow for your dogs to enjoy sleep more. On top of this, each toy on this list of the best toys for anxious dogs is simply fun for your dog, regardless of their separation anxiety.
There is a clear winner, however, in the SmartPetLove Snuggle Puppy Behavioral Aid Toy. This plush stuffed animal is great for any dog who struggles with separation anxiety. It's soft, safe for skin, and comes with a heated heartbeat simulator. This allows your dog to feel safe and know that they're not alone even when you have to leave. It's affordable and great for any dog with anxiety.