If you are like me, you want your cat to have his own personal space in the house. Somewhere he can rest and cuddle up in his own time. What I did is get him a bed of his own like the Best Friends by Sheri Deep Dish Sherpa Cuddler.
Things To Consider Before Buying A Cat Bed
Before you go out and get your cat bed, here are some things that you might want to think about. These are some of the things that you might want to look for in a cat bed that would cater to you and your cat's needs.
The first thing to consider is the size of the bed you are getting. I know we all want the biggest and softest bed for our cats, but sometimes that is not the case. If your cat likes snuggling up in cozy places then you better get them a cat bed that is the appropriate size.
You also wouldn't want them to be sleeping in something too small that would be hard to move in. You want to make them as comfortable as possible with enough space to move around and cozy enough to sleep.
Another thing that you might want to think about is heating. Many of these new beds offer self-heating features that can provide your cat the warm habitat they are looking for. These heated beds also assist those senior cats that are dealing with arthritis.
Best Friends by Sheri Deep Dish Sherpa Cuddler Overview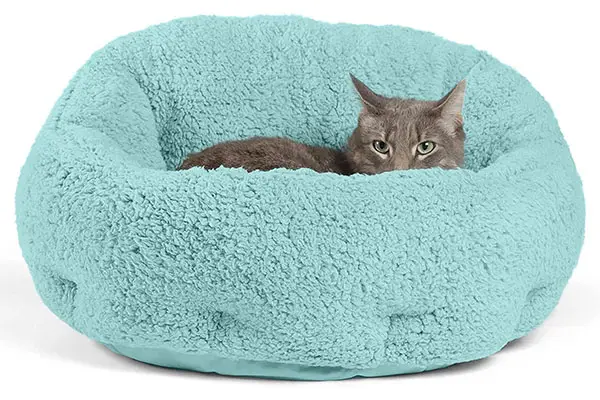 The Best Friends by Sheri Deep Dish Sherpa Cuddler is a very unique bed for your furry friends. Equipped with high walls that surround the bed, The Best Friends by Sheri Deep Dish Sherpa Cuddler provides your cats to feel safe and secure. The high walls at the back also provide ease on the joints for those cats that are in their senior years.
The lower walls in the front act as headrests that your furry felines can sleep on after a long tiring day. This deep dish bed is covered in ultra-soft cozy sherpa fabric that provides your cat the ultimate softness and cuddly feeling. The bottom of the bed is made of tough nylon that resists water and dirt.
It also comes in a variety of colors and sizes that you can choose from.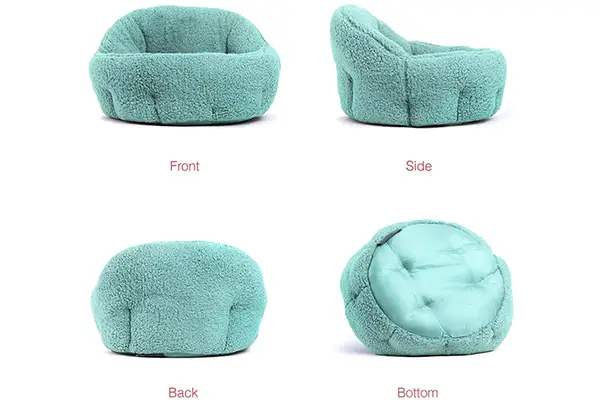 Quick Glance
What's Good
Very poofy walls
Soft sherpa fabric
Non-slip water and dirt resistant bottom
Easy to clean and maintain
What's Bad
Walls fall down for some users and says that the walls are not as fluffy as they seemed in the photo
Nipping cats can tear through the skin of the bed
Key Features of Best Friends by Sheri Deep Dish Sherpa Cuddler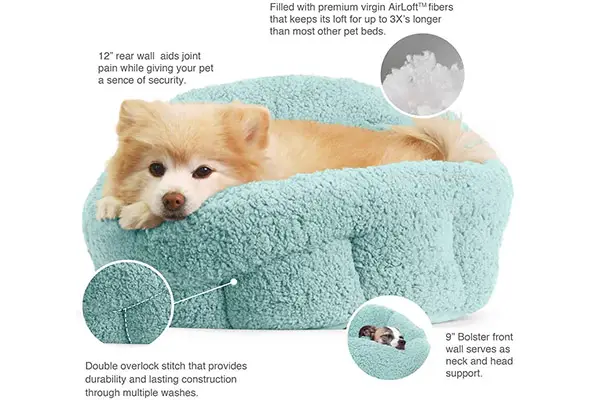 High Walls
Made with generously filled high walls designed to wrap your furry friend with the ultimate comfort. It provides them with a sense of security and comfort inside this very deep dish bed.
The 9-inch front walls of the bed are lowered to give your furry friends some headrests as they are sleeping while the 12-in back walls provide them with a backrest to make it easy on their joints especially those that have joint issues and senior cats.
One downside that most users notice is that the walls are not as fluffy as the photos they first saw. When they get the item and try it out, the walls usually fall over rather than standing up.
Sherpa Fabric
The OrthoComfort Deep Dish Cuddler is made to be the ultimate snuggling cat bed ever. It is covered in a cozy sherpa fabric and is meant to remind your furry friends of their own mother's fur.
It is therapeutic and will aid your furry friend to sleep more, sleep peacefully, and sleep deeper at night.
Nylon Underbelly
Stitched with a tough nylon fabric in the underbelly to resist water and dirt, this cat bed protects your cat from all types of messes. It also decreases the chance of mildew and mold build-up. Its bottom cushion is tacked down to keep it in place.
Easy to Maintain
Cleaning the deep dish cuddler is very easy to clean and maintain. It's as easy as vacuuming it every day for a quick cleaning. You can also just throw it in the washer to clean it more. Use the gentle cycle in the washer and tumble dry in low heat.
What others say about this Cuddler
While compiling a list for the best cat beds, I stumbled upon some reviews of the Best Friends by Sheri Deep Dish Sherpa Cuddler. Here is a couple that you might want to see before you decide to get this cat bed.
Both Luis Ronqillo's cats loved this bed so much he had to get another one because they couldn't share! The only downside he saw was that the walls tend to fall over and not stand straight.

Veronica Lynn's cat has never shown interest in cat beds before until the Best Friends by Sheri Deep Dish Sherpa Cuddler. Her cat loves this bed and she is happy with the purchase.

Alternatives to the Cuddler
Petmate Aspen Pet Self Warming Bed
The Petmate Aspen Pet Self Warming Bed has a corduroy lining that features reflecting heat technology to keep your furry friends warm as they sleep. The bed reflects your cat's own body heat upon themselves to keep them cozy. No electricity needed.
The bed is made of plush corduroy and the sleep surface is covered in faux lambswool that is so soft, your furry friend will not want to get up. It also features a non-slip underbelly to prevent the bed from slipping every time they get into the bed.
It comes in various sizes that can cater to your cat's size.
AmazonBasics Collapsible Cat House with Bed
The AmazonBasics Collapsible Cat House with Bed gives your feline friend a place to lounge, play, and escape when he wants to. It is accommodating to any cat's natural instincts, combines a bed to sleep in up top and a hiding spot for when they want to be cozy and escape from everyone as most cats do.
It is also collapsible that you can bring it anywhere. You can pick from 3 neutral colors that go well in any house.
Pet Magasin Thermal Self-Heated Cat Bed
The Pet Magasin Thermal Self-Heated Cat Bed gives your cat a place for them to sleep where they feel cozy and warm. It is stylish and comfortable. Very minimalist. If you are looking for mats that can provide all the comfort and coziness of other beds without the fuss.
It is also equipped with a non-slip underbelly that keeps that mat safely in its place. It also features three thermal insulation layers that keep the bed comfortable, thick, and warm for your furry friend.