Whether it's taking your dog to a vet appointment or traveling in an airplane across the country, your dog needs a pet carrier that will provide comfort and protection. Investing in a pet carrier is a convenient way to be able to take your dog with you wherever you go.
Our Top Picks For The Best Pet Carrier For Small Dogs:
Elite Soft Sided Pet Carrier
Mr. Peanut's Soft Sided Pet Carrier
Click here to jump to all of the small pet carrier individual reviews.
Tips For Selecting The Best Pet Carrier For Your Dog
Take a look at the following sections before choosing the best pet carriers for small dogs.
Measure Your Dog
Making sure your dog has enough room in the carrier is one of the most important aspects to look at before choosing the right carrier for your little companion. The carrier should be large enough for your dog to be able to easily lie down and stretch out, as well as be able to turn around in the carrier. It's important for the dog to have enough room to be comfortable, especially for long trips. To choose the right size carrier, measure the height, length, and weight of your dog. If you are planning to take your pooch on an airplane with you, be aware that many airlines have certain guidelines on the size of carriers allowed on the flight that you must follow. You can find some basic guidelines to follow here.
Find the Right Style
Being that there are different kinds of pet carrier styles out there, it can be hard to decide which kind is most suitable for your dog. Consider the temperament of your dog. Does your dog like to chew? Does your dog have a nervous bladder? These are some questions you can ask yourself to help you choose the right type of carrier. The three most popular carriers are:
Standard Hard-Sided Carriers
Hard-sided carriers are made of a hard and durable material. These carriers are meant to last a long time and are very easy to clean. It only requires a quick wipe down and it's good to go! These carriers are also more common when being used with larger dogs, and offer the most protection for your best friend compared to other types of carriers. However, the hard shell-like walls makes carrying it around a big task, and the bigger the carrier, the bigger the workout it will be to lug it around.
Soft-Sided Carriers
The soft-sided carriers are less durable, but offer more convenience and are meant to be easily portable. This type of carrier is lightweight and easy to carry, and it can be quickly folded up to be put away. The sides of soft-sided carriers are lined with mesh for airflow. This is good for dogs with thicker coats as you won't have to worry about them overheating. Personally, this is my favorite kind, especially because of how often I take my dog with me places; the ease of storing the carrier away makes traveling with my small pup fun and worry-free!
Wearable Carriers
These gym bag-like carriers are much like baby carriers. Instead of having to hold a carrier with your hand, why not set your pooch in a bag and wear it around your body! Wearable carriers come in many different designs; some allow for your pet to snuggle inside while others allow it to stick its head out and enjoy watching its surroundings. The one problem with this type of carrier is that it really is only practical for smaller dogs, so if your pet is on the heavier side you may find a better suitable carrier in one of the other two categories.
Best Pet Carriers
To help you choose the best carrier for your pet, we've reviewed some products. Take a look to see what we think is best for your dog:
Henkelion Dog Carrier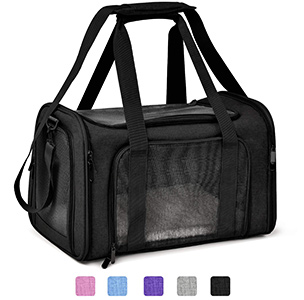 Check Amazon's Price
This TSA-approved pet carrier is a soft-sided design with mesh on all four sides. It comes with two connecting loop handles and a shoulder strap for easy carrying. There is also a luggage strap to make traveling in an airport very easy. This carrier is made of a durable and waterproof fabric, and the fleece pet bed inside can be removed and machine-washed, perfect for any little accidents that happen during travel! One drawback to this pet carrier is that it may have a chemical smell at first. Not a problem, though, as a quick rinse with a hose and sitting out to dry should help get the smell away. This is my favorite carrier because it's affordable and the material is great!
Quick Glance
What's Good
Breathable
Spacious
Sturdy
Foldable design
What's Bad
Strong chemical smell
Zippers may easily break or unzip
EliteField Soft Sided Pet Carrier
The EliteField Soft Sided Pet Carrier has a lightweight design that comes in two sizes, medium and large, and comes in an array of different colors. The many pockets on the side provide space to store treats, bags, toys, etc. There is even a buckle belt strap to secure the carrier in place when traveling in a car. The carrier opens on both ends and through the top, making it easy to put your pooch inside. It is equipped with two different modes of carrying, you can either use the carrying handle or shoulder strap.
Although this carrier advertises that it contains a sturdy bottom, depending on the size of your pooch the sides may cave in when carrying the pet carrier. There doesn't seem to be anything that can fix this problem, so if your pet is on the heavier side you may need to get a bigger carrier than you would normally get.
Quick Glance
What's Good
Bottom is lined with a fleece pad
Many external pockets
Airline approved
Washable
What's Bad
Sides slightly fold in on themselves when carrying
Top mesh may collapse
May have a chemical smell
Mesh may rip easily
Smaller than expected
Mr. Peanut's Soft Sided Pet Carrier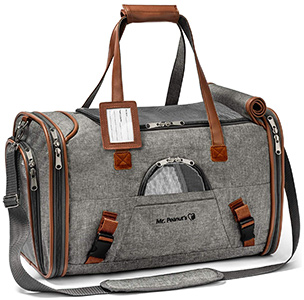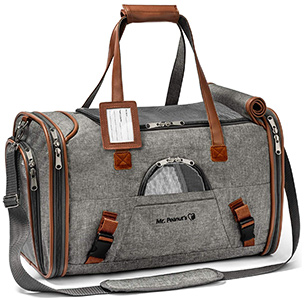 Mr. Peanut's soft-sided carrier is the most stylish of the list. The carrier comes in a few different colors, but my favorite is the trendy gray color. This product is made with sustainable materials, such as Vegan Leatherette. I'm one to be as sustainable as possible so this feature is amazing. The carrier is also advertised to be waterproof and made of a nylon material that is used in military grade parachutes, talk about strong and durable! Along with all of that, the carrier boasts mesh on all sides and at the top for proper ventilation and has self locking zippers to keep your dog inside the carrier. Additional features are a plywood base, carrying and shoulder straps, and pockets for storage. To top it all off, this carrier is airline approved for most of the major airlines, like United and Delta!
Ironically, the material holding one of the inner structural poles in place is very thin and doesn't own up to its "military grade" durability. Users found that one of the poles may move from its desired position and pokes a hole through the nylon, into the interior of the carrier. Also, one of the biggest setbacks of this carrier is that it was made to comfortably hold your pet while it is lying down. The company warns users that the carrier is short in height and some dogs may not be able to stand in it.
Quick Glance
What's Good
Durable
Waterproof
Fleece bed padding
Strong base
Sustainable materials
What's Bad
Short in height
Material on the inside is very thin
AmazonBasics Soft-Sided Pet Travel Carrier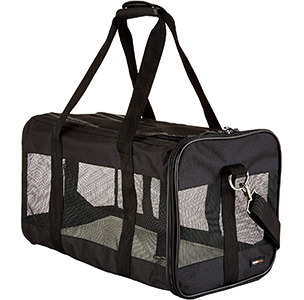 The AmazonBasics carrier has a sleek all-black style and comes in 3 different sizes: small, medium, and large. All sides and top of the carrier are lined with mesh for easy viewing for both you and your pet, and there are front and top openings for your pet to easily get inside. The removable base insert gives your dog a nice and sturdy platform to stand on and the carrier comes equipped with a comfortable and machine-washable fleece bed. There are regular carrying straps and an adjustable shoulder strap, making it easy to carry your pet anywhere you go.
Unfortunately, the material of this carrier is not waterproof and it is recommended to only spot-clean the carrier if a mess is made. Also, users claim that the sizes are smaller than advertised, so be aware that the large size may not be able to comfortably fit a medium sized dog. Another problem one user found was that it may not fit under an airplane seat as it does not conform to the shape of the space, making it hard to travel for a long flight.
Quick Glance
What's Good
Light weight, easy to carry
Washable

pet

bed
Strong base
Very good ventilation
What's Bad
Not waterproof
Much smaller than expected
Paws and Pals Airline Approved Pet Carrier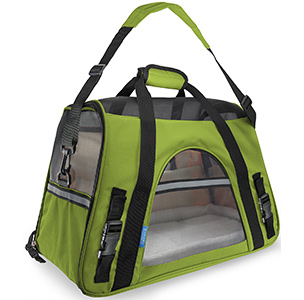 This Pet carrier is probably the most convenient because it is washable, leak-resistant, water-resistant, and has a fleece pet bed with raised borders so your pet has head and neck support. The durable Paws and Pals carrier is airline approved, as its name suggests, and conforms to the bottom of the airplane chairs, making travel very easy and stress-free. The mesh sides allow for proper air ventilation, and the additional storage compartment is large enough to fit almost anything you need to bring with you on your travels. This pet carrier has a large entry point and even has what the company calls an "in-flight door" which opens halfway, allowing your dog to stick out its head for a few head scratches! This carrier also conveniently has buckles on the zippers to secure the doors shut and protect your pooch from escaping.
Even though the zippers come with buckles to securely lock the doors, the zippers themselves seem to be a problem for some users. There have been claims that the zippers come off easily if your pet is an active chewer. Another problem users seemed to have was that it may be hard to bet a feisty pet into the carrier since there is only one entry point through the side of the carrier.
Quick Glance
What's Good
"In-flight" halfway door
Washable
Leak-resistant, water-resistant
Airline approved
What's Bad
Faulty zippers
Only one entry point
Our Top Pick
The first place has to go to the Henkelion Dog Carrier! It has an affordable price tag and strong material make this carrier the best for your pooch. Especially the waterproof fabric and machine washable pet bed; you know nothing can go wrong with this carrier! The chemical smell may be bothersome at first, but it is definitely worth it when comparing the pros and cons.
A close second place goes to the Paws and Pals Airline Approved Pet Carrier. Although there is only one entry point, making it difficult to put an uncooperative pet inside, the leak- and water-resistant fabric, plus the "in-flight" door, really make this carrier worth every penny.
Check Amazon's Price
Looking for a larger pet carrier? Click here to view our reviews of the dog travel crates (for larger dogs).