Even under a nice coat of fur, your beloved pooch can still shiver when harsh weather conditions strike. It's always a good idea to be equipped with a stylish and warm sweater for their outside adventures. By dressing your pet for the weather with the best small dog sweaters, you guarantee their comfort and give yourself peace of mind that your pet is happy.
How to Choose the Right Sweater Material
The material of the sweater that you will buy your dog is a very important aspect to consider. If you live in a climate that often experiences rain or snow, a waterproof sweater or jacket is your best bet. However, if you are looking for something to keep your thin-haired dog warm, a nice insulated sweater will work just fine.
Your dog's natural fur coat should also be taken into consideration when shopping for a sweater. If they already have a very thick coat, you should not buy a sweater that is heavily lined with faux fur. A light fleece or completely waterproof jacket will do just fine in keeping them insulated and prepared for the weather. The opposite goes for thinner haired dogs. The best idea for them is to get a nicely lined sweater that will keep them warm no matter what.
Things to Consider When Shopping for a Dog Sweater
Whatever sweater you end up buying should be easy to get on and off. This is so crucial for both owner and pet, as neither wants to spend a lot of time dressing as it can be a difficult process depending on your dog's personality. The best idea for both of you is to get a sweater that will go on with ease.
As a pet owner, you also want to make sure that the cute dog sweaters you buy for your pet are not restrictive to their leg areas. If the sweater is too tight on them, then you risk cutting over their circulation. Just as you would take time to measure your dog to get the best fit for a dog carrier, it is always a good idea to measure your dog at least twice before purchasing any clothing for them. Definitely measure their neck and leg regions multiple times to ensure that the sweater size you pick is going to fit them without being too tight.
Of course, you also want to shop for the warmest dog sweaters, especially if you live in an area that experiences extremely cold temperatures during the winter months. Keep in mind that small dogs have less body fat than bigger dogs so extended or prolonged exposure to the outdoors during the winter should be mitigated with a warm dog sweater, and full body dog sweater options are best!
Here is our review of 6 small dog sweaters
We took a look at 6 small dog sweaters and here are our findings of the good and the bad…
Fashion Focus On Knitwear Dog Sweater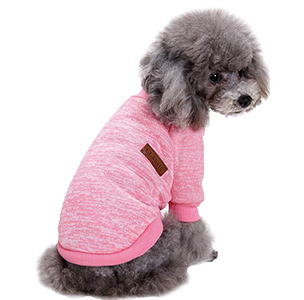 This dog sweater is definitely made for comfort. The entire sweater is lined in a soft fleece that will keep your pooch nice and warm in the cold months. There is also a large head hole, so the neck stitching will not be too restricting on your pet. The arms on this sweater are long enough to cover the majority of your pet's arms. The back section on this sweater stops around your dog's tail region, so your pet will be nicely covered.
Downsides to this sweater are that it is not waterproof. This sweater might not be the best option for you and your pet if the weather in your region is constantly rain or snow. However, this brand of sweater comes in a wide variety of sizes and colors so there are a ton of options for your pet. So if the sweater being waterproof is not important to you, then we highly suggest purchasing this one.
Quick Glance
What's Good
Lots of sizes and

colors

: there are a wide variety of options to choose from for your

pet

Comfortable fleece inside: the fleece will keep your

pet

nice and cozy in the cold weather
Low

price point

: this is one of the lowest-priced

sweaters

out of the ones being reviewed, and is definitely a great deal
What's Bad
Not waterproof: there is no waterproof lining on this

sweater

, so if you live in an area that would require your

dog

staying dry, this might not be the

sweater

for you
Mihachi Classic Cable Dog Sweater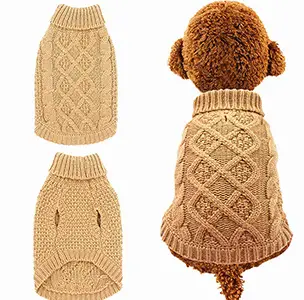 This sweater brings a more elegant style to the dog sweater market. The design is completely knit, with a cute patterned design throughout the sweater. The size and color options are not that diverse, but for small dogs this should keep your pooch extremely cozy.
Some negatives about this sweater are the fact that it is also not waterproof and the knit material will easily become wet. A more controversial aspect of this sweater is the fact that it is a high turtleneck design. If your pet is one to get irritated easily, then we suggest steering clear of this sweater, as the turtleneck might bother them.
The arm sleeves on this sweater are not long at all, and will give your pet full mobility. This is a great option for an indoor sweater, but will probably not be the best choice if your pet frequently finds themselves outdoors in snowy weather.
Quick Glance
What's Good
Stylish

Design

: the knit fabric and turtleneck design makes this

sweater

one of the more fashionable options
What's Bad
Uncomfortable Aspects: the high turtleneck part of this

sweater

might not sit well with your

dog

if they are one to get irritated easily
Kuoser Cozy Waterproof Windproof Dog Coat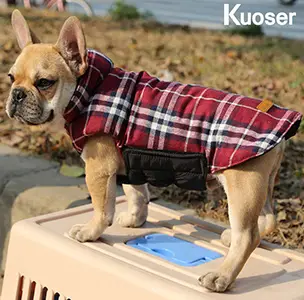 These plaid jackets are completely waterproof and reversible, making it impossible not to fall in love with the cute patterns and stress-free design. The colors offered by this brand are vast, so you will definitely find one that suits your pooch.
These jackets are made out of a thick polyester fabric that is stuffed with soft cotton. Yout pet will definitely appreciate the fact that they can move around with ease while wearing these coats. Their legs are all left to freely move around without being constricted as there are not any sleeves.
This jacket is on the more expensive side for pet coats, however it is a good investment for pet owners who live in colder areas. A negative for this coat is that the sizes do not fit all breeds of dogs, so be careful with measuring your pet for the right size. These coats stay on your pet by an adjustable piece of velcro material located by their belly, so make sure that you measure around your pet's waist to make sure the coat will fit them.
Quick Glance
What's Good
Waterproof: the best perk of this coat is that it is waterproof and will keep your pooch nice and dry
Great Mobility: there are no restricting sleeves on this coat
What's Bad
Sizing chart is confusing: you have to be very careful when measuring your

dog

for this brand of

sweater
Zack & Zoey Basic Hoodie for Dogs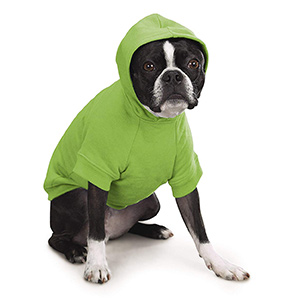 The title of this brand of dog sweater speaks for the design: basic. If you are looking for a hoodie that will keep your dog warm, then this is the most general one you can get. There are a ton of colors and sizes to choose from!
Unfortunately, this hoodie offers little perks in buying it. It is not waterproof, and the hoodie design is rather impractical for dogs since the hood is unlikely to stay up on your dog for extended periods of time. This is also one of the more expensive sweaters that we reviewed, and for the price point, there are not many benefits.
The design is cute and trendy, but the practical use falls short for this hoodie as the material is not that thick or comfortable. It is a basic polyester blend that will keep most dogs cozy but probably not extremely warm in harsh weather.
Quick Glance
What's Good
Lots of options: there are a ton of cute colors and sizes to choose from
What's Bad
Impractical design: besides from the cute design, this

sweater

does not offer a lot of benefits
Gooby – Fleece Vest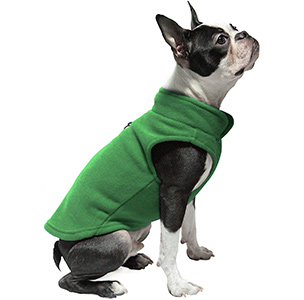 The Gooby vest is perfect for the dog that is always on the move! There are so many colors to choose from, but there are not that many sizes to pick from. However, this vest is so heavily lined in warm fleece that your pet will thank you for your purchase.
This vest is one of the most functional pieces that we have tried out, as there are no arm sleeves, and the whole product is rather lightweight and easy to put on. An obvious downside to this jacket is that it is not waterproof at all. This jacket is ideal for the pets that adventure with their owners in climates that are not typically wet.
The price for this vest falls in the medium range, but these vests are known for being durable and withstanding even the most active dogs. You will definitely get your money's worth with this product.
Quick Glance
What's Good
Good Value for Price: this durable product is a great choice for the money amount
Lots of color options: so many different shades to choose from to perfectly match your

dog

's personality
Great for the active

dogs

: your

dog

won't feel constricted in this product
What's Bad
Not waterproof: this is not a great option for areas where rain and snow are constant
BINGPET Turtleneck Dog Sweater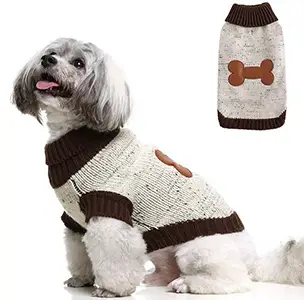 The last item to discuss is this adorable sweater from BINGPET. Each of the different sweater styles include a cute little design on it, such as a bone or paw, that really add an extreme level of style. The sweaters are extremely soft and stretchy, and these sweaters include a slight turtleneck aspect to them.
These are not waterproof, which can be a problem for some shoppers. This sweater also might be different to put on, as it is made to be snug on your dog. A surprise perk of this sweater is the fact that it is machine washable, which is hard to find in knit sweaters such as this one.
he festival styles of this sweater make it the perfect choice for families looking to spruce up their dog for holiday occasions or just as a cute sweater to wear around the house!
Quick Glance
What's Good
Adorable for festive occasions: there are so many fun colors and

patterns

to choose from
Machine washable: you can put this

sweater

in the

washing machine

and not fear that it will shrink or lose color
What's Bad
Not waterproof: this

sweater

is not ideal for rain and snow weather
Difficult to put on: this

sweater

is made of a snug knit, so it can be hard to put on your

dog
Our Choice For The Best Small Dog Sweater Is…
The best sweater that you can get for your money is the Fashion Focus On Knitwear Dog Sweater. There are just so many colors and sizes to choose from, so you will definitely find the perfect fit for your dog. This sweater, although not waterproof, is the most comfortable out of all other options.
This dog sweater was easy to put on, and offers the best comfort as it covers the surface most area on your pet. It was also the most affordable option, and this sweater will last a while.
The head hole on this sweater was made the best out of the other sweaters, and will definitely not restrict your pet's movement. You really can not go wrong with this purchase, and your pet will look adorable in this cozy little sweater!
Check Amazon's Price