The Furbo Dog Camera may be the solution you're looking for to address your problem of having to leave your pet behind when you're out on business or work. The addition of a treat-dispensing feature makes it stand out from other dog cameras in the market. So, aside from the regular video monitoring and recording function, you can set it up to dispense treats using your mobile phone as a remote control. Even when you're not around, you can give your canine buddy the treat it needs to keep it calm and full. Here we take a look at the best treats for Furbo dog cameras.
Blue Buffalo BLUE Bits Dog Treats
Wellness Natural Grain Free Puppy Treats
Crazy Dog Train-Me! Dog Treats
Click here to view our individual product reviews.
How to Choose the Best Treat to Use for Your Furbo Dog Camera?
I chose the Furbo Dog camera, even after looking at a handful of similar cameras with similar features. The reason is I realized that Furbo's version was versatile enough to accommodate and handle most of my preferred dog treats.
There's a bunch of dog cameras with treat dispensers, but Furbo stands out due to its flexibility. However, it doesn't mean that all dog treats you find in stores are an excellent choice to pair with your Furbo Dog Camera. Your job is to choose the treats wisely to make the most out of the dog camera's dispensing feature.
Dog treats that aren't too sticky or wet could be the best option for your Furbo. You also should consider something that doesn't easily crumble. I recommend that you stay away from dog treats with complex shapes because they could get stuck in the dispenser.
Go for Furbo treats that are smaller than the dispenser opening. Choose treats sized from ½ inch to an inch if you're planning to pair it with your Furbo Dog Camera.
Things to Consider in Choosing a Healthy Dog Treat
Ingredients
When you're about to choose a dog treat, you may want to focus on the ingredients first. Treats aren't merely intended to keep your dog happy. The one you give the animal will have a substantial impact on its eating regimen. Hence, look for treats made from natural or organic ingredients.
You'll find a ton of dog treats made from the healthy stuff, including whole grain, oats, and brown rice. The healthy and safe protein sources you could look for are beef and chicken. The two ingredients you must try to avoid are fat and sugar, both of which are things that dogs don't need.
Calories
You must be wary of the dog treat's calorie count, too. You may unknowingly give your furry friend a dog treat that could make it overweight. The last thing you want is to see your dog suffering from medical problems linked to obesity. You can quickly figure out the dog treat's calorie count on the label.
Texture
The texture is as important a factor to that of ingredients and calorie count, especially if you're giving the treat to a puppy. A firm and hard texture may help a puppy's dental health and the development of its teeth, while you may need a softer and smooth treat for an old dog with chewing and biting difficulties.
Can You Use Homemade Treats with Furbo?
What makes Furbo's treat dispensing feature stand out is its versatility. It means that you can use any treat, if it is under an inch in size, won't crumble easily, and does not have a wet or sticky texture. Your pet may be used to the treats you make at home and may not like the usual treats you can buy in stores.
Prerequisites and Precautions in Using Furbo Dog Treat Dispensers
You must pay attention to the Furbo Dog Snack dispenser video camera in ensuring that your four-legged buddy is getting a healthy snack. It's not just about using a healthy product; you also need to keep these rules in mind:
Don't forget to clean the dispenser regularly. Even if the Furbo

Dog

Camera is easy to clean, it does not mean you'll like the idea of cleaning it. But you can't afford to ignore the responsibility because food dispensing tools will accumulate bacteria and dirt over time.
Use healthy treats. You can indeed fill your Furbo treat-dispensing camera with just about anything, but it does not mean you should. If you're unsure where to find the healthiest dog treats, there's always the option of asking your veterinarian.
Don't substitute dog treats for regular feedings. Even if you choose healthy dog treats, it does not mean you use it as an alternative to your

pet

's regular meals. The purpose of the Furbo

Dog

Treat Dispensing Video Camera is to allow you to give treats to your

pet

remotely while you're away. In other words, you should feed the

animal

with regular food when you're able to do so.
Best Treats For Furbo Treat Dispensers
Furbo users profess their love for the following dog treats that work flawlessly with their treat dispensing dog video camera:
Blue Buffalo BLUE Bits Dog Treats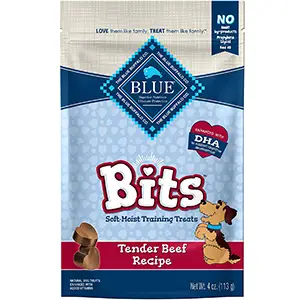 With a variety pack containing four different flavors, the Blue Buffalo BLUE Bits Dog Treats will give you the most versatile product in one purchase. Its primary ingredient is meat, which may come in four kinds – beef, chicken, turkey, and salmon. Although it is primarily marketed for training, its small bite sizes make it ideal for pairing with Furbo's treat dispensing camera.
This dog treat offers good stuff when it comes to keeping your dog's diet on the healthy side. The high protein content means it is rich in DHA, which in turn is pivotal for cognitive development in puppies. Omega 3 and 6 fatty acid content could help in keeping the dog's coat and skin healthy.
The wholesome ingredients in this product are enough to supplement the nutritional needs of a dog, whether it is young or old. It does not contain artificial or potentially harmful additives and chemicals, making it a natural and safe snack for your four-legged buddy.
Quick Glance
What's Good
Contains ingredients to maintain a healthy

dog

skin
You can get all four flavors in one package
No corn, wheat, soy, or other ingredients that may cause allergies
What's Bad
A recent change in packaging gets negative feedback from some users
The cane sugar content may cause hyperactivity in some

dogs
Wellness Natural Grain Free Puppy Treats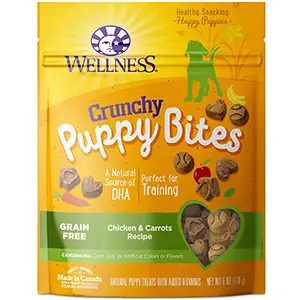 Marketed as a grain-free product, this dog treat is made with premium chicken meat and specially sized for puppies. It is meant as either a treat or for training purposes. The dog treat has a soft and light flavor. This one may fit the bill if your dog is allergic to soy and corn since it is free from those ingredients. The dog treat is a natural source of DHA, which promotes healthy brain development in puppies. Aside from chicken, it also contains traces of fruits and vegetables.
Quick Glance
What's Good
Ideal texture and taste for small dogs and puppies
Perfect size for training
Suitable for old dogs with missing teeth
What's Bad
May contain bits of chicken bones
The smoky flavor may not sit well with some dogs
High-calorie content because of the main chicken ingredient
Zuke's Natural Training Dog Treats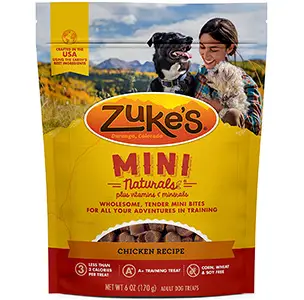 This product is advertised as an ideal treat for dog training, but it works well with Furbo's treat dispensing camera, too. Like the first product, it is soft and chewy and does not contain corn, soy, or grains. Instead, the ingredients include meat, herbs, and wholefood berries. It is marketed as a small breed dog treat, so you might find it suitable for your chihuahua, terrier, poodle, or any other small dog breed.
The difference between Zuke's Mini Naturals to that of Wellness Natural Grain Free Puppy Treats is that the former has fewer calories, about 3 per treat. If you want some variety every time you're out, then you can choose from a handful of recipes offered by the brand. The list includes chicken, duck, peanut butter and oats, pork, salmon, and rabbit.
This may also be the one you're looking for if you want something different in terms of flavor. The addition of cherries and turmeric promotes a healthier lifestyle for your pet. You see, dog treats don't have to be bad food at all.
Quick Glance
What's Good
Does not contain artificial colors or ingredients
The small size means there's no need to break each piece to fit the dispenser
Powerful smell helps in training to lure in the dog
The soft texture goes well as an occasional reward for good behavior
What's Bad
Some packages and pieces may contain bits of chicken or duck bones
Packaging could use some improvement
Some recipes can cause diarrhea at first use
Crazy Dog Train-Me! Dog Treats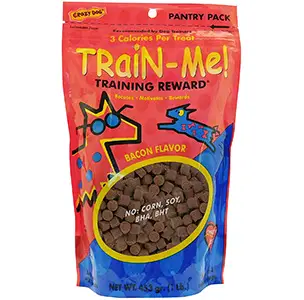 Manufactured in the U.S., this dog treat has meat as its main ingredient. But according to the manufacturer, it is specially formulated to contain low fat and calories so that I'll be perfect for training and keeping the dog active. In other words, it does not make your pet feel like it just had a full regular meal.
The Crazy Dog Train-Me! Dog Treat is all-natural. It does not contain harsh ingredients like BHT, BHA, or ethoxyquin. With its bite-sized pieces, this dog treat is perfect to pair with your Furbo Treat Dispensing Dog Video Camera. Aside from the 18% meat content, the product has vitamins and minerals to keep your pet healthy. The package comes in convenient resealable pouches which are easy to work with when you're not giving it all at once.
Quick Glance
What's Good
Practical packaging adds convenience
Reasonable price
Best used for training and rewarding
What's Bad
Treats are bigger than most of its competing products
Garlic powder ingredient may cause stomach issues in some dogs
Cloud Star Tricky Trainers Dog Treats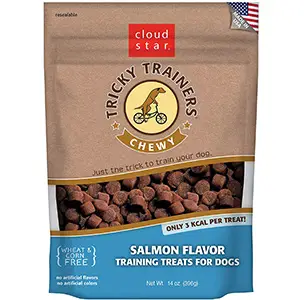 With just 3 KCAL per treat, the Cloud Star Tricky Trainers Dog Treats offers the lightest and healthiest snack option for your dog. You may find it suitable as a reward for your dog in training. Like all the other products we discussed, this one does not contain artificial flavors. The meat component is salmon, which says a lot about the manufacturer's preference in the low-calorie protein source. This product does not contain allergens, so you don't expect the presence of soy, dairy, corn, or wheat.
The appearance of each treat comes from the natural blend of colors from the ingredients. There are no artificial colors or flavors used. The soft and chewy texture means that it is safe even for old dogs with biting issues or those with missing teeth. Your puppies may want a piece of it since the salmon flavor is hard to resist.
Quick Glance
What's Good
The meaty smell makes it hard for a dog to resist
Dry on the outside but smooth and chewy on the inside
Suits dogs that are picky eaters
What's Bad
Pricier than most competing products
Some ingredients can cause hyperacidity and stomach issues
And The Best Dog Treat For Furbo Cameras Is…
Despite the many similarities among the dog treat brands we discussed, the clear winner in terms of the total package is the Blue Buffalo BLUE Bits Dog Treats. It addresses the primary issue of being an excellent fit for your Furbo Dog Camera. Aside from that, it is the only product we discussed that offers all flavors in an optional package. It means you get to treat your dog with different flavors in one purchase. You can also switch to another flavor when your dog doesn't like the others. The lack of artificial ingredients makes it healthy and safe for consumption.