Do you ever find yourself wanting to take your cat with you out on a walk? Maybe you have to bring him with you everywhere. If you do, what you need is a cat backpack. There are a lot of different kinds in the market but one I'd like to talk about is the Blitzwolf Cat Carrier Space Capsule Backpack. Click here to check the current pricing on Amazon.
Cat Carrier Backpack Features & Benefits
Cat backpacks are now in the market for those who love bringing their cats everywhere. Whether it be on a hiking trip, a camping trip, or any travel plans you might have. They are made available by many companies, in many different designs and functionalities. Some of the best cat backpacks are designed just to look good, and other cat backpacks are for more adventurous itineraries. But for now, we're going to take a look at the qualities that the best cat carrier backpacks have that benefits the cuteness factor of your cat. A bubble backpack is a cat carrier that usually has a clear front cover or a clear spherical window in front of the bag.
With a bag like this, there are some things that you might want to consider before purchasing a backpack like this:
Design and Comfort – Will my cat have enough room? Will he feel comfortable?
Safety and Security – How safe is this backpack? Will he be able to breathe?
Functionality – Aside from carrying him outside, what else can this backpack do for us?
Choosing which backpack to acquire is not an easy task. You've got to choose what is best for you and your cat. If you like adventurous, outdoor activities, maybe a more functional backpack would be better. But whichever you choose, you will end up having a great time with your cat. Let's take a look at the backpack in the spotlight.
Blitzwolf Cat Portable Space Carrier Backpack Features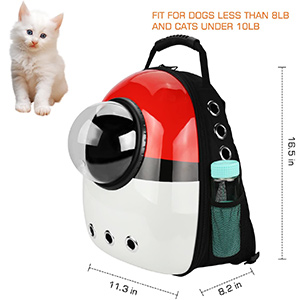 The Blitzwolf Cat Portable Space Carrier Backpack is made with a fully transparent outer shell and makes your pets feel more comfortable and less anxious. This cat portable carrier space capsule backpack is made with acrylic material that is bite resistant and abrasion-resistant. Taking your cat out in this backpack will surely get you looks from passers-by as they see your cute feline friend through the carrier.
Quick Glance
What's Good
Clear front cover for those curious cats
Soft sponge padding at the bottom of the bag for maximum comfort
Comes in 2 sizes: Small and Large
Safety belt to support the weight on your shoulders and waist
Multiple air holes for air circulation
What's Bad
Lacks any other function other than carrying your cat
Sizing issues with some customers
Some cats feel uncomfortable inside the backpack, users report
What's Inside The Blitzwolf Cat Carrier?
There are a lot of features that this cat bubble traveler knapsack has. It is a multiple air vents waterproof lightweight handbag for cats that many cat owners appreciate. Below, ee are going to go deeper into what makes this bag one of the top-selling backpacks in the market right now.
Design and Comfort
Right of the bat, the design of this double-headed zipper cat backpack is really nice. A space capsule design for those owners who enjoy taking their cats out in cute and fashionable products. Heads will surely turn when they see your backpack and its contents. Made of clear acrylic that is bit-resistant, and waterproof, you can be sure that this bag will last you for quite a while. Padded with a soft sponge lining at the bottom of the bag, your cat will be comfortable throughout the trip.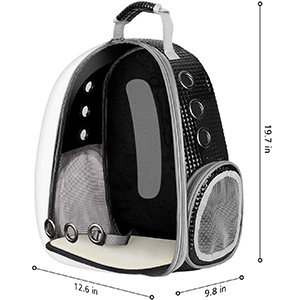 This comfortable cat backpack for travel is also equipped with buckles that help support your back and waist while carrying it around. It comes in 2 sizes, a small and a large. The differences are that the large size is a window type bubble backpack meaning it is not a full clear cover. It looks really nice and I would want to bring this around everywhere with my cat. He doesn't have to be alone at home anymore.
Safety and Security
This backpack is designed with a  double-headed zipper that gives you a little more security and convenience. It has a handheld strap on top for when you need to carry your cat in that manner. An elastic built-in lock that prevents your cat from jumping out whenever you open the bag is also installed. Multiple air holes are there to promote proper air circulation through the backpack and allows your cat to breathe properly. Small mesh openings on the side of the bag are there to help with that too.
Functionality
Aside from this transparent cat backpack looking good, one of the things that I would like to have in a carrier is more functions. As I see, this bag is only for carrying your cat around in a nice and fashionable backpack to show off to your friends and the people around you. If that is the only thing that you are looking for in a carrier, this one might be the one you are looking for. An added feature that I like is that it comes with a dual-use grain and water cup and two collapsable bowls for use when traveling. If it weren't for that, functionality would have scored a little higher.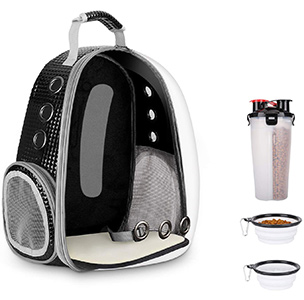 What Others Think About The Blitzwolf Cat Backpack
If you are wondering what users are saying about this product, here are some reviews from those who have actually tried this item:
Cynthya's cat doesn't like going out much, and yet with this backpack, he became outgoing and enjoyed their trips outside.

Gabriella thinks this backpack is really awesome! Used this in a flight and her cats were really comfortable all throughout.

Chad says that this is nice for short trips. He finds the bag really sturdy and loves the bubble hole.
Check Out These Other Cat Carrier Options
If you are still undecided, here are a few more choices that are on the market right now that are similar to this product:
PetAmi Premium Cat Carrier Backpack
The PetAmi Premium Cat Carrier Backpack is an outdoor and travel backpack that is perfect for cats. Made with a mix of mesh and polyester fabrics, this breathable and lightweight cat carrier is the perfect backpack for hiking, camping, and travel. In my opinion, this is one of the most breathable backpacks I've seen. It is lined with sherpa fabric for maximum comfort of your cat. It is equipped with buckles for extra support on the shoulders and the waist to evenly distribute the weight of what you're carrying. One of the best out there. It's also very affordable.
Pecute Cat Carrier Backpack
With an expandable mesh back, expect that your cat will have more room than he'll need for your adventures.  Made with oxford fabric and mesh windows, this backpack is sure to be lightweight and not too heavy to carry even if you have a bigger cat. It has additional support with the buckles for the chest and the waist. This Pet backpack has additional pockets that can be used for different essentials you might need on your trip. This is great for hiking and camping as well. Not as cheap as the other backpacks out there.
LEMONDA Portable Cat Backpack
This particular backpack has a lot of similarities to our featured product in this article. It is also a space capsule design with a window type bubble where your cat can peek through and say hi to their world from their tiny bubble. Aside from the type of bubble backpack, this Pet carrier also comes in 4 different colors. Also made with high-density acrylic, it is sure to be durable. This is also the type of backpack that is for being fashionable because of its cute design. Other than that, that's all I find interesting about this product.
Final Thoughts
If you are the type of cat owner that likes to make your cat the cutest feline out there, then this carrier is for you. This will surely catch the attention of the people passing by and compliment your cat and your bag. If you are more outgoing and love going into the woods camping and going on hikes, I would suggest another bag that would be more helpful. That is not taking away from what this cute and fashionable backpack has to offer!
Check out current pricing and availability on Amazon here >>