My cat once weighed in at 15lbs. I thought of it as hilarious at first. But the more she got fat, the more I felt terrible. Like what I once was, she did not move a lot and seemed to have no energy at all. I never thought that the food I was giving her was unhealthy. Just then I realized, something must be done.
When I decided to switch to a complete dry food solution for my feline, one of the few products that caught my eye was the Blue Buffalo Wilderness High Protein Cat Food.
Things You Should Consider in Buying High Protein Cat Food
It may seem like something you do without putting a lot of brains to it, but buying dry cat food is no easy task. You must consider some things which are more important than others. For instance, you cannot solely focus on the price and should instead emphasize the ingredients. You don't have to embrace a single brand and deny the value of another.
Ingredients
Cats are carnivores, while dogs are omnivores. A feline's natural diet is different from that of a canine since the former relies heavily on protein in the form of meat. You cannot feed your cat with something devoid of meat. So, when reading the label, look for a formula that contains more than 50% protein. Your cat will benefit from a dry cat food that is high in protein and low in other ingredients like carbohydrates.
Age
It's easy to buy just any cat food, especially when you're not paying attention to the label. But what you must realize is dry cat food products are classified according to their suitability based on age. You may find one that is apt for all ages, but it is a lot better to buy something that's specially formulated for a kitten or adult cat.
Taste/Texture
No matter how healthy the ingredients are, or if the product has over 60% protein in it, it won't cut it if your cat doesn't like the taste. It is why you should only purchase the smallest available package to prevent wastage. You buy a 15-lb pack, only to realize later on that your feline throws up because of the taste or texture. Play it safe by purchasing a small bag and let your furry friend decide for herself.
Blue Buffalo Wilderness High Protein Cat Food Review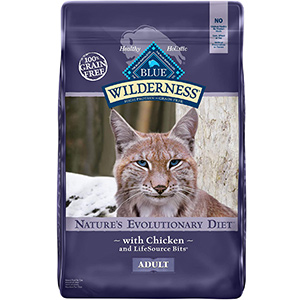 This product has what it takes to achieve a successful transition to dry cat food. It is an all-natural food intended for adult cats with chicken as the primary source of protein. BLUE Wilderness is grain-free, making it part of a long list of dry cat food brands sold in the US that focuses on preventing the likelihood of allergies. After all, grains are not part of a cat's natural diet.
Quick Glance
What's Good
Most cats produce solid stools after the switch
No funky smell once you open the bag
Rich protein content ideal for underweight cats
Contains more vitamins and minerals compared to other brands
What's Bad
Inconsistent bite sizes
Dark-colored chicken grains might throw some cats off
Some cat owners report allergies
Natural Ingredients
Your adult feline deserves food rich in vitamins and minerals. But you cannot trust most products these days, especially those in cans with an abundance of artificial flavors and chemicals. Blue Buffalo Wilderness' take on the perfect dry cat food does not contain artificial ingredients, preservatives, or anything that could harm a feline.
No Fillers
Aside from the absence of preservatives, the product also doesn't contain fillers that would otherwise be useless in a cat's diet. Things like corn, grain, wheat, and soy don't provide anything helpful to the cat's health, which is why they aren't present in a bag of Blue Buffalo dry cat food.
Chicken as Protein Source
Cats need food that best resembles their diet in the wild. It is why a high protein solution composed of chicken is more likely to make your feline healthy since it provides the same nutritional value to her natural prey. Protein from chicken helps in building and maintaining lean muscle.
Immune System Booster
This dry cat food is anything but boring when it comes to nutritional value. Aside from its rich protein content, it is packed with the essential vitamins and minerals to boost the animal's immune system. It also has antioxidants in the form of omega 3 and 6 fatty acids that ensure a healthy coat and skin.
Grain-Free
BLUE Wilderness does not come with grains as the manufacturer thinks they are nothing more than fillers. Premium cat food should instead contain healthy carbohydrates at the minimum level. For this product, carbs come in the form of peas and sweet potatoes to give your cat the energy boost it needs for physical activity.
What Do Other People Say?
I searched the web for feedback from those who got to try the product for their cats, and here's what I found:
Firas issa was looking for another brand of dry food because she thought her cat was eating too much of the old one. She thinks this one made her cat feel full even while eating less.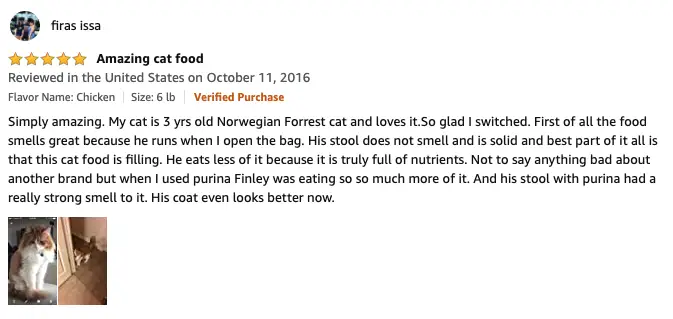 Amy loves the fact that her picky cat likes to eat this dry cat food. The only issue she has is that the cat tends to leave some crumbles, maybe because of the inconsistency in the size or smell of the kibbles.
Shirwil45 believes that the decision to switch to Blue Wilderness meant fewer visits to the vet. She vows not to buy any other brand of cat food.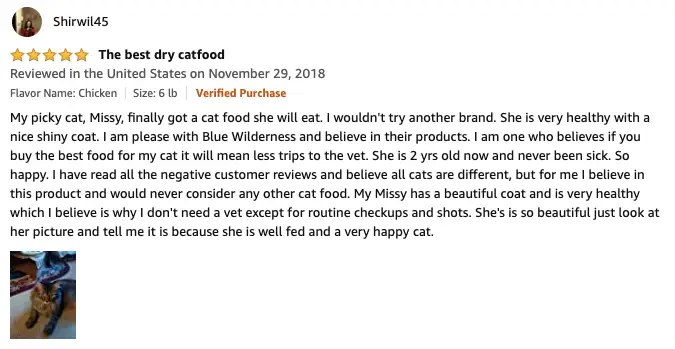 Alternatives to BLUE Buffalo's High Protein Cat Food
You may or may not find BLUE Buffalo's Wilderness as the ideal dry cat food. There are equally excellent alternatives worthy of considering:
Solid Gold Indigo Moon Dry Cat Food
Solid Gold's Indigo Moon boasts US-sourced chicken as its protein component, which bears similarity to that of the Wilderness High Protein from BLUE Buffalo. Although it is grain-free, it comes with a host of ingredients that make the product a complete meal. The list includes broccoli, blueberries, carrots, pumpkin, lentils, and kelp.
Dr. Elsey's Cleanprotein Formula Dry Cat Food
Aside from chicken, the Cleanprotein Formula from Dr. Elsey is available in salmon. This grain-free dry cat food stands out because 90% of its protein is animal-based, which means it is by far the closest to emulate a cat's natural diet.
Purina Pro Plan Veterinary
The initial sales pitch for this product is its specialized formula for cats with special dietary needs like diabetes. But like the BLUE Buffalo Wilderness, this one has the usual components like high protein formulation, low carbohydrates, and high levels of omega 3 and 6 fatty acids.
Our Final Thoughts
While there's a bit of freedom for every cat owner to choose whatever food he or she thinks is best for her feline, the reality is that not all options out there are worthy of a try. Your choice should focus on something that promotes a balanced diet and a good source of nutrients. Protein is what your cat needs the most, but it isn't the only thing she should eat.
Check out current pricing and availability on Amazon here >>