One problem that I have had with litter boxes is the mess my cat creates after using it. I've tried different litter boxes and I always deal with the same problem – continuously needing to clean up after my cat. I find that litter gets everywhere and that after a couple of uses, the odor is overwhelming. After feeling frustrated with this continuous problem, I performed some research and found one cat litter that may solve all of my problems – Petmate Booda Dome Clean Step Cat Litter Box.
Things to consider before buying a cat litter box
Litter boxes are essential when you have a cat. If there's one thing I know, choosing the right cat litter box is not as easy as it may seem. This is because felines can be very particular of their bathroom. Some like enclosed spaces and others prefer a more spacious bathroom. Also, there are hundreds of options, all claiming to be the perfect litter box for your feline friend.
When the litter box is not the right fit for your cat, he/she may move their business elsewhere. This is not an issue that you want to deal with. Cats are very opinionated and they will let you know when their bathroom doesn't suit them. For example, if the litter box is dirty, cats may go right outside the box, giving you a clear signal that it is time to clean the box. Likewise, they will refuse to use a litter box if it doesn't suit their preferences. Therefore, the goal is to choose wisely. To save yourself from all the hassle, try to consider a few factors before going ahead and buying the first litter box you find.
Easy access
If you have a kitten, I don't recommend getting a litter box that has high sides. It would be impossible for them to get into the box. You can probably start with a litter box that has lower sides or openings that are low to the ground. This way your kitten can easily access it
Size
The size of a litter box generally refers to its height and depth. When it comes to litter boxes, you also need to consider the amount of space you can dedicate to it in your home.
If you have a smaller home or apartment, then it's not recommended to get one that has a wide footprint. However, this can be an exception if your cat has a bad aim. If so, you would need a wider litter box to ensure that the waste stays in the box.
Choosing the depth will also depend on how your cat cleans up after. If your cat is a sprayer or creates a lot of mess by trying to cover the waste, then it's best to choose a deep litter box or an enclosed one. My cat tends to obsessively cover his waste. Therefore, an enclosed litter box is an absolute must. Otherwise, I would have to spend the day sweeping and vacuuming litter.
Enclosed vs. Uncovered Litter Boxes
If you have kittens, then it's alright to choose open litter boxes. They are still in the process of learning how to use it properly. It's easier to observe them if the litter box is open. When my cat was a kitten, he thought the litter box was a great place to nap. Having an open litter box helped me see what was going on and prevent this behavior from continuing
The enclosed ones are best for adult cats that want privacy when they do their business. Also, enclosed litter boxes keep the smell from spreading around the house. No one enjoys the smell of litter and the dust that comes with it when cats cover their waste.
Just remember, it will still depend on what your cat prefers. You may need to test things out before making your final choice.
Now, let's take a look at what the PetMate Booda Dome CleanStep can offer. Below, we discuss some of its pros and cons to help you make more of an informed choice.
Booda Dome Clean Step Litter Box Review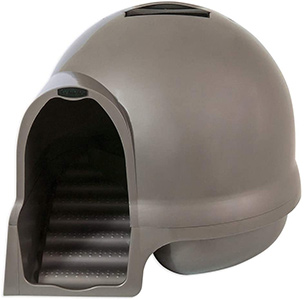 The Petmate Booda Dome CleanStep Cat Litter Box is an improved version of the Booda Dome Litter Box. This version comes with steps that catch litter that gets stuck on your cat's paws to avoid any mess. It also has a dome to give your cat some privacy and minimize spraying problems. Thus, there will be very minimal cleaning needed on your part. Believe me, if you have ever had a cat, you know that cat litter gets everywhere.
Now, let's take a look at the features and benefits of having this litter box for your cat. Let me go through each of them one by one.
Quick Glance
What's Good
Comes in three colors
Enclosed so the litter doesn't get all over the place
Clean step feature prevents litter scatter
Non-stick material for easy cleaning
Comes with a charcoal filter to trap odor inside
What's Bad
The lid doesn't snap to the body for easy moving
May not be great for playful cats
Cat Litter Box Size and Appearance
This litter box is sleek and modern, and it's nice if you're very particular with aesthetics. It comes in three colors, too, so you can easily choose one that would compliment the color scheme of your home.
The Dome offers your cat the privacy he needs as he does his business. As mentioned above, it's a great solution if your cat creates a huge mess when covering his waste. Plus, it allows the smell to stay contained within the box.
The Petmate Booda Dome Clean Step feature offers a level of elegance that many litter boxes do not. Since it has a ramp, your cat won't find it hard to access his toilet. Also, the grooved steps allow your cat to clean their paws after they use the litter box.
The size is very generous for an adult cat too. However, take into consideration that the dimensions mentioned above include the ramp. The actual litter box is about 19 inches in length and 12 inches in width. So, if your cat is a bigger breed, then he might feel that the space is limited for him.
Another thing you should consider is its shape. The CleanStep doesn't do well with corners, so it's probably hard to place it somewhere that is hidden in your house. If you have a small house or apartment, then the wide footprint can be a disadvantage too.
Quality Litter Box Construction
The PetMate manufacturer has a mission to produce quality shelters for pets. Therefore, the Booda Dome Clean Step has been designed with your cat's needs in mind. Furthermore, it aims to meet the needs of the cat owner as well.
Since this litter box is enclosed, it consists of two halves – a top and bottom. There's a handle at the top, allowing you to access the litter boxes' interior to change the cat litter if needed. What I like about this is that the built-in handle comes with a compartment that can hold a charcoal filter.
Charcoal filters trap odor. Placing it at the top part of the litter box is smart, because this way, as the scent rises, trying to escape from the litter box, it stays there. Thus, this feature leaves your home smelling fresh all the time.
The lid is very easy to lift and put back in as the top and bottom fit perfectly together. However, since there is no lock, you won't be able to carry the entire litter box by the handle to move it when needed.
Durability
The material used for the litter box is plastic. The entire system is undeniably sturdy. You surely won't have any problems when it comes to breaking or cracking.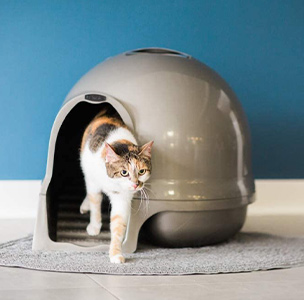 Easy to Clean Litter Box
In terms of cleanliness, the PetMate Booda Dome CleanStep Cat Litter Box is straightforward to clean. As mentioned above, the lid is very easy to lift and put back on.
This indicates that you can easily open the litter box, scoop out the cat litter and throw it to the trash. You can rinse the litter box with soap and water, dry it, put in a new cat litter, cover it, and your cat can use it again. Very easy, right? Not to mention that it's fast too.
Many use litter box liners to make the removal of the cat litter more manageable. However, there are reviews that liners don't fit the Booda Dome well. Therefore, many cat owners don't use it with this type of box, and, to be honest, it's not causing them any problems either.
What do other people say about the product?
So far, in terms of features and benefits, the PetMate Booda Dome Clean Step Cat Litter Box offers excellent features that any cat owner would prefer. However, don't just take my word for it. Instead, let's take a look at what other users say about the Petmate Booda Dome Litter Box:
Kris loves this litter box, but more importantly, her cat Harriett loves it as well!

Iryna points out the same issue that we see with this litter box, namely that it is tight in size if you have a larger cat.

Leela is in love with this litter box. In fact, she says, "I would poop in this if I were a cat" 🙂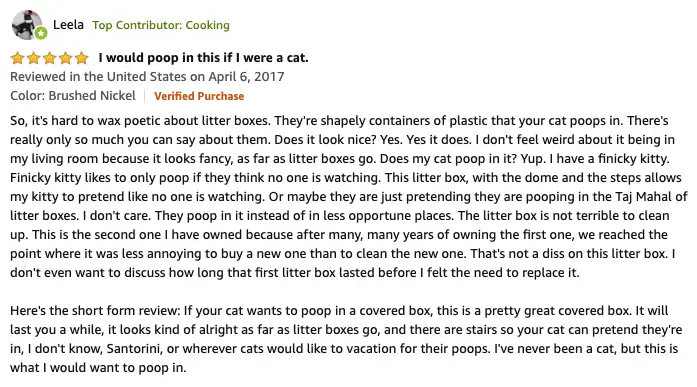 Alternatives To The Petmate Booda Dome Litter Box
If you think that the PetMate Booda Dome Clean Step Cat Litter Box is not for your cat, here are some great alternatives that you can check out:
Catit Jumbo Hooded Cat Litter Pan
Just like the Clean Step Litter box, the Catit Jumbo Hooded Cat Litter Pan offers your cat privacy as it is enclosed. It also includes a carbon filter for an odorless home.
This pan, however, has high walls, which does not work well for little kittens. However,  this litter box works well for adult cats. This litter pan is large enough for an adult cat to do his business comfortably.
You can see more about this litter pan here.
Nature's Miracle High-Sided Litter Box
If your cat doesn't mind privacy, then Nature's Miracle High-Sided Litter Box is an excellent uncovered litter box alternative.
The high sides are perfect for preventing a mess that cats generally make when using a litter box. The litter stays inside of the box instead of getting all over your floor. There is a part that has a low-side, though, which serves as an opening for easier access.
Since this is an open litter box, expect that you might have problems in terms of odor. However, if you choose the right cat litter, then you can reduce this problem to minimal. Also, it's best if you place this somewhere that is hidden, such as a corner to a laundry room or a room that is uncommonly used.
Try to see more details about this litter box here.
iPrimio Ultimate Stainless Steel Cat XL Litter Box
Another great uncovered litter box alternative is the iPrimio Ultimate Stainless Steel Cat Litter Box. One great advantage of this litter box is its size. With this litter box, you won't have any problems in terms of your cat missing his aim and creating a mess for you to clean up. It also has high sides, which is great for messy cats.
The Stainless Steel material is excellent for long term use. It doesn't stain as it doesn't collect residue. Though you might have problems in terms of odor, you won't have issues with it sticking on the litter box itself. Its stainless steel design makes it easy to clean.
Another thing, this litter box is great for those who are on a budget but want to provide a quality toilet for their cat. It comes at an affordable price, and it's worth it as it has a long lifespan.
Find out more details about this stainless litter box here.
Final Thoughts
One problem that cat owners face is cleaning the mess after their cat uses the litter box. It has been a big problem for me and for sure, yours too.
However, the PetMate Booda Dome Clean Step Cat Litter Box offers a great solution for messy cats. It is enclosed, durable, and has a ramp that cleans up your cat's paws. Furthermore, it doesn't release an odor. Not to mention that it is effortless to clean. Surely with this product, a messy cat litter box area will be the least of your worries.
Check out current pricing and availability on Amazon here >>