Hiking with your dog can have its drawbacks. Your dog's paws can easily be cut or puncture with the tiny objects on the trail. If you've ever considered dog boots, well this might be right up your alley. The Canine Equipment Ultimate Trail Dog Boots. This article is a complete review of these Dog booties. If you want more dog protection options, check our list of the best Dog booties here.
Why Consider Dog Booties?
If you actively go out and run with your dog, you probably know that your dog's paws are not safe from hazards that are on the road. Dog boots can prevent these things from happening. Most of these dog boots have resilient soles that help protect your dog's paws from sharp objects and sharp grass. They also are comfortable for your dog so you need not worry about long hikes and walks. When you are looking for the right boots, there are some things that you might want to consider.
Material and Quality – How tough are these boots? Will my dog not feel stuffy when taking long walks?
Design – Are they easy to remove and take off? How will these boots protect my dog?
Security – How do these boots stay on my dog? Can I use them during the night?
Dog boots come in different designs and colors. They also have different uses. Some can be used in snow and rain. Some are the best when taking your dog on a hike. Let's take a look at what makes Canine Equipments' boots awesome.
Canine Equipment Ultimate Trail Dog Boots Review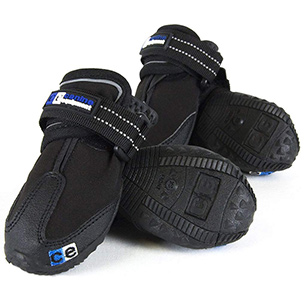 The boots that Canine Equipment offers hiking boots for dogs that provide protection for any and every terrain and season. They are ergonomically designed boots that are water-resistant making them one of the safest paw wear during rains and snowfall. Smartly designed with hind and front paws having different measurements for the perfect and snug fit.
Quick Glance
What's Good
Water-resistant, breathable hardshell provides comfort and safety
Reflective accents for night walks
Front and hind paws are measured differently for a better fit
Gusset design for easy on/off
What's Bad
Not great for short-legged puppies
Hard to clean velcro straps
Hiking on the trail
By now, you know what the hazards are on the trail. Just as we humans need shoes, our dogs need protection on their paws as well. Now, let's take a look at how Canine Equipment's Trail Dog Boots are made of.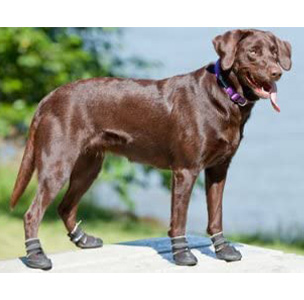 Material and Quality
These boots are made with recycled rubber to provide traction on the soles of the boots. The same material is used to make the breathable hard shell to make it super comfortable for your dog on longer walks. By using this material, it makes for one tough boot. Customers are super happy with how durable these boots are.
Design
The hard shell that encapsulates your dog's paws are water-resistant and can withstand all terrains and all seasons. Being durable as it is, these dog boots can be used in the summer, winter, and on rainy days. Its non-slip soles provide your dog traction as to avoid slipping on hardwood floors and wet terrain. As of now, it comes in only one color and that is black. A range of five sizes is available from X-small to X-Large. Unfortunately, I don't think that these are the best for short-legged doggies because of its size.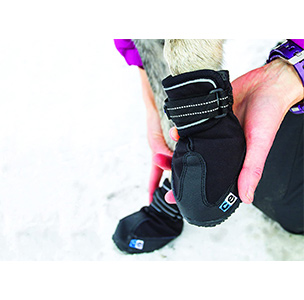 Security
With the use of a gusset system, these dog boots are sure to be easy on and off on your dog's paws. They are strapped in with velcro straps that go around your dog's legs to keep it from falling off. They are also equipped with reflective accents to give you the opportunity to walk at night or early mornings. For added security, these dog boots have different measurements with the front and the hind legs to get the perfect snug fit.
These are just some of the things that you might want to take a look at before buying dog boots for your dog. These are a great product that gives you comfort, durability, and safety. A good long hike will be a lot of fun with these boots and you don't have to worry about your dog hurting himself on one of your adventures.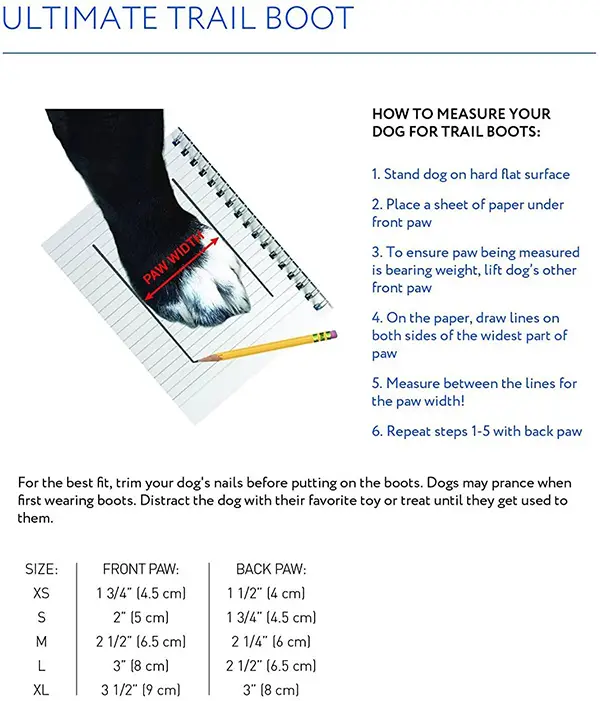 What do other customers say about these Trail Dog Boots?
If you need more proof that these boots are made for tough situations, take a look at some of the user reviews that we have gathered.
Eric's big dogs love these boots. He said that they have outperformed his expectations of what these boots can do. They now enjoy great hikes with Canine Equipment's Boots.

Yvette has a pug that wants to wear these boots but can't. She said that the maker did not consider that some dog breeds have angled paws.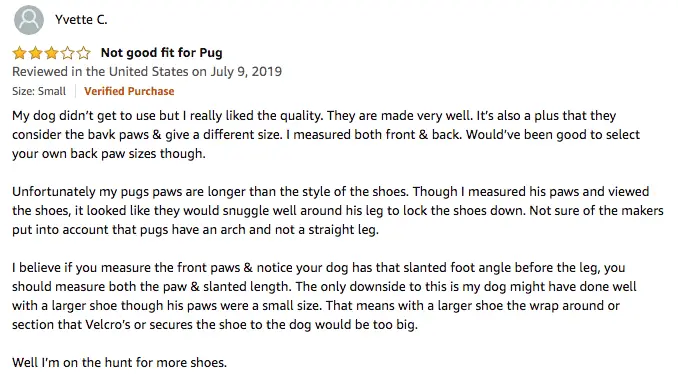 Shirl's experience with these boots is magical. It gave her 15-year-old spaniel more time to enjoy life and support his hind legs as he walked around the hot pavements of Florida and the snow up north. She couldn't be happier.
Alternatives to the Canine Equipment Trail Boots
If you think these boots are not for you, there are other choices that you can compare these boots to, to help you make a sound decision.
Ruffwear – Grip Trex™ Dog Boots
Ruffwear's Boots are said to be the standard dog boots worn by active dogs who like to run, hike, and trek. High-performance dog boots that have a resilient and rugged design with Vibram outsole for exceptional grip on hard-to-walk on the terrain. Designed to securely fit on your dog's paws so they can forge ahead and explore the great outdoors with you.
QUMY Dog Boots
QUMY's dog boots are made to protect them from the dangers of the rough roads. With an extra extended design, these boots will surely fit comfortably on your dog's paws. Equipped with adjustable reflective velcro straps your dog will be safe from harm when walking in the early morning or even at night. It has non-slip water-resistant soles that help your dog move better in indoor and outdoor environments. Weatherproof and waterproof these are the boots that you can take anywhere.
Petilleur Breathable Dog Hiking Shoes
These weatherproof, all-around dog boots are made with lycra fabric that protects your dogs from anything along their way. Petilleur's boots are comfortable, flexible, and breathable. Your dog's paws will not feel stuffy when used on long walks and hikes. They have non-slip soles to protect them from slippery terrain and indoor flooring. With magic sticker straps, these boots are easy to wear and do not slip off that easily so you can enjoy your walk without worrying about your dog's paws.
Our Final Thoughts
If you are looking for good quality boots that would fit your need of going in the great outdoors and enjoying a hike with your best furry companion, Canine Equipment's Ultimate Trail Dog Boots should be at the top of your list. Made with high-quality material that can endure all terrain and all season.
Check out current pricing and availability on Amazon here >>