Keeping a cat litter clean and containing the odor that comes from it is one of the most important things of being a cat owner. Usually, we find it hard to do that with normal cat litter boxes. Here we have the Catit Jumbo Hooded Cat Litter Pan.
What You Should Think About When Selecting An Odor Control Litter Box
With all the different types of cat litter boxes out there, what actually works? Today we'll find out if the featured product is the one for you and your cat. Choosing a cat litter box can be a tough task. There are numerous things that you have to consider before buying one for yourself. We're going to give you a few tips on what to actually look for when choosing a cat litter box.
Design – What size and shape are best? Will it stick out like a sore thumb in my house?
Functionality – Does it actually work? Will it keep the smell of dirty litter from spreading throughout my house?
Added Features – What else does this cat litter box offer to help me with? What makes it unique?
So what actually should you choose? For me, the most important thing is that it is functional. You need a cat litter box that keeps the odor contained in the area and also keeps the area clean. It's a bonus if there are features that help me with cleaning it or cleaning the surroundings of the box. So let's take a look at what the Catit Jumbo Hooded Litter Pan can do for you.
Catit Jumbo Hooded Cat Litter Box Review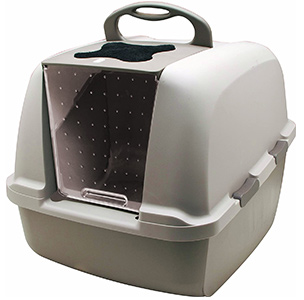 The Cat it Jumbo Hooded Cat litter Pan provides your cat some privacy while keeping the litter inside the pan. It is big enough for multi-cat households with its jumbo size. It contains the odor inside the pan with its replaceable carbon filter and keeps the litter inside because of the top cover. It makes for easy and effective cleaning promised by the manufacturers.
Quick Glance
What's Good
Ideal for larger cats and multi-cat households
Carbon filter for odor control
Hooded top cover for easy cleaning
Door opening for the cat's in and out
What's Bad
Some latches don not connect properly
Due to its size, you may need plenty of litter if you want depth
Filter located inside, at the top of the box
Handle on top is not reinforced so it is a little flimsy when lifted with a full litter
Key Features Of This Hooded Kitty Litter Box
So, what makes a cat litter box great? A cat litter box is great when it works for me. Let's see if the Catit Jumbo Hooded Cat Litter Pan works for you.
Design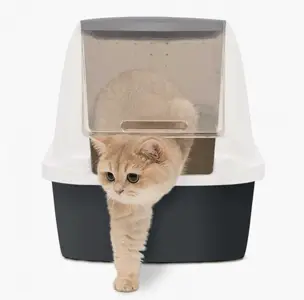 This litter box, as read in the name, is jumbo. This 2 part cat litter box provides privacy for those cats who need it. It features a swinging door that your cat can use if he pleases, if not you can pop the door up and keep it open for him. The top layer snaps on to the bottom layer with four latches around the box so it is safe and secure. It also has a top handle to carry the litter box. Some problems that people often have with this litter box is that the latches don't connect properly. Some users also find it hard to lift the pan if the litter is full, the handle seems to bo a little flimsy and cannot carry the weight.
Functionality
If we are talking about functionality, the cat litter box works. It is equipped with a carbon filter to contain the odor of the dirty litter within the area. Unfortunately, the filter is inside the litter pan and can sometimes be reached by the cats and get chewed on and ripped to pieces. Another feature it has is the Hooded top lid. It keeps the cat litter diggers from scattering the litter in the surrounding area. This creates less mess and a clean house.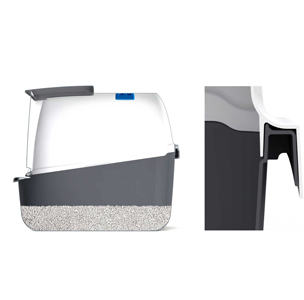 Added Features
One of the added and main features of this litter pan is the hooded top. This means that there is an opening on the top layer that you can open without removing the whole thing. You can just flip it open and add more litter or scoop out litter for quick access. It saves time and effort when handling clean up. It's a great addition for those who live a fast-paced life.
What Others Say About The Catit Hooded Cat Litter Pan
If you want to hear from actual users and see what their experience is with this product, keep reading and you just might realize that this cat litter pan is for you.


Rebecca highly recommends using this big and durable litter box. It works great with her cat. Her cat is very comfortable with the litter pan.


Angela's pride just loves these boxes. With 5 cats at home, it is the perfect size of litter box for them. She says it's easy to clean and she loves it.

Brandon loves the fact that the litter scattered around the box has been reduced to zero. The only problem he has was the door that his cat didn't want to use. But other than this he finds it great.
Alternative Cat Litter Boxes To Consider
So how well does the featured product hold up when put side by side with the rest of the category. Let's take a look at the similar products that you can purchase if you feel this isn't for you.
Van Ness Sifting Enclosed Cat Litter Pan
The Van Ness company is family owned and operated for over 70 years. They are leaders in providing quality and pet caring products. The Van Ness Sifting Enclosed Cat Litter Box is made from FDA approved material that you can trust. It keeps mess to a minimum with the enclosed feature. A 3 part litter box makes it easy to remove your kitty's droppings. One of the easiest litter boxes to use at an affordable price.
Petmate Booda Dome Clean Step Cat Litter Box
Made by a company that's been making pet products for 50 years. The Petmate Booda Dome is a cat litter box the keeps the odor contained with an odor filter so you can place it in any part of your house and not be worried about the smell. The dome encloses your cat inside and gives it privacy as it he does his business. It also keeps the mess inside the dome and not your floors.
Nature's Miracle Oval Hooded Litter Box
Nature's Miracle Hooded Kitty Litter Box provides an odor-free litter area with its charcoal air filters for up to 3 months. It is also an enclosed cat litter box to keep the litter off your floors and contains them inside. It comes with a flip-top for easy cleanup, a non-stick surface to easily remove cat litter and odor build-up.
Final Thoughts On The Catit Jumbo Enclosed Cat Litter Pan
Choosing the right cat litter box is about finding what best suits you, your cat and your lifestyle. Like what I have said, if it works it's great. The rest is just a bonus. This litter box can offer reduced kitty litter around the box and it can contain the odor within the area. The sliding door may not be for every cat, but its size is. Having a bigger cat litter box provides your cat more room and privacy when doing his business.
To see similar products,  check out our litter boxes that help with odor control.
Check out current pricing and availability on Amazon here >>