My cat has the tendency to spray when he uses the cat litter. If you have a cat like mine, then one problem you continually encounter is cleaning up the mess all over your floor. So, in the hopes of solving this problem, I decided to perform some research. I Found that the Catit Jumbo Hooded Cat Litter Pan might be the solution to my problem.
Factors To Consider Before Buying A Cat Litter Box
A litter box is crucial to have. It's one of the most important aspects when you get a cat as it should make your life much easier.
However, choosing the right litter box is not an easy task. Many cats can be choosy in terms of the litter box that they use. Therefore, it is vital to find a litter box that suits their needs.
Covered or Uncovered
Covered litter boxes are best for cats who want privacy. Also, this type of litter box offers additional benefits as they can keep your cat's mess inside the box. Plus, you won't have to see and smell the litter, which is also a huge deal.
Open litter boxes, however, are great for kittens, especially when you're only starting to train them on how to use the litter boxes. An open litter box allows you to observe them and clean up after them immediately.
You will also find that there is also a difference in the prices of covered and uncovered litter boxes. So, your budget can influence your decision too.
Size of your cat
The size of your cat generally influences your buying decision. If you have a big breed of a cat, then it won't make sense to buy a small litter box.
You will need to consider dimensions – height, depth, and space to find the appropriate litter box. If you're opting for a covered litter box, then it's best to choose one that is broad and tall. This way, your cat won't be too cramped up inside. A cat that feels cramped in their litter box may look for an alternative place to go to the bathroom, causing a much bigger problem for you.
Dedicated Space
How much space can you spare for a litter box?
If you only have a small space to work with, then it's best to buy a smaller box that takes up less space. This way, you can still keep the litter box hidden.
With these factors in mind, let's take a look at the Catit Jumbo Hooded Cat Litter Pan. Below, we discuss what this litter box offers and how it might be the perfect solution for your feline friend.
The Catit Jumbo Hooded Cat Litter Box Review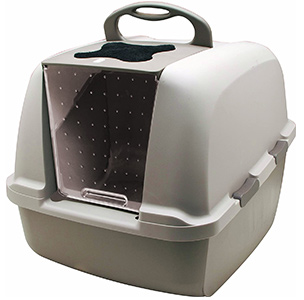 The Catit Jumbo Hooded Cat Litter Box is an enclosed litter box that offers your cat privacy while they take care of their business. Its size and accessibility are mainly designed for large cats. It's also great for households that have multiple cats.
Let's take a look at its features and benefits of having this litter box for your cat.
Quick Glance
What's Good
Large box for a large cat to turn around
Comes with carbon filter on top to reduce odor
Hinged-roof for convenient scooping
Non-stick material for easy cleaning
What's Bad
Swinging door gets stuck sometimes
Possibility of trapping your cat inside
Lid doesn't clip strongly to the bottom
Size and Appearance
When it comes to appearance, the Catit Jumbo Hooded Cat Litter Pan is very simple looking. It is mainly a big box with an access door where your cat can come in and out.
The size of this litter box is great for any size of a cat. It measures 22 inches in length, 17 inches in width, and 18 inches in height. Generally, even if it's an enclosed litter box, it gives your cat plenty of space to go about their business comfortably.
The door opening is at 1.4 x 9.6 inches, which makes it reasonably wide. Therefore, your cat can quickly come in and out whenever he pleases.
Sometimes, the door gets stuck and is unable to move. If you encounter this problem, it's probably best to remove the door as it really won't matter to your cat.
Quality
When it comes to ratings, the Catit Jumbo Hooded Cat Litter Pan comes as one of the best. It is a high-quality litter box that can suit just about any cat owner's needs.
The Catit Jumbo Hooded Cat Litter Pan consists of two parts – the top (the hood) and bottom (the pan). Two sliding latches that are on the sides of the litter box keep the top and bottom in place. The top section also has a handle so you can easily carry the litter box and move it around when needed.
There is a designated area on top of the litter box where you can place the filter. This filter absorbs the odor that rises from the inside of the box. Thus, this filter prevents the smell from entering into your home. Essentially, this box allows you to easily maintain a fresh and odorless home.
The top and bottom part of the litter box fits together perfectly. This feature prevents unnecessary spillage in case your cat pees above the top of the pan.
Easy to Clean
One challenge that cat owners face with litter boxes is that they can never clean it as well as they would like to. The Catit Jumbo Hooded Cat Litter Pan does not have this issue as it is easy to take apart and clean.
The litter pan comes with a hinged roof that you can fold for convenient and easy access when you need to scoop out the litter or change it. If this is not enough, you can remove the top part of the litter box entirely for better access.
The material is made of smooth and easy-to-clean edges, preventing dirty litter from sticking on the sides.
Price-to-Quality Ratio
When it comes to affordability and value, then the Catit Jumbo Hooded Cat Litter Pan is definitely at the top. It is highly affordable while offering excellent quality. Furthermore, it has a long service life and is expected to last for many years. Plus, cats love it too. For these reasons and more, the Catit Jumbo Hooded Litter Box is rated as one of the best litter boxes.
What do other people say about the product?
When it comes to the advantages, the Catit Jumbo Hooded Cat Litter Pan has a lot to offer. Here are some reviews from users themselves:
Melissa's Maine Coon Cat mix (12lbs and growing) has no problem going in this litter box: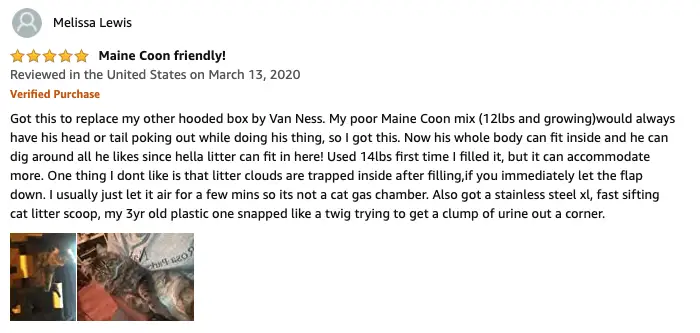 IRaub likes the fact that it is super easy to put together and the door/lid feature is nice for cleaning versus have to take the whole top off: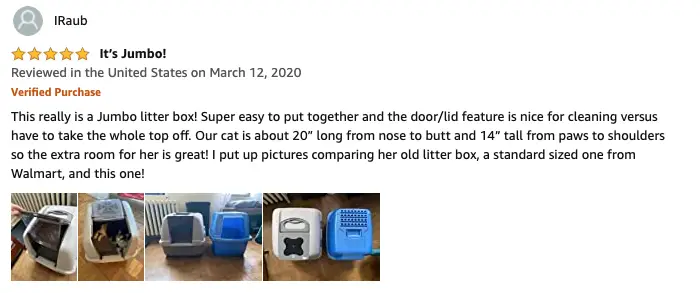 Alexa likes the spacious litter box and the great pricing!
Alternatives To The Catit Hooded Litter Box
If you think that the Catit Jumbo Hooded Cat Litter Pan is not for your cat, here are some great alternatives that you can check out:
Nature's Miracle High-Sided Litter Box
For an uncovered litter box alternative, then Nature's Miracle High-Sided Litter Box is a great choice.
As the name implies, it has high sides. This feature helps cats who get litter everywhere when covering their waste. Basically, the high sides ensure that the litter stays inside the box. For easier accessibility, this litter box offers an area where the sides are low to serve as an entry/exit for your cat.
Just like any uncovered litter boxes, you might encounter problems in terms of odor and a visible mess. However, if you choose an excellent cat litter that can hide this smell, then odor won't be a problem.
iPrimio Ultimate Stainless Steel Cat XL Litter Box
Another excellent choice for an uncovered litter box alternative is the iPrimio Stainless Litter Box.
The biggest advantage of this box is the fact that it has a long lifespan. The stainless steel material doesn't stain and doesn't collect any sort of residue. Therefore, you won't have problems with odor as used litter doesn't stick to the surface of the litter pan.
The high sides of the iPrimio are excellent for cats who have a tendency to pee above the pan or can who tend to get litter everywhere while covering their waste. Furthermore, the large size is great for cats of all sizes.
However,  one problem you might encounter with the iPrimio litter box is that it does not cover the odor, a common problem for open litter boxes. With this litter box, as with any open litter box, it's best if you keep the litter box in a hidden location.
Purina Tidy Cats Breeze Hooded Cat Litter Box
For a hooded alternative, we have the Purina Tidy Cats Litter Box. The hood is an excellent feature to give your cat his much-needed privacy. Furthermore,  it keeps the odors at bay.
This litter box is one of the most manageable litter boxes. This excellent litter system offers easy maintenance. It comes with clumping pellets (cat litter) that fight odors and prevents spill. If your cat pees, this will go to the bottom of the litter pan and the disposable odor-control pads will absorb the urine.
The slide-drawer and hinged design make cleaning after your cat quite easy. You can conveniently scoop out the pellets and change the disposable pads if they needed to be replaced.
Our Wrap Up
It's not easy to clean up after your cat. Furthermore, most of us don't have the time to do so every time our cat goes to the bathroom.
With the Catit Jumbo Hooded Cat Litter Pan, common issues that are notorious to litter boxes are very manageable. The enclosed design makes it impossible for your cat to make a mess outside of the litter box. Cleaning is effortless and won't take much of your time. However, the most lovely thing about this litter box is the fact that it offers excellent quality without breaking the bank.
Check out current pricing and availability on Amazon here >>