If you are looking for a dog treat bag that is easy to use, no-frills, and is straight to the point, then a treat pouch like the Chuckit Treat Tote is what you need. Hava an easy-going, successful training session with your furry friend. Check out our Chuckit Treat Tote review below.
Things To Consider Before Buying A Dog Training Pouch
Before we get to what the Chuckit Treat Tote can do for your training sessions with your pooch, let's talk about what things you should look for in a treat pouch. Here are some that you might want to consider:
Simplicity
A feature that most people ignore is the simplicity of things. No complicated features that make your training crazier. A simple treat pouch can take you just as far as a treat pouch that has a bunch of features.
Easy-Open
Another feature that I personally like is a treat pouch that's very easy to open. No mess, no fuss. It could be a magnet or a drawstring that I can operate even with just one hand. Having my hands free during training sessions is one of the most important things for me.
Efficiency is the word that you are looking for. Always make sure that whichever treat pouch that you purchase, make sure that you are going to be efficient in what you are going to do. Be greater with the very simple training tools that you've got.
Chuckit Treat Tote Overview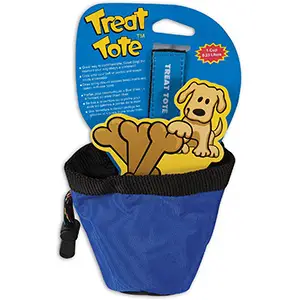 The Chuckit Treat Tote is simply designed for convenience. It has a drawstring opening for ease of access to the treats. It can hold up to 1 cup of treats at a time. That is not a lot, but it is enough for short training sessions.
This durable pack-cloth treat bag is water-resistant to keep your treats as dry as possible. It is made small and discreet to keep your dog's attention on you and not the treats. Clip this on your belt or pocket so you can have your hands free for training. This tote is available in various colors and sizes.
Quick Glance
What's Good
Easy-open pouch with a drawstring lock
Clip-on feature
Holds 1 cup of dog treats
Available in various sizes and colors
Very affordable price
What's Bad
Small opening on the main compartment
Durability concerns for some users
Drawstring problems and fraying
Features & Benefits Of The Chuckit Dog Treat Bag
This product has various features and benefits that we are sure you and your dog will love. A few of these are as follows:
Simple
The Chuckit Treat Tote one of the simplest treat pouches that you will ever see. There are no other compartments available, it's just for the treats. It can hold up to 1 cup of treats for your training session.
On the other hand, its simplicity is also its downside. Many trainers would also like other compartments that can hold other items like clickers and other accessories that they may need for training.
Drawstring Lock
The drawstring lock is very easy to use and will not let you down. It can be operated using only one of your hands if the other one is preoccupied. However, some users have experienced fraying and the lock just giving up on them.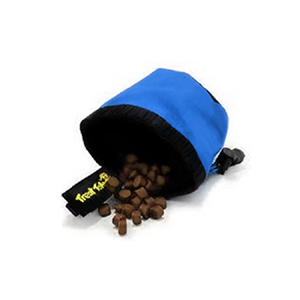 Clip-On
Having your hands free during training can do wonders. You can do more with your furry friend. The Chuckit Treat Tote allows you to do that with the help of its clip-on attachment. You can clip it on your belt or your pant pocket.
Easy To Clean
The inner lining of the Chuckit Treat Tote can be washed very easily. You can just tap out the crumbs in the bin, turn it inside out, wash it with some soap and sponge, air dry, and store until your next training session.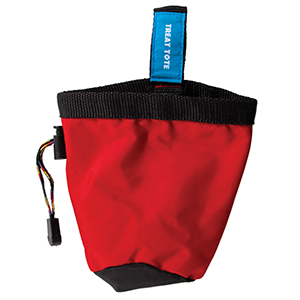 What Users Say About Chuckit Dog Treat Tote
If you are anything like me, you'd want to hear some of the reviews from actual users first before swiping your card. So I have done some research and here are some review that might pique your interest:

Nikki says that it was just what she was looking for. It is the perfect size for her and her furry friend. "It's simple but very well-made and convenient"

This user, calling herself The Tiny Redhead, says that it works great for the price. The drawstring started fraying and she will be replacing it with some elastic to keep it closed.

Lastly, DMacNulty uses the Chuckit Treat Tote to train her 8-month-old black lab. He uses it to keep treats while taking his puppy out on a walk. He says that it is a great training tool.
Other Options To The Chuckit Dog Treat Training Tote
If you are looking to compare how this dog treat bag fares against others of its kind, we have listed three alternatives below to help you:
Paw Lifestyles Dog Treat Training Pouch
The Paw Lifestyles Dog Treat Training Pouch is the best one out of the list of training pouches. It can carry everything that you can think of. It can carry treats, toys, kibbles, and even poop bags. It is also equipped with d rings for you to clip on accessories that you need for training like clickers and portable water bowls.
Choose from 3 ways to wear the treat pouch for convenience. The straps are fully adjustable and very light to carry. Lined with a neon green lightweight and waterproof nylon fabric to make sure that your treats are dry and safe to consume. It even has compartments that you can use to carry your own things like your keys and your phone.
Doggone Good Rewards Pouch
The Doggone Good Rewards Pouch is made from 600 denier polyester "backpack" material so you can rest assured that this is one durable training pouch. It has a magnetic closure that allows you easy access when training your furry friend.
It has a roomy main compartment that is well-shaped to easily reach for treats. It is lined with gray interiors to enhance visibility when picking out treats. It comes with a waist strap to allow you to be hands-free when training your pooch. The training pouch has a zippered back compartment to store all your things like your phone, keys, and money.
LANNEY Dog Treat Pouch
The LANNEY Dog Treat Pouch is made with 600D Oxford material and is coated with PVC. The inner lining is made with high-quality nylon that can be pulled out for easy cleaning. It has double stitching for durability and is abrasion-resistant. You can easily open and close the bag with a drawstring that has a one-push cord lock.
The main pouch is very spacious and can be extended to put kibble, treats, and snacks. There is an enlarged zipper pouch that can be used for mobile phones and other accessories. Additionally, you get a small zipper pouch in the back for smaller items, 2 waste bag dispensers, and D-rings where you can hang clickers and collapsible water bowls.
Our Final Thoughts
Overall, the Chuckit Treat Tote is one of the simplest, straight to the point treats pouch on our list of best treat pouches for training. This is why we decided to write the Chuckit Treat Tote review. It is an excellent pouch that holds enough treats for a training session and allows you to do hands-free dog training using a clip-on attachment.
Click here to get current pricing on Amazon for The Chuckit Treat Tote >>