Imagine taking your dog on a walk and you see a furry friend walking toward you. Your dog gets excited seeing his friend and starts pulling you. No matter how much you call him he does not listen. Wouldn't it be nice to have something to have him stop pulling? Also, there are other needs that dog handlers experience which is that of an older dog. They need something a little more comfortable while walking such as a dog harness with handle for older dogs. Also, many service dogs require a service dog harness with handle. Well, The Copatchy No Pull Dog Harness might be the one you're looking for.
Click here to check Amazon's pricing for this dog harness.
How this pet harness works
Getting a no pull harness for your dog can be a difficult decision. A lot of questions pop in your head like, "Will it really work?" , "Is it worth it?" , "Is it safe for my dog?" and many more. After reading this article, I hope all these questions get answered and this article assists you in making a sound decision when finding the best dog harness.
What are the things to look for in a no pull dog harness? Here are a few things:
Functionality – Will it assist me in correcting the behavior of my

dog

?
Safety – Will my

dog

be safe when I use this product?
Comfortability – Is my

dog

comfortable wearing this product when we go on walks?
This no pull reflective dog harness is for people who want to train their puppy or their dog to stop them from pulling away from them. We want to go on walks and have it be effortless and stress-free. There are a lot of products that help us, dog owners, with this dilemma. But I must warn you, this is not a final solution to your dog pulling. This is a management tool to keep your dog from taking control of your fun adventures. Here is a reflective dog vest that just might be for you.
Product Overview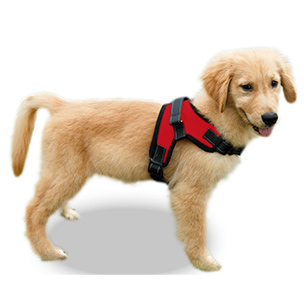 Check Amazon's Price
The Copatchy No Pull Dog Harness is the perfect harness for taking your dog to the park or other outdoor activities. It is lightweight and padded for comfortability to be worn all day. It securely fastens around your dog's belly and neck. This no pull dog harness with handle is a breeze to put on and take off your dog with its 2 strap system. This harness also includes a control handle for when you get into sticky situations and need a quick pull on your dog. Plus, it comes at a very affordable price. Let's Take a look at what this product has in store for us.
Quick Glance
What's Good
Compact Design
Breathable Fabric
Easy On and Off
What's Bad
No chest support
It only has one leash attachment
Reflective strips do not glow as much
Key Features Of The Coptachy Dog Harness
The way I see it, there are three main features that The Copatchy No Pull Dog Harness has. I will go through these one-by-one and give you an in-depth look at what these features can do to help your pup with his pulling problems.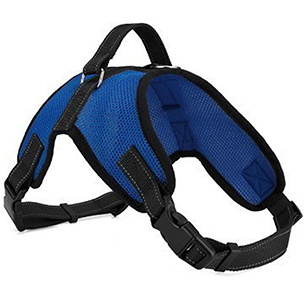 Check Amazon's Price
Design and Comfort
Equipped with breathable and lightweight mesh, this harness is perfect for all-day use. At a weight ranging from  4 – 4.8 ounces, your pup can barely feel the harness on him. Paired with the comfortable design and durable material, they won't want to take it off. A downside that I see with this design is that there is no chest support and the straps wrap around the neck like most no-pull harnesses and that worries me a bit.
Handle on Top
Copatchy has put in a great feature that will definitely be a huge help for rambunctious pups. They have put a large handle on top of their harness for maximum security and control. These handles can be used for when walking along busy streets or you just want to keep your pup by your side when meeting new furry friends. I think this helps a lot because it is easier to control your pup with that handle rather than pulling from the leash.
Easy on and off straps
Have you ever found other harnesses confusing and don't even know which is front? This harness is a two-strap system where it's easy to just put on. It's hassle-free, easy-to-use and no velcro that will stick to your pup's fluffy hair. Just pop it on your dog's head, and latch the strap on your dog's belly to secure it.
A feature that I always look for with my No Pull Harnesses is the leash attachment in front of the harness. Unfortunately, the way this was designed did not allow for a front attachment. That would have helped as a better training tool for your pups.
Check Amazon's Price
Customer Recommendations
Here are some Copatchy dog harness reviews to assist you in making a decision if this harness is the one you need for your furry companion.
Melissa, the Picky Dog Mom loves the breathable and comfortable design that this harness has. She loves the Control Handle feature and uses it all the time. Her pup's rashes under the armpit even went away.
No escape artist for this satisfied customer. He has also tested out the durability of the product with the help of his 5-month-old chewer.
Another satisfied customer loves the easy on and off feature of Copatchy's harness. She also finds the handle very useful in situations like lifting her dog out of the car.

Similar Pet Harness Products
If the Copatchy harness is not particularly well suited for your needs, consider these three alternative products:
BABYLTRL No Pull Pet Harness
This No Pull Harness of BABYLTRL is the sturdiest looking one yet. Although not as compact in size, this harness provides durability and safety. It comes with 2 leash attachments unlike, Copatchy's. They also come with a handle at the back for control. A bit more expensive but better for a bigger breed of dog.
TRUE LOVE No-Pull Dog Harness
Most expensive No Pull Dog Harness I've seen so far. TRUE LOVE's No Pull Dog Harness has 2 leash attachments. Designed with an Oxford fabric and nylon webbing around the harness. Not as comfortable as the mesh lining but I'm sure it will not be harmful to your dog whatsoever. A control handle is included in this harness's features.
Rabbitgoo Dog Harness No-Pull Pet Harness
Branded as an "Everyday Harness", Rabbitgoo's No Pull Dog Harness has the comfortability factor down. With its Padded Air Mesh Lining and Weatherproof material, your pup will love this harness.  This is great for hikers and those who like to take adventures with their pups. This harness is in the mid-range price-wise.
Especially For You
No pull Harnesses are a great tool to help you manage your pup's pulling while walking. Although there is no assurance that it will help solve the problem, it is a great way to slowly teach your dog how to walk by your side during your walks. Copatchy's harness is not for everyone, I believe that this harness could help you take control of difficult situations where your dog just wants to pull away. It is very affordable and It is a good beginner's harness.