Choosing the right food for your cat can sometimes be overwhelming. With all the options available, you find yourself perplexed, thinking if there's a difference among the brands. Counting on experience, I know that the better food I give my furry friend, the healthier she becomes. One thing that most cat owners don't realize is that the best cat food isn't exclusively about the taste.
The CRAVE Grain Free High Protein Dry Cat Food can somehow be considered as a newcomer, so I'm hoping to find out if it has what it takes to keep up with the more established competition.
What to Consider When You're Buying High Protein, Dry Cat Food
Before you read the rest of this review, I'd like to remind you that you must be committed to feeding your feline with dry cat food. If you're still undecided, it's better that you first read some more information about the need for cats to embrace a diet that emulates its prey in its natural environment.
Once you're convinced that dry food is the best way to go, the next step is to find the best brand. It won't be hard since there are many products out there. The challenging part is learning to distinguish the best option from the rest. For starters, be sure to factor in these things first:
Age
The first thing you must learn about buying dry cat food is that there are different formulas designed for different age groups. It is why you must read the label to know if the one you're getting is intended for your cat based on age. You can't buy senior cat food if your feline is a little over a year old.
Protein Content
The concept of high-quality dry food for cats is to mimic the nutritional content or value of a feline's natural prey. Accordingly, you should focus on buying a product that has at least 90% protein content. Don't think about any other ingredients, and it's best to avoid lots of carbohydrates since your cat does not need it.
Size
I don't buy cat food in large packages, especially when I'm trying out a new brand, flavor, or formula. The last thing you want is to buy a 12lb bag, only to find out that your cat doesn't like its taste. The good news is that most dry cat food products come in different packages and sizes. Start small and work your way up.
Ask the Vet
Your veterinarian knows more than you do. Don't think that you only visit a vet when your cat is sick. He or she can help you figure out which brand of dry cat food best suits your feline's specific needs, more so if your beloved pet is diabetic or overweight.
CRAVE Grain Free High Protein Dry Cat Food Review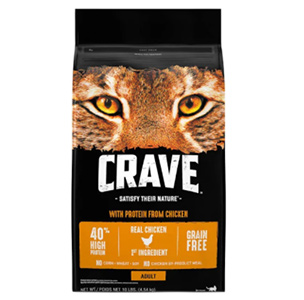 The CRAVE dry cat food is known for its meat-first formula, which the manufacturer claims to contain enough protein to address and satisfy a cat's natural diet. The product is also grain-free, which means that it is less likely to cause allergic reactions and digestive issues. The CRAVE Grain Free High Protein Dry Cat Food's potential may be summed up in the following:
Quick Glance
What's Good
Genuinely rich in protein
Comes in a variety of proteins, including chicken, salmon, and duck
Does not contain meat by-products, corn, wheat, and soy
Available in adult and kitten formulas
What's Bad
Can cause vomiting in some cats
Some questionable preservatives added to the product
May cause irregular or runny stool at first try
The CRAVE Grain Free High Protein Dry Cat Food may just be the product you're looking for if you appreciate these features:
All-Natural Ingredients
If you're worried about what potentially could happen with your cat should you purchase those cheap canned foods, then you should instead go for a CRAVE formula that's advertised to be free from preservatives as well as artificial colors and flavors.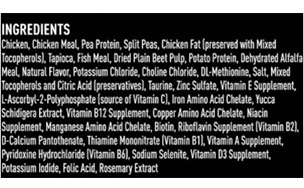 Protein-Rich Solution
A cat's natural prey is rich in animal protein, which is why it makes sense to give your feline something that comes with the same nutritional value and taste of her natural source of food. CRAVE's most popular version of dry cat food may be the one you're looking for because it is rich in high-quality protein sourced from chicken, turkey, fish, duck, and salmon.
Complete Meal
Some cat owners give their pets dry cat food as a snack in between meals, but this product is no ordinary snack. It is formulated and manufactured as a complete meal that supplies the essential nutrition your feline needs. The rich protein content and vegetables provide the much-needed source of energy for a physically active feline.
Healthy and Lean
The lack of traditional ingredients for stuffing cheap cat food products like corn, soy, grain, and wheat means that your cat will develop a healthy and lean body. You can minimize the risk of your cat developing diabetes since there is very little carbohydrate content in it.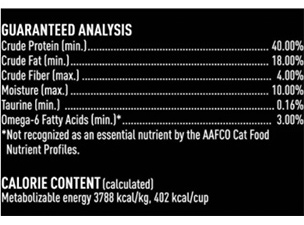 What Others Think About Carve's High Protein, Grain-Free Dry Cat Food
I made a point to read a bunch of reviews over the web to find out if the CRAVE Grain Free High Protein Dry Cat Food is for real. These are just some of the things I learned:
Nacho Libra's cats are doing really well on this cat food and she loves that it is priced affordably!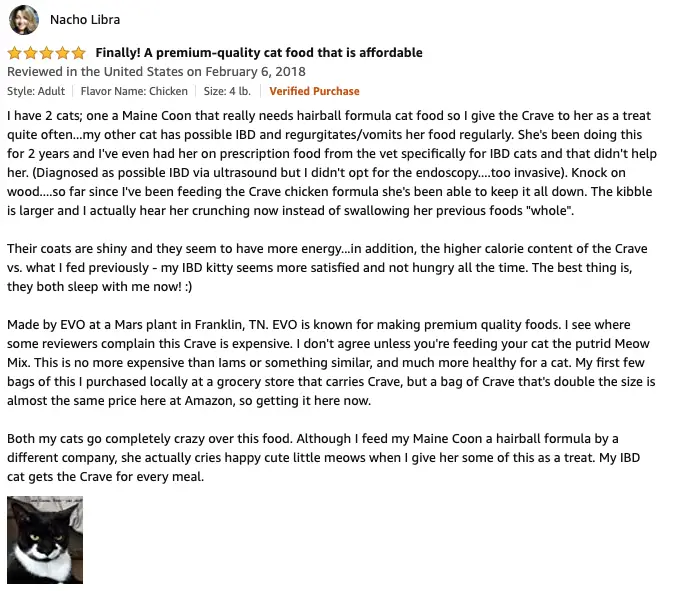 GEM's cat, Patrick, scarfs up this cat food, both the dry and the wet versions.
Tbaker ran out of cat food during the COVID-19 quarantine so he went out to buy new food. He had to select Crave and luckily for his cats he did because they loved it!

High Protein Dry Cat Food Alternatives
Solid Gold Indigo Moon Dry Cat Food
This dry cat food affords the same protein-rich solution to that of CRAVE with chicken as the first meat source. While CRAVE offers a variety of other meat ingredients like turkey, salmon, and duck, the only other option from Solid Gold Indigo other than chicken is Alaskan Pollock. It is also grain and gluten-free.
Dr. Elsey's Cleanprotein Formula Dry Cat Food
90% of the protein content in cat food formula is animal-based, making it the superior product to both Solid Gold and CRAVE in terms of meat ingredients. The only problem is that it is almost twice as expensive. It is rich in omega 3 fatty acids, which is something your cat needs for her skin and coat.
Purina Pro Plan Veterinary
Purina is no stranger to pet food. The Pro Plan Veterinary dry cat food contains a protein-rich formula combined with high levels of antioxidants, omega 3 fatty acids, and omega 6 fatty acids.
My Final Thoughts
Choosing the best dry cat food doesn't have to be an arduous endeavor. You've read what the CRAVE Grain Free High Protein Dry Cat Food offers, and by far, it addresses all the concerns you have about a safe and nutritious complete meal for your feline. The protein-rich formula and the absence of grain and wheat products make it a healthy choice.
Check out current pricing and availability on Amazon here >>