There's nothing to be afraid of when you find out that your cat has diabetes. It may scare you the first time the vet tells you about it, but feline diabetes is something you can manage. The truth you must look at it as an added challenge to prove your worth as a loving and responsible parent to your cat.
Cats with diabetes require special attention. You must embrace the responsibility of ongoing care for the rest of her life. It may sound overwhelming, but once you get a hold of the basics of diabetic cat care, you'll realize that it's not that hard at all.
Caring For A Cat With Diabetes
This article discusses some necessary information for those who have a diabetic feline in their home.
Importance Of Diet For Diabetic Cats
Dry food is a big NO for diabetic cats. Your vet may have already informed you about the importance of a low-carb and high-protein diet. The reason why dry food isn't recommended is that it has high carbohydrate content.
While grain-free dry food may be ideal for healthy felines, it isn't meant for cats suffering from diabetes since it contains a ton of substitute carbohydrates, including peas, tapioca, and potatoes. The consumption of high levels of carbs will cause a spike in the blood sugar levels of the animal.
The good news is you can purchase a handful of low-carbohydrate cat food at different price points. It means that you don't have to settle for overly expensive ones just to make sure your cat is eating the right food.
Blood Glucose Testing At Home
Living with a diabetic cat doesn't mean visiting the vet every day to have your feline's blood glucose level tested. You can do it at home using a conventional glucometer and testing strip. It's the same device used by humans.
Consistent monitoring of your cat's blood glucose level means recording the information after each test. Don't forget to put in the date and time of testing. The most convenient location to get a blood sample is that tiny vein running around the edge of the cat's ear. You can ask your vet about how often you should test your furry buddy. There are a handful of videos online offering step-by-step instructions on how to do it for the first time.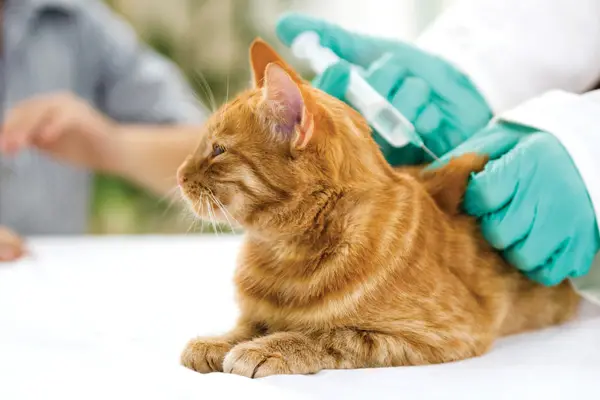 Don't Be Afraid To Administer Insulin
Like people who have diabetes, your cat needs insulin. Don't be afraid to administer it by injection. Cats have loose skin, especially in the shoulder area. It's the ideal location for giving insulin shots. You don't need to get stressed out on how to do this since your vet can demonstrate it to you.
Trust Your Veterinarian
Bringing in a cat with diabetes entails commitment and focus. Part of the responsibility is to build a good working relationship with your veterinarian. Your cat needs more examinations and visits to the vet more often than a healthy pet. You must trust your vet when dealing with insulin dosage, prescribing meds, giving vitamins, and recommending the right food for felines with diabetes.
Prepare For The Added Expense
Taking care of a cat with diabetes is different from that of a perfectly healthy pet. You need to commit to additional expenses from day one. You expect to shell out on medical supplies and necessities, including but not limited to insulin, syringes, test strips, needles, batteries for the glucometer, and food. Even if you have pet health insurance, it won't cover pre-existing conditions. If you adopted a cat with prior knowledge of her situation, then you must be financially ready to take on the job of caring for her.
There's Support If You Need It
Aside from your vet, there's a lot of support over the web if you need it. Your inexperience in caring for a cat with diabetes shouldn't be an excuse to be bad at your job. Think of it as being similar to the responsibility of taking care of a sick loved one.
You can sign up and join online forums and groups that talk about and share information on cats with diabetes. You can get valuable tips on things like how to feed the feline properly, addressing the animal's unique needs, medication, and others.
Home Care Is Doable And Realistic
It may be challenging or even overwhelming at first but caring for a diabetic cat eventually becomes a mundane thing for you. It takes time to get used to it, but home care is a realistic and practical approach.
You must factor in some things and embrace some adjustments, too. Time is the most critical aspect. Your cat needs your time because taking care of her requires careful observation, proper medical management, and guidance. You cannot just feed her with anything. It takes time to sort out those cat food products. You also need to think about proper hygiene and exercise.
It's not an impossible job, but you need to sweat it out. If you love your cat and hope for her to live long, then you wouldn't mind going out of your way to take good care of her. After all, she's family.