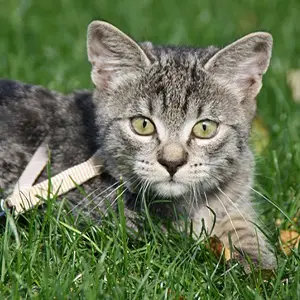 The main reason you would want a cat backpack is that you want to travel with your cat. A cat backpack is a piece of ideal equipment for that. Whether it be a regular walk around town, a 5-mile hike, a road trip, even traveling across the country on a plane. A cat backpack can surely be a lot of help to make your trips an effortless feat. You do also wonder if these backpacks are good for longer trips. I'll get to that in a bit. For now, let's see why cat backpacks are a great addition to your traveling essentials.
Advantages of Cat Carrier Backpacks
So, why should you use a cat backpack when traveling with your feline friend? There are a lot of different reasons. Cat backpacks open up new opportunities for you and your cat companion to enjoy your adventures. Here are some of them:
Easy to carry
Cat backpacks are made as lightweight as possible to give the user the ease of carrying their cat on their back. They are also equipped with extra features that distribute the weight so you can use the backpack for a longer period of time. Buckles on the chest and the waist help support you carrying the weight of your cat. Not to mention, these backpacks are also airline approved.
Safe and Sound
Cat backpacks are great for car rides. Most of them are equipped with exterior tethers that allow you to buckle the backpack to your car seat. Cat backpacks are made with the safety of your cat in mind. They also have internal tethers that can attach to your cat's collar or harness so they can't escape the backpack once you open the backpack.
Free Hand
Contrary to other cat carriers, cat backpacks allow you to use both your hands and have your cat safely on your back. It gives you more freedom to what you have to do during traveling. It also avoids too much swaying that can make your cat anxious.
There are a lot more advantages that can be said about cat backpacks, but these three are the most relevant to this topic. To know more about the pros and cons of a cat backpack, click here.
How Do I Choose The Right One?
Choosing the right backpack is a very crucial part of the whole planning process. There is a lot to consider before getting one.
Make sure to measure your cat and compare what size of backpack you need.

Cat backpacks come in different shapes and sizes, Choose the best that allows your cat to feel comfortable and cozy and yet still have room to move their legs.

Choose the backpack the fits your needs

Some backpacks have added features and additional equipment. Some of the best cat backpacks for hiking come with side pockets for carrying essential items. They might also include collapsible bowls and water and grain cups for your cat's food.

Pick a design

There are a lot of different designs out there. Some are space capsules, some are kind of boxy, some are cat window backpacks, and some look like a regular backpack. Whatever you choose, make sure it is something that you and your cat will love.
If you are having a hard time choosing the right backpack for you, click here to see some of the best we have gathered.
Here are some cat carrier backpacks that you might find interesting: PetAmi, Blitzwolf, LEMONDA, Lollimeow, and Pecute.
Tips For Taking Longer Trips With Your Cat
If you are thinking of using a cat backpack for a road trip you want to take with your cat, I say it is just fine. The most important thing about going on adventures with your cat is making sure that your cat is safe in their cat pack. You also need to get your cat used to their cat carrier backpack.
---
Before I get into the tips, I saw this guy's video about his cat and their hiking adventures and I couldn't help myself from posting it here:
---
Here are a few things that you can do to make your trip is as comfortable as possible:
Cat Check-Up
Before going on any long trips, always guarantee that your cat is in tip-top shape. You do not want anything happening while on your trip. You also have to know if your cat is an "Anxious Annie." Anxiety can be difficult to handle on long trips. You might not know how to handle your cat on your trip when she starts to get finicky. A trip to the vet can save you.
Collar vs Harness
A long-standing debate on what to use with cats that never seems to end. However, when using a cat backpack, I suggest using a harness. Collars have a tendency to slip off your cat's head allowing her to escape from the backpack once you open it. A harness can lessen stress on a cat's throat that makes for a more comfortable trip. Although whatever you choose to use, make sure that your cat is safe and comfortable.
Take a Breather
Taking a break will help reduce stress on a long trip. Let him out and explore a little. Give him some water, some treats, and a whole lot of love. Hydration is key to having a very enjoyable trip. Keep you and your cat hydrated to continue having the best time.
One Step At A Time
Go at your own pace. There is no need to take a long trip right off the bat. It is best to take shorter trips first and build yourself up to handle long trips with your cat. Take it easy!
Final Thoughts
Traveling with a cat is never an easy task. As long as you are prepared with everything you might need, you can handle taking any kind of trip with your cat. May it be a trip to the park, or going a 5-mile hike. A cat backpack can be very beneficial to have on these kinds of trips. The most crucial part of taking long adventures is making sure that your cat is comfortable the whole way through. They can stay in their backpack only for as long as they can. Taking breaks is essential. If you'd like to know more about how long cats can stay inside their backpacks, click here.