Updated: Jan 29, 2020. Pet monitor cameras seem great, and they are great. The only downside, as much as I see it, is that you might spend too much time watching your dog when you install your video camera. Do you find yourself wondering what your dog is doing while you're at work? Have you ever excused yourself multiple times to call your pet sitter to see how your dog is doing while you are away? With a dog camera that dispenses treats, you can check in on your pet, and interact with him or her as well!
Click here to read all of our dog treat dispensing video camera reviews.
Pet video cameras allow you to see what your dog is up to at any moment's notice. Many of these cameras are optimized for cats too, making them ideal for cat monitoring. The truth is that your pet is probably doing great without you, but if you want to check on them or have any reason to be concerned, you should purchase one of the cameras we reviewed on this page.
Dog Camera That Dispenses Treats: Things To Know
What should you know about treat dispensing dog monitors? They're all great, really. Any of these pet video cameras will give you recording capabilities of at least 1080P HD, night-vision and two-way audio. And, you can reward your dog with these treat dispensers!
The camera will monitor your room on a 24/7 basis. Any time your dog gets caught in a funny situation it will be captured on video. You can share this video on social media and you're bound to capture some LOL-worthy moments. Moreover, all the cameras on this list have iOS/Android apps and stream directly to your smartphone via WiFi. The cameras can even serve as surveillance cameras for the home, offering motion-detection and warning you of introducers using push-notification alerts.
Are you still on the fence about getting your first dog camera? Let's examine the main benefits:
Health: Know Your Pet Is Healthy!
What's better than knowing your dog is doing fine at all times? We all get a mini heart-attack thinking of our pets. If someone hurt them, if they stumbled on something, if they choked on food, etc, and there is no one out there to help them. The idea that your puppy might start ripping apart and eating the pillow might haunt you. If it's a young puppy it might start eating its own poop too. When a puppy eats a piece of plastic, the vet bills alone can really take a hit on your bank account.
Our dogs are like family and we need to take care of their health. Unfortunately, many health issues are unnoticeable when you're away and your puppy might be too excited when you're back to show real signs of sickness. With a monitoring cam, you'll know how your puppy is up to at all times.
Is your puppy resistant to food when you're back? How do you know if they're healthy only when they see you but then they're sleepy or sick when you're away? With a dog camera that dispenses treats, they can give you insight that you wouldn't notice in person, because your dog's behavior is different when they see you versus when you're away. Your puppy gets too excited when you're around and they display a different behavior. What's more, many cameras record for a month at a time which allows you to review the previous footage and show it off to your vet.
Record Videos And Share Them
Have you ever captured your dog in a share-worthy moment by accident? Dog cameras record hundreds of hours of video, which means you're bound to capture some joyful & hilarious moments at the random. The kind of moments that are "you must see it to believe it" will be captured on camera.
Your camera will capture the funniest and cutest moments of your pet while no one is watching, which you can share on Instagram or Facebook. Who knows, maybe your video gets millions of views on YouTube or maybe your pet becomes Insta-famous. Nonetheless, you are bound to capture some incredibly adorable moments on the camera.
Observe If Your Dog Is Well-Behaved
This one is not so obvious, because you won't realize the utility a pet cam has until your dog misbehaves severely. What if your dog takes one of your valuables and hides them somewhere? This can drive you nuts looking for your jewelry or clothing. The camera will allow you to rewind the entire day, and only focus on the moments your dog was on camera. This will give you a hint as to which room the dog hid your valuables. When you're running your errands, working, or traveling, you can't keep an eye on your dog at all times. A continuous recording will allow you to narrow down those moments when they misbehaved.
Side note: Dog camera that dispenses treats will capture human behavior in the home too. Pet cameras have captured burglars and saved dog's lives in the past. Many have motion detectors that pick up on motion and notify you on your phone immediately.
Example: A fire starts burning in your house. You get a push-notification. You rush to your house, call the Fire Department and save your puppy. The dog monitor also captures intruders with night-vision because it can shoot 24/7 using Infrared-LEDs. If anyone enters your home you will know how and when it happened. If you want to monitor your children you can use the cameras too. The difference is, you won't need the treat functionality and that can save you money as you'll only need a basic camera.
Go Out Partying Or Travel
Want to go out on a Friday night or even take a longer trip to the Caribbean? With your dog, it feels like you're trapped in one location and can't leave them for even a day. The dog's biology is wired to be around their owner 24/7. Dogs are a pack animals and you as the pack leader are extremely important to their life. If the pack leader is missing your dog becomes anxious. The main way to work around that is to communicate with the dog and show them what a good dog it is. Two-way audio means you can hear the dog and the dog can hear you. Some cameras even have two-way video, such as the PetChatz camera.
Sometimes, talking to your dog is all that is needed to calm them down. Your dog will feel infinitely more times relieved when they hear your voice, because to them it's as if you're already there. Dogs only get emotional and anxious when you completely cut off communication with them. Moreover, when you talk to them they instantly become calmer and happier.
Fling Treats In Angry-Birds Style
Dogs experience time the same way we do, which means if you're separated from your dog for a long time they will take it hard. This makes them prone to separation anxiety, irritability and occasional depression. To make up for that, we can show them they're a good boy/girl by flinging a doggie treat. All of the cameras in this review are equipped with treat functionality, allowing you to fling a treat in Angry Birds style. The treat can fly up to 6 feet and your dog will take it as a sign you're rewarding them.
The treat dispenser will lift your dog's spirit because you not only talk to them but you reward them every time they're acting well. The videos will be streamed directly to your Smartphone and you can see your dog's reaction when you fling them a treat. Effectively, you could play with your dog and watch them wag their tail over the camera. Some of them have laser pointers for cats and this entertains the pet more.
TOP 6 – Dog Camera That Dispenses Treats
Each and every one of these cameras can help us take better care of our pets by allowing us to monitor their behavior 24/7. The cameras themselves are getting "smarter", longer-lasting and more sophisticated to enable two-way interaction. However, remember the camera is only a fun device. It will not replace the real-life engagement you have with your pet such as the attention, play-time, care and walks it needs.
Best Video Dog Treat Dispensers
Furbo Dog Camera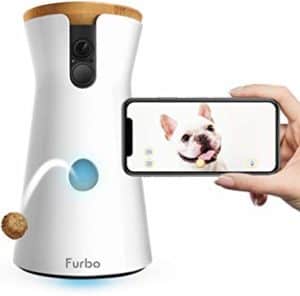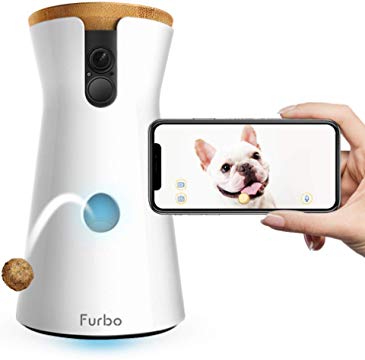 The Furbo dog camera is an advanced camera that was designed for dog-owners, giving them the ability to communicate and reward their dog through a simple iOS/Android compatible app. The Furbo comes equipped with 1080P vide streaming and it records at night via Infrared LEDs.
The Furbo dog camera highlight is a "Treat Dispenser" which allows you to dispense a treat with the press of a button. The Furbo camera can also train the dog using a clicker feature and it has indicator lights that change colors to help attract your dog's attention. The package is simple and comes with a power adapter, 7-foot USB cable, and an instruction manual. Click Here to read our comprehensive review of the Furbo Dog Camera.
Quick Glance
What's Good
1080P

HD Video
Two-Way Audio
Fun Treat System
Furbo app is straightforward easy to set up
What's Bad
Advanced features require a monthly membership
The

camera

takes a while to load every time the app starts
PetChatz HD Pet Camera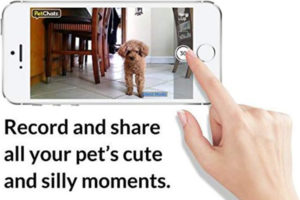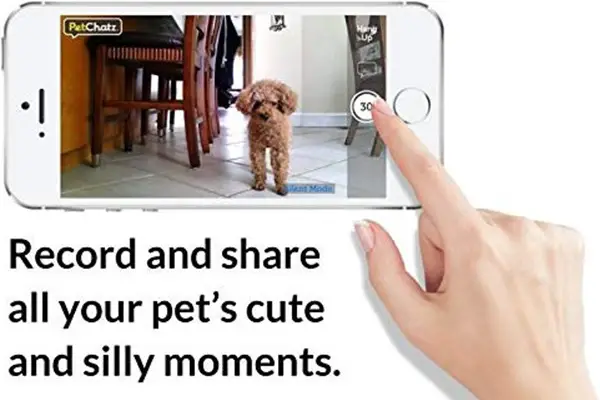 The PetChatz HD Pet Camera has an advantage over other pet cameras which is the two-way video functionality, allowing you to see the dog and the dog to see you.
Other cameras are restricted to two-way audio while the PetChatz operates as the Skype of pet monitors, providing dual-sided video chats to the pet and the owner. If you're worried that talking to your pet is not enough and you want them to see you, the PetChatz is the way to go.
The PetChatz serves as a mobile phone and has a special ringtone that tells the pet you're calling them. The PetChatz is also equipped with a treat dispenser and provides full monitoring capabilities. Click Here to read our comprehensive review of the Petchatz HD Pet Camera.
Quick Glance
What's Good
Two-Way Video Chat.
PetWatch Video Recording.
USA-made.
PetChatz App.
What's Bad
Must use PetChatz's treat.
Less than desirable customer support
WOPET Smart Pet Camera Review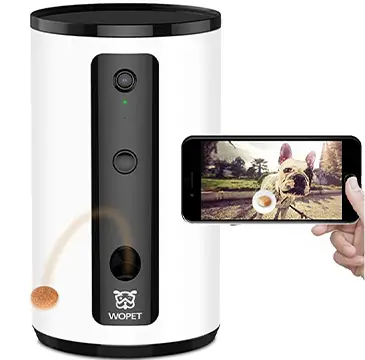 The WOPET is an interactive pet monitoring camera that places an emphasis on the treat-dispensing system and makes for a wonderful meal-flinging experience for your dog. The WOPET camera allows you to monitor your pet in 1080P HD including night vision and two-way audio communication allows you to communicate with your dog when you're away.
The WOPET treat dispenser is the best-in-class, allowing you to disperse up to 6 treats at the same time. The WOPET App connects instantly and allows you to control the device. The treat dispenser will work with any dry treats of your choosing. Click Here to read our comprehensive review of the WOPET Smart Pet Camera.
Quick Glance
What's Good
Fun Multi-Treat Dispersion

1080P

HD

Camera

Two-Way Audio
Easy Setup
What's Bad
Has a tendency to throw multiple treats
No feature to auto record
Night vision is not as good as other video

cameras
SKYMEE Dog Camera Treat Dispenser Review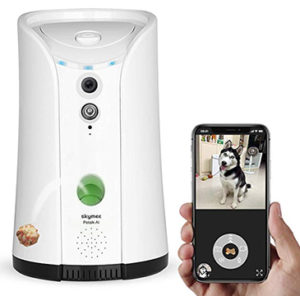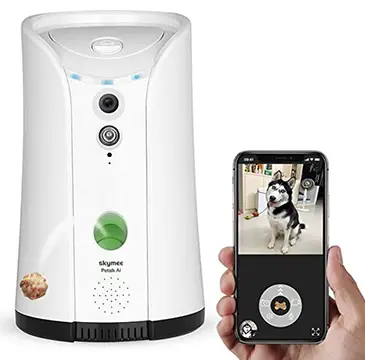 The SKYMEE is a highly popular pet monitor camera, allowing you to communicate with your pet while you're away from home. The SKYMEE features a main treat dispenser which can disperse treats far away from the launch location. The SKYMEE allows you to treat your dog when you're at a work break or traveling. The App comes equipped with video recording features, allowing to you rewind, edit and share the videos directly on social media. The two-way audio has a clear microphone for easy communication with the pet or anyone in the house.
SKYMEE features a built-in motion detector that can activate when it detects motion and notify you on your phone. The camera can also activate the "Alarm Event Record" feature which records when it picks up on motion from intruders, operating as a security camera. Moreover, up to 8 users can simultaneously connect to the video stream, giving everyone in the family a live connection to the dog. Click Here to read our comprehensive review of the SKYMEE Dog Camera Treat Dispenser.
Quick Glance
What's Good
1080P

HD

Camera

Two-Way Audio
Treat Dispenser
Social Media Sharing
What's Bad
Loud Treat Dispenser
Loses WiFi Connection Easily
Pawbo Life Pet Camera Review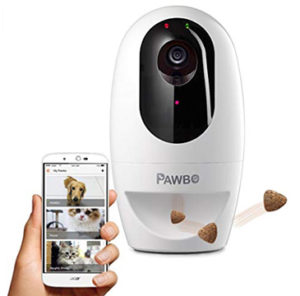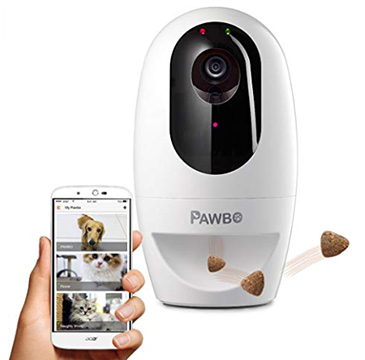 The Pawbo Life features the ultimate in monitoring capabilities, equipped with a 130° wide-angle lens and 4x digital zoom. The camera can stream and record 720P HD video. The two-way audio capability allows you to talk to your pet clearly.
Pawbo Life is powered by iOS and Android apps and allows you to launch treats at the press of a button. The unique "Laser Play" feature allows pet owners to entertain their dogs and cats playing chase games.
Pawbo Life sends ringtone notifications to notify you if your pet is misbehaving. The device can record videos and allow you to share videos on social media immediately. Click Here to read our comprehensive review of the Pawbo Life Pet Camera.
Quick Glance
What's Good
Wide-Angle Lens
Laser Toy
Social Media Compatibility
Multi-User Compatibility
Easy Setup
What's Bad
The

camera

doesn't angle down towards the floor
Spotty

camera

resolution
The microphone is not 100% dependable
Petcube Bites 2 Wi-Fi Dog Camera Review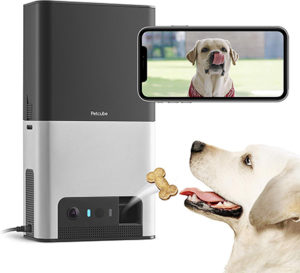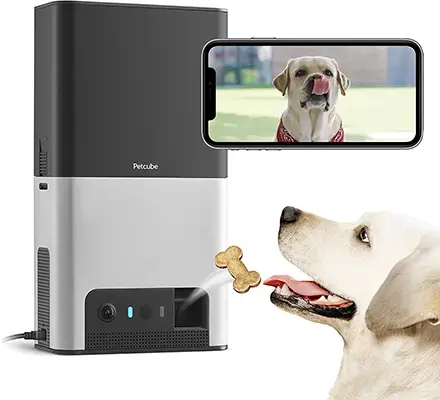 The PetCube Bites 2 Wi-Fi Dog Camera is an update to the best-selling original PetCube Bites 1.
The PetCube Bites 2 is a mega-large treat dispenser device that can fling treats in Angry Birds style. Owners can optionally schedule an automatic treat that disperses treats at certain times of the day, making them fly as much as 6 feet.
The PetCube app provides easy communication, video editing/rewinding/sharing, and multi-user connectivity. Click Here to read our comprehensive review of the PetCube Bites 2.
Quick Glance
What's Good
iOS/

Android

compatible and connects via Wi-Fi
1080P HD Video
160° angle for a full view of the room
4X optical zoom
4 separate microphones
Motion and sound detector
What's Bad
Much bulkier than the average

pet

monitor
Need to place the

camera

close to the edge of the surface to get the maximum view angle
And The Winner Is…
Furbo Dog Camera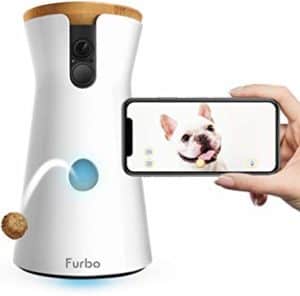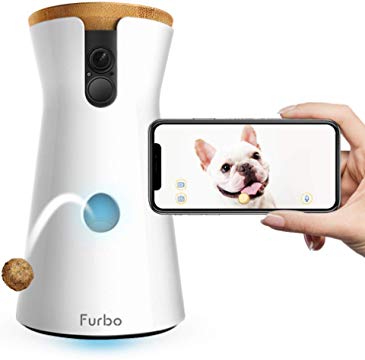 Our top choice is the Furbo Pet Camera. I love being able to watch Bailey from work and interacting with Bailey by launching some treats. While I need to dispense multiple treats because my Bailey, a chocolate lab, is a larger dog, I don't mind! I like the feature of Furbo sending phone alerts to me when Bailey is barking. I can always tell when someone is at the door or Bailey is barking at squirrels outside our living room window!