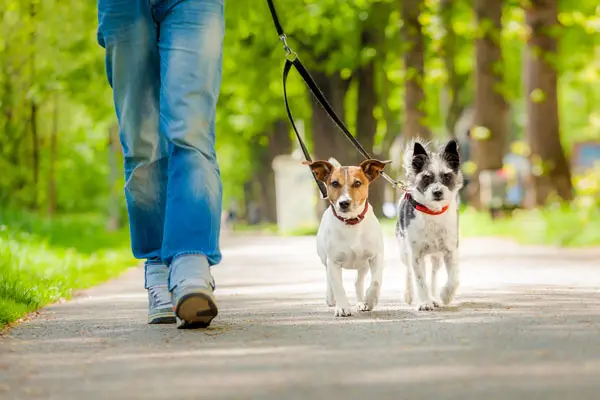 Does your dog like wearing a collar or a harness? As pet parents, we always want to do the best for our dogs. You might be wondering which is better – a dog harness vs leader vs the dog collar. So how do you choose?
Keep in mind that a harness and a dog leader are not replacements for collars. One of the vital uses of a collar is to carry identification. Even if you got your pet microchipped, your dog should still always wear an ID tag with your contact information. Otherwise, your pet may be mistaken as a stray if your dog gets lost, and he or she is not wearing a collar.
In this article, we will go over the pros and cons of all three options. We will also leash in a few tips to help you choose the right one for your canine friend.
Dog Harness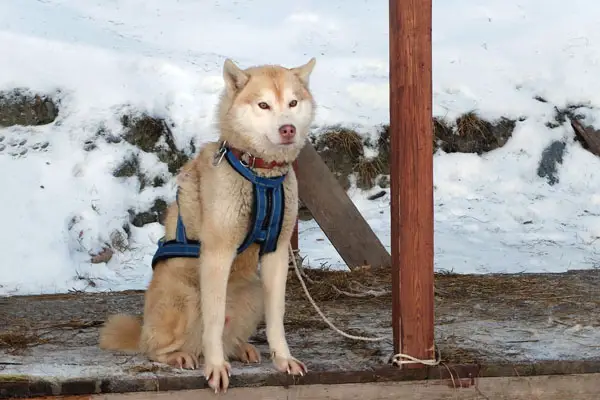 A dog harness is a web of straps that loop neatly around the torso of your dog. It is fastened together via side release buckles. It comes in different sizes and fits, so you should measure your dog correctly before purchasing a harness. There are also various types of dog harnesses available. Two of the most popular ones are the step-in harness and the over-the-head harness.
Pros
A dog harness distributes weight across your dog's chest or back
Prevents neck injuries, especially on your dog's trachea
Gives you better control over your dog which is doubly beneficial if you have a large or an overly active pooch
Puppy harnesses are ideal for training
Discourages pulling and helps stop your dog from jumping
Unlikely to come undone accidentally
Cons
Does not offer much control when it comes to a dog's behavioral issues such as displaying aggression
Dog Leader
Also known as a head collar or head halter, a dog leader is a tool designed to help you control your pooch by guiding his or her head. It is a strap that is encircled on the muzzle that allows you to power steer your dogs. It is an excellent aid in helping you achieve success in training and controlling your pooch. Some effort and time are required for your dog to adjust to wearing a dog leader, and for you to make sure that it is fitted correctly.
Pros
Great aid in curbing undesirable behavior in dogs
Stops leash pulling
A more humane option compared to other aversion-based tools like prong dog collars, choke collars, and electronic collars
Cons
More time is needed for your dog to adjust to it and some dogs might experience panicking, pawing on it, or rubbing their heads on surfaces
There is an increased risk for potential injuries on the dog's neck and spine especially of your pet lunges ahead and turns his or her head sideways
May cause subdued behavior, so it is recommended that they are used as temporary transitional tools
Dog Collar
A dog collar is a strap worn around your pet's neck as a training tool. It is also a legal requirement for your dog to wear a dog collar in public. The dog collar must have the owner's name and address attached in the dog collar. Otherwise, you might end up paying a hefty fine.
Common materials used for making collars include suede, leather, canvas, faux leather, and metal chains. Some have metal buckles, while others have plastic snaps to hold them around your dog's neck. There are generally three things to consider when choosing a dog collar, namely, the function, material, and your dog's neck measurement. These are vital in ensuring that the collar fits correctly and does not end up choking your pet.
Pros
Collars are used for identification
It is a light and non-restrictive tool where you can swiftly pop in a leash and go for a quick walk with your dog
Comes in a variety of styles
Generally designed to be more comfortable for dogs so you can leave it on all the time
Cons
Can cause injury to your pet's neck, such as damaging their trachea or thyroid gland
Increased pressure on the heads of dogs that have naturally protruding eyeballs like pugs may cause eye damage
Making The Right Choice
Whether you choose a dog leader, a harness, or a dog collar is entirely up to you, but it is to your dog's best interest that you make an educated decision. A dog leader is recommended for dogs that are showing aggression or other behavioral problems that you want to discourage. If you choose a collar, decide on the best type to ensure your dog can't easily slip out of it. Whereas, harnesses are for dog owners who are having trouble with controlling your pooch.