If you are a trainer or a dog owner who trains their dog, you know how hard it is to find a dog treat pouch to use for training. You want something that can carry almost anything you need in one bag. Luckily, there are treat pouches that can do just that like the one found in this Doggone Good Rewards Pouch review.
Things To Consider Before Buying A Dog Treat Training Pouch
Training pouches are very useful for someone who trains their dog. However, you would have to make choices about what kind of pouch you need for your training. There are some things that can make training easier for you and it all depends on what your training style is. Here are a few considerations you might want to think about before purchasing your own training pouch:
Size
Size matters. Of course, I'm talking about having a sizable training pouch. You would always want something that can carry a good amount of treats and kibble for your furry friend. You would never know how much you need so it is better to pack extra, just in case.
You'd also want a training pouch that can carry small things for you while you train. Things like your keys, your phone, a clicker, and a collapsible water bowl. All the things that are essential should be with you during training. Having a pouch that can provide you space to carry all of that is one good pouch.
Easy To Use
While training, you want a pouch that can be easy to use and access especially when you have your hands full with multiple dogs. You would want a pouch that can be easily closed and opened when you need it.
A drawstring is one option, and clips are another. There are also some that have velcro and others have magnets. Whatever you choose, make sure that the right training pouch is what you're after. It doesn't matter that much what other people say as long as you are comfortable with what you have and what you are working with.
Doggone Good Rewards Pouch Overview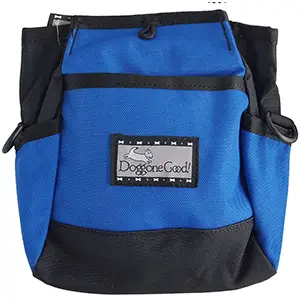 The Doggone Good Rewards Pouch is made from 600 denier polyester "backpack" material so you can rest assured that this is one durable training pouch. It has a magnetic closure that allows you easy access when training your furry friend.
It has a roomy main compartment that is well-shaped to easily reach for treats. It is lined with gray interiors to enhance visibility when picking out treats. It comes with a waist strap to allow you to be hands-free when training your pooch. The training pouch has a zippered back compartment to store all your things like your phone, keys, and money.
Quick Glance
What's Good
Jackpot Inner pocket for high-value treats
3 ways to wear the pouch
Grey interiors for visibility
Extra compartments
Multiple color choices
Magnetic closure
What's Bad
Durability problems for some users
Not as big for some users
Magnets do not work for some users and sometimes the magnets don't line up perfectly
Doggone Good Rewards Dog Pouch Key Benefits & Features
This product has various features and benefits that we are sure you and your dog will love. A few of these are as follows:
Magnetic Closure
While other training pouches use drawstrings to close and open their pouches, the Doggone Good Rewards Pouch uses a magnet for you to easily open and close the main pocket of the bag. With this magnet, you can be handsfree and have more opportunities to train your dog.
However, there are some users that report that the magnet is not as strong as they would like or the magnets do not line up properly. Some still use it because it still works and some have really given up on it.
Roomy Compartment
The Doggone Good Rewards Pouch is made of 600 Denier polyester material which is the same material they use for backpacks. It is lined with a grey inner lining for you to be able to see the treats easily when it reaches almost empty.
Aside from all that, it is very roomy and sizable that you can fit quite a lot of treats and kibble. It also includes a secret jackpot compartment for high-value treats that you want to keep hidden.
Extra Compartments
Not only does it have a roomy main pocket, but it also has different compartments for your different needs. First of all, it is equipped with D-rings that allow you to hang accessories like a collapsible water bowl or a clicker. Second, it has 2 side pockets with a waste bag dispenser to always keep you ready. And last, there is a zipper pocket behind the bag for all your other valuables.
Some complaints that people have about it is that the zipper at the back could be bigger as phones get bigger and bulkier every year and most phones of the users don't fit inside anymore. The waste bag dispenser is not as smooth as some users would like it.
Wearable
Just like most treat pouches, the Doggone Good Rewards Pouch allows you to train handsfree by attaching the bag on your person. There are 3 ways for you to wear this training pouch. It has a blip at the back of the bag for you to attach to your pants or to your belt. Another way is for you to use the belt inserts so it is secure with your belt. And last, the Doggone Good Rewards Pouch includes a waist belt for those who do not wear pants or shorts with belt holes.
What Users Say About Doggone Good Rewards Treat Bag
While writing this review, I came across some reviews that you all might want to read before swiping your card to purchase this item: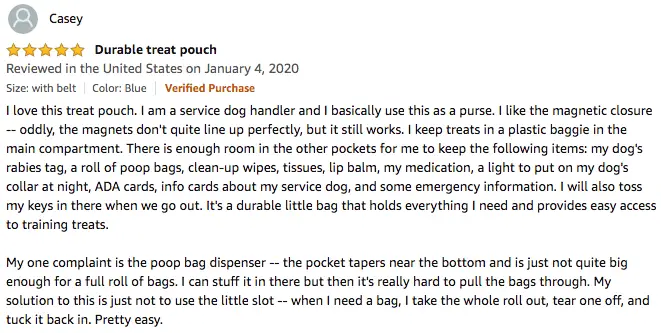 Casey loves this pouch. She says that this is a very durable training pouch for her as a service dog handler. She can fit almost anything in there. The only complaint she has is that the poop bag dispenser can not be too full or else it will not dispense the bags.

Misti Moonshine loves that it is higher quality than what she has used before but she wanted it to be bigger to fit more things in.

Jennifer Reynolds has been looking for a treat pouch like this for forever. It is easy to use for her and can carry her treats and kibbles for her rescue. She also loves the secret compartment in the main bag.
Alternative Dog Treat Pouches To The Doggone Good Rewards Pouch
This product has various features and benefits that we are sure you and your dog will love. A few of these are as follows:
Paw Lifestyles Dog Treat Training Pouch
The Paw Lifestyles Dog Treat Training Pouch is the best one out of the list of training pouches. It can carry everything that you can think of. It can carry treats, toys, kibbles, and even poop bags. It is also equipped with d rings for you to clip on accessories that you need for training like clickers and portable water bowls.
Choose from 3 ways to wear the treat pouch for convenience. The straps are fully adjustable and very light to carry. Lined with a neon green lightweight and waterproof nylon fabric to make sure that your treats are dry and safe to consume. It even has compartments that you can use to carry your own things like your keys and your phone.
eBasics Dog Treat Pouch
The eBasics Dog Treat Pouch is the most professional looking out of all on the list. It has a simple, sleek black design that is ergonomically shaped so you can reach in with ease. It can carry up to 3 cups of treats so you will not run out while you're out for a training session outside.
You can easily close and open the treat bag with its magnetic seal. It is also equipped with a zipper compartment on the front for all the small accessories that you may need in your session. It is made of 900 denier polyester fabric. You can easily wipe off the dirt from the bag or hand wash it and air dry for better results.
LANNEY Dog Treat Pouch
The LANNEY Dog Treat Pouch is made with 600D Oxford material and is coated with PVC. The inner lining is made with high-quality nylon that can be pulled out for easy cleaning. It has double stitching for durability and is abrasion-resistant. You can easily open and close the bag with a drawstring that has a one-push cord lock.
The main pouch is very spacious and can be extended to put kibble, treats, and snacks. There is an enlarged zipper pouch that can be used for mobile phones and other accessories. Additionally, you get a small zipper pouch in the back for smaller items, 2 waste bag dispensers, and D-rings where you can hang clickers and collapsible water bowls.
Our Final Thoughts
To round it all up, the Doggone Good Rewards Pouch is the runner up on our list of best dog treat pouches. As seen in this Doggone Good Rewards Pouch review, it is easy to use with the magnet opening and it has a good size, although not as big as some people would want it. It also comes in many different colors that you can choose from. It is wearable and durable that will last you for a long time.
Click here to get current pricing on Amazon for The Doggone Good Rewards Pouch >>