Your beloved cat is part of the family, so it's your responsibility to take care of her like how you would do it for your kids. One of the most crucial aspects of pet care is choosing the right food. I've been living with my cats forever, and I know how difficult it can be to find cat food. There may be hundreds of canned products out there, but some of them fail to deliver. I never intended to feed a feline with typical canned food from the pet store, but Dr. Elsey's Cleanprotein Formula Dry Cat Food proved me wrong, thus my Dr. Elsey's cat food review.
Things to Factor in Choosing the Ideal Cat Food
There is more to cat food than what the advertisements and product labels say. Before you start searching for dry cat food, you at least should learn a thing or two about the factors that separate the best one from the rest.
Protein, Lots of It
Your cat's health depends on the food you give her. Most veterinarians agree that a domesticated feline's diet should emulate that of her diet when she's in her natural habitat. Since cats are carnivores, you need to feed them something that is primarily made of protein. An adult feline must eat food with at least 40% protein content. You can lower the percentage when your cat grows older. The lack of adequate protein content in cat food will most likely result in health issues like being underweight and lethargic.
Nutrition
I don't feed my cat with grains, and it's been that way for years now. Although grains are a rich source of energy, they're also full of carbohydrates. You don't want a significant percentage of carbs in your cat's diet because it contributes to adding extra weight and the onset of diabetes.
Talk to a Vet
Although cats are my life, it does not mean that I'm an expert in determining the best food to give them. I only learned most of the things about feeding my cats when I visited the vet. I think you should do the same. If you're unsure what to feed your cat, a visit to the vet gives you all the information you need to move forward.
Dr. Elsey's Cleanprotein Formula Dry Cat Food Review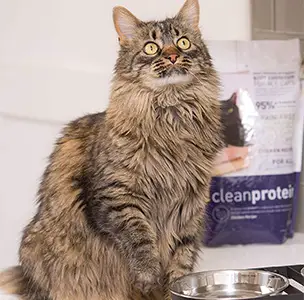 This product promises to deliver a complete and healthy meal for your cat. The manufacturer studied the protein levels of a cat's natural prey and came up with a formula that addresses the nutritional needs and pleases the appetite. It's a dry cat food that's well-suited for a physically active feline.
Quick Glance
What's Good
Miniature pellets are safe for small cats
Very low carbohydrate content, which suits well for diabetic cats
Grain-free and does not contain animal by-products
Improves your cat's coat
What's Bad
On the pricier side when compared to similar dry cat food products
Extra challenging to buy online
Some reports of cats throwing up on the first try
Features & Benefits of Dr. Elsey's Cleanprotein Formula
Dr. Elsey's Cleanprotein Formula Dry Cat Food may be the product you're looking for if you appreciate these benefits:
Grain-Free and Gluten-Free Formula
There was once a time when most cat food products contained nothing but carbohydrates and preservatives. I once fed my Devon Rex with a product I fancied because of the handful of unfamiliar ingredients that I thought were good for her. My cat gained a lot of weight after just a couple of months.
This product offers the best way to satisfy a cat's natural diet. It does not contain grains and gluten, nor it has fillers and preservatives.
High Protein Content
This canned formula comes with protein as the main ingredient. It is to address the need of a cat to feed on something that imitates her prey in the natural environment. The product is available in chicken and salmon varieties, both of which are sourced in the US. Here is the nutrient breakdown of the chicken recipe: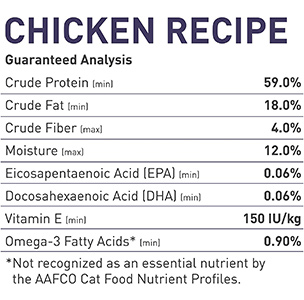 Omega 3 Fatty Acids
Omega 3 fatty acids come with high anti-inflammatory properties. Dry cat food that contains it is perfect for cats who are prone to developing dry skin and hotspots. Feeding your cat with Dr. Elsey's Cleanprotein Formula Dry Cat Food means she'll have a shinier coat and less likelihood of shedding.
Non-GMO, No Preservatives
You don't have to be an expert to know the risks of feeding your cat with a product that contains genetically modified organisms. Yes, some people will tell you that there's nothing wrong with GMOs. But if given the option to choose between cat food made from natural ingredients and that of a product with preservatives and GMO, what will you choose?
What Other Cat Owner's Say About Dr. Elsey's Cat Food For Diabetic Cats
Do you feel like Dr. Elsey's Clean Protein recipe is the best option out there for your cat? If you need more motivation, maybe these Dr Elseys clean protein reviews by other customers can help you decide:
Terri's cat became obese because of the excess carbs in her food. But switching to this product made all the difference in terms of weight loss.
Cogent was apprehensive at first because this dry cat food is pricier than other options, but he's convinced it's the healthiest solution for his cat.
Martin attributes his cat's dandruff and depression to the old food. With the switch to Dr. Elsey, dandruff is gone and the cat seems happier now!
How About Other Cat Food For Cats With Diabetes?
It's always a sensible thing to do some comparison shopping right before making a purchase decision. In the case of dry cat food, you have several decent prospects aside from Dr. Elsey's product:
Solid Gold Indigo Moon Dry Cat Food
This product is like Dr. Elsey's in a way that promises a gluten-free and grain-free formula. The Indigo Moon from Solid Gold claims to contain at least 40% crude protein, while the rest of the product is made from superfoods, i.e., carrots, broccoli, lentils, and others. However, there's no mention of it being non-GMO.
CRAVE Grain Free High Protein Dry Cat Food
This cat dry food is available in 2lb, 4lb, and 10lb packages. Like Dr. Elsey's Cleanprotein formula, it's a protein-rich meal that doesn't contain grains and animal by-products. You're better off buying the small pack to see if your cat won't throw up when you make the switch. There are a few complaints from customers who said that their cats started throwing up when fed with it.
Purina Pro Plan Veterinary
The Pro Plan DM DM Dietetic Management Dry Food from Purina takes the edge when it comes to antioxidant contents since it has both Omega 3 and Omega 6 fatty acids. You may find it suitable if you want to improve your cat's coat and skin. The only thing that might put people off is its considerably higher price compared to the competition.
Our Final Thoughts
Buying cat food doesn't have to be an overwhelming task. With a handful of decent options, you're made to choose from one product to another with minimal differences in between. But even the slightest difference in quality and price could mean everything to you and your cat.
Dr. Elsey's Cleanprotein Formula Dry Cat Food has one of the best arguments for ideal cat food, not only because of its protein-rich contents but also because it is made from all-natural ingredients. Whether you have an active cat or a diabetic feline, it's a dry food formula worthy of your consideration.
Check out current pricing and availability on Amazon here >>