No one doubts your love for your dog, but you cannot deny the burden of taking your furry buddy to the vet or when you need to travel with him. A few years back, I always found a way to leave my chihuahua to someone else when I needed to go out of town. The thought of bringing him with me was too overwhelming. Even a small dog can be quite burdensome when you are traveling.
But all that changed when I saw a co-worker with his dog on the EliteField Soft Sided Pet Carrier. I do not fancy a lot of pet carriers, but this product convinced me that traveling with my dog is feasible after all.
What You Must Consider in a Pet Carrier
If you decide to buy a pet carrier, know that there are certain factors to consider. If you have a small dog, it makes no sense to get one that is designed for a large breed.
You use a carrier so that you can travel with your dog conveniently and stress-free. Carriers come in various designs and sizes, so you must go the extra mile to find one that will address your dog's needs for travel.
Dog Size
Before you delve on the design and other features, figure out if the carrier is a perfect fit for your canine buddy. Factoring in size is crucial because it dictates the comfort level and convenience when you are carrying it. The ideal fit is the one that allows your dog to stand in it without being too cramped. Also, consider a bigger sized carrier if you have a puppy since you know he is getting bigger in no time.
Compatible for Air Travel
You do not need a specialized design or premium material for a dog carrier when you are traveling by land or sea. But there are specific requirements if you plan to bring your dog with you for air travel. The good news is that most models, including the EliteField Soft Sided Pet Carrier, come with an airline-approved design. Airline companies have different guidelines and requirements for an acceptable dog carrier, so be sure you visit the company's website just to be sure.
Convenience
No matter how sold you are on the design of a dog carrier, do not forget convenience is the foremost consideration. In other words, you cannot sacrifice comfort over style. If you plan on bringing a small dog like a chihuahua or Pomeranian, then you can settle with a hand-carry type.
Quality
An essential rule in buying a carrier for your small dog is never to compromise the quality. Some dogs are destructive by nature. My chihuahua always found a reason to chew on anything. So, when I bought a cheap carrier, it only took about five minutes for him to ruin the bed and sides. A high-quality pet carrier must have durable straps, comfortable linings, and premium material construction.
EliteField Soft Sided Pet Carrier Review
The EliteField Soft Sided Pet Carrier appears to have the ideal set of features that make up for the otherwise plain style. Aside from the waterproof exterior, the product is also durable and lightweight. It can potentially address your need for a small yet reliable small dog carrier.
Quick Glance
What's Good
Side petting panel zipper allows you to hold your dog
Spacious enough for small dogs
Comes with a handful of external pockets
High-quality coated mesh material
What's Bad
The bed is firm and stiff compared to the competition
Questionable waterproofing qualities on the interior components
Strap inside the carrier seems useless
Designed for Small Pets
This pet carrier is suitable for small dogs and cats. The overall size and weight do not strain your hands, plus the design is geared towards a convenient and stress-free carrying even for extended periods. Be sure to measure the height, length, and width of your pets before you buy this carrier. You cannot return the product just because it does not fit.
Removal Bed Cover
The removable fleece bed cover comes reinforced with an insertable hard support board. This clever addition ensures that the carrier provides a comfortable experience for your dog while also keeping it in tiptop shape even with prolonged use. You will like this feature if you continuously travel by air with your small dog.
Built-in Leash
The addition of a built-in leash serves both you and your dog well because it secures the animal to the carrier. With it, you are confident that your pooch will not escape the carrier while traveling. Accordingly, the buckle belt loops are there to restrain the carrier using a seat belt when you are traveling by car. It is a sensible addition, especially when you are the one driving.
Side Zipper Opening
With the side zipper opening, you can reach and touch your pet whenever you need to because he is panicking or trembling. It is no secret that some pets are afraid of being in a moving car or elevation in flight. Being able to touch your dog helps him calm down.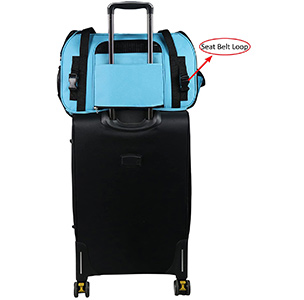 Extra Storage
The EliteField Pet Carrier comes equipped with two pockets designed to provide added storage. The pockets can accommodate small accessories and essentials, while the hand carrying straps and padded shoulder straps offer you a handful of carrying positions.
Extended Warranty
One thing that makes this product stand out is its three-year warranty. The manufacturer is confident of the quality of the product to the point that it is giving a 100% money-back guarantee for those who are not satisfied with it.
What Other People Are Saying About It
I put in the work to read online reviews to figure out if the EliteField Soft Sided Pet Carrier deserves consideration. Here is what I found out:
Scurvydog Designs opted for this carrier for its design options, especially considering they an amputee cat they needed to transport.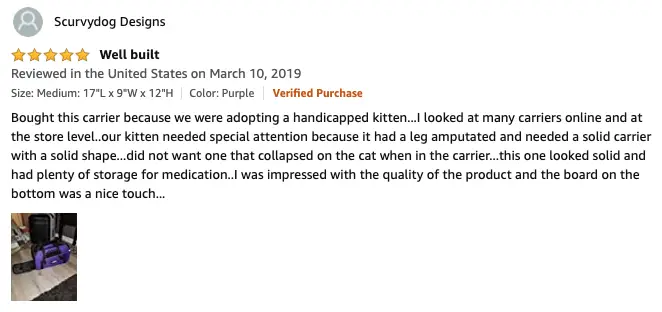 Addicted bought this dog carrier for her Pomeranian puppy and found that the space was a little tight.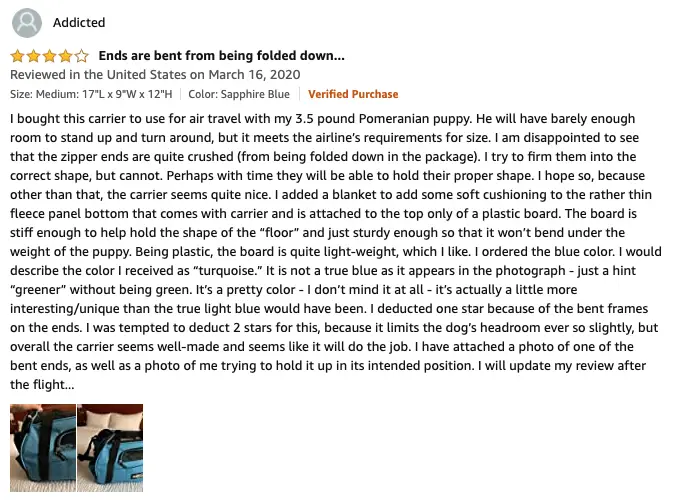 Logan likes the roomy space that this Pet carrier provides for his cats.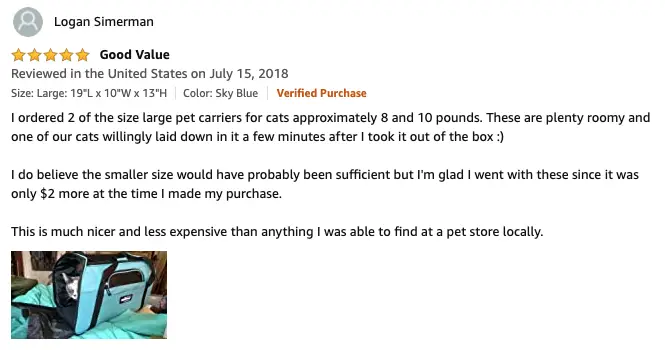 A Look at the Other Dog Carrier Alternatives
The EliteField Pet Carrier for small dogs shares the market with equally topnotch quality alternatives:
Henkelion Dog Carrier
The EliteField carrier for small dogs shares the same airline-approved design with the Henkelion dog carrier. Both come with reinforcements for safety and security, too. This pet carrier exemplifies safety through a couple of connecting loop handles that can work as a dual seat belt or luggage strap. It is an ideal option if you have a small or medium-sized dog that does not exceed 15lbs. Visit this link to get some more information about the Henkelion dog carrier.
Mr. Peanut's Soft Sided Pet Carrier
The interior part of this pet carrier comes with waterproof qualities, and it shares the lightweight quality of the EliteField Pet Carrier. Although it only weighs 2.7lbs, it has a premium construction and design. Like most of its competitors, this soft-sided carrier comes with breathable mesh on all sides that promote comfort and proper ventilation. You can check out Mr. Peanut's pet carrier here.
AmazonBasics Soft-Sided Pet Travel Carrier
This pet carrier is unique because of its rugged design. Still, it offers a similar security and safety feature like the EliteField Soft Sided carrier with two connecting loop handles. The handles allow for more balanced carrying. The adjustable shoulder strap is also worth mentioning as it promotes a hands-free carrying option. Get more details about the pet travel carrier from AmazonBasics here.
What's Our Final Say?
Taking your dog to a vet or an extended trip is not as arduous and inconvenient as it seems, especially if you have some valuable help. It does not have to be another travel buddy or companion.
The EliteField Soft Sided Pet Carrier provided me with the most convenient solution. With it, I no longer leave my dog behind when I need to go out of town. I also use it for his regular visits to the vet.
Check out current pricing and availability on Amazon here >>