There is no doubt that cats are great companions. They are one of the cleanest animals out there. However, there is one thing they cannot do, clean up after themselves. Good thing there are cat litter boxes that help with the ease of cleaning up after your kitty, like the Van Ness Sifting Enclosed Cat Litter Box.
Items To Think About When Choosing A Odor Control Litter Box
When your cats do their business, it's not the most pleasant smell. Sometimes, this smell can linger in every part of the house if not taken care of immediately. Odor control is one of the functions of some of the litter boxes we have out there. But is that really all we're after? There are more factors that can persuade us to purchase the kind of litter box we need. I have made a little list of what things you should consider before deciding on what cat litter box if perfect for you.
Design – Consider what your cat would likely use to do their business. Also, Can multiple cats use this litter box?
Functionality – How great does this product work?
Added Features – These are some of the things that set apart this litter box from all its competition in the market.
Think it through. What kind of litter box do you want? Need? Choose the one that works perfectly with your cat. Let's see what our featured product can do for you and your kitty.
Van Ness Pets Enclosed Cat Litter Box Review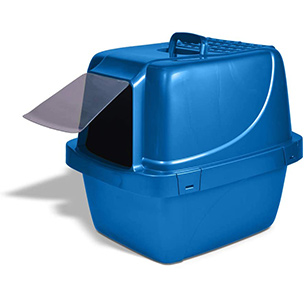 The Van Ness company is family owned and operated for over 70 years. They are leaders in providing quality and pet caring products. This Sifting Enclosed Cat Litter Box is made from FDA approved material that you can trust. It keeps mess to a minimum with the enclosed feature. A 3 part litter box makes it easy to remove your kitty's droppings. One of the easiest litter boxes to use at an affordable price.
Quick Glance
What's Good
Saving time cleaning up the mess
Two nesting pans and a sifting pan for convenience
Replaceable odor filter
Odor door
Secure side clips to keep enclosure safe
What's Bad
Plastic too thin and cannot manage to carry heavier weights
Reports that clumps stick to the sifter
Sifting layer has no grips means harder to remove from other layers
Key Features Of This Sifting Enclosed Cat Litter Box
You'd think that using a cat litter box would not have a lot of features. In this day and age, we add new features to make it easier for us to use every day. We find ways to uncomplicate things. Let's see what Van Ness had done to help ease this problem that we have with our cats.
Design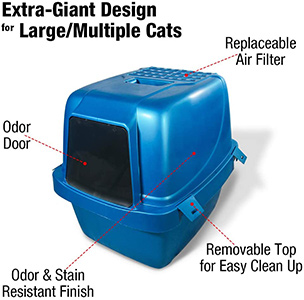 This cat litter box is made up of 3 layers. A bottom pan, a sifting pan and the top cover. The sifting pan allows you to sift all the clean litter from the clumped ones for easy cleanup. It has a top cover to help reduce mess when your cat does her business. It is also equipped with a handle, an odor filter and an odor door. It clamps to the bottom layer to keep your cat from taking the top off. It is made with FDA approved plastic but seems to be problematic for some users. They think that the plastic is too thin and it breaks when they try to lift the litter box. This cat litter pan comes in 2 sizes, a Large and an Extra-Giant
Functionality
Innovative design makes this product one of the best out there. Aside from keeping the mess to a minimum, the sifting factor is what they take pride in. It is easy to use and easy to clean. It saves you time from scooping through your cat's litter to just keep it clean. Just lift up the sifting pan and shake a bit to remove scattered litter, throw the dirty litter and place back into the main box. No mess, no fuss. However, there are reports that some users find that clumps stick to the sifting pan and do not live up to the easy clean factor of this product. The enclosure gives your cat a little privacy when they do their business. Promise me, they'll appreciate you for that.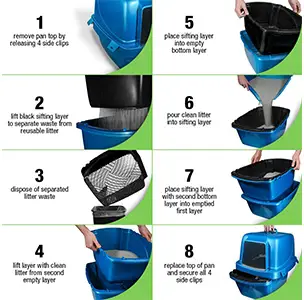 Added Features
Keeping the house clean is the most important thing when looking for the best cat litter box. But what else can this litter box do? I'm glad you asked. The Van Ness Cat litter box has a replaceable odor filter to keep your place from smelling like a cat litter box. You can purchase replacement filters online at an affordable price. This litter box is also equipped with an odor door to keep the bad odor in the box as your cat enters and exits the box.
What Others Say About The Van Ness Enclosed Litter Pan
If you need a little more assurance about this product, let's see what real users say about this product.

For a 66-year-old, she found this very easy to use. Her cat loves it as well. Her 14-pound cat has a lot of room to move in while she does her business. She even gave a little tutorial on how to use it.
He likes the design of the litter box aside from the door. He gave it 4 stars because some clumps get stuck on the sifting mechanism when he uses it.
She was surprised by the sifter mechanism. She didn't know she needed it until she got it. Her cat immediately took a liking to it. It keeps her dogs from eating the "cat treats" as she describes it.
Alternative Litter Boxes To Consider
Petmate Booda Dome Clean Step Cat Litter Box
Made by a company that's been making pet products for 50 years, the Petmate Booda Dome is a cat litter box the keeps the odor contained with an odor filter so you can place it in any part of your house and not be worried about the smell. The dome encloses your cat inside and gives it privacy as it he does his business. It also keeps the mess inside the dome and not your floors.
Nature's Miracle Oval Hooded Litter Box
This Nature's Miracle enclosed cat litter box provides an odor-free litter area with its charcoal air filters for up to 3 months. It is also an enclosed cat litter box to keep the litter off your floors and contains them inside. It comes with a flip-top for easy cleanup, a non-stick surface to easily remove cat litter and odor build-up.
AmazonBasics Hooded Cat Litter Box
AmazonBasics large cat litter box with a snap-on hood to give your cat privacy and keep the litter contained inside. It is made of stain and odor resistant material to keep the bad smell from lingering. It has a plastic swinging door for your cat's easy access. It comes with replaceable carbon filters to keep the odor inside the box rather than in your house.
It all may sound the same but you'll see that they are not when you go in deeper research about this product? Which one is the best? It is up to you to figure out what is the perfect car litter box for your cat.
Final Thoughts Of The Van Ness Litter Box
With all the features that this cat litter box has, it's bound to help you with the odor problems and messy litter on your floor. The odor filters help contain the smell of a dirty litter inside and the enclosure helps you with a no-fuss cleanup. The best part about this product is the sifter that helps you with a faster, more efficient way of cleaning up your cat's dirty litter.
To see similar products to this, check out our round-up of the best cat litter boxes for odor control.
Check out current pricing and availability on Amazon here >>