I know as a dog owner, leaving your pet behind when you leave the house can cause anxiety and have you wondering if everything is going to be okay. Unless you stay home, there is no way you can check in on your dog anytime you want. You'll see in this Furbo Dog Camera Review article, how this product solves this concern by allowing you to see your dog, but also have a bit of interaction as well.
It's unfortunate you can not take your dog everywhere with you, and we know you want to, but this system allows you to communicate with your dog, all while alleviating both of you of concern that you won't get to see your best friend ever again.
Things to Consider Before Buying a Pet Camera
Most pet cameras are stationary, so even if you decide to check in on your pet, they might not be in frame. Some might offer a pan or a zoom, but they still can only be in one place, so you may want to invest in more than one for added safety.
Pet cameras can be accessed through your phone, so you should never check on your pet during scheduled work hours or while driving as they can cause issues with those around you.
A pet camera is ideal for someone who spends the majority of their day away from home but is back every night. This is not a product for those who travel constantly or work a job where they will be away from the house for days on end. Since pets need constant care, it is recommended that you hire a pet sitter or bring them to your favorite doggie hotel or doggie get-a-away vacation destination.
Furbo Dog Camera Review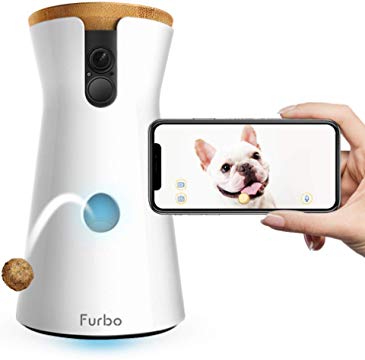 The Furbo Dog Camera is a pet camera that can be accessed directly with your phone and also acts as a limited communicator between you and your dog. It allows you to peek in on your dog while also tossing its treats through the app-powered machine and offers two-way communication with your dog.
What's Good
HD Camera with 1080p, night vision, live streaming video and has a 160-degree view.
Two-way communication between you and your dog.
A mechanism for tossing treats to your dog through the app.
Easy setup and installation.
Real-time alerts.
A daily doggie video diary, which makes a 60-second video of your dog's day.
What's Bad
You need a stable internet connection and WiFi for the Furbo Dog Camera.
Batteries are not included.
Need a subscription for certain features of the camera.
The camera is stationary so it does not pivot.
In-Depth Features of the Furbo Dog Camera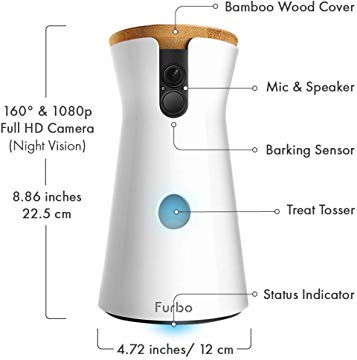 HD Camera
Furbo's main feature is its camera which is high definition with 1080p for the highest quality video available. It can be accessed through your phone and provides constant live streaming video so you can check in on your dog in real-time. It also has night vision capabilities so you can see your dog anytime day or night and with the 160-degree view you have a larger field of view for those mobile and rambunctious breeds. It can even zoom up to 4x so you can get the best and closest look at your dog.
Two Way Communication
Furbo provides voice capability so you can talk with your dog as if you were right there. The camera itself also has a microphone so your dog can bark back anytime you miss their voice.
The barking microphone also has an added benefit as the dog can bark at it, and the Furbo will send an alert to your phone so you can check up and make sure your pet is safe and healthy.
The sensitivity of the barking alert can be adjusted, and this feature has saved many dog's lives from things like gas leaks, fires, and robbers.
Treat Tossing
It's not enough for you to be able to talk to your dog, you want them to know they are a good dog. The Furbo Camera features a mechanism for treat tossing. Not only can this be a way of having fun with your dog but it can be used as a training regiment too.
You can train them to answer you and be on alert whenever you access the camera. Filling up the Furbo with your dog's favorite treat is easy as well, and the Furbo can fit up to 100 pieces of treats.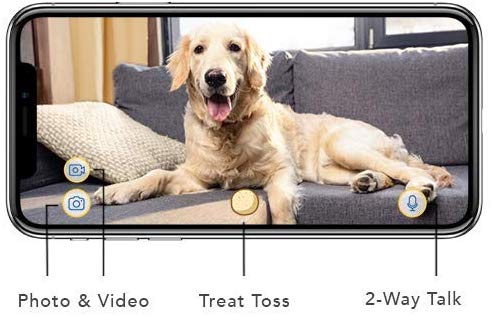 Easy Setup
Installing your Furbo is easy and only requires a quick three-step process. Just plug your Furbo in with a USB cord, then download the app to your phone and connect the Furbo to your WiFi.
Real-Time Smart Alerts
While there are cameras that will send you alerts for everything, Furbo only sends you alerts involving your dog. The smart alert system notifies you of different things involving your dog. The Dog Activity Alert detects certain movements from your dog like jumping around, running on furniture or chewing on things like cords.
This can help determine if your dog is in danger or if your dog is sad with separation anxiety. The Person Alert lets you know if any person enters the camera view. This allows you to check if anyone is in your home that shouldn't be. The Dog Selfie Alert takes a picture of your dog when it is facing the camera.
Cloud Recording
You can set your camera to record when certain triggers go off and it will be stored onto a cloud server for easy access. This is useful if you need to pull up any footage that may correspond with a certain event or if an accident happens. The Cloud feature comes with a 90-day free trial and is not required to use the other features.
Doggie Diary
This feature allows you to see a recorded diary that consists of the highlights of the entire day of your dog and their adventures in 60-second videos. There is nothing cuter than seeing the entirety of your dog's day in a quick clip. These clips can be shared on social media and saved.
Alexa Compatible
The Furbo is also compatible with Amazon Alexa. Through it, you can tell it to give your dog a treat on a schedule or have it perform certain actions whenever needed.
Night Vision
The Furbo Video Dog Camera also has the capability of watching and interacting with your dog at night with its built-in night vision capabilities.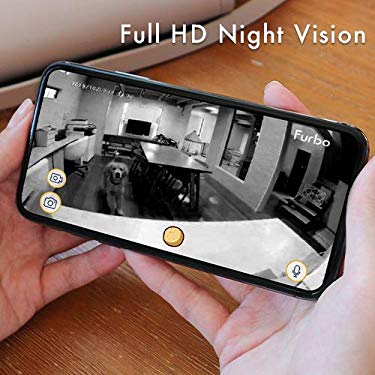 Added Features
According to the Furbo Dog Camera, they are always working on new innovations and features to make your camera smarter. Possible future features include fire alerts and carbon monoxide alerts.
Special Concerns
One major concern is the type of pet you have. Even though it says dog camera, the Furbo can be used for cats as well. Some dog breeds may not be attuned to modern technology and a camera may not help them stave off separation anxiety.
Some dog breeds are also more excitable than others and may go crazy when they see you in the camera which can cause accidents to the camera or surrounding furniture which is what we found while researching content for our Furbo dog camera review. Cats, on the other hand, are finicky creatures. If they get onto a schedule where they expect a treat to come out of the launcher, and they do not get it, they can become irritated and may scratch up the camera trying to get the treat, which can lead to expensive repairs and replacement.
User Reviews
Those who have bought the Furbo Dog Camera have almost nothing but praise for it. They cite the camera and the treat launcher as the highlights of the product. They love how easy it is to interact with their dog, but some have said that their dog becomes lazy and just lets the treat come to them.
A lot of complaints are leveraged at the app used to access the camera. The biggest is the use of the subscription service which is required to access some of the main features. There is also concern over how the app may freeze and close itself out sometimes during use and dog play.
The Furbo Dog Camera has been featured on Buzzfeed, People, Today, Wired Forbes and Gizmodo all touting how great the camera is. It was even featured on the Ellen Degeneres show with Ellen calling it the #1 gift that every pet lover should have and saying it was cool.
Alternative Dog Cameras
If the Furbo Dog Camera isn't exactly what you are looking for, here are a few similar alternative products. Check out our treat dispensing video dog camera round-up reviews for a full list of alternative dog treat dispensers.
SKYMEE Dog Camera Treat Dispenser
The SKYMEE is very similar to the Furbo. It has a 1080p camera, two-way communication, and a treat dispenser, but the camera has a few extra features. You can take and share pictures of your dog, as well as allow up to 8 people to watch the live video at a time. It also features 24/7 tech support. The user reviews, while similar, are slightly less than the Furbo and it only operates on 2.4G Wifi.
WOPET Smart Pet Camera
Another similar product, the WOPET features everything else that both products boast, only this one is advertised for both dogs and cats. In addition to the free app, it is also one of the least expensive models on the market, with almost perfect user reviews. Read our complete WOPET Smart Pet Camera Review here.
TOOGE Pet Camera
Unlike the other products, the TOOGE is just a straight-up camera. While it does have two-way communication, it does not have the treat launcher, but it can do more things with its camera functions. The camera is set up on a ball so it can pan, tilt or zoom for different camera angles. It has motion detection and can support 24/7 recording. Since it is only a camera, it does have a cheaper price tag and costs no more than a normal webcam.
PetChatz HD and PawCall
PetChatz is unique because, in addition to the camera functions, it also has things to keep your dog busy instead of only using treats. It offers Dog TV entertainment, aromatherapy, and uses noise to help calm your dog. It is also pet safe, which means there are no sharp edges or corners, nor cords to chew on and it can attach to any wall and is made to withstand 100lbs of pressure.
The PetChatz HD has an added option of PawCall. While other camera systems will use barking to tell you that your dog wants to talk, the PawCall is an on-call type of button that allows the dog to press it and get in contact with you. It also has an exercise option that gives your pet little games to play with light and touch puzzles using a treats reward system.
Furbo Dog Camera Review – Final Thoughts
So you can not spend your entire day at home, but you want to be able to make sure that your dog is safe and doesn't miss you too much. You could always hire a sitter or let your dog just sit there alone, or you could get the Furbo Dog Camera.
Thanks to the Furbo you can keep a constant watch on your dog to make sure they aren't getting into too much trouble, and it will help both of you not miss each other during the day. You can also make sure that your dog knows that no matter where they are, they are a good dog thanks to the voice communication and the treat launcher.
So is the Furbo Dog Camera truly right for you? It all depends on your needs. If you are going for a small trip, this can be useful, and it is way cheaper than other alternatives. Despite minor issues, the reviews are positive with almost everyone being happy at how the camera works and how it can toss treats to your pets, even when you are not home.
It can give you an extra piece of mind, not just from robbers, but from other things such as a possible fire or gas leak in your house. Thanks to the Furbo, dogs have been saved due to the detection of these incidents. And in the end, if none of this is enough to convince you, Ellen did give it her seal of approval and she knows her stuff. We hope you got a lot of value from our Furbo dog camera review!