I always leave my dog to the neighbor or my mom whenever I have to go out of town back in the day. But I eventually realized that it was taking a toll on him. I noticed that his attitude changed. He was lethargic at times, or my dog sitter would tell me that he has been destructive, trying to rip out the sofa or eat the paper towels. It was then I decided that I should take him with me while traveling. Well, that decision was not that difficult to make when I came across the Henkelion dog carrier.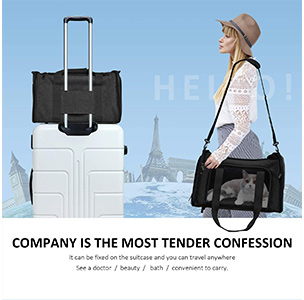 Making Sense Out of Buying a Carrier for your Pet
Many dog owners find it difficult to part ways with their furry friend even just for a couple of hours. Dogs feel the same way. Separation anxiety is a real thing in dogs, which in turn could cause severe emotional and health repercussions.
You may be interested in buying a pet carrier if you regularly travel and you hate the idea of leaving your dog behind. Aside from keeping the animal safe while traveling in a car, boat, or plane, the carrier allows you to bring the essential canine supplies without any burden.
Since there is a wide range of carriers available, you at least must know what to look for; it is not merely about comfort. Be sure to consider the following:
Pet Carrier Size
Size is arguably an essential factor to weigh when you are buying a pet carrier for the first time. You must take your dog's height and length into account to find a comfortable size. The ideal carrier is something that your pet can stand and flex its legs without difficulty. The last thing you want is for your dog to feel cramped and uncomfortable during extended trips.
Versatility Of The Pet Carrier
You may want a pet carrier that is versatile enough to carry not just the dog but also its essentials, including food, bedding, and water. But avoid those bulky ones because they are way too inconvenient to handle when you are traveling.
Pet Carrier Quality
The carrier's material construction and quality matter, especially if you plan on taking your dog on extended trips. You may be apprehensive in choosing an expensive product, but if it offers added durability and sturdiness, then go for it. Nevertheless, it does not mean you cannot find a reasonably priced product with premium quality. It takes some effort to perform extensive research, though.
Safety Of A Pet Carrier For Dogs
The carrier's support structure plays a crucial role in providing safety for your pet. You want something that has a stable interior and durable fasteners. The safety factor means you should buy a pet carrier that does not let go of your pet.
Although it could be pricier, it is worth considering getting a pet carrier with an airline-approved design. You may not need it if you are not planning to fly with your pet, but you should get one if you are. Airplane policies differ from one company to another, so it is best to figure out in advance what the airliner requires.
Henkelion Collapsible Pet Carrier for Small and Medium Pets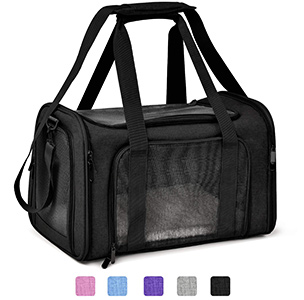 There is a good chance that the Henkelion Pet Carrier is the best travel solution for your small or medium-sized pet dog. The manufacturer claims that the product is suitable for both cats and dogs. You will like it if you are not a fan of bulky things. But the most apparent limitation is that it is not for large dog breeds.
Quick Glance
What's Good
Comes with a handful of openings and zippers
Made from high-quality material
The dog or cat seems comfortable
Lightweight and small
What's Bad
Falls apart when used for large dogs
Not ideal for pets weighing over 20 lbs.
The slightly open mesh can motivate the dog to escape
Product Benefits and Highlights
Airline-Approved Design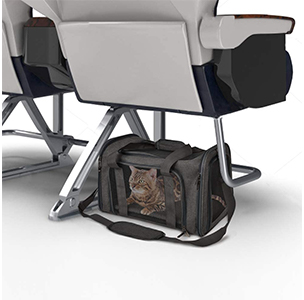 The purpose of a pet carrier is to allow the owner to bring his or her cat or dog everywhere. While some models are limited based on where you can take your pet, Henkelion went the extra mile to come up with an airline-approved design. The design is highlighted by two connecting loop handles and dual seat belt/luggage strap for secured transport. So, if you are about to take a flight and you cannot stand the idea of leaving your furry buddy behind, then you most likely will appreciate the value of this pet carrier.
Extra Safe
I am pleased with the addition of an adjustable shoulder strap because it keeps my hands free from carrying. But more importantly, keeping my hands-free means that it is safer to carry my pet around while traveling since I do not restrict my movement.
Waterproof
One of the convenient features of this pet carrier is its waterproof polyester fabric. While it may appear cheap, the truth is that it is a durable and lightweight material that allows for a comfortable extended trip. The ingenious design allows you to check on your pet conveniently.
Washable Material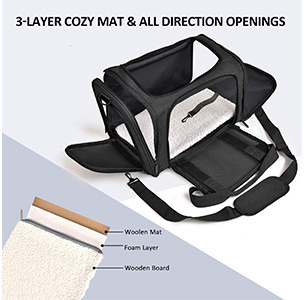 Aside from the durable and waterproof attributes, you will love the Henkelion Collapsible Pet Carrier for your small dog because you can easily wash it. I came across a handful of complaints online about pet carriers that get filthy and stinky. The problem is that the material deteriorated once the owners tried to wash them. With this product, you can remove the pet bed and have it machine-washed for added convenience.
Breathable Mesh Entrance
This pet carrier comes with a four-side entrance on the sides, front, and top that allow for air to enter and give your dog room to breathe. Your dog will love it if he is claustrophobic. The breathable mesh entrance also means you can easily monitor and watch your dog inside without removing any cover or door.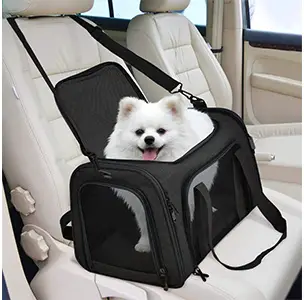 What Other People Say About This Dog Pet Carrier
I found a handful of user reviews on the Henkelion Dog Carrier online, which proves that the product is popular among pet owners. Here is the list of the most noteworthy customer feedback:
Sharon G found the best product in terms of size and a reasonable price:

ESC appreciates that he can see his puppy from the mesh screen, giving him the peace of mind when traveling:

TickTockAlice does not like that the carrier tends to collapse when one side is left open, but that is the only negative thing she sees from the product.

How About the Other Options?
If for some reason you are not sold on the Henkelion Dog Carrier or maybe you need something to compare it to, then here is a list of its closest rivals:
EliteField Soft-Sided Pet Carrier
This product shares three qualities to that of Henkelion's dog carrier – lightweight, durable, and waterproof. It is fair to say that all pet carriers must have those attributes. What is unique about the EliteField Soft-Sided Pet Carrier is its removable fleece bed cover reinforced with an insertable hard support board. The board prevents the collapse of the carrier when. If you need more information about the EliteField pet carrier, go to this link.
Mr. Peanut's Soft Sided Pet Carrier
As the name suggests, this pet carrier comes with a soft-sided design for maximum comfort. The ventilated top design means that it will pass airline standards when taking pets on a flight. Like the Henkelion Dog Carrier, it can carry a pet weighing up to 15lbs. Learn more about Mr. Peanut's dog carrier here.
AmazonBasics Soft-Sided Pet Travel Carrier
The glaring advantage of this pet travel carrier over the others is that it can carry a pet weighing up to 22lbs. The Henkelion dog carrier can only accommodate up to 15lbs. However, the rugged design may not sit well with some pet owners. Nonetheless, it is machine washable and has soft sides. You can check out this product here.
Our Final Thoughts
A pet carrier solves your predicament of leaving your dog behind when you need to travel. You can say goodbye to separation anxiety and the worry of sending your beloved pet to the care of another person. The Henkelion Dog Carrier gives you a practical solution. It even allows you to bring your dog for air travel. I bought this product and have been quite satisfied with it.
Check out current pricing and availability on Amazon here >>