Cats are one of the best companions in one's home. We love them, but sometimes the smell just gets to you. You find them urinating somewhere other than your designated litter box or their litter box just really smells. Soon enough your house will just end up smelling like cats. There are a lot of things that you can do to prevent this. You may find a litter box that suits your needs, or cat litter that deodorizes your cat's litter. Whatever the solution to your problem is, there is always one thing that keeps a house from smelling like a cat, and that's cleaning.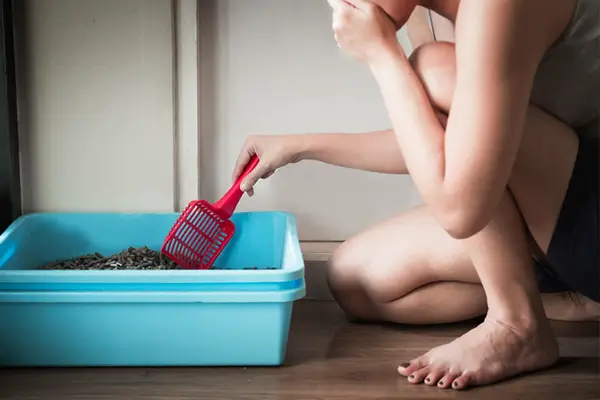 Types Of Cat Litter Boxes
Numerous cat litter box companies claim that they are the best in providing the best cat products, for odor, cleanliness, and design. What really is the best though? Here are are the types of cat litter boxes that you can find in the market today that help concealing cat litter odor.
Open Cat Litter Boxes
Open cat litter boxes do not do much to contain the odor from spreading around your house. Since it is open, all the smell coming from your dirty cat litter box will soon disseminate throughout the house. However, if paired with the right kitty litter, things may end up working out.
Enclosed Cat Litter Boxes
These types of boxes are the best to contain odor within the litter box area. An enclosed litter box usually has odor filters to keep the smell from coming out of the box. They also help with odor control because they are enclosed. However, this doesn't mean that you don't have to clean your kitty litter and litter box regularly.
Sifting Cat Litter Boxes
These litter boxes have their own cleaning mechanism. They have a sift that you use to ruffle through the litter and only retrieve the cat eliminations and clumps. These are best for those who do not like scooping up the cat litter.
Whatever type you use, you know what is best for you and your cat. I personally believe that enclosed cat litter boxes have a better chance of controlling the dirty kitty litter odor from circulating around the house. Check out this video for some litter box cleaning hacks:
Types of Kitty Litter
Nowadays, there are different types of kitty litter to help with controlling the smell. You can find most of these online or at your local grocery stores.
Clay Cat Litter
This cat litter is made from pulverized very fine clay. It absorbs urine and gives your cat something to bury their fecal matter with. Usually, a slotted spoon works best to sift through the litter to clean it out periodically and avoid build-up that causes the smell.
Clumping Cat Litter
Clumping cat litter is made from a clay base that clumps together when wet. It makes it easy for owners to clean up the mess inside the litter. It also absorbs moisture from feces and deodorizes the cat litter box. You can also choose the clumping strength of this cat litter.
Deodorant Cat Litter
Deodorant litters advertise that they have created a formula for cat litter that absorbs the odor from urine and feces. Most say that there is baking soda that neutralizes the smell and some have enzymes to try to mask the smell of a dirty cat litter.
Crystal Cat Litter
This litter is silicone-based that absorbs urine, the moisture from feces and odor that it comes with. These are typically more expensive but more absorbent. They come in varying mixes, with deodorant litter or clumping litter. When they have exceeded absorption, cat urine tends to pool. It means it time to change the litter.
Although, whichever cat litter you may use, it does not give up the fact that regular cleaning is necessary to keep a fresh smelling cat household.
Best Practices For Keeping A Fresh Smelling House With Cats
There are numerous ways to keep a fresh smelling house when living with cats. Most of them involve cleaning. Here are some things you can do to help reduce the odor coming from your cat litter boxes.
Baking Soda
Sprinkling a little baking soda on your cat litter after scooping is a good habit to have. Baking soda helps assists in neutralizing the smell of your kitty litter or litter box just like when you use it for carpets and refrigerators.
Scooping
Scooping at least twice a day can really help prevent the spread of the smell of dirty kitty litter. Doing this more often will help eliminate the growth of odor-causing bacteria that might build up in your cat litter box.
Washing The Litter Box Scooper
Washing the scooper is very important. You might not think it's necessary but it helps remove residue that can cause unwanted odor. Washing it every after use is the most ideal to keep a good smelling house.
Washing Your Cat's Litter Box
Washing the litter box regularly should not be even mentioned but it seems to be called for. It's very tedious but one of the most important. This is being part of being a responsible cat owner.
Wrapping Up
Most of the things I mentioned about cleaning are normal things that should be done as a cat owner. We all know that our cats cannot clean up after themselves, although how we all wish they would. Cleaning your cat litter boxes regularly is the best way to keep a clean smelling home. We all have to be responsible and do our part to keep our cats and ourselves happy. Cleaning practices are best paired with the right litter and cat litter boxes. Click here to see the best cat litter boxes for odor control.