Dog training is an amazing thing. You can train your dog to do anything you want them to do. They can be trained for obedience, agility, or perform tricks. All this is done with the use of positive reinforcement. Positive reinforcement is done by rewarding your dog with some treats. But how do you carry dog treats?? That's where dog treat bags come in.
If you do not know what dog treat pouches are, here is a video explaining what they are used for and why you need them
Why The Need For Dog Treat Pouches?
You might ask what you need a treat pouch for. Well, to answer that question, it's so you don't get your pant pockets dirty and to have your hands free during training or conditioning.
Most beginner trainers would just put their treats in their hands and while that seems like a good way to start, it could be troublesome in the long run. When you have your treats in your hands, your dog can lose their attention during training and only focus on getting the treats in your hands. In this case, you will be trying to fight for your dog's attention more often than not.
If you do use a Ziploc bag to hold the treats, you will be losing a hand in the process. With the treats clear as day for your dog, they may jump on it and you will attempt to get it out of their face. This will not end up being productive. Believe me, I've gone through it.
So, having a treat pouch on your waist or attached to your belt, can give you more freedom during training, and your dog will not be distracted and focus on what you are trying to teach them.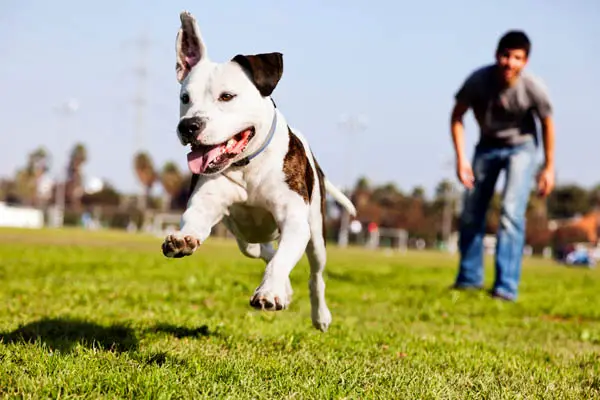 How To Choose A Dog Treat Pouch
Durability
First of all, you want a dog treat pouch that will last you for a long time. You want to choose a treat pouch that is made with high-quality material. There are many varieties of pouches that are all made with different materials. You can have an oxford cloth pouch, silicone pouch, and some are polyester. Match the durability of the pouch to how often you train your furry friend.
Size And Comfort
There are many different sizes of dog treat pouches that are available for you. Some are bigger than others. You have to choose based on what you need for training. Some can carry up to 3 cups of treats while some can only carry 1 cup.
If you think that having 3 cups of dog treats is too much then maybe a smaller one would best for you. You have to also be comfortable while you are wearing the pouch. So if you have a heavier pouch, it might restrict some movement that you may need for training.
Dog Treat Pouch Compartments
One of the best things about having dog treat pouches is that sometimes, that's all you need. Most dog treat pouches today come equipped with extra compartments to use for other accessories like leashes, collapsible water bowls, and your personal things such as your phone, keys, and some money.
However, if you fill it up with other things, you might end up making the pouch too heavy for you to carry on your belt or waist.
The Best Dog Treat Pouch
Calling something the best is subjective. What's best for me might not be the best for you. Always pick what's best for you and your dog.