Other than the fact that dog poop cleaning is a messy part of dog parent, there's one more reason why I don't like it – bending over. Bending over to clean up dog poop strains the back, which can be the reason for developing a bad posture. Other than that, you're coming in close contact with dog poop too, and there's a high chance that you'll inhale the nasty smell also.
But, good news, there's one piece of equipment that you can use to prevent you from bending over and will get rid of all these problems – Pooper Scoopers.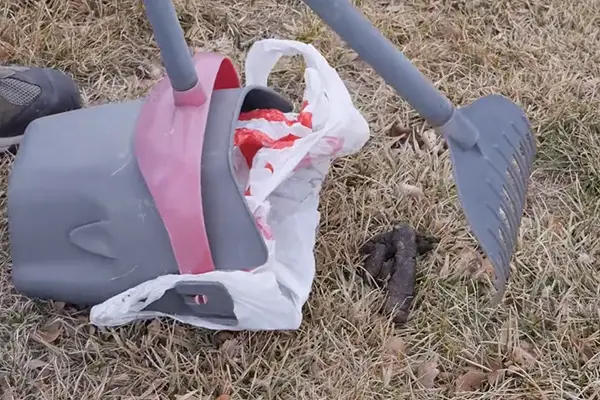 What are pooper scoopers?
Using pooper scoopers is the best way to pick up dog poop without having to bend over. These devices are designed to pick up dog poop easily and hands-free. They mostly come with long handles to give you that extended reach so you can clean up after your dog without straining your back.
Two types of pooper scoopers
There are two types of pooper scoopers that you can choose from on the market: claw-type pooper scoopers and bin-and-rake type pooper scoopers.
Both generally function the same in giving convenience when it comes to easy waste removal. The only difference is that the former only requires the use of one hand while the latter will need two.
Claw Styled Pooper-scoopers
Claw-type pooper-scoopers only require the use of one hand. They feature an easy-pull handle that you can grip to spring open the jaw for dog poop pick-up. Most designs are ergonomic, which is perfect for those having arthritis or any other conditions that limit hands mobility.
The most significant advantage of this type of pooper scooper is its convenience. Since you'll only need to use one hand, it offers better portability. This is great for those seniors and those walking their dogs daily.
Bin-and-Rake Styled Pooper-scoopers
Bin-and-rake type pooper-scoopers, on the other hand, come in pair featuring a bin and a rake. It's as if you're using a broom to clean up dust; however, instead of dust, you're sweeping up dog poop.
The most significant advantage of this type of pooper-scooper is that the bin is usually bigger. This means you can fit multiple large feces inside. It is perfect if you have a large dog. It is also best to use for your backyard where you might only need to clean-up at least once in a day.
How to choose the right pooper scooper?
Now, if there's one thing I know, it's not easy to choose the right pooper scooper. You can't pick up the first pooper scooper in the market and buy it. Of course, you would also need to find the right fit for you. Here are a few factors that you would need to consider:
Size
The first thing you need to think about is the size of the scoop or the bin. If you have large dogs, then it's already given that they have large poop as well. So, you would need a pooper scooper that comes with a large scoop or a large bin.
Another benefit of having a large pooper scooper is that it will allow you to pick up multiple wastes in one go. This is necessary if you're cleaning up your yard.
Weight
Remember, if you want to get the most benefit from the pooper scooper, you would want it to be as lightweight as possible. This will provide easy portability, especially if you'll be carrying it with for an early morning dog walk.
It's not wise to choose a heavy pooper scooper just because you think it's more durable. There are heavy-duty plastic pooper-scoopers out there that are lightweight at the same time.
Yes, you will gain the benefit of not straining your back; however, you'll be straining your arms if you get something heavy.
Length
The number one purpose of the pooper-scooper is to stop you from bending over and getting in close contact with the poop. This is the purpose of the extended reach. However, you should also check if the length of the handle fits your height well.
Not all pooper-scoopers are designed the same, so it's best to try the device first or check the specifications to find out if it's not too long or too short.
If you don't want to worry about this too much, then you can purchase a pooper scooper that comes with an adjustable handle. This is an excellent option for those with multiple family members walking the dog every day.
Quality
Another important thing that you should look at is the quality of the pooper scooper.
Naturally, you would want a pooper scooper that is durable so it will last for years. This way, you are getting the most benefits and value for your money. You can opt for pooper-scoopers made of heavy-duty plastic as they are durable and lightweight.
There are also stainless steel ones, but I don't recommend this as they can be on the heavier side. Plus, there's a high chance it will rust when it gets wet of water.
Another feature that you will want to have is the non-stick material. This is so the dog poop will easily wash out when you clean the scooper. It won't also take much of your time, plus it will look good as new for your next day's use.
Pooper-scooper Type
I've already described the two types of pooper scoopers. Now, it's up to you which one you would prefer.
Each type has its advantages and disadvantages. Let's take the claw-type pooper scoopers, for example. They offer more convenience and better portability. However, bin-and-rake type pooper-scoopers have larger bins, plus they usually feature an adjustable handle.
Conclusion
Cleaning up dog poop doesn't have to be a hated responsibility. It's part of the package we got when we took home our best friend. All you need is the right device to make your life as a dog parent more comfortable.
Pooper-scoopers are a great investment. With the right pooper-scooper in your hands, you'll have a smooth dog poop cleaning process. You can finally say goodbye to the mess, the headache, and the aching back.
So, don't be afraid to invest in a useful device that will offer you great benefits. If you need some help to decide on the right pooper scooper, you can check out our list of the best pooper scoopers available on the market today.