Before buying the best dog travel crates for your pooch, it is critically important that you understand how to measure dog for travel crate correctly to ensure that you buy the correct size crate. This is important for multiple reasons. First, properly sizing your dog for the crate will ensure that they travel comfortably and safely. Second, if your dog is not sized correctly to the crate you purchase, airlines may refuse to accept your dog.
There are four measurements you need to take in order to determine the proper sizing for your dog these measurements are detailed below, please reference the diagram.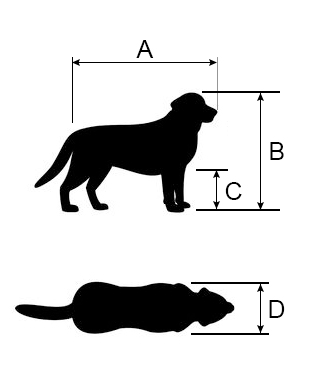 Step one: Measure the length of your dog from the tip of their nose to the base of their tail. This is dimension A.
Step two: Measure the total height of your dog. While your dog is standing measure from the floor to the top of their head. If your dog does not have floppy ears, measure from the floor to the top of their ear tip. This is dimension B.
Step three: While your dog is standing, measure from the floor to their elbow joint. This is dimension C.
Step four: Measure your dog's girth. This is the width across their shoulders. This is dimension D.
Step five: Add an additional 1-1/2″ to all of the measurements taken.
Step six: Calculate the kennel minimum length, width, and height by using the formulas below.
Crate Length = A + 1/2 C
Crate Height = B + 3″
Crate Width = D
Please note that the travel crate length, height, and width dimensions calculated by using the above formulas are minimum dimensions. Individual airlines may require larger travel crates. It is advisable to check with your airline to determine what their minimum dimensions are prior to purchasing a travel crate for your dog.
Additional Information About Airline Travel With Dogs
If you intend to use your dog travel crate for airline traveling, be sure to double-check the restrictions listed below prior to purchasing your new crate. Individual airlines may prevent dog travel with one or more of the following restrictions, and this varies from airline to airline.
Breed Restrictions
Each airline may have its own list of restrictions by breed. While your dog may be the most friendly, well-behaved darling, an airline may still restrict its travel.
For instance, pit bulls may be restricted due to historical cases of problems of escaping crates during travel. You can inquire with the airline about specialty crates if your dog is on the restricted breed list.
Many airlines will not accept snub nose breeds such as an American Bully, Staffordshire Bull Terrier, and Pitbull. If your dog is one of these breeds, please double-check the airline prior to making travel plans.
Another consideration is international travel. Some countries will restrict breeds.
Age Restrictions
Many airlines will not allow puppies younger than 10 weeks to travel. For the safety of your pet, it is best to wait until they are older to minimize psychological trauma. If your dog is exposed to fear-induced travel at a young age, it can impact their behavior for the rest of their lifespan.
Additionally, travel with young puppies is problematic if they have not been fully vaccinated (distemper, hepatitis, leptospirosis, parvo, and parainfluenza) and given their rabies shots.
Size Restrictions
Some airlines will not accept oversized dog travel crates. If you are traveling with a larger dog, double-check with your airline for the maximum travel sizes they accept.