Sometimes, even the tidiest cats can be messy. My cat is proof of that. Every time my cat goes to the toilet, he can't help but obsessively cover his waste. The result? He gets cat litter all over my floor.
This happens to me every day. In one day, I have to clean up the surrounding area of the litter box at least twice. Frustrated, I went on to research a great litter box to solve my existing problem. That's when I found the iPrimio Ultimate Stainless Steel Cat Litter.
Things to consider before buying a cat litter box
Litter boxes are always on the top of the list when we talk about cat necessities. They come in different varieties, so it's essential to remember one thing – cats are very picky living creatures. They are very particular about their toilet area, and they'll immediately look for a different place to do their business if they don't like it.
There are several reasons why your feline friends may not like their litter box:
It's not clean enough
He doesn't like the box
He doesn't like the litter
The location of the litter box is not to his liking
Medical problems
That's why I recommend visiting a vet first before buying a different litter box. If the vet rules out any medical issues, then you can work on trying to find out what can be the problem. You can try changing your cat's litter box location too. If this doesn't work, then you can blame the litter box as the culprit. This is my case – my cat just loves creating a mess.
So, to help you decide which litter box would alleviate your messy cat problems, here are some factors that you need to consider.
Dedicated Space
The very first thing you need to consider is how much space you can dedicate to the litter box. If you have limited space, then it's not wise to buy a huge litter box with a wide footprint. Litter boxes come in various sizes, so make sure to check out the box's dimensions too.
The Size of Your Cat
The size of your cat will influence your decision on choosing the right litter box size and the ease of access. If you have a small kitten, you would want a box that he can easily climb into. I recommend buying a small box first as he is potty trained, and change it as he grows.
The same goes if you have a large cat. Buying a small litter box for an adult cat might make your cat feel cramped up inside that he would not want to use it anymore. Thus, he will look for a different place to do his business. So, keep your cat's comfort in mind always.
Enclosed vs. Uncovered Litter Boxes
There are two types of litter boxes: covered and uncovered.
Open litter boxes are perfect for kittens who are still training how to use a litter box. These boxes will allow you to see the kittens if they're using the box properly. This way, if certain behaviors need fixing, it will be corrected immediately.
It also works well for cats who are uncomfortable in an enclosed space. At the same time, it's easier for you to know if the litter needs to be changed already as you see it more easily.
Covered litter boxes are best in giving your cats their needed privacy. It also helps in keeping the odor stay inside the box. Just make sure that your cat still has enough room to move around inside their litter box so they can do their business comfortably. Also, make sure to check the litter box too if it needs some cleaning. Some cats refuse to use their litter box because it smells too bad already.
Quality
The quality refers to the material used for the box. This factor influences the litter box's durability and its ease of cleaning.
Generally, what you would want to have is a litter box that is not made of cheap plastic material as this would easily crack. You don't want to deal with any leakage. Also, aim for litter boxes that have smooth edges and non-stick surfaces to make cleaning easier on your part.
Our Review Of The iPrimio Ultimate Stainless Steel Cat Litter Box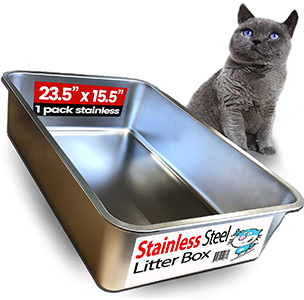 The iPrimio Ultimate Stainless Steel Cat Litter is generally one of the best and highly suggested litter boxes on the market. One thing that made me notice this product is the stainless steel material used. Most litter boxes nowadays are made of plastic, and this usually brings about some problems with solids sticking on surfaces. Stainless steels, however, can solve this problem, plus it is said to last for years.
To have a clearer understanding of this product, let's take a look at its benefits and downsides to aid your buying decision.
Quick Glance
What's Good
Stainless steel material makes it durable
Non-stick coated for easy cleaning
No buildup of bacteria
Odor doesn't stick
6-inch deep walls helps contain litter mess
What's Bad
Scooping with the metal scoop may scratch the coating
Litter box may not be suitable for high-spraying cats
Size and Appearance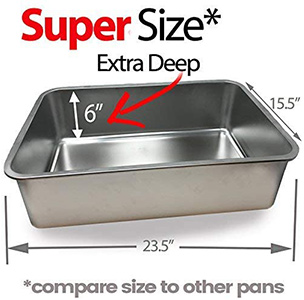 If you're looking for a simple litter box that does the job, then the iPrimio Ultimate Stainless Steel Cat Litter gives you precisely that. It's a simple rectangular, stainless steel box with high sides. One user even said that Its general appearance is almost the same as stainless steel pans used for catering (funny, right?).
It is 23.5 inches in length and 15.5 inches in width. Surely iPrimio is not exaggerating when they said XL. With this size, your cat will surely be comfortable in using his toilet. The 6-inch depth is also just right. It is not too tall, which will still allow for easy access, and it's not too low either that will let litter scatter if you have a spraying cat.
Unfortunately, this litter box is generally designed for adult cats and will not work great for little kittens. Also, since this is an open litter box, you may expect to have to need to change and scoop out litter more often. This is to ensure that bad odor won't spread around the house.
Quality and Durability
One thing that gives this litter box the edge from its competitors on the market is its stainless steel material. Compared to plastic alternatives, stainless steel litter boxes have several benefits.
They don't rust and can last for years.
Odor build-up is at minimum or zero.
They are easier to clean.
All these are offered by iPrimio Ultimate Stainless Steel Cat Litter Box and at an affordable price. Considering the number of years it will serve your cat, it's one of the best buys on the market.
Easy to Clean
Litter boxes made of stainless steel material is generally one of the easiest to clean, especially this iPrimio Ultimate Stainless Steel Cat Litter Box.
The non-stick material used on this litter box is advantageous to ensure that solids and urine don't stick on the surface. This way, it will easily wash out at one time. This litter box doesn't absorb odor, it doesn't stain, and it's rust-resistant. In other words, it doesn't collect any residue that will make cleaning harder on your part.
What do other people say about this litter pan?
Considering its price to quality ratio, the iPrimio Ultimate Stainless Steel Cat Litter Box offers a lot of benefits for you and your cat. No wonder it's one of the best in the market. However, let's also take a look at what other users have to say about this litter box.
This user loves how it fits in their closet: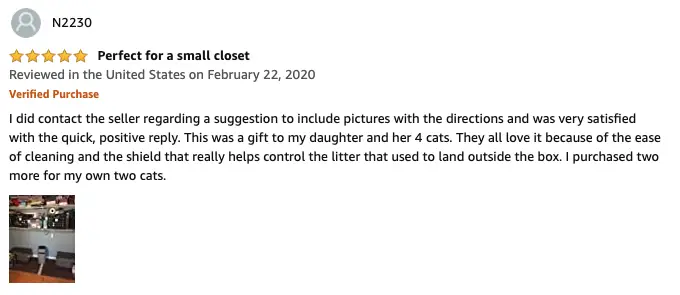 A.H. is a big fan of the stainless steel versus his old plastic litter box: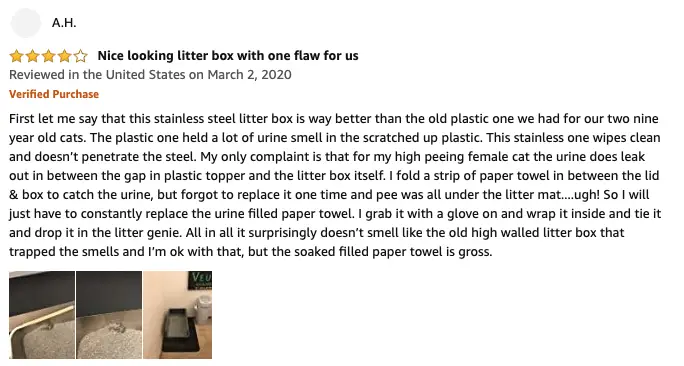 Kimba loves the smooth edges and absolutely recommends this litter box: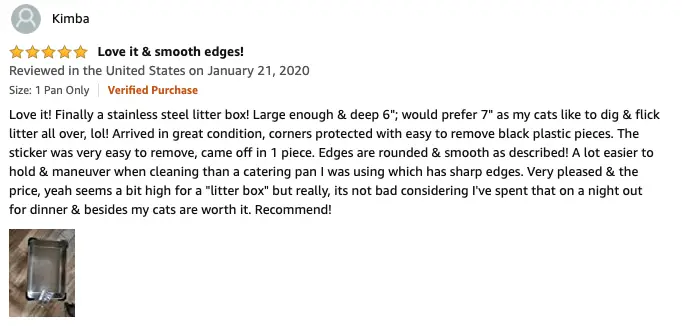 Alternatives to the iPrimio Litter Box
iPrimio Ultimate Stainless Steel Cat Litter Box is undeniably a great litter box. But, in case this will not be an excellent fit for your feline buddy, here are some great alternatives that you can check out:
Purina Tidy Cats Breeze Hooded Cat Litter Box
If you're searching for an enclosed option, then the Purina Tidy Cats Breeze Hooded Cat Litter Box is a great pick. It has a perfect and effective litter system that separates pee from solids. It makes everything odorless, which means lesser problems for the cat owner.
Other than that, it also provides additional convenience in cleaning as it comes with a hinged hood. The ammonia blocker adds to the odor-reducing capabilities of this product.
Petmate Booda Dome Clean Step Cat Litter Box
PetMate has always made excellent products for pets. So, if you're looking for another excellent enclosed litter box alternative, then you might like to check their Booda Dome Clean Step Litter Box.
There are two noticeable features of this product – the dome and the clean step. The dome offers excellent privacy, and the clean step prevents litter mess after your cat uses the litter box. This is because the groves on the clean step remove any litter from your cat's paws. Since it's enclosed, even if your cat sprays, litter mess will be the least of your problems.
Catit Jumbo Hooded Cat Litter Pan
Another great enclosed litter box alternative is the Catit Jumbo Hooded Cat Litter Pan. It is a large-sized litter box that offers you cat excellent privacy while still offering comfort. The enclosed space is also perfect for spraying cats, which means less cleaning work for you.
Another lovable feature of this product is the carbon filter that traps odors that rise from the litter box. This is very helpful in stopping the spread of odor around your house.
Our Wrap Up
iPrimio Ultimate Stainless Steel Cat Litter Box is indeed a perfect example of a simple litter box that does its job well. The extra-large size and generous space is an excellent solution for spraying cat issues or cats with a lousy aim. There would be no need to pick up the broom or vacuum every time your cat finishes using the litter box.
The most significant advantage is the price of this product. Yes, for its features, it might be more expensive than the plastic alternatives, but take note that this will last with you for years. It typically means that you'll be saving more money long term as you won't need to buy a new litter box every few months.
This box is excellent for those that have messy cats but are looking to save for the long-term.
Check out current pricing and availability on Amazon here >>