Have you ever wanted a bag or carrier to take your cat out on a trip that looked stylish enough to take to the park? Maybe you just don't want to leave them alone at home and want to bring them everywhere you go. There are new stylish pet carriers out there today and The LEMONDA Portable Cat Backpack is one of them. Click here to see this product on Amazon.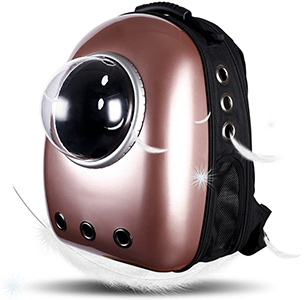 Cat Backpacks In Style
Although looking good and being fashionable is not everything that we look for when trying to find the best cat backpacks. The portable pet travel carrier has to be comfortable for our cat to stay in. It should also be comfortable enough for us to carry around. It should also be safe and secure that we don't lose our pets along the way. I'll tell you a little bit about what we should be looking for in a pet carrier.
Design – Is this carrier something that I can bring anywhere? How will I look carrying it?
Security – What are it's security features? How safe is my cat inside it?
Comfortable – Can my cat last at least half a day inside the carrier with me as I go about my daily tasks?
There are a lot more aspects that come into play when talking about Cat Backpacks. These backpacks are for those who live an active lifestyle or have an active cat that wants to go on adventures. These are also for those who live alone with a cat and just simply cannot leave their cat alone at home. Through the years, people have been creative enough to create backpacks that would help this issue. We now have Bubble Backpacks in the market. These backpacks either have full clear front covers or, like the product we're talking about now, have clear spherical windows in front of the backpack for those pets who get anxious in carriers.
What is the LEMONDA Portable Cat Backpack?
Through the Looking Glass
LEMONDA Portable Cat Backpack is a Pet Carrier made for cats and small dogs and puppies. It is designed as a space capsule to make it fashionable and cute. Equipped with a transparent window to soothe the anxious cats who are too curious and wary of their surroundings. This particular backpack is not typically for functionality but more for the look and the design. So if you are looking for more functional backpacks, this may not be for you. However, if you live in an environment that rains, this waterproof traveler knapsack for a cat is an excellent choice.
Quick Glance
What's Good
Stylish space capsule design in 3 colors
Multiple air holes for great airflow
Built-in lock to prevent your cat from escaping
What's Bad
Not a lot of features that help with traveling
One size fits all and bigger cats will not fit
The durability of the product has been questioned by some users
Inside the LEMONDA Cat Bag
As most backpacks today, we look at the features that it has and how it benefits us. And we don't necessarily look at the same things as everyone else. Some of us look for comfort, some for security, and others the design. We will look at each of these qualities of this space capsule cat bubble backpack, and how it will benefit you and your pet.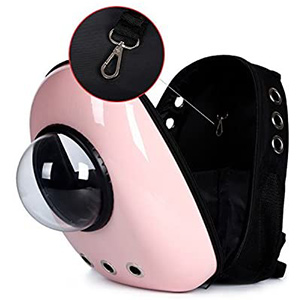 Design
One of the main selling points of the backpack is its design. It is a space capsule backpack. The space capsule design makes it a unique backpack to have. You will look good carrying it around and will definitely catch people's attention. It is made from selected canvas and high-density acrylic. With its dimensions, they say it can fit up to a 14-pound cat. So if you have a bigger cat as I do, this may not be the one you should choose.
Comfortability
It is important that you and your cat are comfortable with the backpack. One feature that this has is that aside from wearing the bag on your back, this is made so you can wear it in front of you so your feline friend can enjoy the view and interact with the world outside his bubble. It is spacious, making it a great cat knapsack for travel. Multiple air vents are also in place for continuous airflow. You've also got mesh side pockets for extra ventilation. There is also a soft handle on top for one-handed carries.
Security
Unless your cat willingly jumps in the bag, getting him inside is one of the hardest things. With this backpack's dual design, getting him inside would be a breeze when the front cover broadly opens for him to fit. On the other hand, a built-in lock to prevent your cat from jumping out once you open the bag is also in place. This gives me extra security when I travel with my cat. As the front cover is made from high-density acrylic, your cat will have a hard time scratching through its front walls.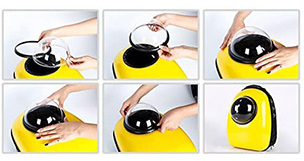 As I have mentioned above, if you are looking for functionality, you will not find much here. There are not a lot of pockets that can be used for essential items needed when traveling. Unlike other backpacks where you can place your personal items and water bottles, this backpack doesn't have that. This backpack is purely designed to carry your cat and to look fashionable.
What Others Say About This Cat Carrier Backpack
If by now, you are still contemplating getting the LEMONDA Portable Cat Backpack, let me share with you some comments that users have said about this product. This may assist you in making a decision when looking for the best cat carrier backpacks.

Ryan's cat is enjoying the walks he's taking. He pops right in the bag whenever it is open. That is one happy customer.

This customer absolutely loves the bag. A stray cat turned domesticated enjoys moving around and looking at the world from his bubble.

He gets stopped every time he takes his cats on a walk. With the cute design and the cuter cat inside, he will definitely get the looks. He proposes a range of sizes which I agree with.
How does it compare?
Seeing as this is not the only Cat Backpack around, let's take a look at what other backpacks are there to choose from. Let's also see how they compare to LEMONDA's backpack.
Blitzwolf Cat Backpack
The Blitzwolf Cat backpack has a similar design and shapes with LEMONDA's backpack. However, instead of a transparent window type bubble backpack, it has a full clear cover. It has a pocket on its side to keep the Dual-use water and grain cups and 2 collapsable bowls that are great for traveling. One more difference is that this backpack comes in two sizes for the bigger cats who also enjoy outside adventures.
PetAmi Premium Cat Carrier Backpack
Breaking away from the Bubble Backpacks, PetAmi's Cat backpack mixes breathable polyester fabric and mesh walls to create maximum airflow in the backpack. Designed for small to medium-sized cats, this product is perfect for all the outdoor cats and owners who love to hike. The interiors of this backpack are lined with sherpa fabric for ultimate comfort. The price is a lot better too if you're worried about that.
Pecute Cat Carrier Backpack
Another carrier not in the bubble backpack category is the Pecute Cat Carrier Backpack. One of the many highlights of this backpack is that it is expandable. A mesh area expands behind the carrier to give your cat more room when you settle in a camping spot, in the office or in the park. It also has many different pockets for personal items and travel essentials. This is perfect for the hikers and the outdoor travelers who would love to bring their cat on their trip. Not as affordable the rest of the backpacks, but I think that it is worth it.
Style or Function?
Taking an active cat out on walks is not the easiest of tasks. Especially if you live alone and cannot leave your cat by himself at home. The backpacks mentioned in this article are all for helping you with these specific issues. Whether it be for a hike, or a trip or just everyday use, if you are just looking for something that is cool to look at that would carry your cat for you, the LEMONDA Portable Cat Backpack is the one for you.
Check out current pricing and availability on Amazon here >>