Do you have an adventurous cat that just loves going around but gets too tired after a few minutes? It's not easy traveling with a pet that is small but loves going around. Pet carriers are now available everywhere, but there's one problem. Which one do you choose? In this article, we'll be taking a look at one of these Pet Carriers and Backpacks. The Lollimeow Pet Carrier Backpack. Click here to check out this backpack on Amazon.
Why should I get a cat backpack?
Pet carriers are perfect for small to medium-sized cats. If you like to travel with your pet and find it hard to keep them on a leash or it's just too difficult to carry them all the way through, these pet carriers can be a big help.
Now, before you go around shopping for a pet carrier backpack, let's take a look at the things you should consider before buying one.
Design – How does it look? Does it have the features that I need?
Security – Is it safe for my cats to be inside the carrier? What safety features does it have?
Comfortability – How comfortable will my cat be inside the carrier? What material is it made of?
These are just some of the factors that come into play when deciding which carrier you should purchase. Finding one that best fits you and your cat's personalities could be an easy task. With so many designs and special features, each backpack has, its not that easy to choose. Ultimately it is up to you which one you should take because you know your cat best. Let's take a look at The Lollimeow Pet Carrier Backpack, a capsule cat carrier,  and see if it is the right fit for you and your cat.
Why Lollimeow Cat Carriers?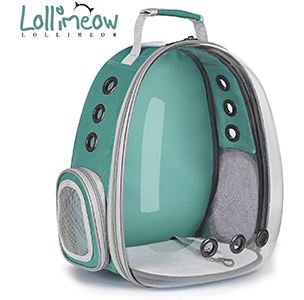 Lollimeow is a company that provides us pet-lovers with the best cat bubble backpacks. Their aim is to provide the best aid for traveling with our pets. They produce pet carrier backpacks designed for maximum comfort and security especially for cats and other small animals that are unable to walk outside for a long period of time.
Quick Glance
What's Good
This large cat backpack carrier has a clear Front for curious cats who like to look around
Double zipper for extra security
Small mesh opening on the side for a quick petting
Built-in leash so your cat doesn't jump when opening the main zipper
What's Bad
Reports that front cover easily scratched
Some customers feel that it is not good for sunny environments and might cause the cat to overheat
Some medium-sized cats are too big for the bag
Let's Take a deeper look at what this clear pet backpack has in store for you and your cats.
Key Features of The Lollimeow Cat Backpack
As I mentioned, there are a few things that we need to consider before buying a bubble window backpack. Let's take a closer look at what Lollimeow has to offer and what ratings I would give them and why.
Design –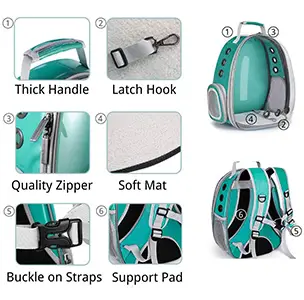 We know how cats love looking around and surveying their surroundings. With this backpack your cat can do exactly that. Designed with a clear front cover for your cat to have a look around and for you to see how your cat is doing inside without the hassle of having to open the bag every time. This carrier also has small mesh openings on the side of the bag to help for quick access to your pet for treats or even just a petting. Lollimeow's Pet Carrier is made with light-weight, durable and easy to clean. It only comes in 3 colors: green, red and yellow. Although I have seen some comments about the bag heating up in the summers or if the bag is under the sun, some of the pets seem to overheat. I'm not quite sure how true this is but it should be something we watch out for with this space capsule cat backpack.
Comfortability –
Being comfortable inside the cat backpack dome is one of the most important factors of buying a carrier. Especially if you're going to be using this for hiking and camping. This carrier has soft padding under the bag for the comfort of your cat. It has enough space for them to move around. It is equipped with multiple air holes that let air in for your cat. It also fitted with comfortable padded shoulder straps lighten the burden on the shoulders and the waist. I do think that the air holes may not be enough for proper airflow.
Safety and Security
As pet owners, we often think about the safety of our pets whenever we go out on our adventures. Some features of this pet carrier may be just what you need to feel that security. The main security feature it has is that it is equipped with high-quality double zippers to prevent your cat from jumping out. Another safety component of the carrier is a latch hook for extra safety that your dog doesn't jump out immediately after you open the bag to let them out. And I guess one of the most important factors that some of you might be looking for is that it is airline approved. However, please double-check with your chosen airline for assurance.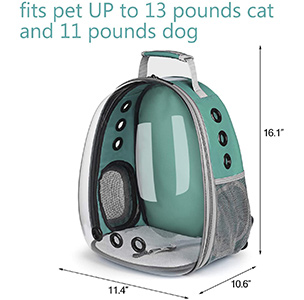 Keeping in mind all of these, let's see what other customers have to say about Lollimeow's Pet Carrier Backpack.
What Others Say About This Backpack For Cats
If you are still unsure if this Pet Carrier is for you, here are some customer reviews from people who have bought and used this product already.

MissScarlet's cat just really loved this carrier and was very amused with the clear front cover and said that her cat can not stop "ogling."

Maddi Freden really likes this carrier. She gave it a 10/10 rating. She mentions that even her chubby kitty can fit into this backpack and loves the attention she is getting.

Carly Chaput's kitty just loves this carrier. As soon as it arrived, she jumped right in even before the plastic bubble was removed and says that her cat is in no hurry to get out of it. Although a little room would be better, she says.
How does it compare to other cat carriers?
So, if you are still unsure if this carrier is the one you will be choosing, there are others that are considered the best cat carrier backpacks. Check out other pet carrier backpacks I've listed below:
LEMONDA Portable Cat Backpack
If you like spaceships and rockets, then you'll surely like the pet carrier backpack of LEMONDA. Designed to look like a spaceship it comes in 3 colors: Coffee, Cyan, and Solver. Unlike Lollimeow's design, this carrier has a round clear window that lets your cat peek through the carrier. This carrier is made with selected canvas and breathable high-density acrylic to make it more comfortable for your cat.
Blitzwolf Cat Backpack
Similar to Lollimeow's carrier, this comes with a clear front cover for the viewing pleasure of your cat. Mesh windows on the side of the bag are also available. This cat carrier backpack is fitted with extra padding on the shoulder straps for the owners carrying their cats. One cool inclusion when you buy this carrier is that it comes with a Dual-use water and grain cups and two collapsable bowls.
PetAmi Premium Cat Carrier Backpack
Stepping away from the clear covers and spaceship designs, check out the Pet Ami Premium Cat Carrier Backpack. Equipped with multiple mesh windows designed to create better airflow for your cats. Lined with Sherpa fabric, your cats are sure to love this bag. It comes with a safety buckle to prevent your cat from jumping out. If you're not into the cutesy designs and colors of the rest of the carriers here, this one might be for you.
Should You Buy A Lollimeow Backpack?
Deciding on which carrier to buy can cause some problems. What if he doesn't fit? Which one is the best for us? But no matter what you choose, It's only you who can decide that. The Lollimeow Pet Carrier Backpack gives your cat a clear view of the outside world while inside the bag. It has a large comfortable space for your cat to move around in. A lot of cool features that I'm sure will make you one happy camper!
Check out current pricing and availability on Amazon here >>