Just like we need our feet protected by shoes, dogs also need something to protect their paws. As we walk and go on adventures, there are always hazards that may cause harm to your dog's paws. Dog boots like The LONSUNEER Paw Protector Dog Boots can help you take walks and hikes worry-free. This article is a total review of the LONSUNEER dog paw protector booties. You can also check out article that highlights the 5 best Dog booties with reviews.
Do I need dog boots?
There are a lot of reasons for you to purchase dog boots for your furry friend. If you have an active do who likes to walk a lot, you can use it to protect them from hot pavements, and broken glass or stones while on a walk. There are dogs that need them to get additional traction when walking indoors, like dogs who have certain injuries or conditions that have trouble walking. Most people though, use dog bots to take their dog on hikes and protect them from the rough roads on the hiking trail.
For any reason that you would need one of these, there are some things that you want to consider before you buy a pair of these dog boots. Here are some of them:
Material and Quality – How breathable are these boots? Will my dog's paws get hot while wearing these boots?
Design – What makes these boots special? What can it protect my dog from?
Security – How do I keep these on my dog? What safety features do these boots have?
These are just some of the things that you should look for when deciding to buy dog boots. Ultimately, It is up to you on which boots you want to get based on what you need. Let us show you one of these boots you might want to consider. The LONSUNEER Paw Protector Dog Boots.
Presenting LONSUNEER Paw Protector Dog Boots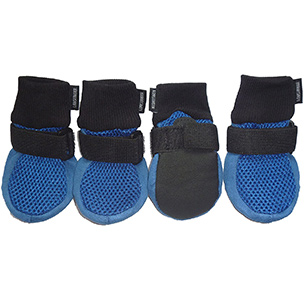 The LONSUNEER Paw Protectors are made with soft fabric mixed with mesh to provide breathable boots to make it as comfortable as it can be for your dog. It has flexible cuffs to protect debris that may enter the boots. Non-slip soles to avoid any injury while taking a walk. It comes in 2 colors: Blue and Red and various sizes from X-small to X-Large.
Quick Glance
What's Good
Breathable fabric
Flexible cuffs for easy on/off
Non-slip soles
What's Bad
Hard plastic for the velcro straps irritate the dog's skin
Not waterproof
No Reflective Straps
Best Qualities of the LONSUNEER Dog Booties
Each and every brand that makes dog boots have something unique that sets them apart from the rest. Some of them better than others but it doesn't mean that they are not good products. Let's see what these paw protectors have to offer.
Material and Quality
The LONSUNEER boots are made of mesh and soft oxford fabric. This combination makes it really comfortable for your dog to walk with them on. They are breathable and can be worn all day long as if you were putting them on for a cut to heal. It has a stretchable and flexible cuff for the ease of putting them on and taking them off. One thing that users have noticed is that these boots are not waterproof, so be careful when you are out at the beach or near rivers.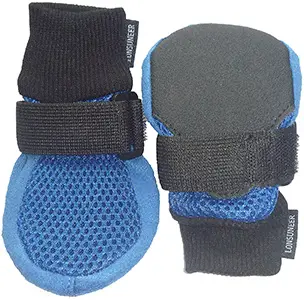 Design
These boots are designed to protect your dog's feet from any injuries from taking a walk or hiking or simply using them so they would not slip on hardwood floors. They are equipped with non-slip soles that help give your dog some traction when walking or running. They come in 2 colors: Red and Blue. They are available in a range of 5 sizes from X-small to X-large. Not as wide as the other brands but still wide enough to accommodate small and big dogs alike.
Security
The paw protectors have velcro straps to keep them on your dog's paws. The flexible cuffs also provide protection for debris that could otherwise go inside your dog's boots. Unfortunately, these boots do not come with reflective straps so these might not be safe for walking at night or in the early morning. Another flaw that users noticed is that the velcro straps have hard plastic connectors that sit right on the dewclaws of some dogs so it makes it uncomfortable for them to walk in.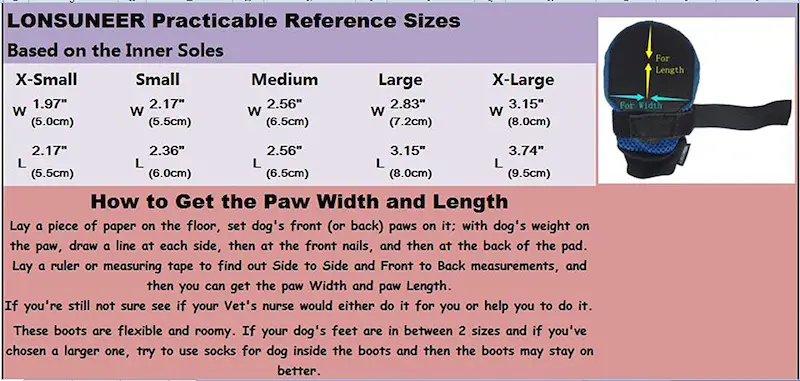 What do others say about the LONSUNEER Paw Protectors?
Of course, you can't just trust our judgment when it comes to your dog. We have gathered some user comments about the products that use them regularly for you to see what they're really like.
Jason and Dana bought these boots to keep their dog's paws protected from hot sand and pavements. It did the job though, sadly, they found out these were not waterproof when they used it at the beach.

Mynxcat has a problem with these boots because of the velcro strap connector, it sits on her dog's dew claws that her dog started limping after w while of wearing them because of it.

Coleen thinks these boots are heaven-sent. These boots fit her dog properly and protector the paws from the AZ heat.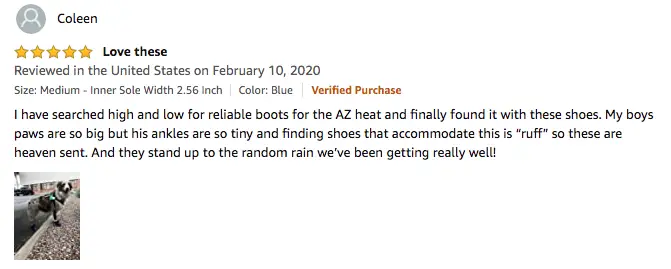 Alternatives to LONSUNEER's Breathable Paw Protection
If you think that the paw protectors are the boots for you, great! However, if you are still unsure, here are some possible alternatives that you can purchase instead that might fit your needs.
Canine Equipment Ultimate Trail Dog Boots
These dog boots are made from recycled rubber soles to provide traction for your dog on any kind of surface. These can also provide protection from small and sharp objects in grass and gravel. Different sizing for the front and hind paws to get a better fit. Canine Equipment's paw protectors come only in Black and 5 different sizes ranging from X-Small to X-Large.
Ruffwear – Grip Trex™ Dog Boots
Ruffwear's Greip Trex™ are said to be the standard dog boots worn by active dogs who like to run, hike, and trek. High-performance dog boots that have a resilient and rugged design with Vibram outsole for exceptional grip on hard-to-walk on the terrain. Designed to securely fit on your dog's paws so they can forge ahead and explore the great outdoors with you.
QUMY Dog Boots
QUMY's dog paw protection boots are made to protect them from the dangers of the rough roads. With an extra extended design, these boots will surely fit comfortably on your dog's paws. Equipped with adjustable reflective velcro straps your dog will be safe from harm when walking in the early morning or even at night. It has non-slip water-resistant soles that help your dog move better in indoor and outdoor environments. Weatherproof and waterproof these are the boots that you can take anywhere.
Our Final Thoughts
The LONSUNEER dog boots are one of the most inexpensive of all the ones in its category. Though it is, they are also a great product to have if you're not into buying super high-quality material that burns your wallet. The non-slip soles are great and so is the breathable fabric. These are the type of boots that you need to keep your dog safe from taking a normal walk.
Check out current pricing and availability on Amazon here >>