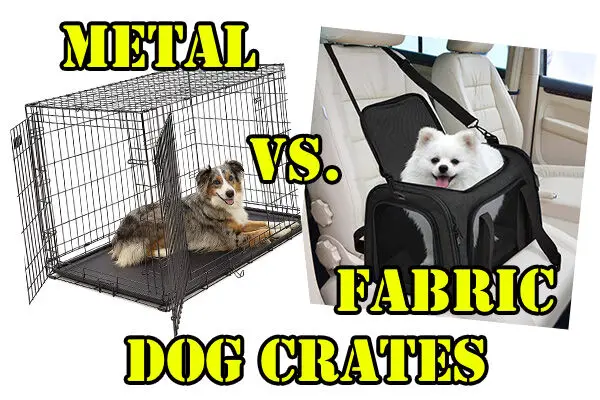 Buying a crate is every dog owner's responsibility. Although you may frown upon the idea of spending a hundred dollars or more on it, there are a couple of reasons why you should get one. In fact, your dog will spend quite of bit of time in it, so, therefore, you should certainly try to measure your dog for a travel crate and find the best dog kennel for your pooch. For example, you will need to decide between large-metal vs fabric dog crates, depending on which one fulfills the need of why you need a crate in the first place.
The primary purpose of a crate is housetraining since most dogs do not soil their den. It also restricts the dog's access to some of the most vulnerable parts of the house. Being in a crate teaches the dog that there are things it should not do, like that of chewing on furniture and shoes.
Another practical use of a crate is to transport your dog safely. You cannot put the animal on your lap while you're driving and some states penalize the driver for doing so. The crate serves as the pet's security and safety pass while traveling in a vehicle.
But like buying any product for your dog, the crate comes in a bevy of variants. The pricier ones even come with unrecognizable and sometimes useless features. Some innovations that you might want to consider are a collapsible design, wheels, adjustable straps, vents, to name a few.
Before you weigh on the different features, you first should focus on the type of material. I have had the luxury of using a handful of dog travel crates before, and I can attest that the two most viable options are fabric (soft-sided) and metal dog crate. Although plastic is the most readily available and cheapest option, it does not provide the premium quality and reliability you want, especially when you are bringing your dog to extended road trips.
So, if it is your first time buying a dog travel crate, it is best to choose between a fabric and metal variety. I will let you in on the advantages and disadvantages of both options.
Advantages of a Fabric Dog Crate
You choose a fabric or soft-sided dog travel crate if you prefer a lightweight and portable carrier for your pet. Since it is not as durable compared to plastic or metal, it usually is intended for small dog breeds. It is the lightest type of crate in the market, and the advantages include convenient transport and movability.
A fabric dog crate can also be conveniently folded down and stored in a tight space. Most airline-approved carriers are made of fabric and soft materials, and you can bring your dog with you inside the cabin, specifically underneath the seat.
Are There Disadvantages?
A dog carrier or crate made from fabric is not for everyone. You cannot settle for a soft-sided carrier when your dog chews or munches on the material when it is stressed out, uneasy, or unsettled during travel. Some dogs are calm and relaxed even when they are inside the crate, but others cannot adjust to it, especially during extended trips. The fabric material in the crate does not suit well with a dog that does not like traveling.
Another downside of a fabric dog travel crate Is that it is harder to clean and maintain since you cannot just spray water and detergent all over it.
How About Metal Dog Crates?
The proponents of metal dog crates argue that this variant is the best option because it combines the convenience of a fabric carrier and the reasonable price of the plastic crate. For the most part, a metal crate is used by people who need to transport medium-sized and large dog breeds.
You can purchase a foldable metal crate, thereby taking away one of the advantages of a fabric carrier. A foldable version means that you can conveniently bring your dog for an extended road trip. It is also a sensible option for dogs who do not like being put in a crate or carrier or those that hate traveling in general. The metal construction means that the pet cannot break its way through it, or at least it will have a difficult time. Metal is also easy to clean and will not absorb the odor of the dog.
What are the Drawbacks?
The metal dog travel crate has see-through sides that could pose a problem for dogs that tend to overreact when they see something outside. The solution is to cover it, but doing so will block the usual airflow and prevent ventilation. Since it is made of metal, you expect the crate to develop rust over time. But the most significant drawback is weight. Even if you buy a foldable variant, it remains as the heaviest type of dog carrier. So, if you do not want to bring something that will cause more burden, then you should avoid a metal dog travel crate.
Size and Weight Limit
Aside from the material and features, it would help if you focused on the size of the crate when you start weighing your options. You cannot return the item because you realized your dog does not fit in it. To get the appropriate size, be sure to measure your dog first. Please measure your dog from the tip of its nose to the base of the tail while standing. Add about two inches to this number, and that should be good enough for the animal not to feel claustrophobic.
You want your dog to be able to stand up and turn around while inside the crate. This will allow the animal to move freely, which contributes to keeping it calm while it is inside the crate.
Every dog carrier or crate, regardless of the material and size, has maximum loads. The manufacturer has a printout of the weight limit for the product. So, aside from measuring your dog, you also need to figure out its weight.
Final Thoughts On Large-Metal vs Fabric Dog Crates
Your choice of material for a dog travel crate depends on your needs as well as your dog's behavior and propensity for travel. Do not buy one based on aesthetics or the collection of features. Keep in mind that the purpose of the crate is to train your dog and make sure it is comfortable and safe during travel.