I found another reason to travel with Sam (Yorkshire Terrier) when I came across one of those clever pet carriers. Although there were at least 20 products on display, I got my eyes on Mr. Peanut's Soft Sided Pet Carrier.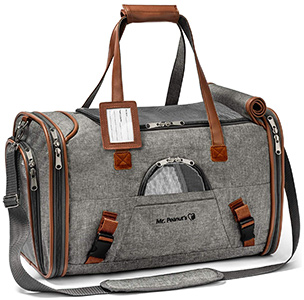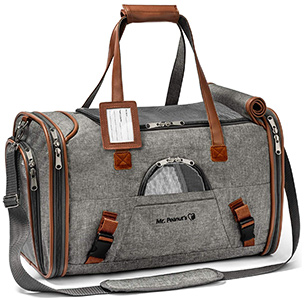 I never was a fan of taking my dog with me when traveling, but I felt he was not happy about it. I also felt terrible leaving him behind. With the emergence of these classy yet practical dog carriers, I have never felt more comfortable in bringing my dog wherever I want. But one thing I learned about my experience in buying a dog carrier is that not all products you see offer the convenience you expect.
How Do You Buy a Pet Carrier for Small Dogs?
As a first-time buyer of a travel carrier for your small dog, you are inclined to believe that all products are similar. If you do not arm yourself with the right information, you will have a difficult time figuring out the differences.
I usually talk about the factors to consider in buying a small dog carrier, but this time, I intend to be more specific. These are the things that you should focus on finding the ideal carrier for your small four-legged buddy.
Convenience and Safety
Pet carriers are meant to provide convenience for the owner and safety for the pet while traveling. So, you must focus your search on something that has secure carrying straps, sturdy metal connectors for handling weight, and a comfortable interior.  A soft bedding pad is crucial because you do not want your pet to lie down on something hard for an extended period. You will benefit from a small dog carrier with multiple pockets for additional storage. You need those pockets for the treats, medicine, and other accessories.
Zipper Quality
Although pet carriers look the same, you will realize the many differences when you look closer. One of the things that separate the best one from the rest is that of the quality of the zipper. The last thing you want is for the zipper to break when you are about to board the plane or bus. A broken zipper will render the pet carrier useless, and it is way too inconvenient for you and your pet.
Structure
Soft-sided pet carriers usually do not have a frame and are supported by a small steel wire instead. Be careful when you choose a soft-sided model because not all products out there are durable and stable. If possible, look for something that is made from premium quality nylon material. Some brands like Mr. Peanut pet carriers use military-grade support systems.
Mr. Peanut Gold Series: What Makes This Product Stand Out?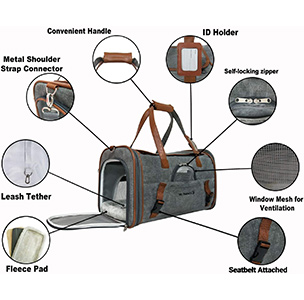 Mr. Peanut's series of pet carriers are known for their premium design and high-quality material construction. After going through several comparisons with other brands, I noticed that the one thing that stands out is the carrier's self-locking zippers that offer the pet owner some added confidence in keeping the dog secure while traveling.
Quick Glance
What's Good
Stylish design for a pet carrier
Made from top quality materials
Reasonable price considering the design and material
Comfortable bottom pad
What's Bad
The strap is not as durable as the other components
Mild chemical smile when taken right out of the box
Some parts are vulnerable to chewing
Ventilated Top
Mr. Peanut's Soft Sided Pet Carrier comes with a ventilated top to avoid discomfort for your small dog. The design also meets airline regulations of under forward seat compatibility. In other words, most major airline companies will allow you to bring your pet onboard using this product.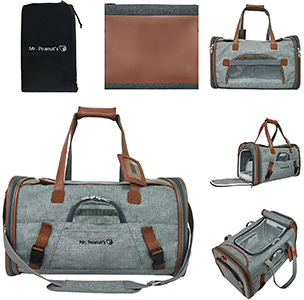 Practical Design
This small dog carrier is one of the few products out there that afford the ideal combination of being lightweight and durable. The practical design makes it possible for this carrier to eliminate unnecessary weight. However, it does not compromise the strength and resilience to carry your dog around without the possibility of it ripping off.
Breathable Mesh
Aside from the ventilated top, this product also has breathable mesh on all sides that contribute to the ventilation. You do not worry about having a claustrophobic dog. The mesh on all sides keeps the pooch comfortable even on extended trips.
Premium Support
Some people might find this pet carrier expensive, but I believe there is a good reason for it. For one, Mr. Peanut's Soft Sided small dog carrier has a bevy of support features. The list includes the removable fleece travel bed reinforced with a plywood base, padded shoulder straps, and zippered mesh storage. There are also practical accessories like a name tag and stylish design cues.
Auto Self Locking Zippers
As I mentioned earlier, the auto self-locking zippers prove to be the difference-maker for this product. It epitomizes the added safety afforded by the pet carrier. Accordingly, it effectively eliminates the need for clasps which are usually unreliable. It makes it easier for the pet owner to secure the pet inside and get convenient access to him when needed.
Practical Accessories and Add-ons
This pet carrier offers a handful of useful accessories, too. The thick metal connectors ensure safety, while the hand-carry handle allows for a convenient way to carry your dog without causing too much stress on your hands. You also benefit from the safety seat belt attachments for car travel.
Waterproof Bottom Panel
What the waterproof bottom panel provides is a convenient means of cleaning and maintaining the pet carrier. The 600D Nylon composite material is reinforced with PVC coating that does not easily stain or deteriorate. All you need is an odor remover for cleaning and sanitation.
What Others Say About Mr. Peanut's Pet Carrier
Before I bought my Mr. Peanut's Soft Sided Pet Carrier, I spent some time reading reviews over the web. It was not that difficult to choose because of positive feedback.
Wayne N loves that his Minnie did not need a lot of "getting-used-to" to get comfortable with the carrier.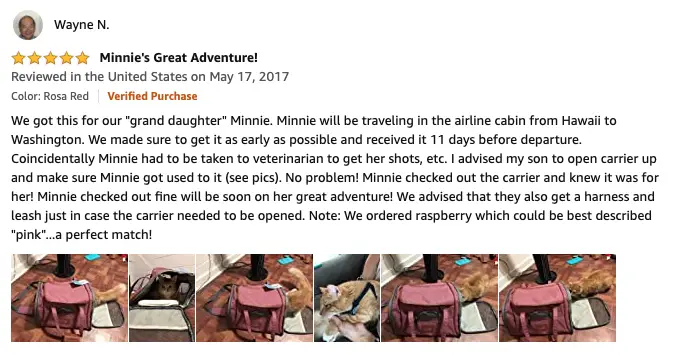 Kristy could not hide her satisfaction for the product.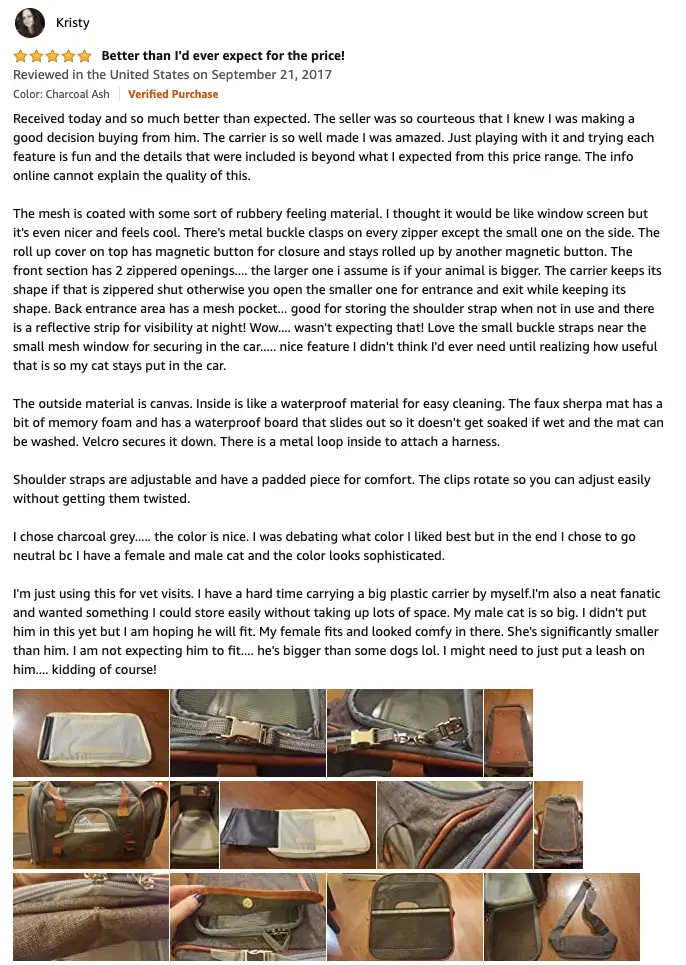 BBY gave it four out of five stars because of the potential hazard between the fleece pad and side panel.
Exploring Other Options
The soft-sided pet carrier from Mr. Peanut is just one of the many options available for your small dog. Other notable choices are:
EliteField Soft Sided Pet Carrier
Designed for small dogs and cats, this is a carrier that shares the same soft-sided concept with Mr. Peanut's version. Both products ensure the comfort and ventilation of your animal buddy while traveling. However, there are only two pockets available for storage in the Elite pet carrier, but it does come with an adjustable padded shoulder strap to give you multiple carrying options. Click here to learn more about the EliteField Soft Sided Pet Carrier.
AmazonBasics Soft-Sided Pet Travel Carrier
The rugged yet reliable design of the AmazonBasics pet travel carrier is what makes it stand out. Although it is worth mentioning that the same design is either a hit or miss for pet owners. Practicality wise, it is by far one of the most useful pet carriers you can find, thanks to the adjustable shoulder strap for versatile carrying and the multiple zippers for safety and convenient entry for your pet. You can obtain additional information about the AmazonBasics travel carrier by visiting this link.
Paws and Pals Airline Approved Pet Carrier
Offered in multiple bright color options, the airline-approved pet carrier from Paws and Pals is ideal for a pet owner who does not want to compromise on style. While the design will cheer you up, do not think that it has compromised functionality. Like Mr. Peanut's soft-sided pet carrier, this one has durable construction and a handful of storage compartments. Learn about the details of this product here.
Final Thoughts
There is no stopping you from making travel goals with your dog if you put in the money to buy a pet carrier. While you have been quite overwhelmed with the number of options, Mr. Peanut's Soft Sided Pet Carrier offers a sensible solution. It may not be as fancy as other expensive choices, but it does the job, and I can vouch for that.
Check out current pricing and availability on Amazon here >>