Cleaning up the mess my cat creates after using his litter box has always been a problem. He's the type of cat that sprays, and whenever he needs to cover his waste, he scatters litter on the surrounding area of the litter box. This has been an everyday problem and one that is very exhausting to deal with. So, I got on the internet and decided to conduct some research. I found that high-sided litter boxes are one of the best solutions when dealing with messy cats. Out of all of the high-sided litter boxes available on the market, I found that Nature's Miracle High-Sided Litter Box is the best on the market.
Things to consider before buying a cat litter box
Choosing the right litter box for your feline buddy can be hard, especially since cats are notorious for being very picky. If a cat doesn't like its litter box, it'll do their business somewhere else in your home. Trust me; you don't want to deal with that.
If your cat seems to dislike its litter box, then don't hesitate to buy a new one. However, cats will display unusual behavior when they have health issues, such as going to the bathroom outside of their designated litter box. Health issues include feline lower urinary tract disease, kidney failure, diabetes, and more. Therefore, before you assume that this is a behavioral issue with your cat, be sure to check with the vet first. If your vet rules out any health issues, then you can consider changing the location where you're placing the litter box. In other words, try to use other methods to deal with this problem before assuming it is an actual problem with the type of litter box.
However, if you have ruled out everything else and your problems are truly with the litter box itself, consider the factors below. This article discusses how to choose the best litter box for your feline pet. An appropriate litter box will make your cat be happy, and it will also solve your cat litter box problems.
Easy Access
Make sure your cat will find it easy to enter his cat toilet. Adult cats may not have problems with these, but if you have kittens or cats who are old, then you should think about this.
For special needs cats or young kittens, you should consider buying a litter box that has low sides or an opening low enough to the ground for easy access. If you're buying one with high sides, especially for messy cats, make sure that the litter box has a lower section that your cat can use as a passageway.
Size
Ideally, most cat owners want a litter box that is small enough so that it does not occupy a lot of space in the house. However, we should also think about the comfort of our cat. Most cats love a spacious toilet area.
There are three things you need to consider: height, depth, and the dedicated space in your home. If you have a smaller space, then it's wise not to buy a litter box with a wide footprint. However,  if your cat has a bad aim, then consider a wider litter box, so his waste stays inside the box.
If your cat is messy, like mine, then I highly recommend a deep litter box. This way, even if he obsessively covers his waste, it won't be that much of a problem.
Enclosed vs. Uncovered Litter Boxes
Litter boxes usually are either closed or uncovered. Both are great cat toilets, but each has its advantages and disadvantages.
Open litter boxes are perfect for kittens. It's easier for you to observe them and potty train them on using it. Also, if you're able to see some habits that need to change, like napping inside of the litter box, for example, it'll be easier to correct.
Enclosed litter boxes are great because they offer your cats some privacy when they do their business. Not to mention the odor stays inside the litter box and it does not spread around your house.
However, do note that not all cats are alike. There are cats that like seeing their surrounding areas and may not want to squeeze in an enclosed toilet. If that's the case, then you can purchase an open litter box with high sides to solve any problems with spraying or litter getting outside of the box. Just find the best location where it won't bother guests visiting your house. If it's the odor you're worried about, then the right cat litter can also solve any odor problems.
Easy Cleaning
If you're opting for an open box, then it's recommended to scoop litter at least once or twice a day to prevent bad odor from spreading. That's why it's essential to have a litter box that can offer you this kind of convenience.
The best options on the market are litter boxes with smooth edges. Those that have crevices, ridges, and divots usually let cat waste get stuck, and this makes cleaning harder. Plus, your cat will highly appreciate it if you keep their toilet clean too.
Now, let's take a look at what Nature's Miracle High-Sided Litter Box can offer. Below are some of its pros and cons that will help you make the right choice.
Our Review Of Nature's Miracle High-Sided Litter Box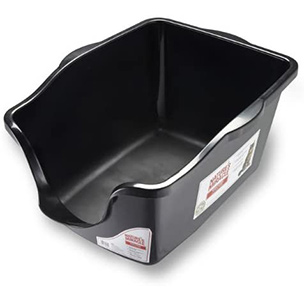 Nature's Miracle High-Sided Litter Box is one of the best high-sided litter boxes on the market. It is very simple-looking but it has a lot to offer. Manufacturers surely designed this box with your cat's happiness in mind. It is large, has high sides and a low entry point – offering a solution from litter getting all over your floor. Anyone that has had a cat knows that cat litter can get everywhere, and it's very frustrating to clean it up every day.
Now, let's dive more in-depth on the features and benefits of getting a Nature's Miracle High-Sided Litter Box for your cat.
Quick Glance
What's Good
High sides that prevents litter scatter
Non-stick surface for easy cleanup
Affordable
What's Bad
Access can be too low or too high, depending on your cat
Size and Appearance
When it comes to appearance, this litter box is the best example of simplicity at its finest. It is straightforward and plain-looking. It's a black, rectangular box with high sides and one area that is low for easy access when your cat needs to use it.
It is uncovered, which is great if your cat doesn't like to be in enclosed spaces, or they just love seeing their surroundings as they do their business. The high sides are very useful in keeping litter, waste, and pee inside. You won't have to deal with these problems even if your cat sprays or has bad aim.
The size is very generous too. At 24 inches in length and 18 inches in width, this litter box is made especially for adult cats. This size is spacious enough to allow your adult cat to keep on turning around rather than being cramped up uncomfortably in a small space.
Some users, however, complain of not having a lot of color choices. Though this is not that big of an issue, it's something that you might want to consider if you are particular about color.
Quality and Durability
This is a simple box that comes at a very affordable price. However, even if it's affordable, this box is not made of cheap materials. It is made of heavy-duty plastic that will not easily crack. Therefore, you won't have problems with leakage. It will certainly last for a long time. Therefore, you get a lot of value without having to spend a lot.
Easy to Clean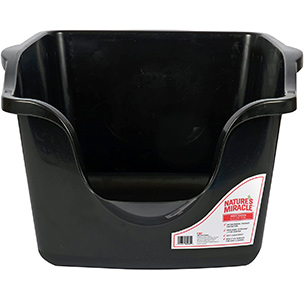 In terms of maintaining its cleanliness, you won't have any problems with Nature's Miracle High-Sided Litter Box. It has smooth sides and a non-stick surface, so you won't have issues with having to scrape out waste. It's also an open box which gives you a lot of conveniences too.
If you need to perform a deep clean, you can quickly rinse it with soap and water. After, you can easily dry it and put in new kitty litter. making it as good as new.
Downsides
Since this is an open litter box, it means you will be able to see your cat's waste. Also, there are cases where odor can spread around the house. Don't worry, though, as this is very easy to solve.
I recommend placing the box in an area that you rarely use so that you won't see it all the time. Also, it won't bother visitors too. For the odor, the right cat litter will likely solve this problem. Furthermore, if you regularly scoop out the waste, you won't have any odor issues.
What do other people say about the product?
In terms of quality, Nature's Miracle High-Sided Litter Box is excellent considering its price. It provides a lot of value and solves a lot of problems most cat owners have. Let's take a look at what other users say about Nature's Miracle High-Sided Litter Box.
Gordon is very happy with this litter box and makes a note that it is great for older cats: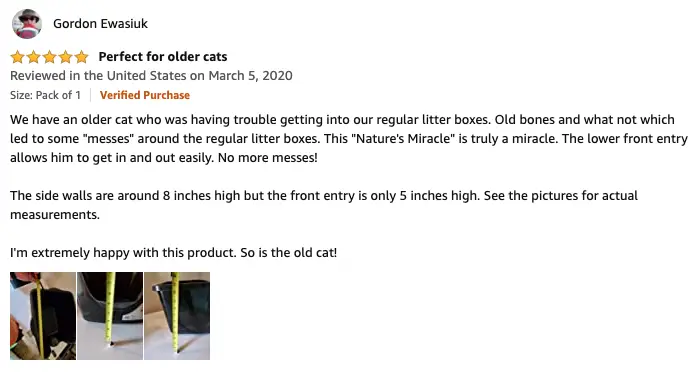 Emily likes the high sides and says that this litter box is great for her big cats: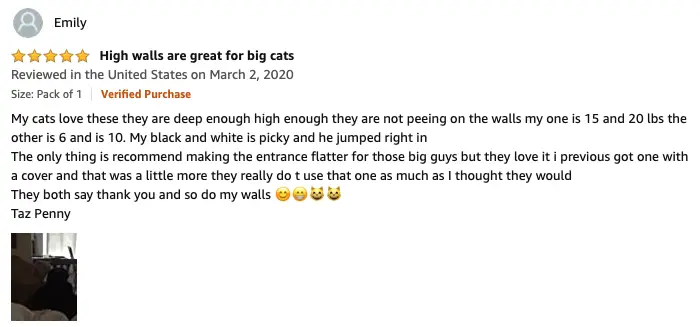 J Bush likes this litter box and states, that it is huge, works great to contain mess, beware, entrance lip is still very high!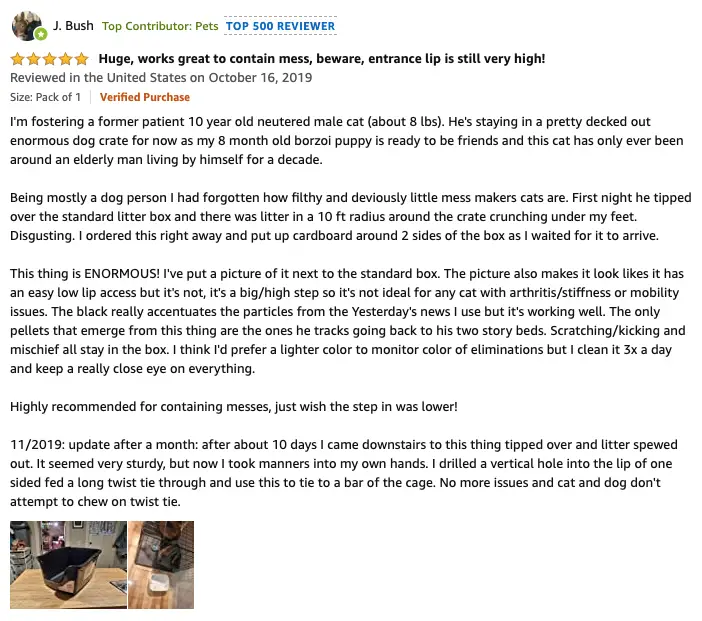 Alternative Options To This Litter Box
If you think that Nature's Miracle High-Sided Litter Box is not the best option for your cat, here are some great alternatives that you can check out:
iPrimio Ultimate Stainless Steel Cat XL Litter Box
For an uncovered litter box alternative, you may want to look at the iPrimio Ultimate Stainless Steel XL Cat Litter. The most significant benefit this litter box offers is size. Your cat won't miss his aim with this litter box as the sides and box size are big enough to prevent a problem like this.
The Stainless Steel Material is also of excellent quality, especially if you're looking for a litter box that you can use for a long time. The surface won't easily stain or collect residue, which is very great in terms of cleaning.
This so far is the closest to Nature's Miracle High-Sided Litter Box in terms of affordability and value. You can find out more details about this open litter box here.
Purina Tidy Cats Breeze Hooded Cat Litter Box
For enclosed litter box options, Purina Tidy Cats Breeze Hooded Cat Litter Box has a lot to offer. This box is well known for its very effective litter system – one that separates pee from solids to control odor better. Amazing, right?
It comes with an easy to open the hinged hood to give the owner convenience when cleaning. There's also an ammonia blocker to prevent ammonia odor for a week.
More details about the Purina Tidy Cats litter box can be found here.
Petmate Booda Dome Clean Step Cat Litter Box
Another excellent hooded alternative is the Petmate Booda Dome Clean Step Cat Litter Box. It's a litter box that can offer your cat privacy. The clean step feature is exciting, too. It cleans your cat's paws after he uses the litter box. This means it no longer needs a lot of extra cleaning on your part.
There's also an area where you can place an odor filter. This feature helps keep the odor inside of the litter box effectively. This way, you won't have to worry about a smelly home or apartment.
You can check out some more details about the Petmate Booda litter box here.
Our Wrap Up
Cleaning your cat's mess is one of the biggest problems for cat owners. Good thing we now have high-sided litter boxes to solve this issue for us.
Nature's Miracle High-Sided Litter Box is an excellent example of that. It is perfect for adult cats because of their generous size, high sides, and easy access. Cleaning is quick and easy too. However, the most significant advantage is it comes at a very affordable price, giving you great value for your money.
Check out current pricing and availability on Amazon here >>