Having a cat is the most amazing thing. Cleaning up after them, not that grand. Don't you wish there was an easier way to clean up their messes? Fortunately, there are now litter boxes that make our lives easier. One of them is Nature's Miracle Oval Hooded Litter Box.
Things To Consider When Buying A Hooded Litter Box For Odor Control
Buying a hooded box means that there is going to be less messy than having a regular one. We all know how cats love to hide their little dropping by burying it in the litter. What should you actually look for when choosing a cat litter box? I'm going to share with you some things you should consider before making the purchase. This will help you narrow down what kind of cat litter box would be perfect for you and your cat.
Design  -What shape does this litterbox be in? Will my cat have any problems going in and out of the litter box?
Functionality – How great does this product work? Will it prevent the odor from spreading?
Added Features – What other things can this litter box do to make my life and my cat's life easier?
These are just some of the things that we need to look at before we go ahead and click the add to cart button. You also have to consider the lifestyle that you have and what kind of litter box would suit your lifestyle. We're going to be going through the features of Nature's Miracle Oval Hooded Litter Box and see if this one is for you. I will also share some user comments about the product so you can decide if this is the product for you.
Nature's Miracle Oval Hooded Litter Box Review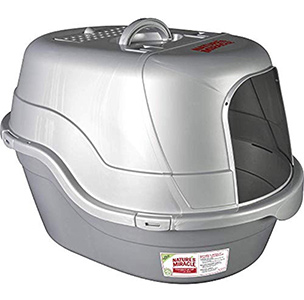 Nature's Miracle Oval Hooded Litter Box is a place for your cat to do his business with the privacy he needs. It is equipped with built-in odor neutralizers to contain the smell of the litter box inside. It promises to be easy-to-clean and loved by your cat.
Quick Glance
What's Good
Built-in odor neutralizers so no need to replace a filter
Non-stick surface for an easy cleanup
Hooded box that flips open without taking the whole top off
Best for bigger cats or multi-cat households
What's Bad
Urine seeps to the outside of the box
Rounded edges make it a little more difficult to clean
Excessive branding that reaches the inside of the box
Key Features Of Nature's Miracle Hooded Litter Box
Let's take a deeper look at what our featured product can do for you and your cats. These features may assist you in the decision you are about to make.
Design
This hooded litter box is a 2 part relief area for your kitty. It is covered in non-stick material so your clean up can be a piece of cake. The top layer latches on to the bottom layer with four clips around the box so your cat won't be able to flip the top off. Ir comes in two colors: White and Silver/Grey. It is shaped like an oval to avoid any sharp edges that may cause trauma to cats. As great as the design looks, one common comment that I've seen is that advertising went a little too far. There are stickers of the brand all over the box. It even has a sticker that some user's cats have peeled off by eating it. It's a very unfortunate hazard.
Functionality
The main reason that you want to buy a hooded cat litter box is reducing the odor. The main feature and function of this cat litter box is an odor-resistant material covering the whole box. It also comes with a charcoal filter that keeps the litter box smelling fresh after so many uses. The top layer also prevents the litter from being scattered when they use their toilet. They assure you that it will not be a task to dread. However, some users report that when their cats pee, it seeps out where the 2 layers connect resulting in a very wet and smelly surrounding.
Added Features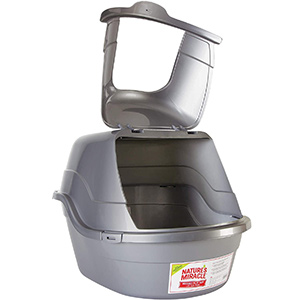 Aside from the odor resistance and an enclosure, one added feature of thu=is cat litter box is that the top layer is hooded. You can raise a section of the box to create a bigger opening. This bigger opening is for the ease of scooping out dirty litter. One thing that I like about other enclosed litter is that there is a swinging door or a flap for your cats when entering the box. This one does not have that and is just open.
What Other Customers Think About This Litter Pan
To give you a better idea of how all these features work in real life, here are some user comments that can aid your decision-making. 

This user thinks this product is the perfect litter box for her house. It keeps her house clean and tidy with the smell of the box contained.
Sidney just loves this litter box. She used to hate cleaning the box but now it becomes more tolerable for her. The charcoal filter really does help with the odor. It's a little too big for her cat but better be big than too small.

Bobbi just makes use of the hooded top to clean the box now. He absolutely adores this box. He says it is a good value for the price.
Alternative Litter Boxes To Nature's Miracle Hooded Litter Box
There are may cat litter boxes in the market. It may or may not be for you but let's see how the featured product compares to the others.
AmazonBasics Hooded Cat Litter Box
This odor-controlling litter box has a snap-on hood to keep your cat from scattering the litter around the box. Stain and odor material keeps the box smelling fresh and clean every time. One of the best features is the plastic swinging door that gives your cat easy access to his litterbox. There are replaceable carbon filters that contain the dirty odor of the litter box inside. These carbon filters can be purchased online.
Catit Jumbo Hooded Cat Litter Pan
An extra-large cat litter box that seems to be perfect for larger cats and multi-cat households. It also has carbon filters that help reduce the odor of a dirty litter box. You won't have to worry about the smell spreading throughout the house. A transparent door lets your cat go in and out seamlessly.
Van Ness Sifting Enclosed Cat Litter Pan
The Van Ness company is family owned and operated for over 70 years. They are leaders in providing quality and pet caring products. This sifting enclosed cat litter box is made from FDA approved material that you can trust. It keeps mess to a minimum with the enclosed feature. A 3 part litter box makes it easy to remove your kitty's droppings. One of the easiest litter boxes to use at an affordable price.
Our Final Thoughts: Nature's Miracle Oval Hooded Litter Box
There may be some flaws in this cat litterbox but what product doesn't have at least a few flaws? It is big enough for your cat or cats if you have multiple. It has a non-stick surface to make it easier for you to clean. Best of all the charcoal filters help keep the odor of a dirty litter inside.
To see more of the best cat litter boxes for odor control, click here. 
Check out current pricing and availability on Amazon here >>