If you own a dog or a cat and are looking for a solution to reduce pet odors in a room, this air purifier may be exactly what you're looking for. The Okaysou AirMic4s H13 True HEPA air purifier provides exceptional air purification for rooms up to 580 sq. ft.
I tested this unit in my home office that is occupied by myself and my chocolate lab, Bailey. I found this air purifier to work extremely well, was quiet, and provided quality, comfortable, fresh air for my office that is approximately 350 sq. ft. This air purifier comes with a 3-stage air filter containing a prefilter, HEPA filter, and an active carbon filter. In this article, we provide a complete review of the Okaysou AirMic4s air purifier.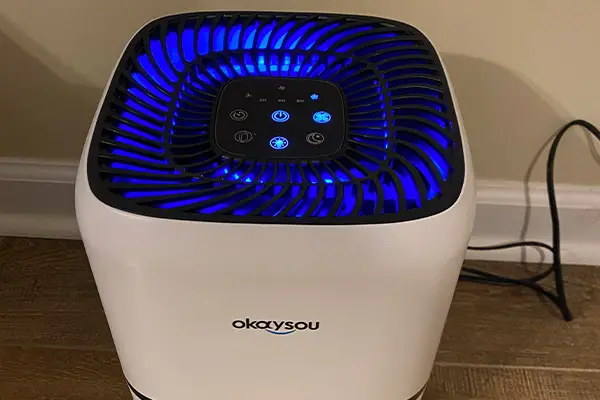 Check Amazon's Price
Okaysou AirMic4s Specifications
Filtration: 3-in-1 medical grade H13 True HEPA filter (contains: a washable & detachable pre-filter, a home medical grade H13 True HEPA filter and a high-efficiency active carbon filter)
HEPA Class: True HEPA
Filter lifespan: 6 to 8 months
Power Supply: 110-120V AC, 60Hz
Rated Power: 25W
Effective Filtration Area: up to 580 sq. ft.
Operating Temperature: -10° C to 40° C
Humidity: <90% RH
Noise Level: 24dB to 51dB
Standby Power: 0.5 W
Dimensions: 221 x 221 x 302 mm
Weight: 3kg
Our Review Of The Okaysou AirMic4s Air Purifier:
I found that the Okaysou H13 air purifier was extremely easy to unpack and get started. It as intuitive operation controls and can be set up within minutes. One point to note, be sure to unscrew the base and remove the plastic wrapping around the filter canister prior to operating the air filter.
Air Filter: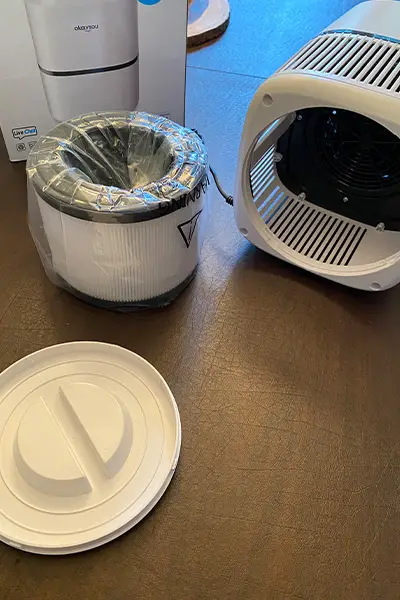 The air filter uses a three-stage purification system. Stage one consists of a washable and detachable prefilter. This is good for capturing large particles such as dust, pet for, hair, fibers, etc.
Stage two contains the home medical grade H13 true HEPA filter. This HEPA filter removes up to 99.97% of airborne particles 0.3 µm in diameter. It can remove small particles such as smoke, small dust particles, mold spores, viruses, bacteria, and allergens.
The third stage consists of a high-efficiency active carbon filter. This is perfect for absorbing stubborn and un-wanted odors and fumes. This can also filter compounds like Formaldehyde, ammonia, hydrogen sulfide, benzene, and volatile organic compounds (VOCs).
The manufacturer recommends replacing the filter every 6 to 8 months. However, they do know that you might need to replace your filter sooner depending on the frequency of use.
In the instruction manual, they note that you might need to replace your filter if you notice the following:
Increased noise when the air filter is on
Decreased airflow
Unusual odors
Visibly clogged filter
Air Filter Controls: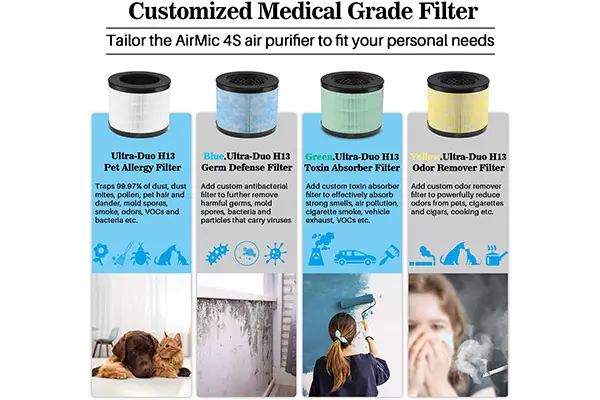 Check Amazon's Price
The Okaysou AirMic4s comes with a very intuitive control panel. It consists of the following options:
On/Off: this is a simple on-off button. When turning the unit on, it is set to the lowest wind speed and, there is an ambient light that is turned to the highest brightness.
Fan Speed: There are three speeds, low, medium, and high. This button toggles between the three settings.
Sleep Mode: This unit has a sleep function that when turned on, the fan speed will automatically be set to the lowest level. Three seconds later, the indicator light of sleep mode will turn off.
Time Function: The air purifier has a two-hour, four-hour, and eight-hour setting. There is also the option to have no timed setting.
Dimmer: There is a control to adjust the brightness of the ambient light to three settings; high, low, and off.
Filter Reset Indicator: When the filter needs to be replaced, there is an indicator on the unit that will light up.
Quick Glance
What's Good
H13 grade true HEPA filter for particle removal
Washable & Detachable Pre-Filter
ARB certified
Options for 4 different types of filters (Pet Allergy Filter Ultra Duo H13, Blue Ultra Duo Germ Defense Filter H13, Green Ultra-Duo H13 Toxin Absorber Filter, and the Yellow Ultra Duo
H13 Odor Remover Filter)
Easy to use control panel
Sleep mode & timed operation functions
5-year warranty
What's Bad
No sensor to indicate air quality
Limited to rooms 580 sq.ft. or smaller
The highest speed is a little noisy
FAQs About Okaysou Air Purifier
Q. How often do the air filters need to be replaced?
A. There is an indicator light on the unit. And, the manufacturer recommends replacing the filters every 6 to 8 months depending on the frequency of usage.
Q. Are the filters washable?
A. Yes, the prefilter is washable. It can be detached and washed. However, make sure it is completely dry before reinstalling.
Q. Does it remove pet allergens from the air?
A. Yes, the unit is capable of removing allergens when using the Ultra-Duo H13 pet allergy filter.
Q. Does it remove odors?
A. Yes, the Okaysou Is capable of removing odors from the air when using the Yellow Ultra-Duo H13odor remover filter.
Final Thoughts
I was pleased with the performance and results of this air purifier in my office. I was able to operate the unit on the medium airspeed setting and it did a fantastic job with circulating the air in my 350 square-foot office. My dog works with me every day the week and I definitely notice the difference within a day of having this air purifier running. If you need to purify the air in a single room or two small adjacent rooms, the Okaysou AirMic4s Air Purifier is an excellent choice.
Click here to get current pricing on Amazon for The Okaysou AirMic4s Air Purifier >>